What more could you want in a wedding? Bunting, check. High tea, check. Morris dancers, check. Stunning lace and organza ruffled gown, check check check. Boho friend and all round photographic whizz Helen Lisk, sent us this beautiful wedding of Natalie and Matthew. It's full to the brim with personality and quirky, country style touches and was held in a nature reserve. And personally I can't think of a happier colour than yellow. It injects such a sunny vibe, from the pastel shades of the bridesmaids' dresses to the pop of bright yellow in the buttonholes and bouquet.
'Our big day was a relaxed country style wedding, with pretty bunting and flowers themed throughout the day. We enjoyed High Tea, ice creams and a BBQ, followed by plenty of games and dancing.'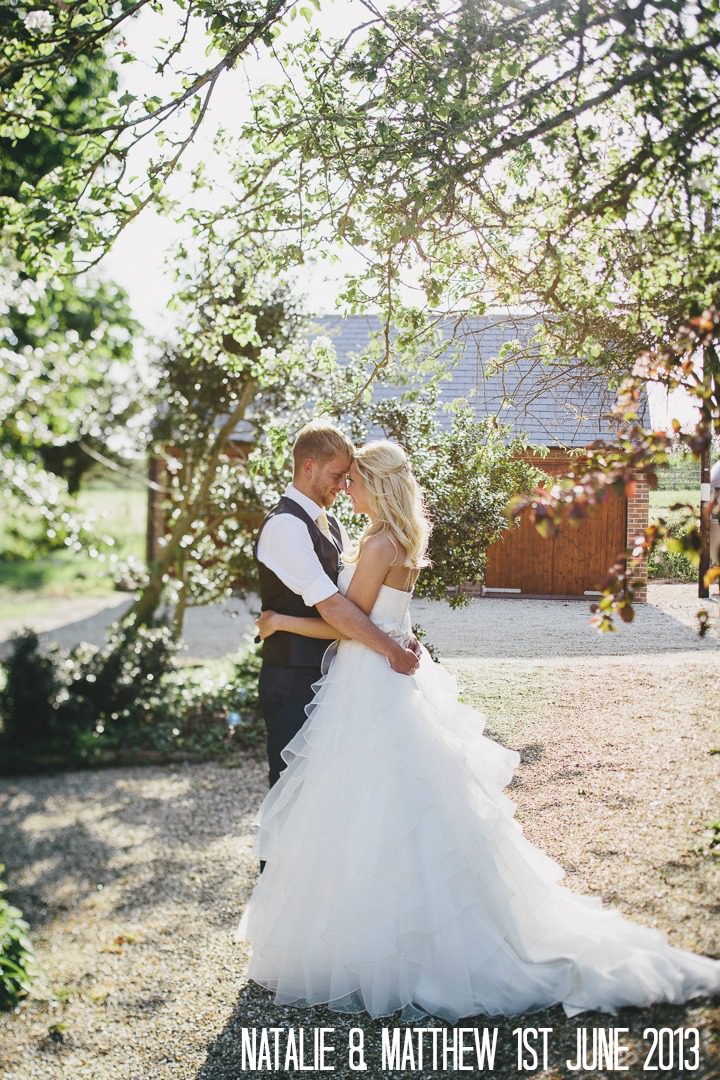 Natalie and Matthew were married on the 1st June last year at All Saints Church in Wyke Regis, Weymouth, with their reception held at Lorton House in Lorton Meadows. "We knew immediately the perfect venue for us as it is located in the nature reserve where we walk our two border terriers on a regular basis. Holding our reception there made it very special to us and the extensive beautiful grounds gave us ample space for the marquee and country games. We weren't restricted in any way and could bring our personal touches to the day."
How they met
I actually knew my husband before we started dating through mutual friends, but always had a soft spot for him! We have now been together for ten years!
The proposal
It happened on Christmas Day 2011. Mat said he always wanted our two border terriers Ludo and Olly to be involved as they are part of our family, so he made sure they were around when he asked me. We had both been around our parent's houses for Christmas dinner during the day before finally setting off home to enjoy each other's company. He then asked me down on one knee just after I settled on the sofa with the dogs. We then celebrated with lots of bubbly and spent the next hour phoning around the family to tell them the news. It was very romantic.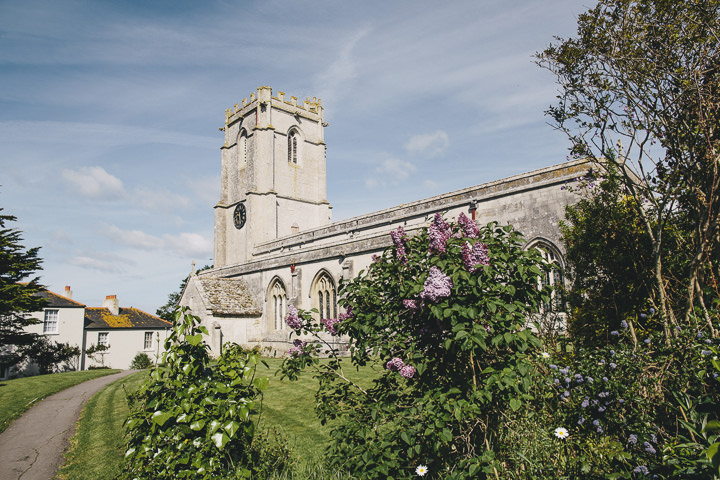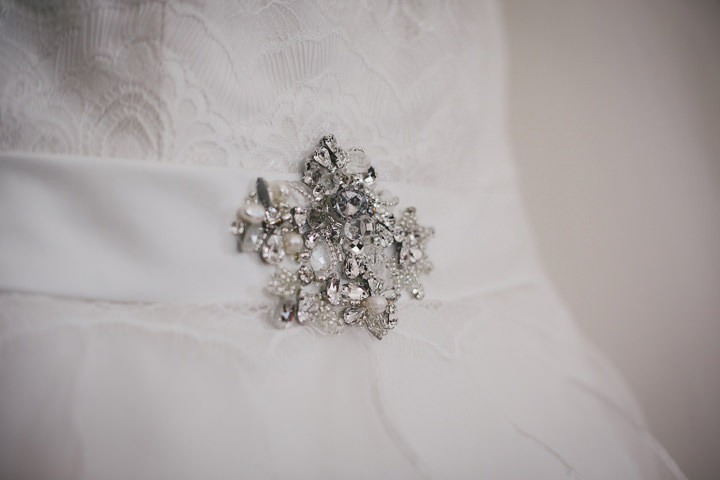 How did you spend your budget?
The majority of our budget went on the main bookings such as the venue, marquee, photographer and caterers. We weren't too worried about this as we wanted the best for our day. We saved a lot of money by making most of the smaller items ourselves and asking favours where we could, for example, Mat's friend drove us from the Church in his new Jaguar. I also kept a record of where the money was going to keep track of everything.
How did you choose your photographer?
The photographer was extremely important to us. We wanted someone who could capture the traditional group shots but also the special moments and intricate details we spent so long to get right. Helen Lisk's photos of previous weddings were so beautiful and after meeting her for our engagement shoot we knew she was perfect for us. She understood exactly what we wanted and produced stunning photos as well as making us feel comfortable and relaxed throughout the day.
The wedding dress and accessories
My gown was one of the most important parts of the day to me so it had to be perfect. I wanted something that showed my taste and personality so when my sister pulled out the Eternity Bridal dress I knew straight away it was the one for me. I loved the dress from the moment I tried it on but there was something I wanted to do to it that really gave it a WOW factor. To make the dress my own I had a beautiful Satin bow made for the back. It was perfect. I also had the neckline adjusted so it was a sweetheart shape. It was such a girly dress, with lace to the bodice and organza ruffles from the waist down. The dress was surprisingly light and easy to move in so ideal for the summer and dancing on the day!
I wore a pretty hair comb above my veil which was a bargain from eBay. My bracelet was from Halo & Co with matching pearl droplet earrings. I wanted to keep my jewellery fairly simple as the dress was so beautiful it didn't need anything more than simple earrings and a bracelet. My shoes were from Next with a pretty diamante bow detail.
The suit and bridesmaids
Both Mat and I were never overly fond of top hats and tails as we felt it was too formal for our wedding and theme. Instead, he chose a three piece suit in Navy blue from Next. As the day was sunny and hot he only wore his jacket to the church. For the rest of the day he just wore his waistcoat with the trousers and rolled his shirt sleeves up. A very relaxed feel and definitely Mat's style!
Mat had nine ushers in total as he wanted all of his close friends to be part of our day. Trying to keep costs down, we asked the groomsmen to wear their own grey suits which worked out well as it gave a more relaxed feel to the day. They also complimented Mat's blue suit very well.
I had five bridesmaids in total and a flower girl. I found my niece's dress from Next which also featured a bow to the back that matched mine. I bought her a daisy covered hair band from Monsoon and a personalised pearl bracelet with charms on from Not On The High Street. My five bridesmaids each wore lemon yellow dresses from a store on eBay. I found it extremely hard to find the exact yellow I wanted so was really pleased when I found these at a bargain price of £40 each. They were made from chiffon so was light and perfect for the weather. The girls all looked beautiful. Along with the dresses I bought them all vintage gold style sling back shoes from Oasis and a silver heart necklace from Silver Co online.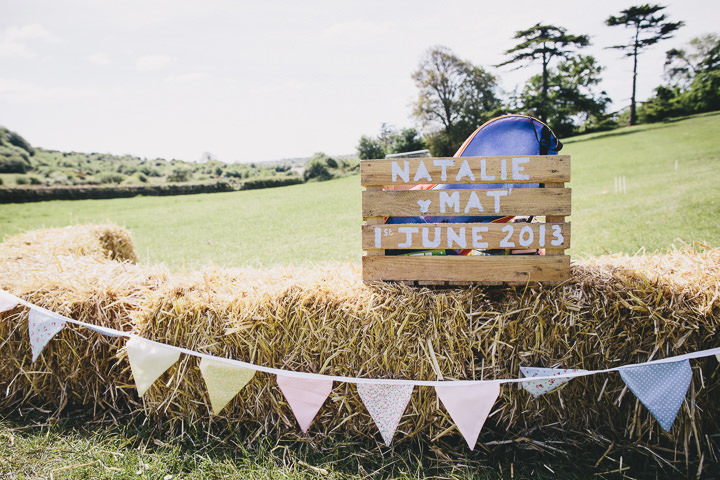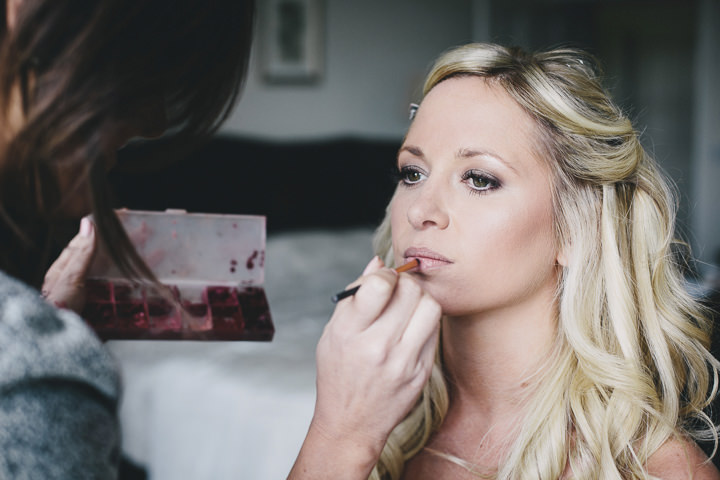 The theme
Mat and I always wanted a country style wedding with lots of personality and quirky touches, but also where guests could relax and enjoy themselves. Pastel colours were themed throughout the day from the bunting and crockery to the flowers and bridesmaid dresses.
The flowers
My flowers, which were one of the most important features of the day, were from an artistic local florist, Fiona Penny of Sunflowers in Weymouth. I wanted beautiful pastel coloured flowers with striking blue ones to compliment the venue and the meadows.
Pale yellow and pink roses, nigella, cornflowers and daisy like flowers made up the beautiful bouquets. I was delighted with them. Mat and his best man had matching pale pink roses with some daisies as button holes, his Ushers and our fathers had similar but in lemon yellow.
Jam jars of pretty flowers and tea lights decorated the tables along with marguerite daisy plants as centre pieces. We took these home after the wedding and are currently sitting in our garden. A wonderful memory of the day.
The decoration
Over the 18 months leading up to the big day, we worked hard creating homemade touches as we wanted it to be as personal as possible. We made favours, cake labels, the table plan and moustaches on sticks for the guests for table entertainment. We also roped in our family into helping us make the invites, colourful bunting (and mini bunting for the table numbers!) and even a peep board for photographs with the theme 'down on the farm'. I also painted the guests' names onto pebbles, for the tables which family and friends could take home as a keepsake of the day.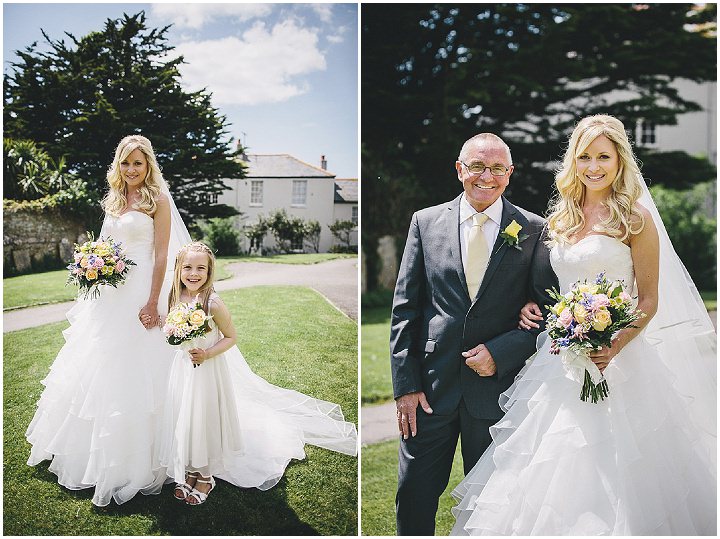 The food and wedding cake
To suit our theme of the day we served High Tea for our wedding breakfast. It worked out really well as guests had a great selection of food to choose from. Sausage & Pear from Bridport, who provided our food all day, were perfect for us as they were local and used only locally sourced ingredients.
The High Tea included lots of yummy food including scones with clotted cream and jam, a selection of hand cut sandwiches with various fillings, homemade Dorset cheddar and spring onion quiche, salmon and cream cheese on mini bagels and cheese & mixed olive kebabs. These were all served on vintage crockery and cake stands. We also had a separate cake and sweet table that included a selection of homemade cakes, cupcakes and mini bites.
Our caterers were fantastic and also provided a welcome cider barrel bar which was open all day for refreshments.
For the evening, Sausage & Pear provided a BBQ that included local beef burgers, local sausages, spicy chicken, vegetable kebabs, prawn skewers, spare ribs, corn on the cob and local salad with chunky croutons. Where there was no hot food provided during the wedding breakfast, having a BBQ for the evening gave our guests a great selection of food throughout the day.
Sausage & Pear also made our wedding cake. It was a gorgeous three tier Victoria sponge topped with flowers from our florist. The cake was also featured peg doll figures I had made to represent us and our dogs.
The entertainment
Our entertainment was one of the highlights of the day. After the ceremony, guests were entertained by Morris dancers and served ice-creams from a vintage bicycle on arrival at Lorton House. I always wanted Morris dancers and kept it as a surprise from Mat until the day. They even brought along extra hats and sticks for us all to join in!
After the Morris Dancers, the guests then relaxed on hay bales and beach deck chairs while the children, and some of the adults, enjoyed the wide open spaces playing football, cricket and boules. I also made moustaches on sticks for some table entertainment and created a homemade farm theme peep board to take photos in.
The entrance to the marquee was also the ideal space to have our guest book and some framed photographs of our parents on their wedding days and also of our dogs dressed in their bow ties! I wanted a guest book that everyone thought was different and had fun with while signing, so we had instructions on how to make finger print people. I have since put these all into a frame as a treasured memory of our day.
In the evening there was a lively barn dance by the Black Sheep band which got everyone on the dance floor! Finally the barn dance was followed by Mat's friend DJing taking the celebrations into the early hours of Sunday morning.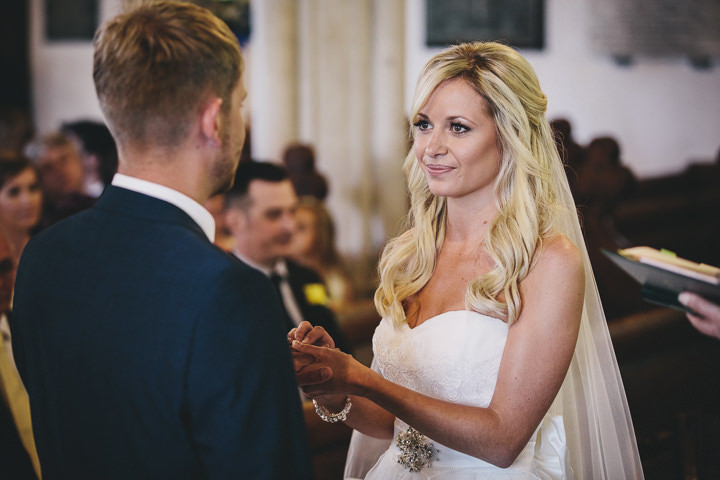 Buy or DIY your stationery?
With the help from my family, we made our invites, menu's, table numbers, table plan and Order of Services. They were all similar themed with small bunting made from the fabric that was used for the bunting that decorated the marquee. I even had a stamp made with our name and date of the wedding that we printed on each invite.
Personal or handmade touches
As well as making the stationary, bunting, farm themed peep board, moustaches on sticks to name a few, we was also excited about making the favours. For the ladies I chose purse sized Cath Kidston mirrors and for the men we bought lots of penny sweets such as candy watches and chocolate tools to make up small bags of treats. We neatly wrapped the favours in small brown paper bags, tied with jute string and finished with stickers I designed and made with our initials and wedding date.
Having children to the day meant a lot to us as we felt it was important for the family to be part of the celebrations. My sister arranged activity books and crafts for the children to enjoy at the tables which kept them entertained throughout the speeches.
We also arranged presents to be handed out to close family members, groomsmen and bridal party. We gave the mothers beautiful bouquets of flowers, the bridesmaids personalised trinket boxes and the ushers had individual name badges with 'usher' written on. The best man and both fathers had individual charactertures painted from one of my talented work colleagues. They showed the men doing what they loved best – Tom the best man at the gym, Mat's father playing tennis and my father with his caravan. They loved them!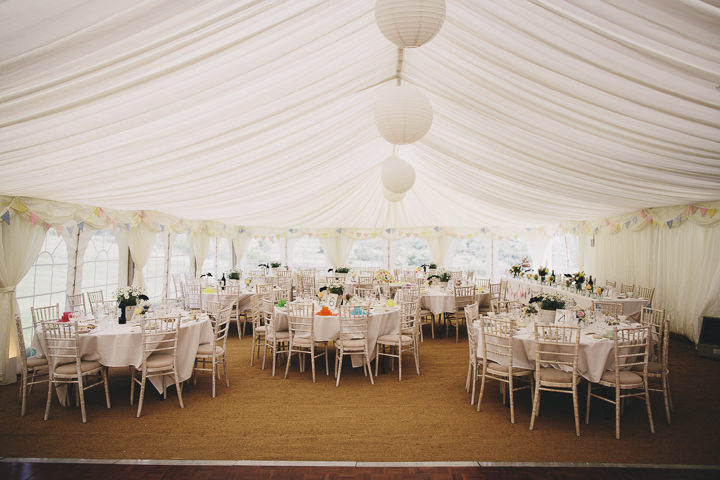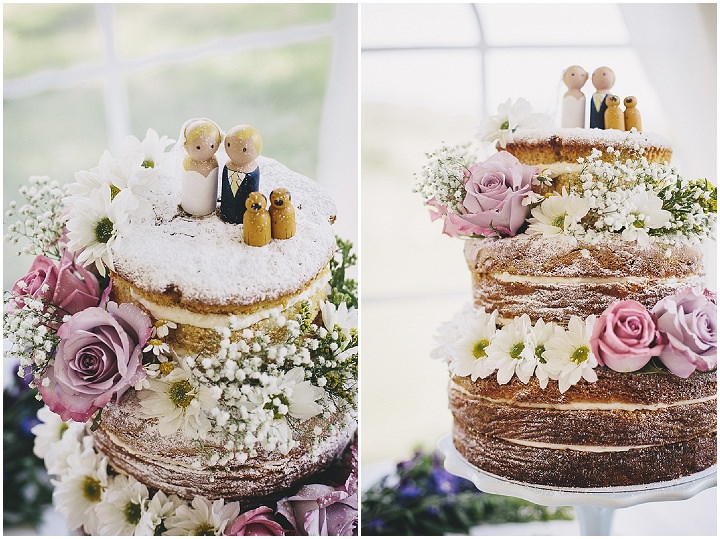 Special moments
The most special moment of the day was saying our vows to each other. I also loved that the church service was very personal to us where the vicar mentioned in our prayer the relatives that were unable to be with us. A lovely touch to remember them by and feel as though they were there with us on the day.
We also loved joining in with the Morris dancers, the speeches and the cider barrel bar!
Advice to other couples
Start planning early, especially if you are making lots yourself – Homemade items take time to make! Enjoy yourself on the day and don't worry that everybody else is ok, that's what your bridesmaids and ushers are for. After all the day is about the two of you!
But most importantly, a wedding is all about the two of you making your vows together, so take in every word you say to each other and remember that moment of your day.
Biggest surprise
Mat bought me a beautiful personalised necklace for the morning of the wedding which was a lovely surprise. Our parents also organised a large helium balloon from the dogs! Our wedding turned out as perfectly as I imagined, the weather was beautiful and people had fun and relaxed throughout the day. Although I do know that Mat's biggest surprise of the day was probably the Morris dancers!















Supplier Shout Outs:
For more information on Helen's work please go to:
www.helenliskphotography.co.uk
[email protected]
FACEBOOK
@HelenLiskPhoto

[jprel]