Today's couple Katy & Steven, were childhood friends, turned sweethearts, who lost touch as most do, but then found each other on the wonderful worldwide web years later. Their wedding day, with images by Boho friend and regular contributor, Helen Lisk, was the perfect blend of sunshine, neon, cider tasting and miles of bunting. I also love their unique photo booth idea of cut out picture frames on a wallpapered wall. Very clever!
'A perfect day filled with family and friends, sunshine, smiles, cider and swing.'
Katy and Steven were married on the 12th July at Tithe Barn in Symondsbury, Dorset. "It's near where my Mum and Dad live and where I spent a lot of my childhood summers (Katy). And we loved that we could have the wedding and reception all in one place and in such a stunning barn (and that the family could all stay in cottages in the same village) and be in such a beautiful part of the country."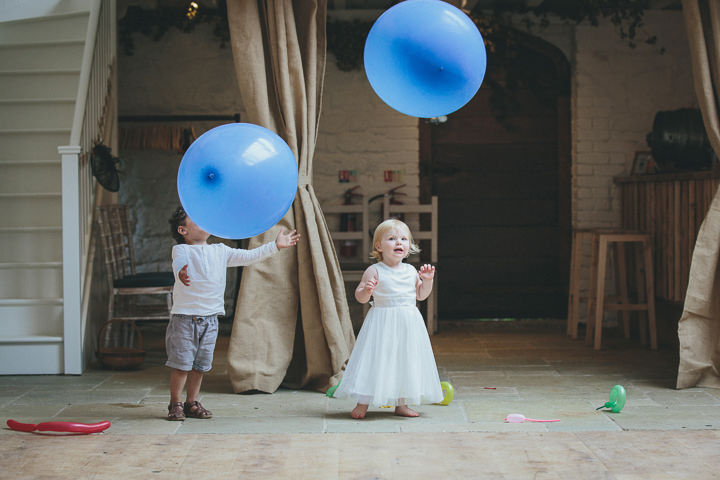 How they met
We met at school at the age of 13. We had the childhood love / hate thing for about 3 yrs then Steven moved away to Berlin- we wrote and rang / kept in touch until about 18yrs old, then we lost touch. He got back in touch with me through Friends Reunited 9 ½ yrs ago…and the rest is history.
The proposal
Steven came to join me and my family on a holiday in Brittany (after I had been away working in Melbourne for a few weeks and gone directly there so not seen him for quite a while) – There on a rainy day in June by the beach as we both got a little wet he asked me if 'I would do him the honour of being his wife' and produced a ring, whilst shaking. I cried at the shock but of course said yes. And I was then more shocked to discover he had actually asked my Dad's permission before coming out on the ferry to join us there in France so my family were all waiting back at the cottage we were staying in with some fizz to celebrate with us.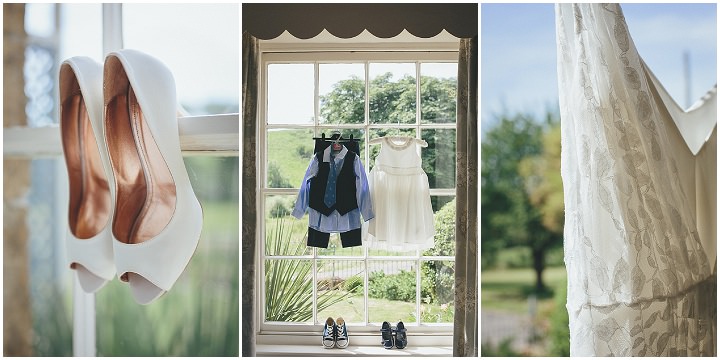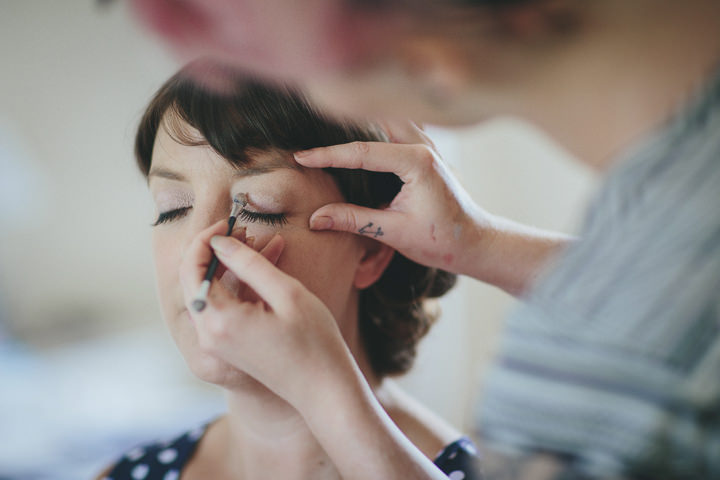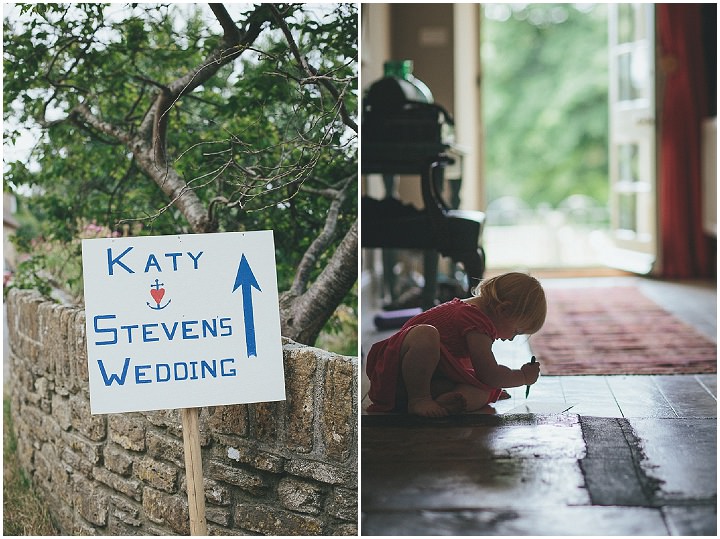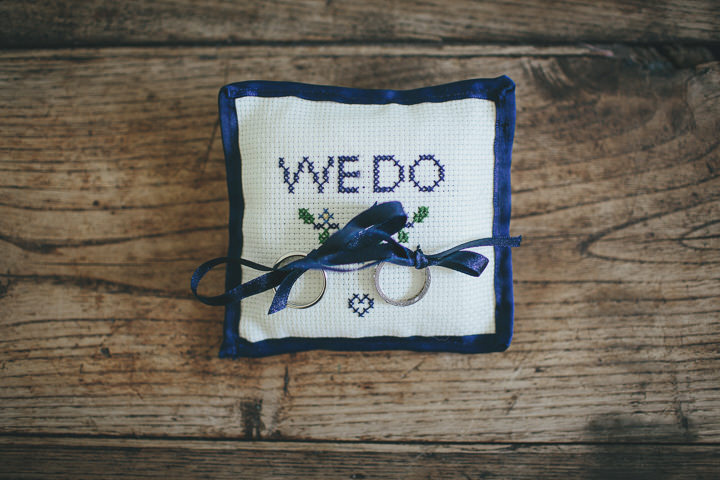 How did you allocate your budget?
We wanted good food / good music / good photographs / good flowers and lots of booze – the little bits we wanted to make ourselves not really to save money but to make it our day and more personal – we didn't want to scrimp on costs as we wanted the perfect day but we did try our best to do things for the most cost effective way where possible. We also tried to make everything local although we live in London so all our suppliers for the wedding were based around the area the Barn / Wedding was taking place.
Why did you choose your photographer?
I looked through a lot of books / websites as I knew an idea of the look I wanted someone to capture for us (and having done a degree in photography was always going to be quite picky about this) – then we found Helen's work. As soon as I looked through her website I was very excited and even happier once I contacted her and discovered she was available. When we spoke on the phone for the first time I was totally put at ease and felt happy we had made the right choice. We did a pre-wedding shoot with her which was great to do and only further re-assured us about our choice being the right one – We love the pictures we have seen so far.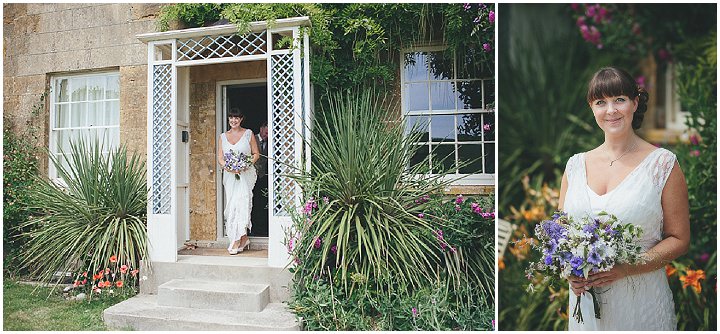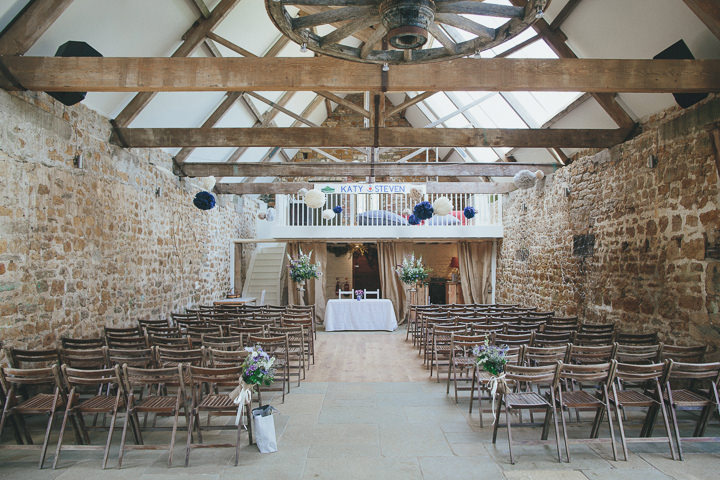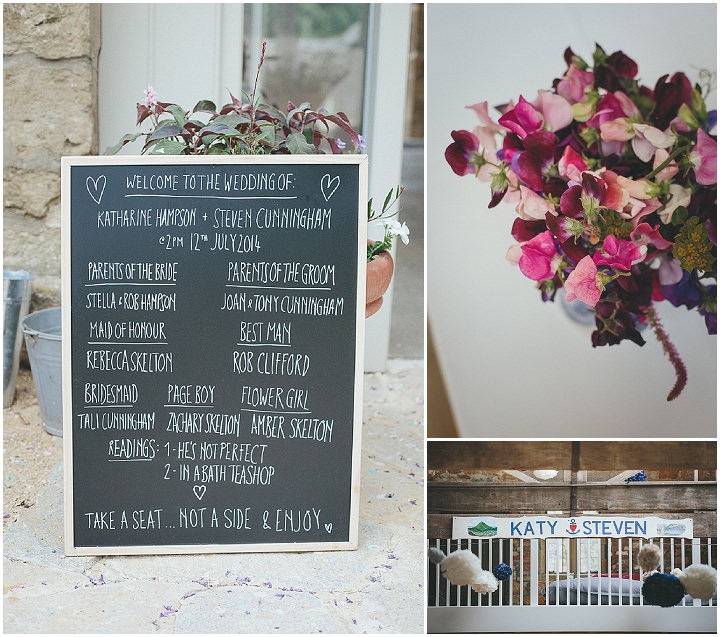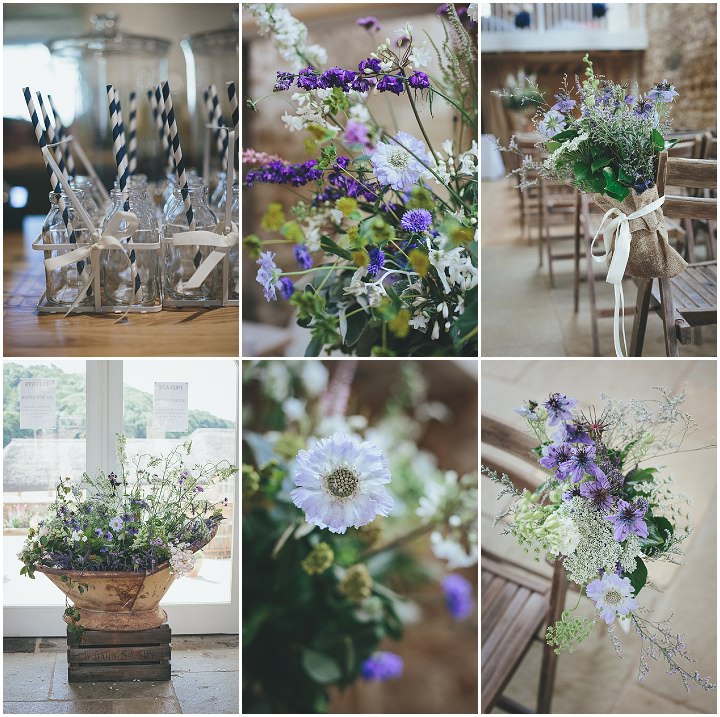 The dress and accessories
My dress was by Charlie Brear. My shoes were Rachel Simpson and my hair crystals were from Liberty in Love. The jewellery was all from antique markets or shops and the necklace was my 'something borrowed' – from my Mum.
The suit and bridesmaids
Steven's suit was from Harris and Zei. Maid of Honour – Monsoon, Bridesmaid – BHS, Page Boy – BHS, Flower Girl – Debenhams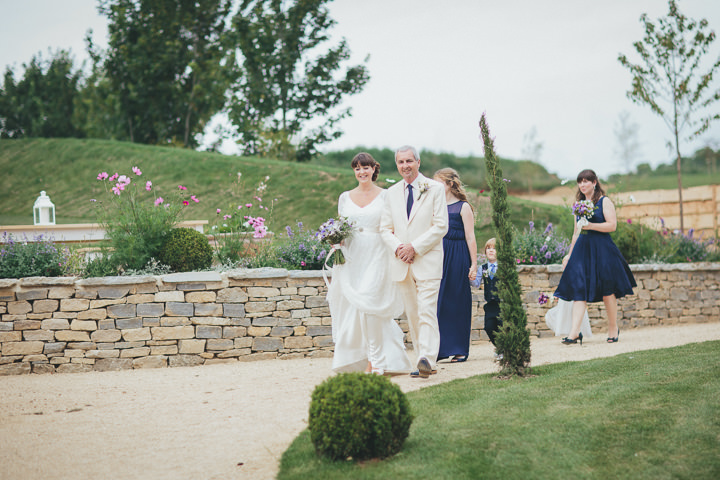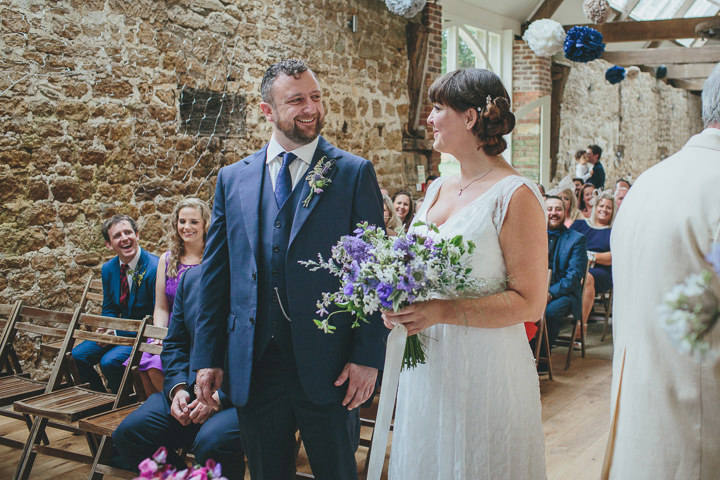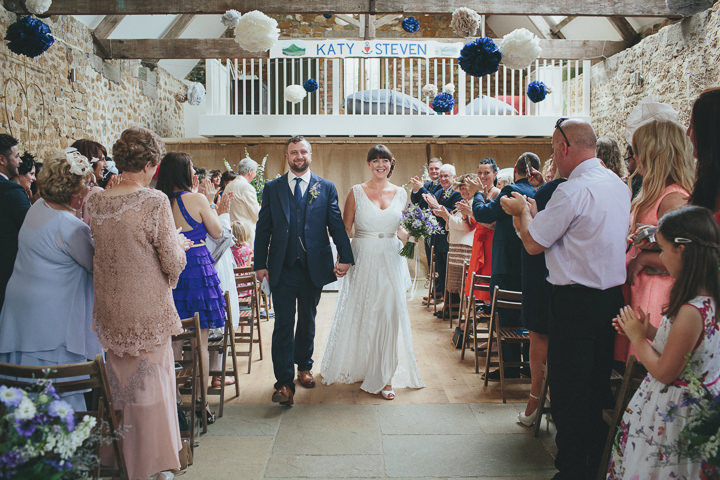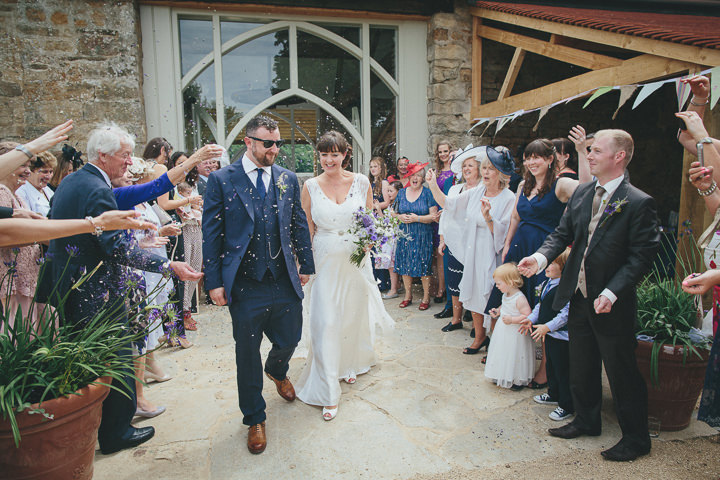 The theme
We went with Navy and Ivory.
The flowers
They were from Charlie @ The Real Cut Flower Company – they were blues / creams and a touch of purple and green. They were all grown in her garden so very English country garden in look – natural and wild.
The decorations
Pom Poms, a custom-made anchor/heart light from Old Albion / name sign painted by my Dad up in the beams of the barn / Cross stitch tables names and brown luggage tag table place names… flowers in mis-matching blue and white jugs and some blue confetti hearts on the tables.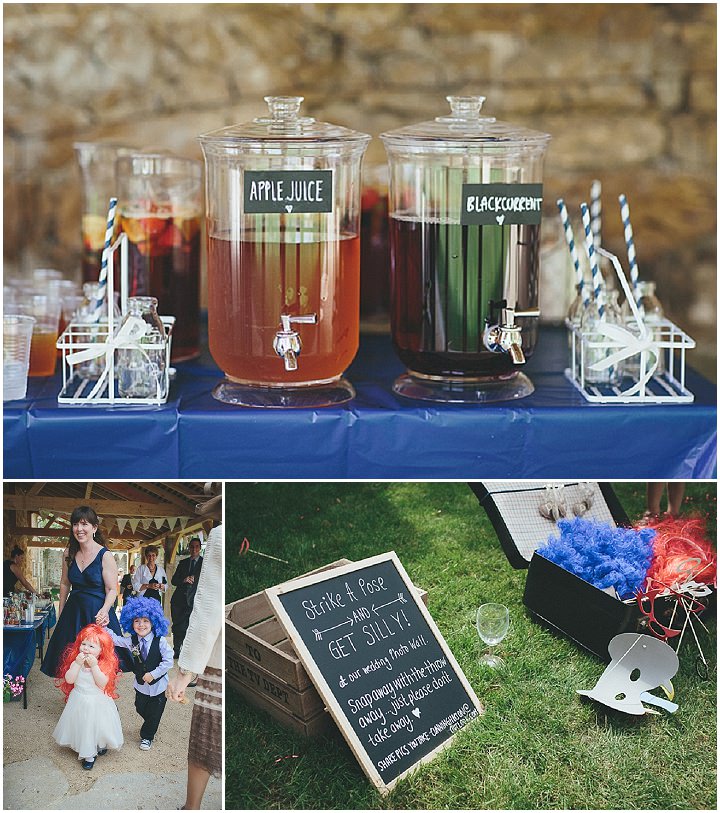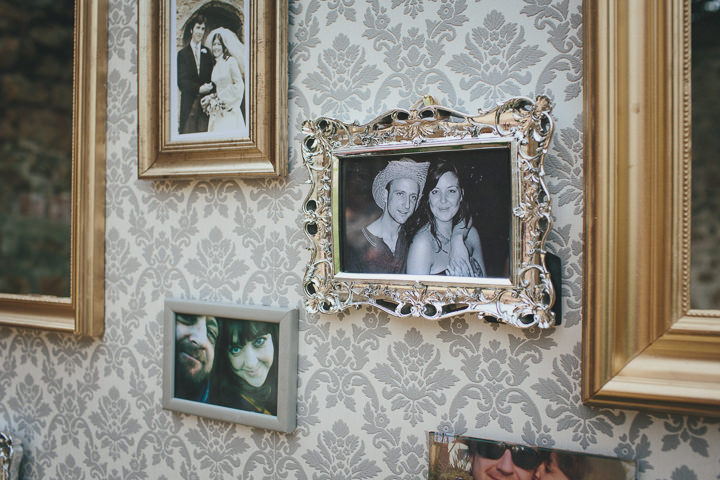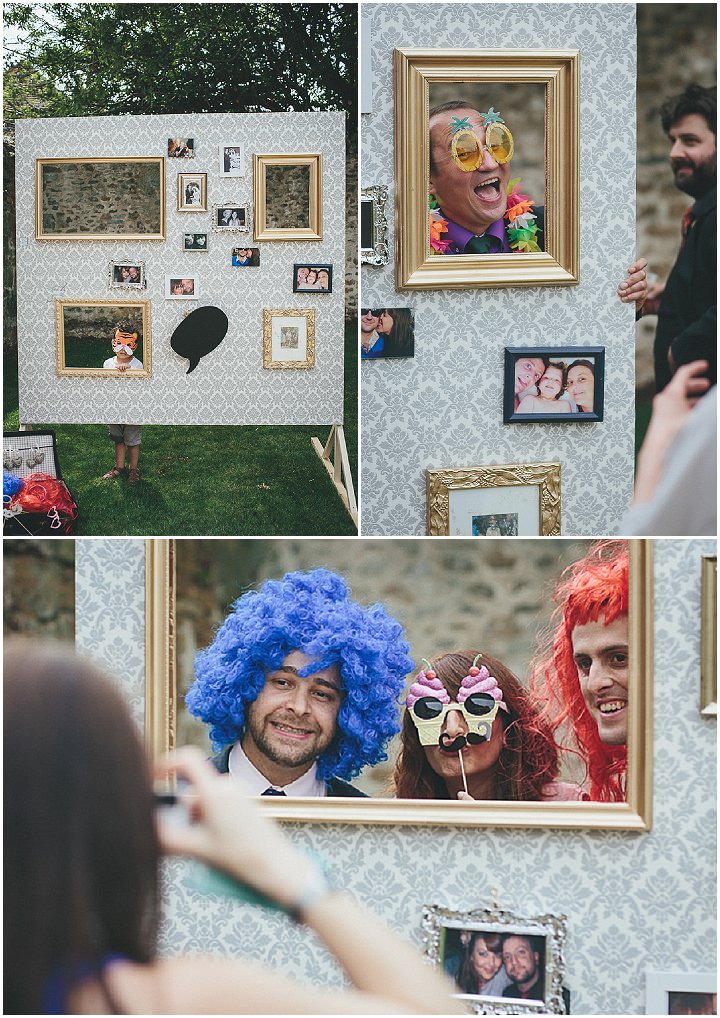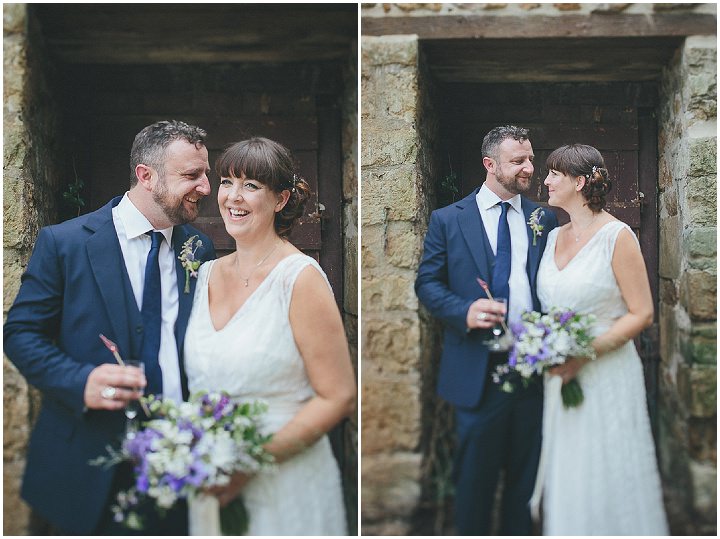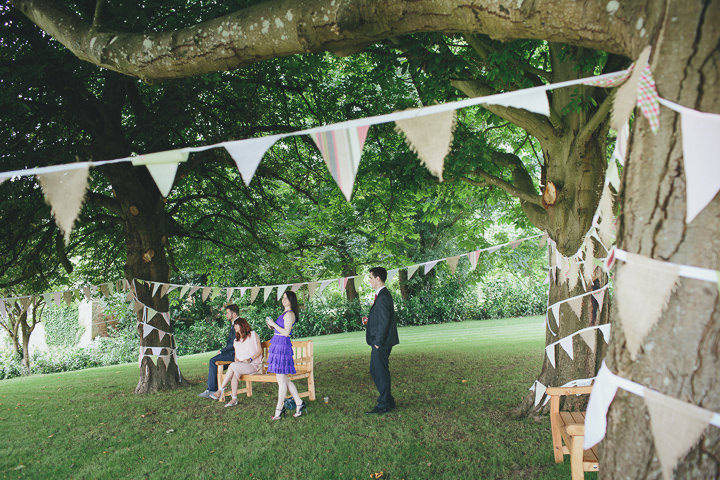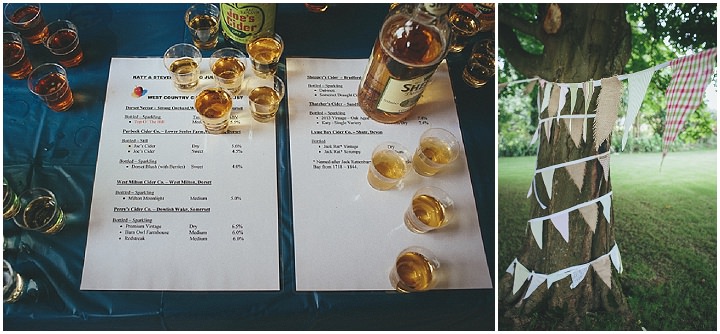 The food and wedding cake
Sausage and Pear were our caterers – they did canapes (scotch eggs / crab sandwiches / mushroom and stilton puffs / mini croque monsieur / beef in a yorkshire pudding) then main meals were Chicken in cider casserole or Beef Bourguignon or wild mushroom strudel – all with potatoes and seasonal veg.
Dessert was devon toffee cheesecake / lemon and ginger cheesecake or brownie.
Evening Meal – hog roast and a home-made cake table (all made by my family) – and the cheese from the wedding cake with Dorset knobs.
We had a cheese tower from The Fridge in Dorchester.
The entertainment
The Ding Dong Daddios – were our band.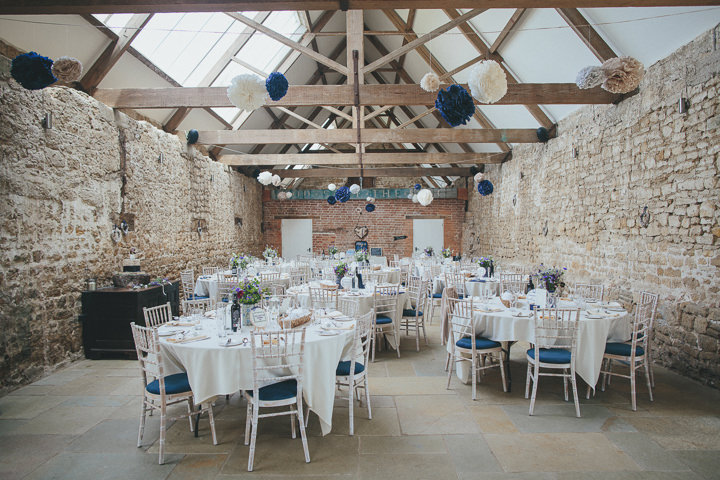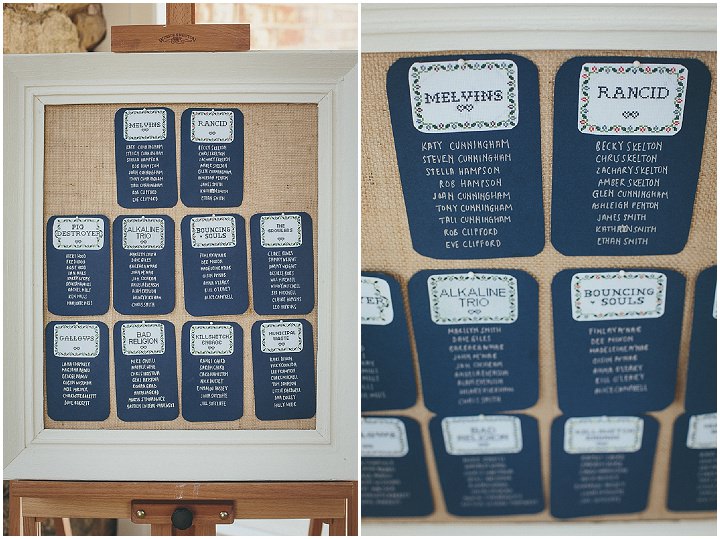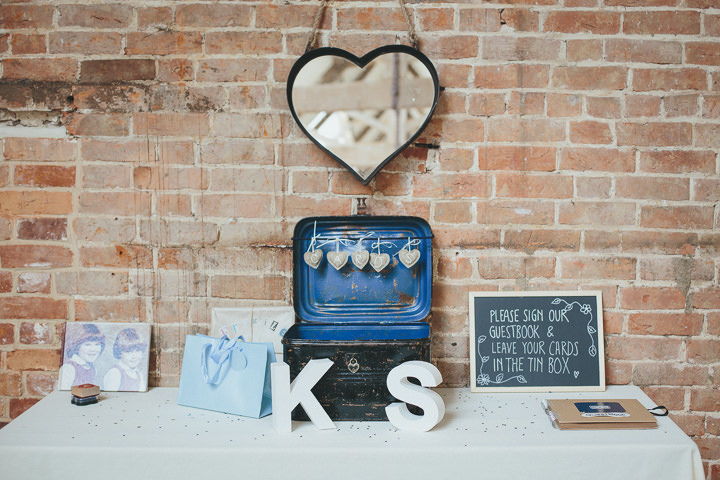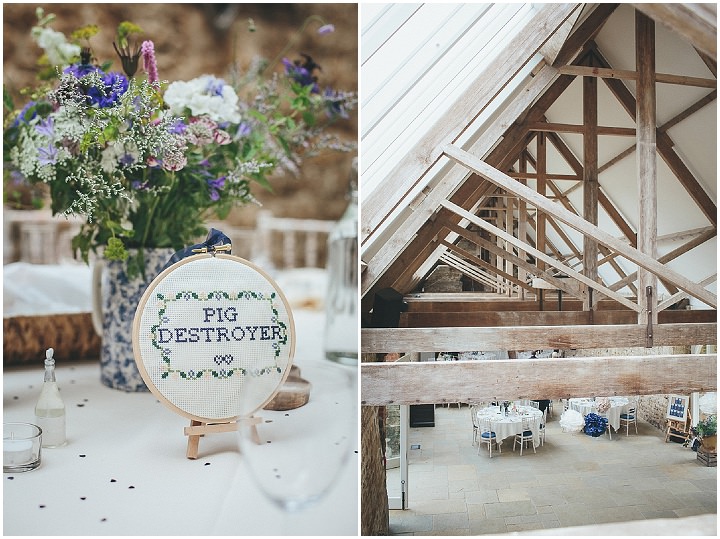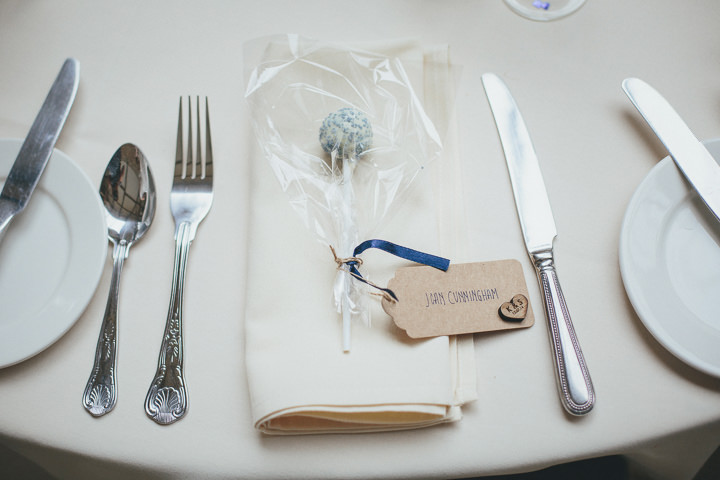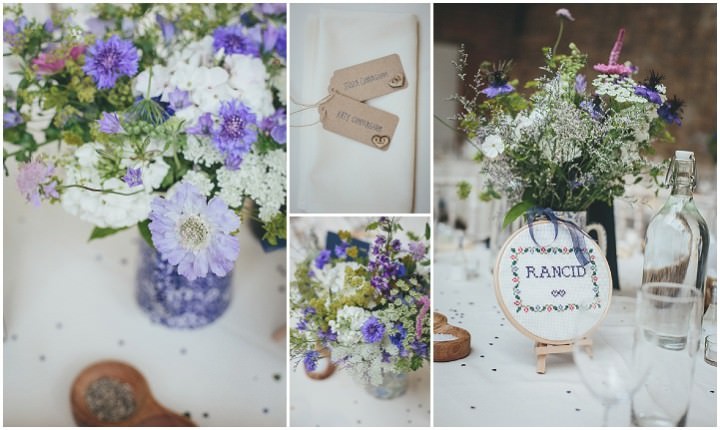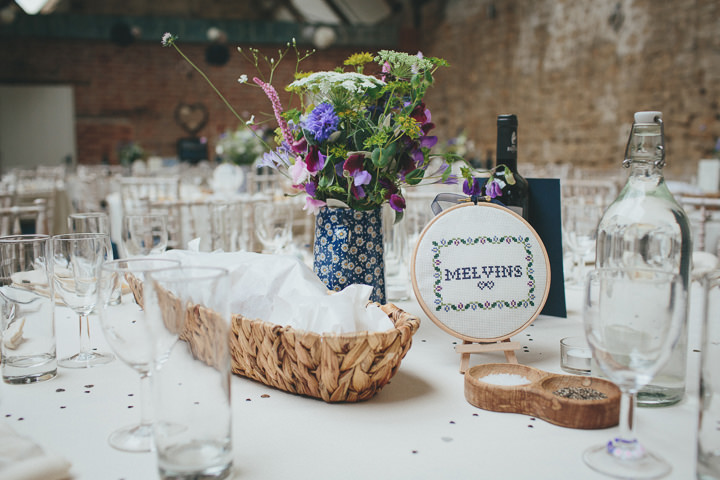 Buy or DIY your stationery?
We did DIY on invites / tables names / place names / boards around the room etc.
Personal or handmade touches
I did a cross stitch design for each table name – all bands whose gigs we had been to seen together (metal and punk bands that sounds horrid but were made to look pretty)
I hand wrote the name places on brown luggage tags and stuck on little wooden hearts with our initials onto them.
We made a photo wall and collected up various props for people to use as a photobooth wall.
We wrote various blackboard signs around and filled old tins and suitcases with bits for the kids to play with etc.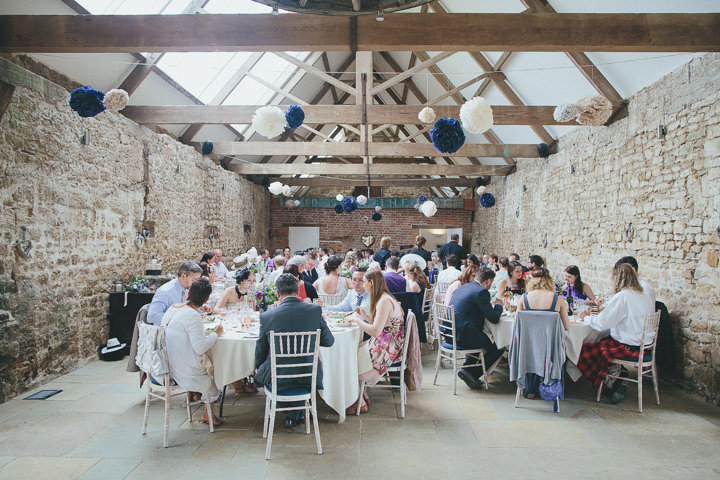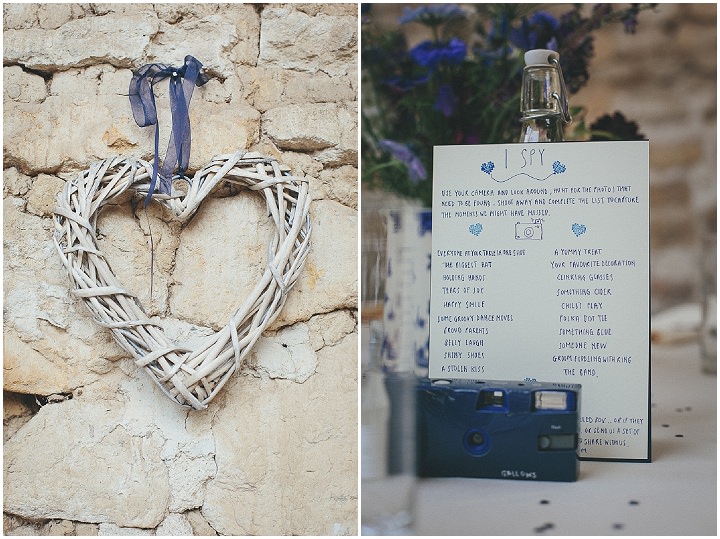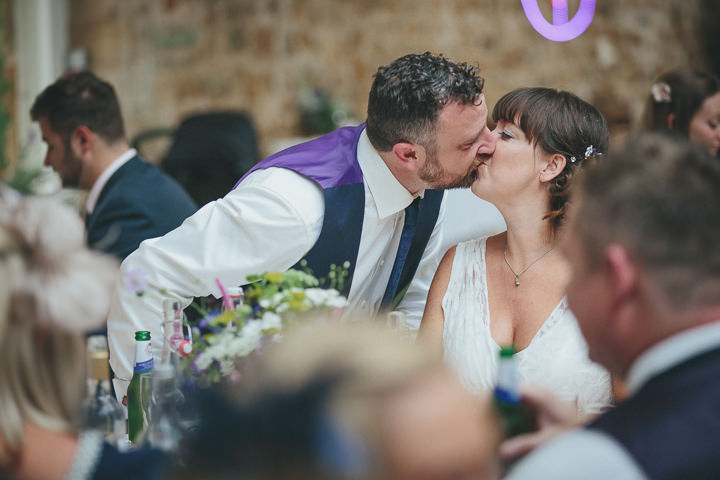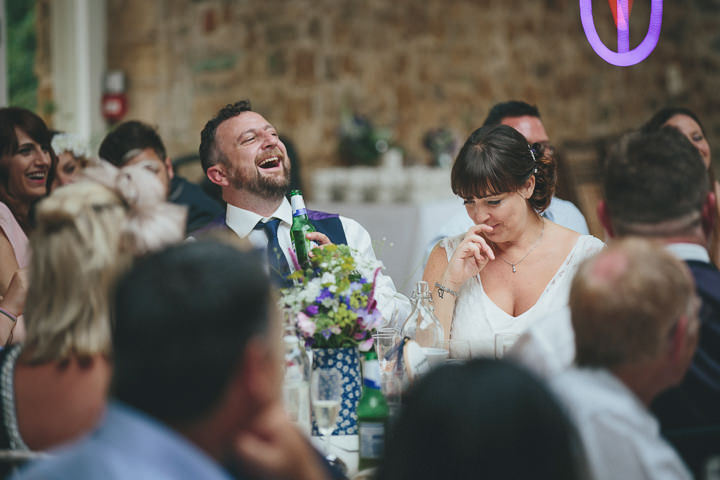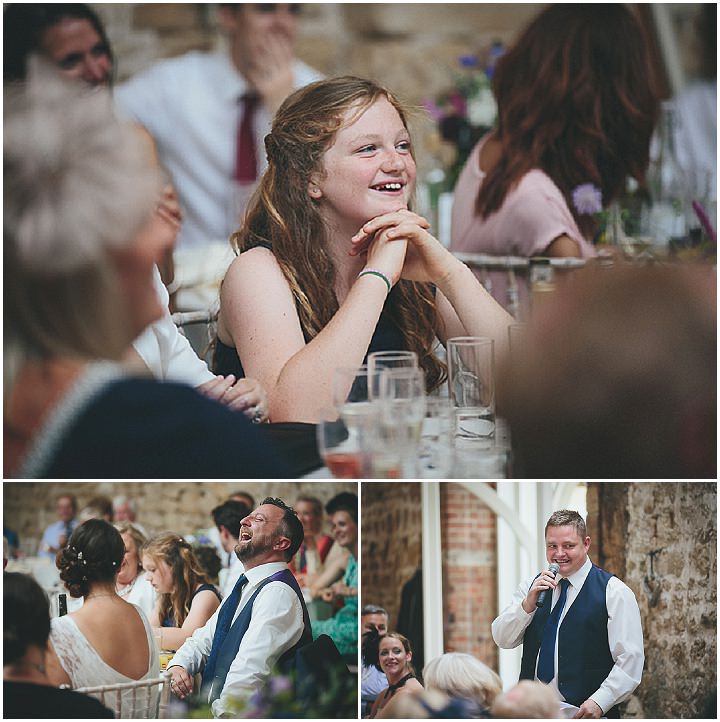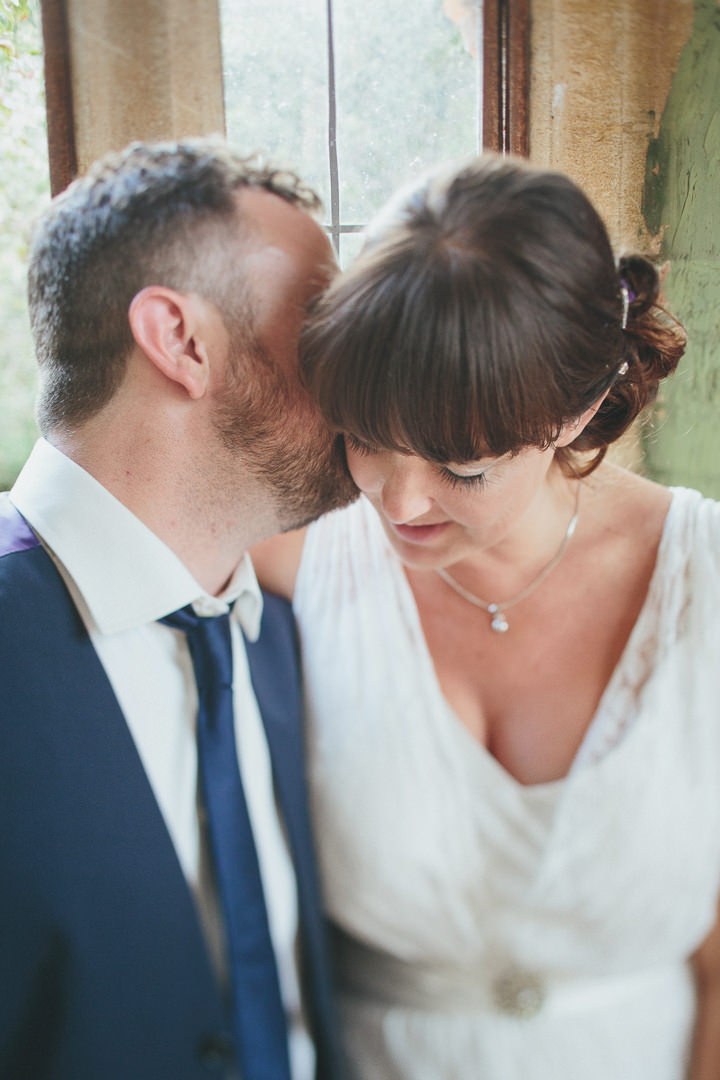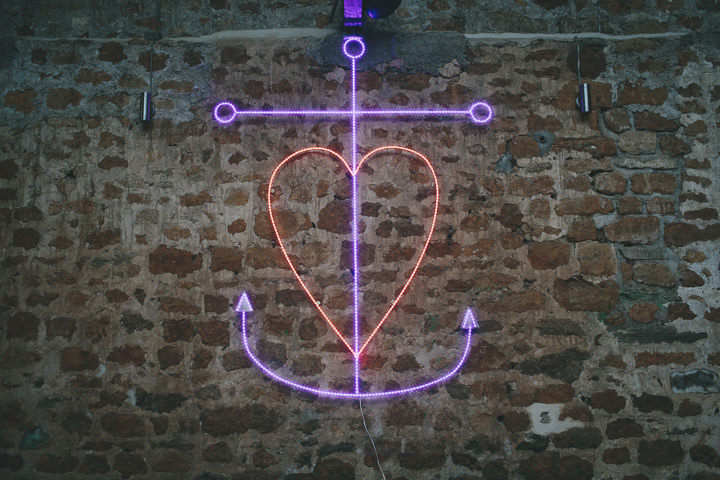 Special moments
Being hand delivered a wedding morning gift from Steven (but not directly to me as we didn't want to see each other until the service)
Walking into the venue seeing friends and family's faces and seeing Steven stood at the front whilst Tiny Dancer played looking so smart.
Our first dance – hearing the band play for the first time and losing ourselves for a moment in the song and each other.
The speeches and seeing the room filled with laughter.
Seeing my 2yr old niece (and flower girl) picking her nose whilst we signed the register.
Advice to other couples
Try to make it have a few things you feel are personal to you both to make it feel more special.
Relax and try to enjoy the prep and the day and don't stress about the little things.. only you will notice them.
Have fun and take a moment to step back together to observe your wedding – the guests, the venue.. hear the music etc – away from everyone else .. even if just for a second.
Biggest surprise
Crying as I walked into the room when I had felt quite calm just before entering the barn… the emotion of the moment just caught me. And other than that.. just how relaxed the whole day felt.. everyone seemed to be happy and at ease… and nothing went wrong even when I had been warned not to care about what did.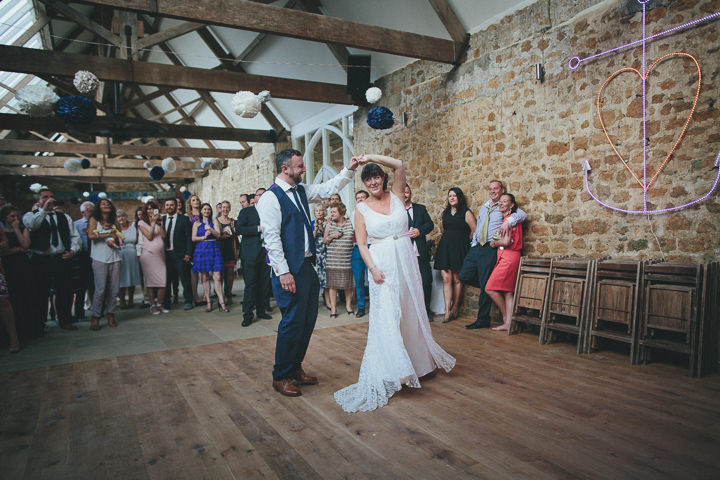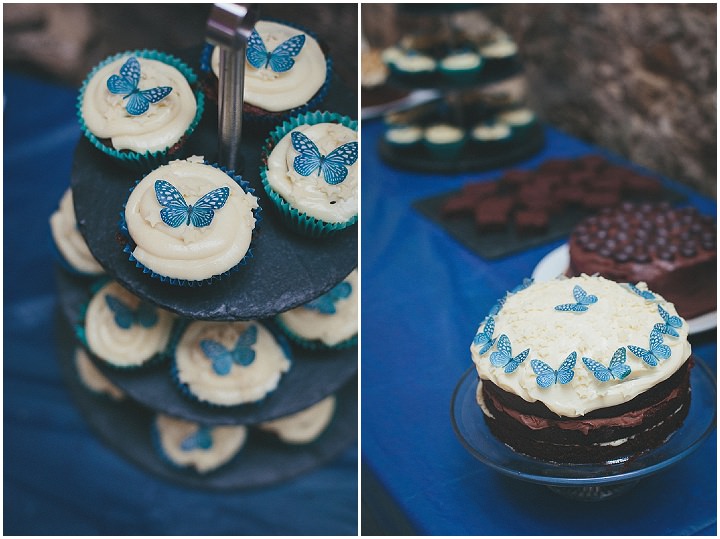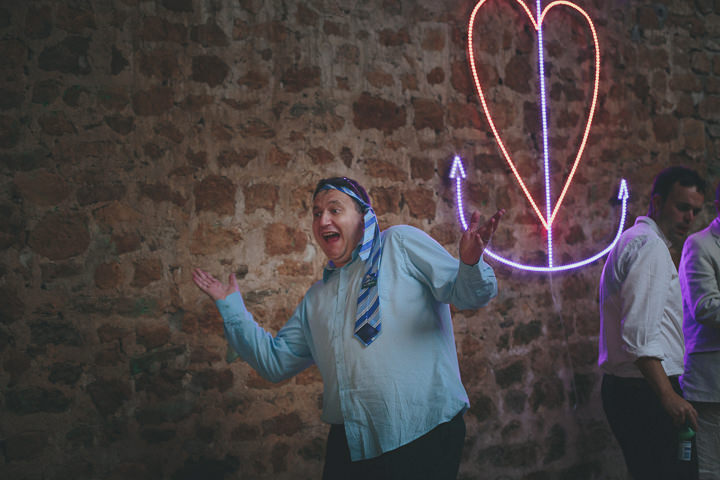 Supplier Shout Outs:
Venue – Tithe Barn,Symondsbury, Dorset – http://www.symondsburyestateholidays.co.uk/the-tithe-barn
Stunning venue and a very helpful lady called Amy is now running the weddings there and is very helpful.
Flowers – Charlie @ The Real Cut Flower Garden – http://www.cutflowergarden.co.uk/
(great lady.. so calm and totally got what we wanted and stunning flowers!)
Catering – Sausage and Pear – http://sausageandpear.co.uk/
(great food – all the guests thought so and smooth service)
Evening Hog Roast – http://www.dorsetporkers.co.uk/
Hairdressers – Sharon from http://www.hairbydavid.co.uk/
Make-up – Faye from http://www.theshedboutique.co.uk/
The Anchor / Heart light made to order for us – Mike @ http://theoldalbion.com/
Cake pops – made for us by Ashley Steadman @ Bake me a cake on FB.
For more information on Helen's work please go to:
www.helenliskphotography.co.uk
[email protected]
FACEBOOK
@HelenLiskPhoto