Today I am sharing with you a beautiful wedding with accents of teal and coral, one of my favourite wedding colour schemes, which is set in a rather splended venue. Harewood House in West Yorkshire gives this vintage inspired day a sence of elegance and grandeur, with its beautiful grounds it really is the perfect venue to make any bide feel like a princess. Katie and Adam made the day their own by incorporating lots of handmade touches, including paper pom poms, stationery and giant light up letters. The whole day has been captured perfectly by Craig from Mr and Mrs Wedding Photography.
'More perfect than we ever dreamed. We could absolutely feel the love from all our friends and family'
Katie and Adam were married on 6th June 2015 at Harewood House in West Yorkshire. 'We chose the venue because of the beautiful view at the terrace it was breath-taking. Also because the rooms were plain enough to inject colour and put our own stamp on the place but had character with the beams. We has 72 guests to the day and around an extra 80 at night. It took two and a half years to plan, we were engaged in October 2012! We would have done it sooner but we had lots of friends weddings and we'd just bought our house.'
How they met
We met on the number 56 bus! We've been together six years in January 2016.
The Proposal
We went to Las Vegas with our group of friends at Halloween 2012. We decided we had to go to a massive Halloween party while we were there! Adam prompted us to go as a 'dead wedding party' because people get married in Vegas! He thought it would be 'hilarious if we went as the bride and groom'. When we were all dressed up, white make-up and all, he took a picture of me then when I went to take one of him he was down on one knee! I didn't take the photo, I threw the camera on the bed in surprise and cried streaks into my white ghost make-up!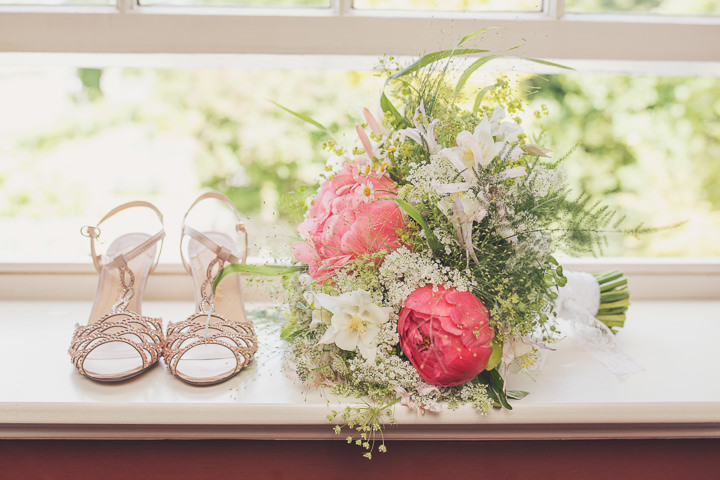 How did you allocate your budget
We booked Harewood first with estimations of how much this would cost. We then booked our wonderful photographer and after that things fell into place. We got some great deals for some things, other things were from ebay, others were family and friends and some things were gifts from family. With 2 years to save we paid for the majority ourselves!
How did you choose your photographer
Craig was a graphic designer like my husband and so we knew of him through a friend. We then looked at his style and he was the exact relaxed, vintage style we loved. We met him and he was so friendly and chilled and was totally right for us. He became more of a friend though the process than someone we'd hired!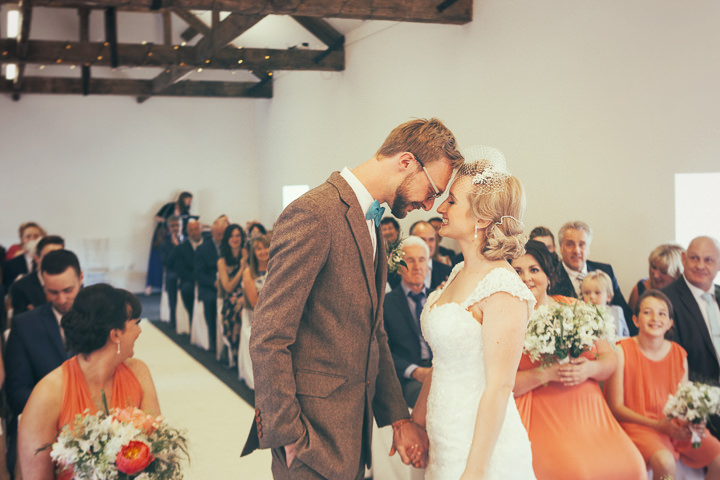 The Dress
My dress was Maggie Sottero;Emma supplied by a lovely local shop. My earrings, garter and bridesmaid earrings were from 'Liberty In Love' online and my birdcage was from 'Lily Bella' online. My shoes were Moda In Pelle. My head decoration was Adam's sisters and my hairdresser adapted it to suit the style I wanted for my day.
The Suit and Bridesmaids
The boys wore 3 piece suits from River Island, with dickie bows from Mrs Bowtie online. Adam got his suit from Victor Valentine. The girls wore multi-way dresses online from New Look! We got two coral and one mint colour for Adams best woman and they worked perfectly!
Theme or Colour Scheme
We liked the idea of something bright and summery so we went for a coral and teal colour scheme with a vintage feel. As I searched I found I really liked Hessian so this worked well too.
Flowers
Coral peonies with summery greens and ivory roses to fill out into a rural vintage look with a splash of colour.
Decoration
I made loads (I didn't even count them!) of paper pom poms from scratch in coral, teal, white and grey to hang from the beams in the wedding breakfast room. We bought a vintage type-writer in Angel Market in London which just happened to be teal. We hired hessian table runners and giant lanterns. We made our table plan from a teal vintage suitcase. Adam made some funny signs for the evening reception. We had a giant wooden 'A' and 'K' made in secret by my dad for behind the stage. We had beautiful arrangements on the tables on cake-stands. We had pictures of our parents and grandparents on their wedding days in frames.
Food
Our canapes were posh crisps and dip. We then had posh prawn cocktail, a beautiful chicken dish and Yorkshire Mess dessert.
Wedding Cake
Our cake was made by a friend and was absolutely beautiful. I actually sent her a picture of what I wanted and ordered flowers for the top, not realising she'd made the flowers and they were absolutely amazing! And it tasted delicious! We had real ginger cake for our actual cake and then red velvet cake ready-cut pieces for guests to pick up.
Entertainment
We had my step-mum's sister and her girls 'The Bombshell Belles' perform. The 6th June is actually D-Day so the vintage war-themed entertainment was perfect! They did 1940's songs and then the second act were more modern songs. Everyone was up dancing, and they are amazing!
We also had a some garden games outside such as Limbo, Connect 4 and Jenga. There's a great photo of my Limboing in my wedding dress.
Craig and Andy also set up their Slow-Mo booth at night. It was a great laugh and there was one point where myself and Adam looked round at it and there was carnage taking place with streamers, glitter and party poppers going off all at once. The video we got from that still makes us laugh every time we watch it!
Buy or DIY your Stationery
Adam is a designer so he designed us a logo and website. We used 'The English Stamp Company' to print our save the dates, invites and thank you cards, as well as table names. We also printed our logo on everything we could!
Personal or Handmade Touches
We were very lucky with Adam being a designer, he went all out. We had fonts, a logo, colours, a website. We made stationary, pom poms, signs, and Adam even made a colouring book for the kids! This was particularly amazing. It's a whole story with a rhyme about us and our life together (called "The Giant who fell in love with a Sprite"). I was very impressed. Every November we're both passionate about raising money for the Men's Health Charity Movember. 5 years ago Adam set up a website called "Gallery of Mo" raising money for Movember using art. Every person who donated to Movember through the website got a portrait of themselves done by an art (with the addition of a moustache). We though these would make perfect table places, but also favours for our guests. It was enjoyable seeing our guests find their places by trying to find the illustration of themselves with a moustache. They also really like the fact we donated to charity in return for their portraits. Adam also found a teal vintage suitcase on Ebay which we used to create a seating plan. We stitched rows of wedding coloured cotton and fairy lights on both sides of the suitcase. On one side we pegged the seating plans and on the other we pegged keepsakes we'd collected throughout our time together (such as gig tickets, photos and even a poker chip from Vegas)
Special Moments
Adam cried his eyes out at the end of the aisle and we both continued to sob at the speeches!! Our two best men and woman made the most amazing heart-felt speeches and my dad made the most amazing video speech. We felt so much love and effort from our wedding party and our friends and family. The entire day was amazing.
Advice to other couples
Remember what it comes down to. Enjoy planning and make it all about you! It's about the two of you coming together with the support of your friends and family.
Biggest surprise
My dad's speech. He'd put together a video of me as a child, I'd never seen the footage before and the way he did it was amazing.
Supplier Shout Outs
For more information on Mr and Mrs Wedding Photography please go to:
www.mr-and-mrs-wedding-photography.co.uk
FACEBOOK
I: mr_and_mrs_wedding_photography
07970299089

[jprel]