We are back today with a wedding from one of my favourite wedding venues. This glorious wedding takes place at East Riddlesden Hall, the most stunning national trust barn venue in West Yorkshire. The day has been captured perfectly by Paul and Kelly from Paul Joseph Photography and I'm sure you will agree the whole day is an absolute stunner. Helen and Sam decided on a vintage inspired day with lots of homemade elements. The rustic look of the barn leant itself to this style perfectly and the results are gorgeous.
Relaxed and loving day with some Yorkshire sunshine, full of food, drink and dancing. A day we wish we could relive over and over again.
Helen and Sam were married on the 10th October 2015 at East Riddlesden Hall, West Yorkshire, in the Barn overlooking the lake. 'We wanted to get married in Yorkshire and this was such a beautiful place. It also had some significance since Helens Grandad had links to the Hall through the Murgatroyd family. We had 100 guests for dinner plus 25 more in the evening. We planned gradually over 22 months of engagement. We wanted to enjoy it and not be rushed, were planning on being married for a very long time so why not enjoy being engaged.'
How they met
We had lived on the same street in Newcastle and never met, then we were introduced by friends at a club in London and had a year's long distance before we both relocated. We had our 5 year anniversary the week before we married.
The proposal
It was in the Christmas holiday 2013. We were in the Victoria and Albert Museum and Sam was searching for a quiet corner. Eventually we stumbled across an empty lecture theatre, Sam gave a 'speech' form the lectern on stage about the Pearl exhibit we had just visited then turned it into a proposal. He then ran up the auditorium steps and got down on one knee
How did you allocate your budget?
A detailed excel spread sheet which just grew and grew. We knew getting the food and wine was really important, but then so was the venue, the band, the dress, the vintage feel…
Where did you splurge and where did you save?
We splurged on the honeymoon, we went on safari in the Masi Mara and then for a week in Mauritius. We saved by doing a booze run to Calais and a night away in a lovely air bnb farmhouse. We also tried to make as much as we could ourselves or using the skills of our friends and family.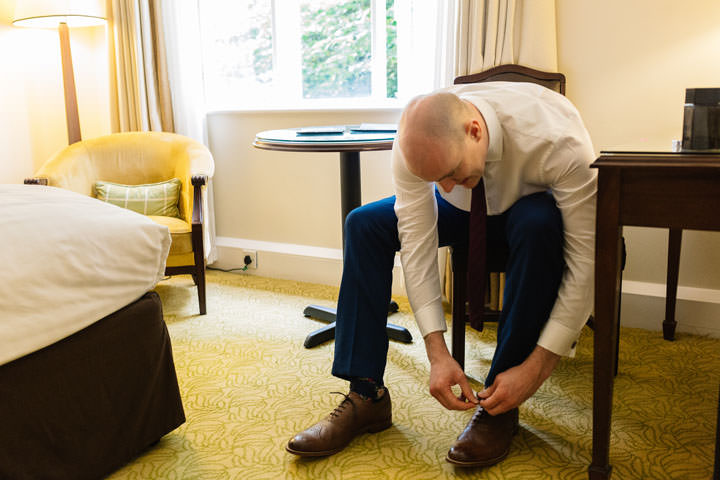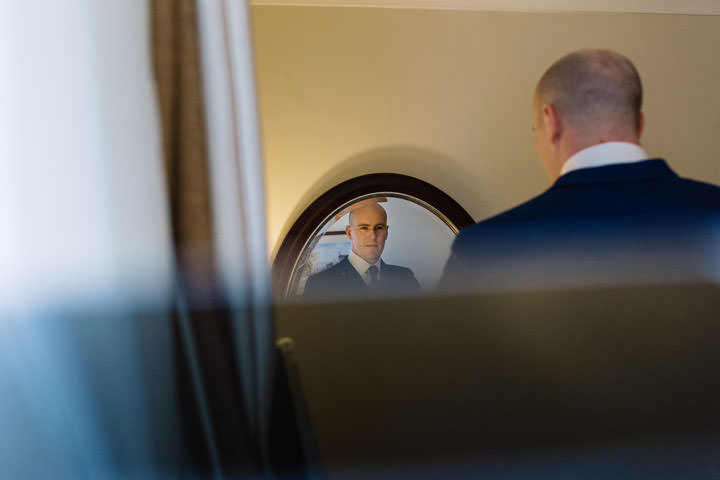 Why did you choose your photographer?
We were recommended Paul and Kelly by the national trust and when we saw their work and met them we knew they would be great. The fact we would share the same wedding anniversary and they regularly went to ERH made the choice seem very fitting.
The Dress
My dress was David Fielden, customised to give a lower back. Shoes from Rachel Simpson, a vintage stole, family pearl earrings and a headband from The Wedding Mill in Saltaire.
The Suit
Sam was head to toe in Ted Baker and the bridesmaids all had Ted dresses – Helen used to work there and still has friends in the business.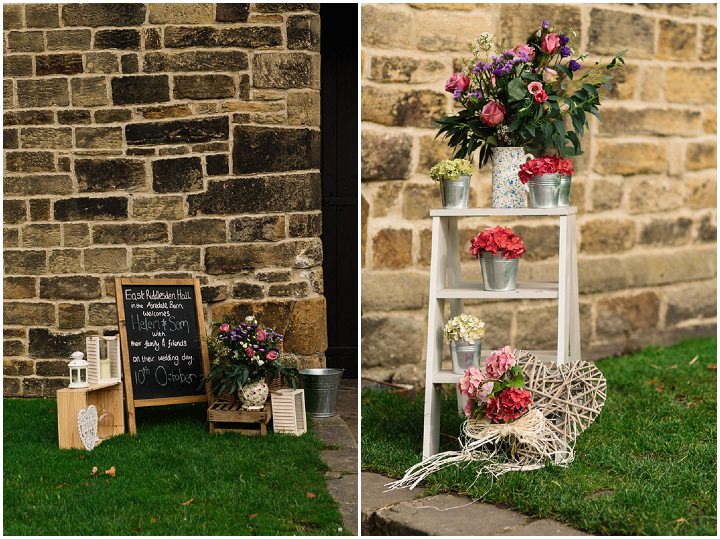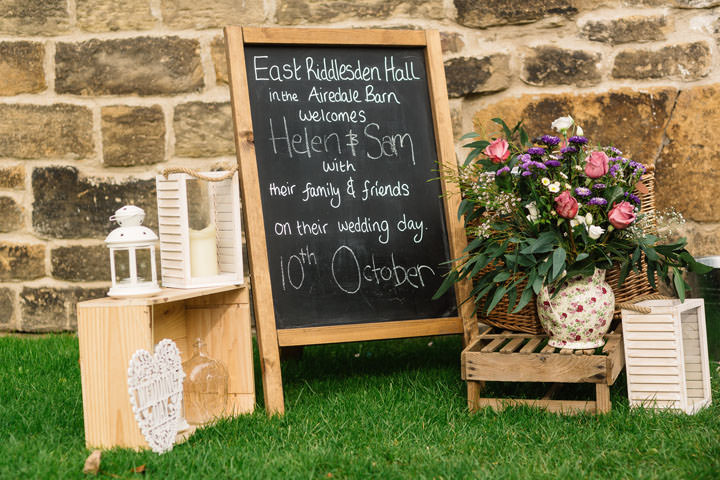 Theme or Colour Scheme
There was an undertone of purple but we just wanted a relaxed vintage feel.
Flowers
These were done by a family friend, quite wild feeling, including beautiful amnesia roses. The boys button holes were attached to a wine cork.
Decoration
The tables we covered in confetti we'd made with a heart cutter on the Financial Times, we then had vintage books pilled in the middle and with jam jars decorated in lace holding flowers or candles. Name cards were held in corks which we asked guests to decorate, every one received a British Heart Foundation or Cancer Research UK pin badge as a wedding favour. The beams of the barn were strung with handmade bunting and fairy lights.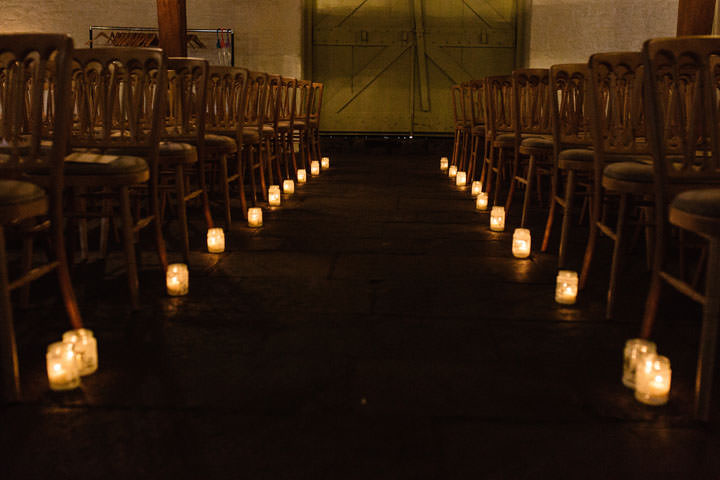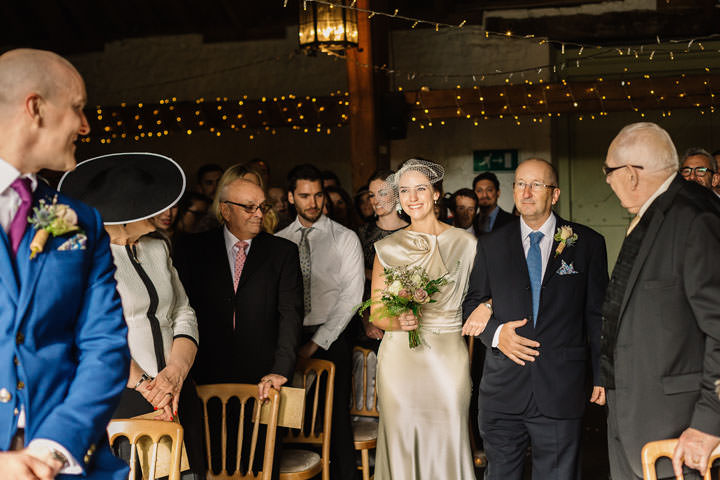 Food
We had loads of canapes and fizz after the ceremony so when we sat down it was straight into the main, a proper plate full of good hearty food – Lamb shank shepherds pie or Toulouse sausage cassoulet, followed by sticky toffee pudding or an incredible chocolate torte.
Wedding Cake
This was made by an old school friends who created a beautiful lace decorated sponge,
Entertainment
Phil Lyons and his New Vintage Band, they created such a buzz and joined in a giant conga at the end.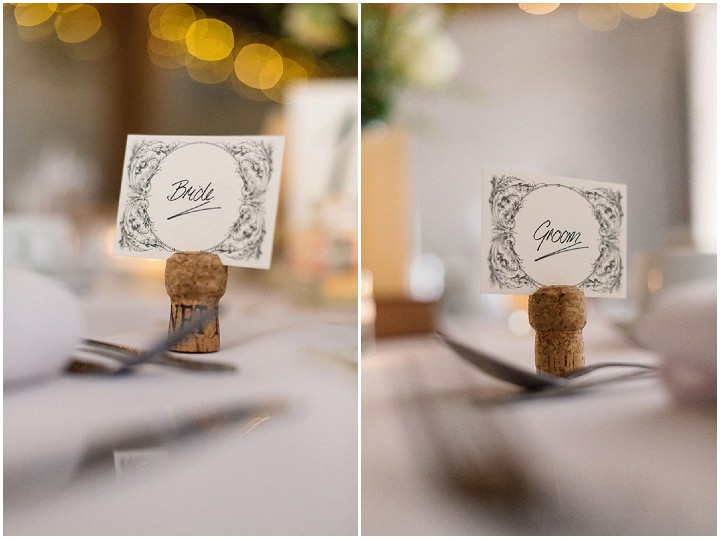 Stationery
We designed and produced it ourselves with the help of the groom's mum who has all the tools from her own business.
Special Moments or Highlights
The seating in the barn for the ceremony was set up facing the big barn doors, just before Helen walked the aisle the doors opened up flooding the barn with light and a beautiful view out over the lake.
Once the ceremony was over, we took a few moments to ourselves, this included screwing Sam's wedding ring together (it has a hinge on it due to a rugby related broken finger).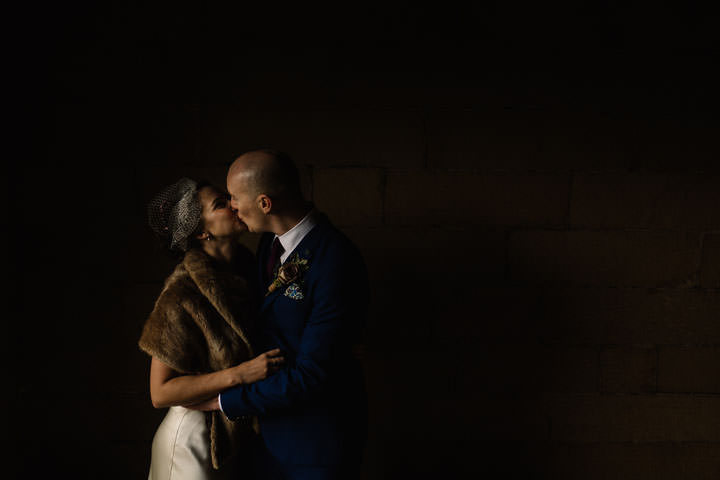 Advice for other couples
Don't be the first one of your friends to get married, you get so many ideas of what to do and what's not you. On the day, take 10 minutes to find a spot on together on your own where you can just look over everybody and absorb what's the atmosphere – it goes in such a blur that could be your main memory of the day.
Biggest surprise
It was Yorkshire and we had beautiful sun and no rain
Supplier Shout Outs
FOR MORE INFORMATION ON PAUL AND KELLY'S WORK PLEASE GO TO:
www.pauljosephphotography.co.uk / www.pauljosephphotography.co.uk/blog / FACEBOOK / PINTEREST / TWITTER – Paul / TWITTER – Kelly