I was chatting to one of my brides the other day who is having a Village fete themed wedding. The conversation came to wedding favours and weather she was going to have them or not. I suggested that she incorporate the wedding favour and the place name into one, so saving money and hopefully coming up with something a bit more original than a piece of card with a name on it
I told her I would go away and have a look at some options for her, and this is what I found.
Jams, marmalade, pickles………..(anything homemade that you can put a label on!!)
This is the first Idea I thought of mainly because I thought it would suite this bride perfectly. These home made Jam favours would be perfect for her DIY wedding with a village fete theme, add the guests name to the label or tie on with a a piece of raffia to a luggage tag and they double up as a place name.
image found: www.burnelle.co.uk
image found: www.marthastewartweddings.com

Personalised playing cards
There are companies that will do this for you, but you can just as easily do it yourself. Get a pack of playing cards and then print out each guest name on coloured card and place on the card. Great for a weddings that have mini casinos for their evenings entertainment.
image from: www.projectweddingfavors.com

Scrabble
Quite a popular one these days, you can get individual scrabble letters and buy the holders so each of your guests names can be spelt out, and a lovely gift for them to take home.
Image found: www.bridesmagazine.co.uk – Scrabble pieces, 30p; Scrabble holders, £1.50 from Vintage Heaven

Apples, pears, lemons…or any other sort of fruit
This is an incredibly cheep option, and great for a rustic style wedding, use what ever fruit you want to tie into your colour scheme. Personally I love the apples, and think it's even better if you can tie it into your centerpieces.
image from: www.theweddingdirectory.co.za
image from: www.theweddingdirectory.co.za
image from: www.theweddingideasblog.co.uk

Stones and rocks
This could actually be the cheapest option out of all of them. There are companies that do this for you, this one in particular is by sjengraving. But you could take a trip to the beach and then write the name of your guest on each stone. I went to a wedding about 10 years ago and was given a pebble with my name written in gold pen on it, and I still have it!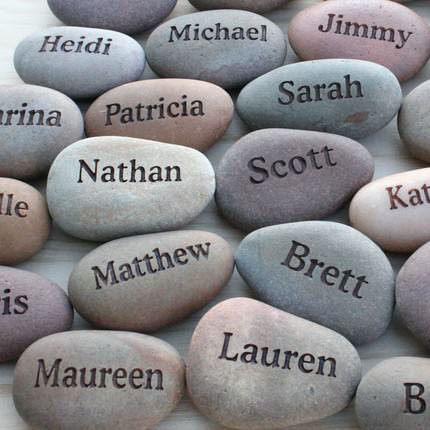 image from: www.stylehive.com

Miniature ketchup bottles
I just love this idea and it's perfect for anyone having a BBQ wedding.
image from www.theknot.com – photo by www.kayenglishphotography.com

Buckets of sweets
these little bucketcan be filled with whatever you like, but these rock style sweets look brilliant. You can have the guest sname written on a label on the bucket, or placed on a stick and placed in the bucket.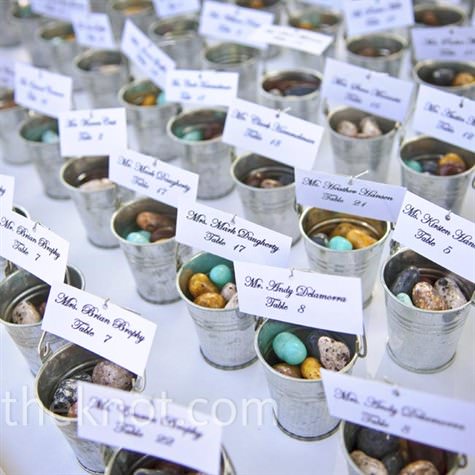 image from www.theknot.com – photo by www.photographyjulia.com

Bottles of wine, olive oil…anything really
There are wine companies that will create a personalized labels for your wedding day, but why not go one step further and create them yourself to include each of your guests names. This can be done with Olive Oil, slow gin, miniature bottles of spirits, what ever you like to fit with your theme.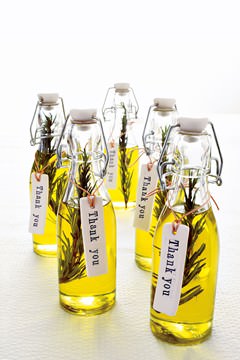 image found: www.bridesmagazine.co.uk
image from www.marthastewartweddings.com

Lucky horse shoe
Horse shoes are traditionally very lucky and it used to be traditional to give a horse shoe to the bride as a gift, so why nto turn the tables and give your guests a horse shoe instead, tie a name card to it in pretty ribbon and it's a place name
image from www.theknot.com – photo by www.kisakoenig.com

Paper Fans
These are great for destination weddings, they are lite and easy to pack as well. You can get paper fans that you can get personalised or you can write your guests names on your self in coloured pen.
image from: www.americanbridal.com/fan-wedding-favors

Plants, herbs, bulbs…anything you can put in a pot and grow
I love this idea and it can be so easy to do. You can put what ever you want in the pot and decorate it how ever you like.
image from: www.marthastewartweddings.com
image from: weddingbellsblog.com/wedding-favors
image from Chloe at www.lovemakingit.co.uk – photo by www.alexjones-photography.co.uk
image from: www.marthastewartweddings.com

That home made touch
This can cover pretty much anything but here I found these cute crocheted  fabric flowers that the bride's mum made and attached pins to the back. Then the bride's aunt cut paper leaves and wrote out guests' names and table numbers.
image from www.theknot.com – photo by www.ameliatarbet.com

So there you go, I hope you like my selection. I could have gone on forever but I didn't think this post could be to much longer. I have a good idea which one my bride will pick. Do tell me which one you like yourself, I always love to get your opinions.