Today I am inviting Laura back to the Blog to share with us another fab DIY project that she has been putting together for her wedding next September.
In case you missed it last time Laura is one of my brides getting married on 7th September 2013 and she is DIY mad! she has already created some amazing things for her wedding, so  a few weeks ago I invited her along to my house to put together a few DIY tutorials for the Blog. The lovely Jess Petrie also came along to take the photos.
And if you did miss it you have to check out her last post, 1000 paper cranes backdrop as it is AMAZING!
Today Laura is showing us how to make Tea Bag Favours
Here's Laura……………..
Tea Bag Favours
You will need
Tea bags of your choice (or other small favour)
Cello bags
Sewing machine or needle & thread
Strong glue or glue gun
Labels or thick paper
Printer
Scissors
Instructions
1) If your cello bags are big (mine were huge!), trim them down to size. (Mine are A5 size cut in half)
2) Insert favour
3) Seal shut along one side with a sewing machine. Leave the thread tails slightly long to provide a really satisfying ripping when you tear the bags open!
4) Add a nice label to the top of your bags, with suitably witty saying. I printed mine on paper from a standard PC and printer, but you could also print directly onto sticky labels.
5) You can be as creative with you contents, stitching and labels to really personalise your favours.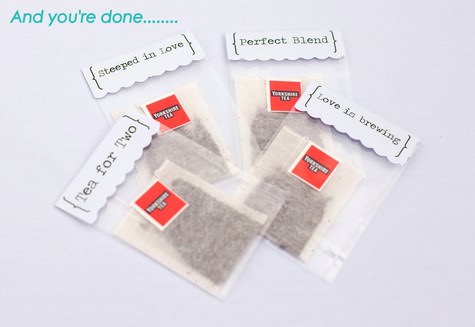 I'm sure you will agree these cute favours are an easy and cheep idea for your wedding, and great for an afternoon tea theme wedding.
Laura will be back in a few weeks to share with us more of her DIY ideas.
If you want to read more about Laura's wedding journey and more about her DIY adventures then she ahs just started her own blog http://themrsmakes.blogspot.co.uk
For information on Jess's Photography work go to:
www.jesspetrie.com
[email protected]
TWITTER
LINKEDIN
FLICKR
07581209794