I absolutely LOVE todays wedding which has been sent into me by one of my favourite wedding photographers Helen Lisk. Helen is a regular to the blog and always manages to book amazing weddings to photograph and I have been lucky enough to feature her work many a time on the blog. Todays wedding is the fabulous homemade wedding of Stephanie and Greg, who both worked incredibly hard to pull together this wedding on a small budget, but managed to make the day full of fun and personality! The Village fete theme works perfectly for their laid back day, with a wonderful collection of games to amuse their guests, as well as a ploughman's picnic for the wedding breakfast and barn dancing for late on in the evening. I just love everything about this wedding and I'm sure you will to!
'A celebration of love, laughter, friends and family. A relaxed day full of fun with village fete games, ploughman's picnic and barn dancing.'
Stephanie and Greg were married on 23rd August 2014 at The Corn Barn nr Cullompton, Devon. 'Beautiful converted barn – absolutely stunning in its own right but we knew it could be even more beautiful and help create the relaxed atmosphere we wanted. Also the layout works perfectly – no-one feels cut off if in the bar or courtyard and it encouraged people to get up and dance! There were 100 guests all day, another 20 in the evening. It took just over a year, we got engaged on 1st May 2013.
How they met
At Birmingham University through a mutual friend (who became one of the groomsmen) in 2003 so we've been together for 11 years!
The Proposal
At a local beauty spot called Haldon Belvedere – a three-sided 'folly' on a hilltop with amazing vies over the Devon countryside. It was at sunset on a normal weeknight, totally unexpected! Greg chose there because I've always wanted to get married there but always knew it was too small for all our family and friends (only holds 50 guests) but also because we were able to see it from the window of our home in Exeter so could look at it and have the happy memories! We've since bought our first house together and can't see it anymore but still love visiting
How did you allocate your budget
Biggest one-off expenses were the venue itself and then the photographer – we massively increased the budget for the photos because Helen's were just so good and really captured the emotions in her pictures – definitely the right decision, we're so pleased with them.
We made all the stationary ourselves as I've always made cards and things anyway. Food etc we sourced ourselves (see below), not sure what it all came to! Local flowers really made a difference and of course that my Mum did all the arranging!
How did you choose your photographer
We massively increased the budget for the photos because Helen's were just so good and really captured the emotions in her pictures – definitely the right decision, we're so pleased with them.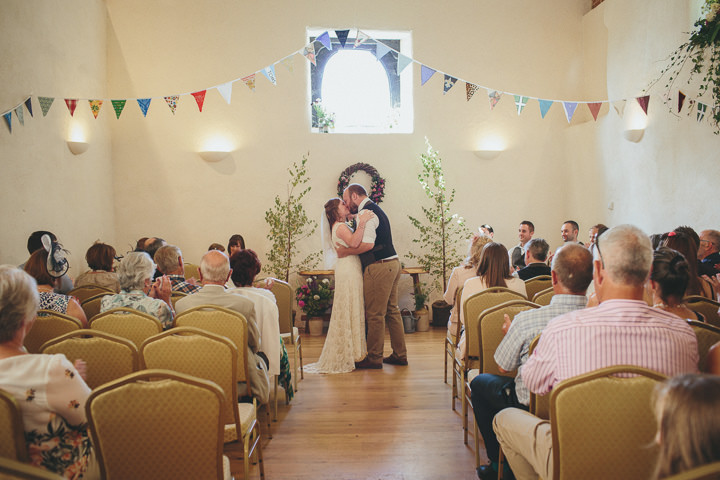 The Dress
Dress – Phase Eight. Tried on loads but didn't want to spend a fortune on priciniple and this dress really suited the style of the day. Really really pleased with it.
Veil – The bridal emporium, Fore St, Exeter
Shoes – Rainbow club
Earrings – Debenhams
Necklace – Pearl pendant of my Mum's which was a present on the birth of my younger brother
Bracelet – Pandora, present from Greg's Mum and sister
I did my own make-up and my normal hairdresser (Vicky Miles) did my hair plus the bridesmaids and grooms mother.
The Suit and Bridesmaids
Waistcoats – Asos
Rest of groomsmens outfits their own
Bridesmaids dresses – Debenhams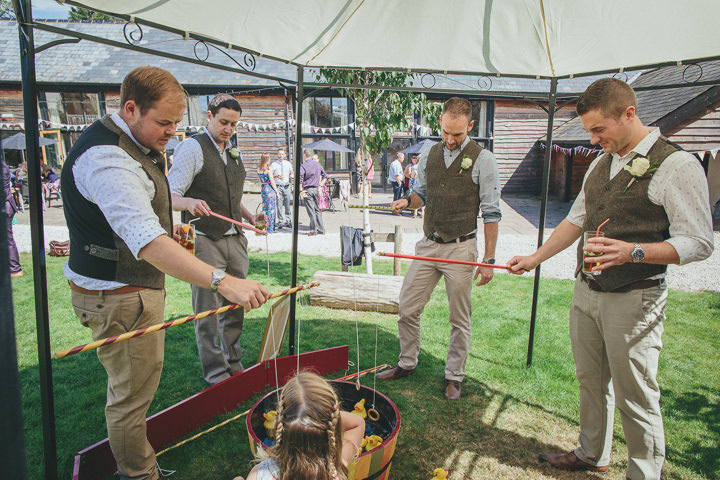 Theme or Colour Scheme
Multi-coloured! Very deliberately didn't want one colour which felt a bit too formal for what we wanted. Country fete-type feel plus blackboard signs (partly because we're both teachers!) and a travel theme as we've travelled quite a bit and are going to South America for our honeymoon
Flowers
Seasonal wild flower selection from a local organic grower – Radley Cross Market Garden in Devon plus a few extra roses. My Mum made all the bouquets and buttonholes and her and a friend (plus various other family members) put together all the other flower arrangements.
Decoration
Primarily bunting – all homemade and sewn by my Grandma and some of her friends. We didn't buy any material specially, it was all scraps from people's lofts, pillow cases etc and I sent out templates with the invitations asking people for a 'special' piece – we strung this together separately in an arch and actually got married 'under' it.
All the flowers my Mum arranged also really added to the feel and highlighted little details of the barn. We were lucky to get the fairy lights in the barn free as they were being used for events either side of our wedding! It really made a difference though.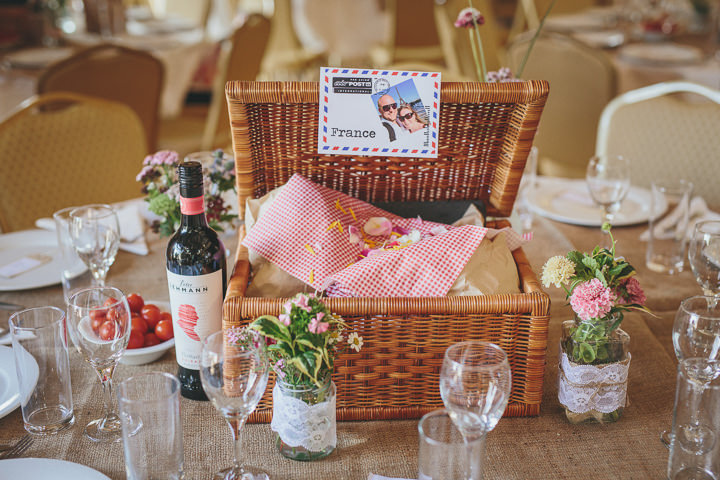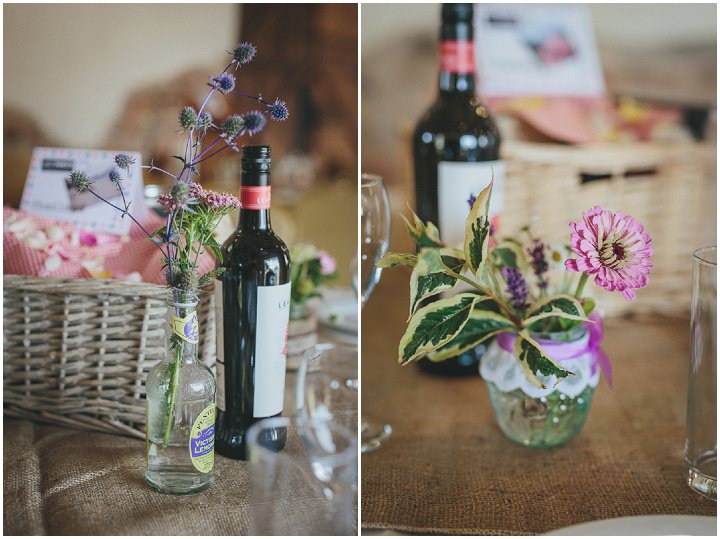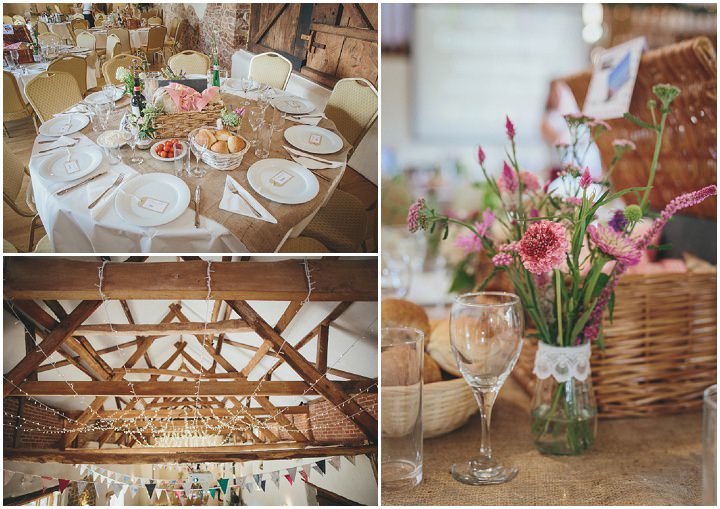 Food
Ploughman's picnic served in picnic hampers! We couldn't find a caterer that did the kind of food we wanted for a price we thought was reasonable so sourced everything individually ourselves. Our three favourite cheeses (Godminster cheddar (Somerset), Sharpham Brie (Devon) and Cornish Blue), pork pies (we enjoyed doing a taste test of those), local salad from Maddocks Organics with edible flowers, bread rolls from Olivers Bakery in Crediton and all served with homemade pickled onions and chutneys made by the two Dads! We chose wine from vineyards we've visited whilst travelling (Australia and New Zealand) plus we served jugs of Thatchers cider (Steph's favourite and The Corn Barn also grow apples for Thatchers). We started the meal by having a drink of cider from a wassailing cup.
We had speeches after the ploughman's and then sent everyone outside to get ice cream from a local company – ICE artisan gelato including a flavour we'd designed ourselves (dark choc and salted caramel).
Evening food was from The Cauldron street food van, pulled lamb or pork wraps with coleslaw. Everyone said how good it was and some people had 2 (or 3!).
Wedding Cake
No traditional cake – we had a tower of scones (made by Olivers in Crediton), decorated with edible flowers and served with clotted cream and jam for afternoon tea.
Entertainment
The Broad Band Ceilidh band and then a disco with tracks played off an iPhone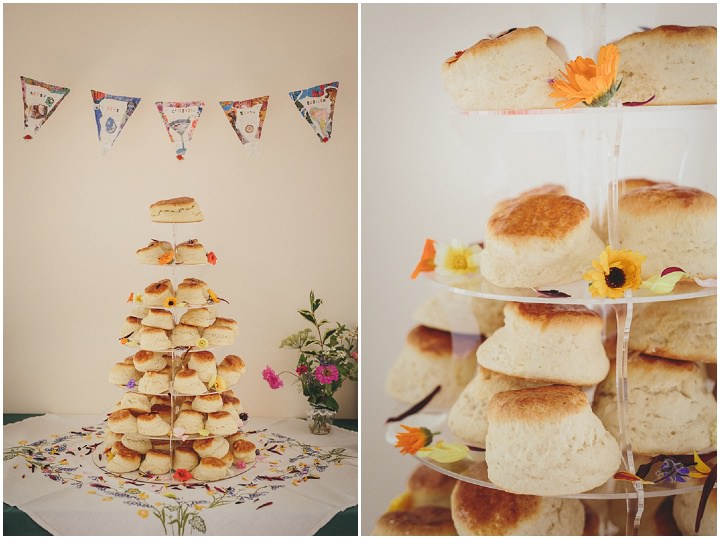 Buy or DIY your Stationery
DIY all the way, helped by a very talented friend who did a pen drawing of the two of us as the centrepiece.
Special Moments
The service, especially the two readings – A Lovely Love Story by Edward Monkton read by my aunt and uncle and a poem written by one of the groomsmen Matt, we were both in tears!
Seeing everyone chatting and laughing in groups in the sunshine with bunting fluttering and people playing games!
Seeing everyone talking about the food, passing things around and commenting on all the special touches – people still ask us about the chutneys and who won the 'guess the weight of pickled onions'!
Everyone doing the barn dance, brilliant! My 81 year old grandma didn't stop dancing!
Overall – seeing our ideas and dreams become reality and sharing our special day with so many friends and family, we were just SO happy to be married (still keep reminding each other ☺)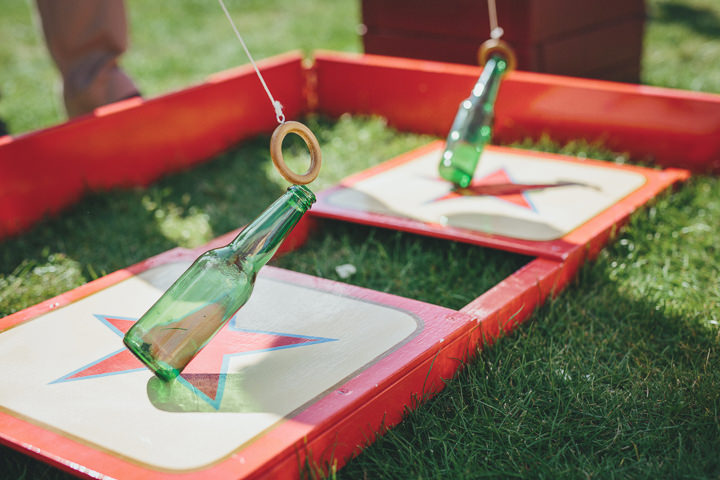 Advice to other couples
Think about what you really want your day to be like, it really doesn't have to be what is considered 'traditional'. Everything is possible, it just takes a bit more research and effort (finding tweed waistcoats that were affordable for 8 people in summer took aaages!).
Stand back a few times during the day and take a mental 'snapshot' to treasure.
Biggest surprise
The weather! After a few gloomy weeks we had stunning weather. As we'd DIYed most of it we knew pretty much everything that would happen but still loved seeing everyone enjoying themselves.
Supplier Shout Outs
Venue – www.thecornbarn.com
Brides Dress – www.phase-eight.com/fcp/departmenthome/wedding
Shoes – www.rainbowclub.co.uk/wedding-shoes
Groom Waistcoat – Asos.
Food sourced from various places.
Bread and scones – www.olivers-bakery.co.uk
Chutneys made by Greg's Dad, pickled onions made by Steph's Dad
Salads – www.maddocksfarmorganics.co.uk
Cheese – www.cornishcheese.co.uk
Ice-cream – www.iceartisangelato.co.uk/Home.html
Evening food – www.thecauldron.org.uk
Flowers arranged by Steph's Mum and friends, and sourced from Radley Cross Market Garden, South Molton.
Brides Hair – Vicky Miles.
Evening entertainment – The Broadband
Outdoor games – www.veryvintagehire.co.uk
Canopy lights from Party Lights
For more information on Helen's work please go to:
www.helenliskphotography.co.uk
[email protected]
FACEBOOK
@HelenLiskPhoto