Happy Monday everyone, I hope you are all well and happy and ready for the week ahead of us! Did you have a good weekend? I had a lovely one, Nik and I finally ordered the bedroom furniture as our bedroom is the last one to get a face lift. Having had the rest of the upstairs renovated it's now our turn, so we ordered all of our new bedroom furniture on Sunday which is a relief to get done. I took Dexter to the theatre on Saturday and then he went for a sleepover at his Nan's house, while Nik and I went out to dinner. Sunday afternoon was a long very muddy bike ride and a whole lot of cake! A good weekend all round! So on with the first of this weeks weddings and it's the turn of Zoe and Danny and their gorgeous DIY Devon wedding, captured perfectly by Helen Lisk Photography. This was Zoe and Danny's 3rd attempt at getting married after the pandemic caused them to postpone twice, but it really was a wedding worth waiting for! With so many handmade personal details, from the hanging decor to the items collected for the ceremony, these two really went to town putting their own personal stamp on their day. I just love this wedding, it's fun, laid back, super stylish and full of heartfelt love.
The day was beyond anything we could have envisaged – we knew we'd love it (of course), but it was a weekend full of laughter, love and so much fun. It felt relaxed, natural, and right, it felt like us really – and extra special to get everyone together after such a long time too.
Zoe and Danny were married on 3rd September 2021 (third time lucky after their first 2 dates got cancelled due to Covid!) everything happened at The Old Rectory, Pyworthy in Devon. 'We knew we wanted to get married in Devon as we're lucky to be from such a beautiful part of the world, and it meant that everyone could come including our precious older relatives. We were looking for something that we could use as a blank canvas, without rules or restrictions, and we wanted somewhere a little less traditional with bags of character. We got engaged in a treehouse in Bali and I remember the first random Google I did for wedding venues was 'wedding venues with treehouses' and up it popped – we looked at others in real life, but this first find was the only one we fell in love with in real life. A lot of the venues we looked at were the same price (or more!) for just one day, and we wanted to make the most of it (drag it out some might say…) and have time to properly set up with our close family and friends, as well as party all weekend. So we hired the place for 4 days and did exactly that.
We had 60 guests which is more or less what we planned for – we would've had a handful more, though some were not able to attend due to being stuck abroad with the pandemic. On the planning side it would've been bang on a year, but with the postponements it ended up being 2.5 years which we didn't envisage, but feel so lucky to have been able to do it exactly how we wanted and with who we wanted on the third date.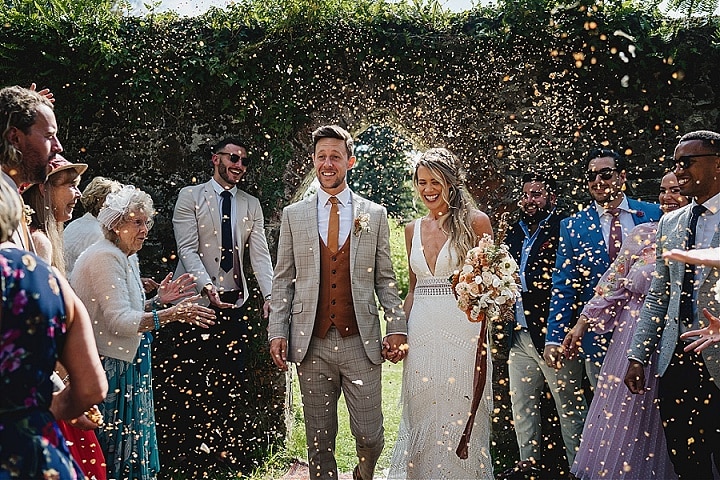 ---

---

---

---