Here at Boho I do love a destination wedding, so today I am taking you to Tulum in Mexico for this exquisite wedding day, courtesy of Julieta  Rabadan. Bobbi and Joshua wanted an intimate private wedding, so they invited 40 of their nearest and dearest to Tulum and created the most stunning wedding day for them. The ceremony looking right out to the ocean is pure perfection and the intimate reception area, tucked away in pure privacy is just stunning. With warm earth tones of creams, browns and oranges the wedding feels warm and welcoming. I just love the dried flowers, the table setting and Bobbi's Rue De Siene veil. It is all just gorgeous!
Our wedding was the most intimate, beautiful, purely blissful day we could've imagined. It was warm colours, amazing conversations, the poppin dancefloor, every detail and moment was perfect.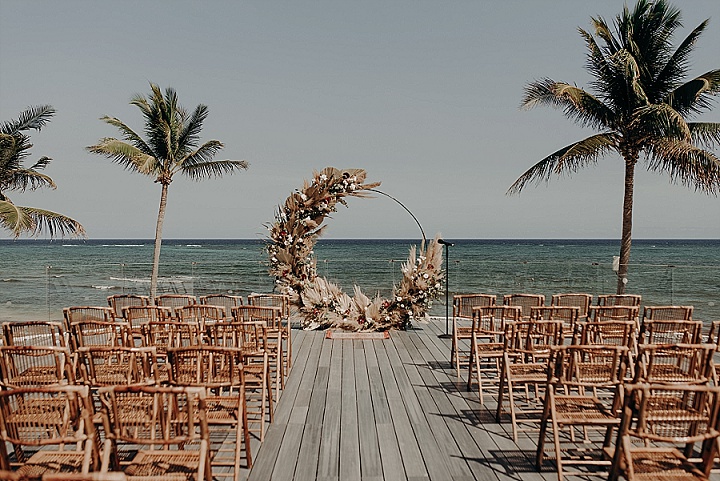 Bobbi and Joshua were married on 22nd April 2023 at Dreams Tulum in Mexico 'We chose this spot specifically because of their secret garden for our reception. It was secluded, private, and most importantly it allowed us to extend our reception until midnight! We had 40 guests and it took a year to plan.' 
How they met 
We have been together for 8 years, we met at bar on a random evening out in Denver Colorado! We exchanged numbers and luckily I (Bobbi) was drunk enough to give him my real number. I knew the next day texting josh was something special and my life would never be the same!
The proposal
We went to Vegas for josh's birthday and he said he found an activity for us to do on Groupon. We showed up to the surprise and it was a helicopter ride. The pilot took us over the city (cool) and then he took us into the Grand Canyon (really cool) and out of nowhere the helicopter dips down and freaks us out. The pilot says there was a weird sound and we needed to make an emergency landing. So we land in the middle of the Grand Canyon, the pilot is really working us making me think there's actually something wrong and we're going to be stranded out there! He offers to take a photo of us while the helicopter "cooled down"
And josh got down on one knee!
How did you allocate your budget?
We had some help from my (Bobbi's) parents but most of our budget came from us saving up over the year we were engaged. We always knew we wanted a destination wedding so once we found our place and had an idea of the costs we were able to plan accordingly.
Where did you splurge and where did you save?
Our biggest splurge was on adding additional time to our reception, we are all party animals and we wanted the party to go all night. We heard about receptions flying by and we didn't want that. We wanted to be on the dancefloor for hours. One of our friends djd for us and made our wedding epic! Our other smaller splurges were upgrading our table and chairs to wood because I knew this would curate the vibe and colour scheme. We saved on other decor because it wasn't needed in our eyes, the venue was already so beautiful on its own.
How did you choose your photographer?
We chose julieta based on her instagram. Her photos were moody and artistic in a way that wasn't overdone but would enhance our bohemian vibe and capture our marriage in the jungle backround we had chosen for our wedding! She was local to the area too which was a bonus!
The dress 
My dress was phoebe by enzoani. My shoes were $20 off of Shein lol they were the only pair I could find that had a 1 inch heel that would allow me to also be barefoot during the reception but also with a teeny bit of height for my ceremony. I wore gloves I got on Amazon that I altered a little by myself and my veil was my favourite piece – the gold coin veil from rue de siene! I actually said yes to my veil before my dress.
The suit and bridesmaids
The suit we rented from the black tux. We didn't have a wedding party so we asked all 40 of our guests to wear one of our colours so that everyone looked like the wedding party!
Theme or colour scheme
Our colour scheme was all warm colours, mustards, browns, oranges, and tans. All my favourite colours!
Flowers
Most of our flowers were dried florals, with some other flowers that were in season that matched our colour scheme!
Decoration 
We had a flower hoop that matched my bouquet for the ceremony, and simple cuttings for the table at the reception. We had charger plates, rust coloured runners and place settings.
Food
Salad and chicken! Can't even tell you what kind of fancy version it was but it was good!
Wedding cake
Our cake was white cake with peach filling
Entertainment
We started the dancefloor with a curated list of songs to get people on the dancefloor and then one of our best friends DJ'd the rest of the night. He had us dancing the night away!
Who supplied the stationery?
I custom made stationary on zazzle
Where are you going on your honeymoon?
Our honeymoon will be in Greece and Turkey!
Personal touches
My favourite personal touch was our place settings. I hand drew everyone's face with their name and put it in a small frame to act as a place setting and also a unique favour for our guests to take home.
Special moments 
Highlights was seeing each other when I walked down the aisle, Josh's brother officiating and him having us all singing at one point. And then all of us singing Bob Marley at the dinner table. Those moments are first to come to mind they were sooo incredibly special.
Advice for other couples
Love every second of your wedding day in slow motion. Take in everything and don't take a single second for granted!
Biggest surprise 
My biggest surprise of the day was seeing my dad get on the dancefloor for 60 seconds lol he NEVER dances!
Supplier Shout Outs
JULIETA RABADAN
www.julietarabadan.com / [email protected] / Phone: +529842170510 / FACEBOOK / INSTAGRAM
Based in Tulum, available to travel of course!! My photo style is part of the idea that the couples who choose me enjoy the wedding day and have great pictures to remember. To me the photography it's about save a memory, but also I can't avoid my student arts side to find something creative and artistic on each person and situation, that's why my final work galleries usually are a mix of candid – creative photos. I try always to catch the essence of the people, to not force something they aren't so in a few years when they look at their album they can recognize who are in those photos: them.