As you know by now I LOVE photo shoots, I love tacking part in them and creating something that maybe you wouldn't normally do on an average day of the week! My most recent was with sassy from Assassynation which we shot on the 5th March and was a 1920s inspired shoot. I did a sneak peak of this shoot on Wednesday and yesterday Annabel from Love my dress was kind enough to feature the shoot on her lovely blog. So today it's my turn to post the whole thing on my own blog. I have to say it's very hard to choose pictures of yourself, without wanting to cut  bits of your body or face out….but I've tried to be as un self-critical as possible (which for me isn't always easy!)
Now I just have to say I never approach photographers about doing these things, this is my 4th shoot so far and on every occasion I have been approached by the photographer with an idea……..please don't think that I think I'm some sort of model, because believe me I don't. I am well aware that I am a 39 size 12 women who really should know better than to flaunt herself in front of a camera……but well what are you to do when people offer to take your picture?? I'm not going to say no am I!! I just feel it's a great way to get some creative people all together in one place and put together some fab images. Weddings are great for us all, but sometimes we all like a project we can get our creative teeth into and this is the perfect opportunity to do that.
I do have another shoot coming up in May, but for now that is all I'm telling you………..so if anyone else has any wild and wonderful ideas then please let me know!
So more about this shoot:
I first discovered Sassy on Rock and Roll brides site, when I was reading all about Alice in weddingland and her search to find her wedding photographer. As soon as I saw her work It was love at first sight, so I emailed her straight away to tell her how much I loved her work. She has such a great collection of quirky and alternative brides, and her photography style is so different……edgy, with a vintage element but hugely romantic at the same time.
The email  resulted in an instant friendship and the very kind offer from sassy of a photo-shoot. The idea originally was to just do a few promotional shots but as we talked more it came apparent that we both saw the potential to do more than that and so it turned into a full on photo shoot. We both thought about some ideas and loved the idea of a 1920s shoot. I've always loved that era,  the styling and the dresses were just so stunning back then, so we thought it was the perfect idea for us to use this decade to create some stunning photography.
Sassy told me about her sister in law Vikki from Liliia who also wanted to get involved. Liliia creates the most stunning dresses and was kind enough to offer to design me something for the shoot. So with all this set in place we began to make our plans!
Sassy contacted Matt who she met through a couple who's wedding she shot in November and also her good friend Shelley of Jezebel Makeup.
Then there was the venue, sassy wanted something very true to the 1920s style, and after a big hunt for something suitable we came up with the Midland in Morecambe, who were totally amazing and so welcoming and hospitable! A stunning venue who also do amazing weddings!
After a few emails with Vikki about the dress she decided on a design that we were both happy with and she set to work. I took a trip down to the Cotswolds in January for a fitting and was blown away by the intricacy of the embroidery on the dress, amazing! It was then that I got to meet sassy for the first time and I knew then that we were going to be very good friends!…..she is SO lovely and SO chatty, anyone booking her for their wedding will be put at ease straight away!
A few weeks before the shoot both me and sassy set to work finding props and accessories to make the shoot that extra bit special, by the time we were finished my spare room was full of vintage goodie, it looked like an antique shop!!
The day was a hectic but lost of fun, it was a cold, dark and blowy day but it was perfect for the feel that sassy wanted to achieve. I turned up with a car full of props, accessories, shoes and flowers. Once we had been given a guided tour of the hotel hair and makeup set to work on making  Matt and I look less like…well Matt and I!
Sassy's creative thought process was this:
"The idea for the shoot was to take aspects of the 20's and mix it with the modern day rather than to be 100% true to the 20's era.
I wanted to tell a story with the images…..not one of hollywood glamour as so many people do with the 20's, but one of stern and serious 20's women and the men who loved them….I love a strong heroine, not just in books but in images too!"
So with this I put on my best stern face and tried my best not to laugh!
The day itself was pretty amazing, it was hectic with so many different props and accessories to use, we tried our best to get at least one thing in from every supplier, I think the only thing we missed was a lovely Vintage handbag that had been leant to me.  As always with these things there is never enough hours in the day, but we got the main bulk of what we wanted to achieve done……and I'm pretty chuffed with the results!
…………..next time though sassy I'm smiling!!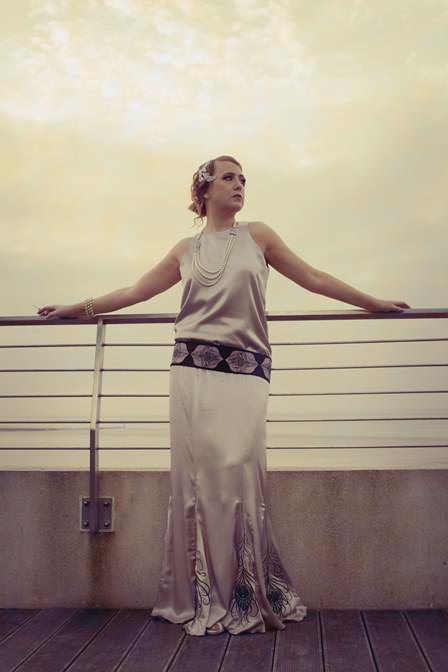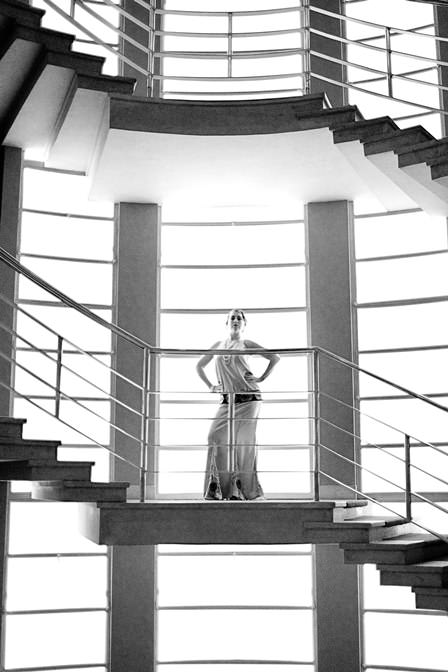 I'd like to say a MASSIVE thank you to everyone involved! You were all so generous with your time and with each item that we borrowed from you, without you it wouldn't have been possible.
Those involved:
Photography and Styling: Sassy from http://assassynation.co.uk
Model and Styling: Kelly Hood www.bohoweddingsandevents.com
Model: Matt Ratcliffe to [email protected]
Dress: Vikki Lafford of Liliia www.liliia.com
Venue: www.englishlakes.co.uk/hotels/midland/index.aspx Midland Hotel in Morecambe with special thanks to Lindsay Price
Men's suit, suitcase, umbrella's: Denise of Vintage Whistles www.vintagewhistles.co.uk
Make Up: Shelly of Jezebel Makeup www.jezebelmakeup.com
Hair: Samantha Blakey [email protected]
Flowers: www.swallowsanddamsons.com/
Props, suitcase, tea sets glasses, fur coat: Hansley Beard Vintage Crockery & prop hire www.hansleybeard.co.uk
Gramaphone: www.cocoawonderland.co.uk
Pearl head piece: www.jobarnesvintage.com
Peacock head piece: www.hfcouture.co.uk
Diamante head piece, necklace and feather shrug: www.queensandbowl.com
Shoes: http://rachelsimpsonshoes.co.uk
Cake and cake stand: www.favoursbymadamchocolat.co.uk