I told you all just before Christmas about a photography project that I'm involved in (read here for more details )
I am so excited as I am going to be playing dress up again and being photographed by the amazing Assassynation Not only that but I am having a dress made for me by the incredibly talented Liliia Designs especially for the shoot! (I feel very special!!)
So a couple of weeks ago I went down to the Cotswold's to meet with Vikki the lovely lady behind the dress for a dress fitting. I was a little concerned that the dress would be to small for me (my diet hasn't really been going so well recently) but I had nothing to worry about. Vikki had made not only a perfectly fitted dress, but what I can only describe as a work of art!
I took some pictures while I was there……just enough for you to get an idea of what we are doing, but not enough to give the whole thing away!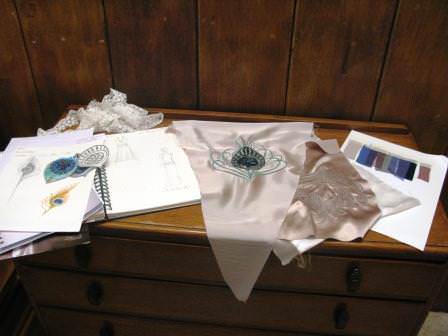 Vikki has done such an amazing job, i can't tell you how much hand embroidery there is in the dress, the actual design is quite simple, but it's all the other bits she is adding to it that i am so impressed with!
The shoot is going to be on Saturday 5th March (my Birthday weekend) and we are off to Blackpool to stand on a cold and windy beach……it's a 1920s theme but that is all I can tell you for now!………………watch this space!!