Today we are back with Lisa and Alex from 2 people 1 life for wedding number 54 – A Pagan Ritual in Lithuania. Last time Lisa and Alex celebrated with a Hungarian wedding featuring a Hungarian legend who rides 10 horses at the same time…. standing! This time we witness the couple tying the 54th knot in traditional dress, celebrating with a sacred fire ritual and ancient, cultural songs.
(In case you have missed the whole story, Lisa and Alex have spent the last two years travelling round the world getting married in every country they visit, you can read more about their adventures HERE.)
As a couple who have travelled around Europe quite a lot we were excited to visit the countries we had never seen before, those on the farthest fringes of Europe, like Lithuania. We were pleasantly surprised at the beautiful landscape, the pretty little homes dotted around the farmed land and the fruit trees proudly displaying their harvest. We were also very excited to learn more about the countries' traditions surrounding Marriage.
We arrived in Vilnius and arranged to meet with Daiva from Mass of Faces who had made all of the wedding arrangements and would also be our photographer on the day. We were excited to finally meet her after 6 months of correspondence and we were also VERY excited for our fittings with Mados Butas who had hand made us traditional outfits for the ceremony!
We went along to the boutique to have a fitting and were thrilled to try on our beautiful clothing made of traditional heavy linen in a very ancient Lithuanian style.  Both of our outfits fitted perfectly and we just had one more day to wait to wear them for the ceremony which, neither of us knew anything about!  Daiva had kept a lot of the details a secret even from Alex which is very unusual. Normally he knows about most things and I have the pleasure of the surprises on the day but this would be different as Alex would also be completely surprised by everything we did. I was very excited to see how it all turned out and to see Alex's face on the day!  We were very nervous the morning of the wedding as we still had absolutely NO idea of the plan!
Once dressed and made up, we were ready to go, but to where? Daiva, who we had met just for the first time the day of the wedding told us to follow her to a secret location where the ceremony was to be held.  Within minutes we broke free of the city and drove along windy country roads flanked by fields filled with wild flowers and sparkling young corn waving in the tender breeze.
We pulled over at one point for Alex to collect me a bouquet of said wild flowers and he even collected some lovely looking wild mushrooms and we had a few pictures taken in the fields which look so delicate and romantic until you add the 10 million ants making their way up my legs at the time, we squealed and bounded out of the long golden tipped grass, brushed ourselves as free of creatures as possible and continued on our way.
We stopped inside a wooded park and followed Daiva to a hill, one of three located in the park. Daiva explained that these hills are sacred to the people of the Romuva Religion and are called 'Alkai'.  "Alkai exist in nature – hills, springs, rivers, trees. rocks and other things that people have regarded as sacred from the most ancient times."  We were told that a very special couple would be holding the ceremony for us on the top on that very hill.  We could see smoke rising from the top of the sacred place and nervously climbed the rickety wooden stairs to the top to begin our 54th wedding ceremony.
We were greeted by a couple, Jonas and Inija Trinkunas who wore beautiful ancient robes similar to our own more modern styled clothing and the fire crackled beside them on a mound of open stone. Our nerves mounting, Inija explained that they would hold a Lithuanian ceremony for us and continued to explain more. "The Baltic Religion is the natural Lithuanian faith and is called many different things, including, but not limited to, Paganism or 'ancient Lithuanian religion'. In the past couple of centuries the old faith has experienced a revival and in 1992 a free Lithuania formally legalised the ancient Baltic religion." They call the religion Baltic because the faith is not only limited to Lithuania's history, but also to Latvia, Old Prussia, Belarus and so in short, the religion was named Romuva.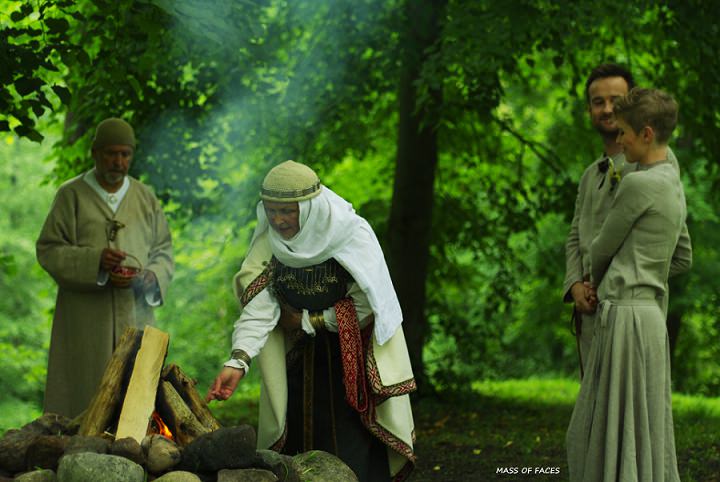 Inija explained that the most important Baltic ritual is a wedding over the altar of the Eternal Flame and the ceremony began.
The fire is the most sacred thing in Romuva rituals, Gabija, the Goddess of fire, of the hearth and protector of the family. She is constantly blessed throughout the ceremony. We stood around the fire and made a blessing of salt to the God Deivas, the God of the sky, of light and life and creation and as we repeated the blessing Jonas and Inija sang one of the 10,000 ancient songs that they know specifically for weddings! The symbology throughout the ceremony was fascinating, we made blessings with wheat, mead and even amber dust which made the fire crackle and sent sparks of orange flame flying into the air. We were handed a smooth stone which represented Zemyna, the Goddess of earth, birth, growth and ripening. Her power is within flat stones and we were asked to hold an ancient stone within our joined palms and then Inija tied our hands together encircling the stone within our joined hands.
By the ends of the fabric that held us bound together we were led around the fire to a song which told of the long journey of our marriage and as we walked around the flames each of our guests were asked to throw wheat over us in a further blessing and to feed the flames. Our hairs were cut and also thrown into the flames. Once our journey was complete we finished the ritual with drinking mead, the most ancient Lithuanian alcoholic beverage. Alex and I were asked to drink from a joined cup which is set as a challenge to the newly wed couple. We managed not to spill and were applauded by our guests and then they had to individually give us their wishes and then drink the mead to end the ceremony.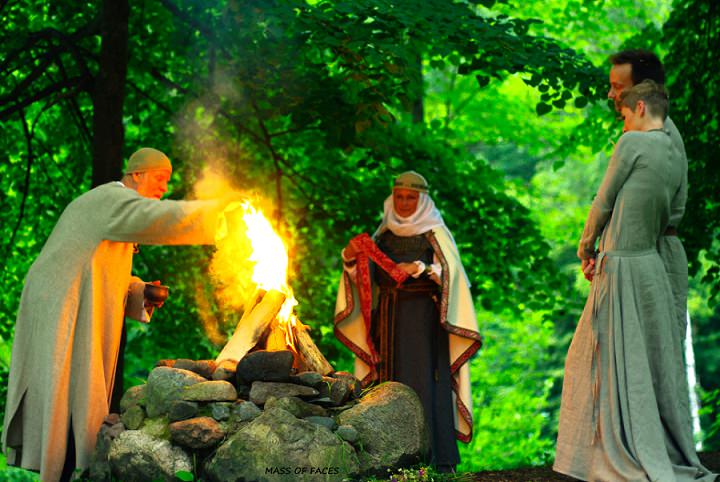 The whole ritual kept my heart beating at a crazy pace, it was so exciting and embracing. I loved to hear about the Gods and Goddesses, Deivas, Velinas, Perkunas, Gabija, Laima, Medeina and Zemyna and to receive blessings in their honour from Inija and Jonas who were just wonderful, gentle people. We said our farewells to them on the hill and pretty much walked back to Peggy in a trance of disbelief that we had just been married in a Pagan Ritual which was just so beautiful and in most countries has such a negative connotation.
We had a wonderful day and learned so much about a religion that we had always considered to have a negative meaning, this adventure never ceases to amaze me, our eyes are opened so often to truly incredible traditions and cultures and of course, we are truly blessed to meet and spend time with so many great people!
Thanks so much to Daiva and the team that made this truly inspiring wedding a possibility!
Supplier Shout Outs:
[jprel]