Today we are back with Lisa and Alex from 2 people 1 life for wedding number 52 in a Hungarian castle. Last time Lisa and Alex were in Prague for a medieval wedding complete with taverns and snakes. This Hungarian wedding was touch and go for a while as Alex was poorly the night before, but happily they tied the knot, complete with stunning castles, pale pink colour themes and romantic violin serenades.
(In case you have missed the whole story, Lisa and Alex have spent the last two years travelling round the world getting married in every country they visit, you can read more about their adventures HERE.)
I woke up early and laid watching Alex' sleeping body hoping and praying that he was going to wake up feeling great. I wanted to see if he had a temperature and waited with my face hovering above his. He woke up with a start and shouted at me for burning holes in him while he was asleep, he could feel me watching him. I didn't ask him how he felt, the worst thing I can do with Alex is remind him that he felt ill yesterday so I let him wake up properly, made him a coffee and waited until we were eating breakfast to ask how he felt!  He was absolutely fine! The wedding would be able to go ahead as planned! Such a relief!
I text Timea with the Hungarian phone she had leant us (as she does with all of her clients to reduce their communication costs) and gave her the great news! She replied, understandably relieved too and told us that the TV crew would be arriving to the campsite at lunch to see us getting ready. We hurried around tidying up, trying our best to be organised and ready for their arrival. Come 2 'o' clock EVERYONE arrived at once. 3 people with the TV Crew, 2 people with the 'Surprise' magazine Crew, a hair and make-up artist, our photographer and second shooter and of course Vicki and Timea!
It was a hive of activity for sure but before too long as per usual we were running behind. The wedding was planned for 5pm, we still had Janet and Sue to collect on route in our private car AND we were probably going to hit traffic! We zoomed along to the hotel where Janet and Sue were staying and collected them from the doorstep, they had been waiting for us ready to run and we set off at pace to the wedding location. We were almost there when the car suddenly stopped, apparently for us to take a picture of the spectacular houses of parliament below us. We conformed and snapped away a few times and then sat patiently waiting to go…but nothing. We smiled and waited and sat and smiled and waited but the driver didn't say a word, just pointed to the view again…so I took another picture or two and then with a beep on his radio we were off again…he must have been told to wait. It all helped build the nerves believe me!
We pulled up outside the stunning Buda Castle and Fishermans Bastion such a famous building and absolutely breathtaking in the early dusk. We clambered (as elegantly as possible) out of the car and waited for Janet and Sue to join the other guests at the tower, awaited our signal and set off up the curling staircase to the tower over-looking the beautiful Pest river and the twinkling houses of parliament.
We giggled with anticipation on our way up the steps, we had no idea what was waiting for us other than a wedding. We could hear beautiful violin music and as we appeared at the top step we were taken away by the view. The crowd parted and directed us to a beautiful table set and designed by Fleur & Balloon with flowers, candles and glittering jewels. We were asked to sit by Eve our master of ceremony for the day and we did as we were asked noting with absolute amazement the flower initials behind each seat!
The ceremony was beautiful and Eve had put together a very modern service, talking about how we met, how we finally got together after so many years and our story before and during our wild wedding adventure. Once the reading was over we performed a sand ceremony mixing the colours of the Hungarian flag, each colour given a representative meaning just for us. The white to represent my innocence, the red to represent Alex's love and the green to represent the hope from everyone present that we share an everlasting love.
The celebration was finalised with a toast and we were introduced to some of our guests. There was someone filming a live stream of the wedding, so we said cheers to those watching from their homes, we had a quick chat with TV2 who had been with us all day, we met more of the the team from 'Surprise' magazine and thanked our private violinist profusely for such a beautiful soundtrack to our day.
We finished our champagne and quickly went for a wander around Budapest to take some pictures with Benedek. A recent winner of a young photographer award, we were so lucky to have him with us for the day. We wandered the beautiful streets of the city soaking up the beautiful buildings, the sun and the atmosphere. Such a wonderful city, so full of life and energy.
As we prepared to leave the square the lights clunked into life, one colour after another the beautiful building became illuminated from all corners and with a rainbow of colour! We HAD to take just one or two more shots to capture the beautiful scene! We set off back to the Castle of Buda with huge smiles on our faces even though we were worn out and so incredibly hungry. We had had such a wonderful day already and it still wasn't over. We had a meal waiting for us back at the Halaszbastya Restaurant!
We arrived back and I went to change before eating, I sat in my fantastic pink tulle skirt and grey vest and ate an incredible meal at the most beautifully dressed table I have ever seen. Candles, diamonds, flowers and the twinkling chandelier made for a perfectly romantic setting…and the view!!! Just spectacular!  Such a wonderful day and finished with perfection, great food, great wine and each other's company.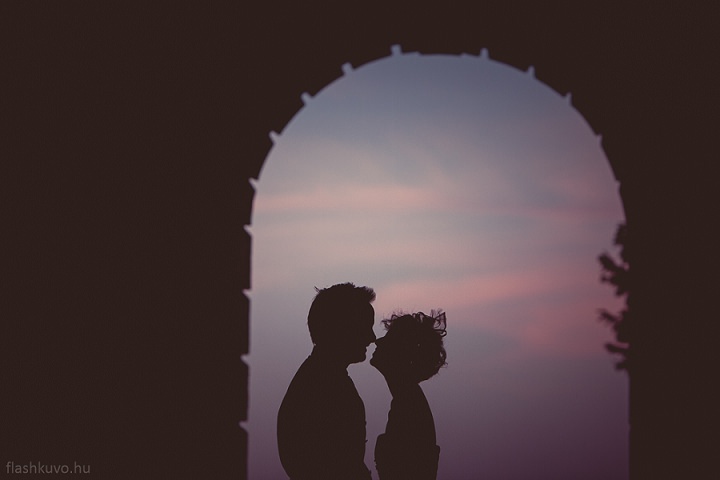 Supplier Shout Outs:
To follow Lisa and Alex's journey go to
http://2people1life.com/blog/
http://2people1life.com/blog/the-whole-journey
FACEBOOK
@2people1life
If you have missed any of the previous weddings you can catch up HERE 
Due to an email issue if you have emailed me between the 2nd & 9th of December, please resend it.
X