Today we are back with Lisa and Alex from 2 people 1 life for wedding number 53's Big Fat Hungarian Wedding. Last time Lisa and Alex were married in Buda Castle complete with pale pink colour themes and romantic violin serenades. This Hungarian wedding features a national hero, an amazing story of a child's strength and her mothers love and a Hungarian legend who rides 10 horses at the same time…. standing!
(In case you have missed the whole story, Lisa and Alex have spent the last two years travelling round the world getting married in every country they visit, you can read more about their adventures HERE.)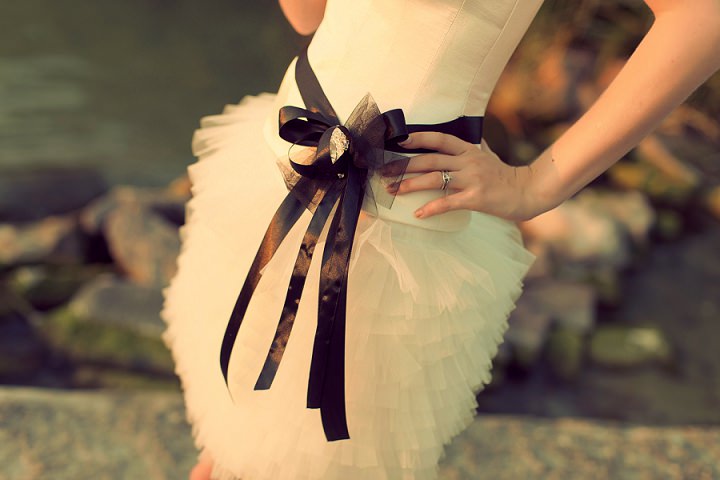 Another day another wedding…but this one with a difference. Hungarian weddings had planned our traditional Hungarian wedding with not just Alex and I in mind. When Timea started to make arrangements she realised how many people had shown an interest in coming along to our traditional wedding to help us celebrate our marriage for the 53rd time. Hungarian weddings are also proud sponsors of local charities and families and Timea saw our celebration as a way to help others in Hungary that are less fortunate than ourselves by raising awareness and some small donations.
Timea read Vivien's story and made an instant decision to help.Vivien is a normal 5 year old girl, she loves to play, chat and spend time in pre-school but she has also had lots of other things to contend with in her short life so far. Over 54 courses of radiotherapy, more than a dozen operations and countless chemotherapy sessions have kept Vivien with us over the last few years since she was diagnosed with Sarcoma, a rare form of cancer. When Vivien's family were told that nothing could be done to help Vivien any more they made a huge decision to seek treatment elsewhere and found themselves in Vietnam where Vivien, with the help and fundraising and donations like this one, underwent an operation which has made significant improvement to her health.
We were proud to support such a brave young individual and Timea asked for donations in exchange for an invite to our Big Fat Hungarian Wedding party resulting in a donation of more than 50,000 HUF. We found ourselves feeling even more proud that some of our followers that wouldn't be able to make it to the party made donations all the same!

Feeling blessed in more ways than one we made our way to the wonderful Varga Tanya Hotel of Kerekegyháza, near Kecskemét. As we spotted the hatched-roofed houses we realised we weren't entirely lost and pulled into a carpark in front of a perfectly manicured lawn lined with planters filled with flowers and piled out of Peggy to stumble to our beautifully appointed luxury suites. We quickly settled in and went to explore the gorgeous grounds. We watched the horses and donkeys graze and shielded our eyes from the dust kicked up by the huge beasts native to Hungary called quite simply 'grey cattle'.
We sat in the roofed terrace restaurant and met with everyone who had welcomed us so freely and drank wine among the bobbing red geraniums, we watched the staff in their real authentic Hungarian uniforms served fantastic traditional cuisine.
A place so filled with tradition and authenticity only an hour's drive from Budapest.
I had a traditionally inspired dress made of silk and hand-painted by Yossay with beautiful patterns taken from Hungarian folk motifs, yet modern in its two piece style which complimented Alex's very modern Jeans and shirt combo. Timea handed me a bunch of sunflowers and a few wild blooms wrapped simply in burlap which perfectly represented our surroundings and we were ready to do it all over again!
The (53rd) wedding ceremony was also held by Éva Vidacs(forEVEr) at the fountain of Varga Tanya which is perfectly shaded by huge trees, flowered arch ways and the wonderful thatched cottages! Everyone sat around us and listened to the ceremony and our favourite part was the wine exchange!!!  Alex handed me a rose and promised to do so on every anniversary to remind me of our special vows and then I had to hand him a bottle of wine in the promise to do the same…of course I made the promise in the understanding that the wine was to share!!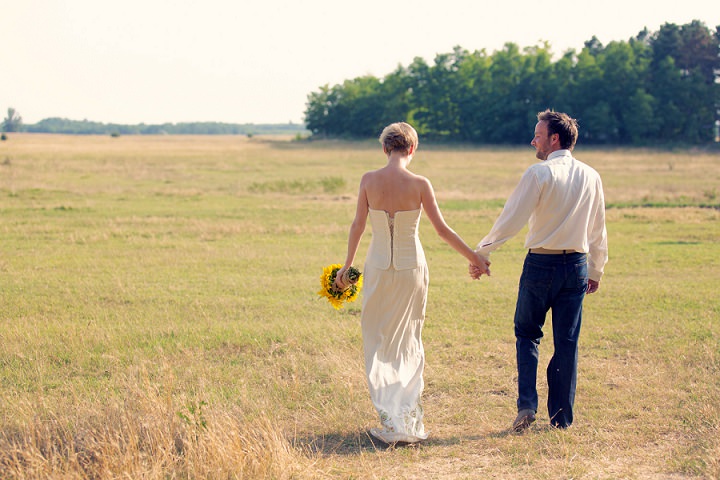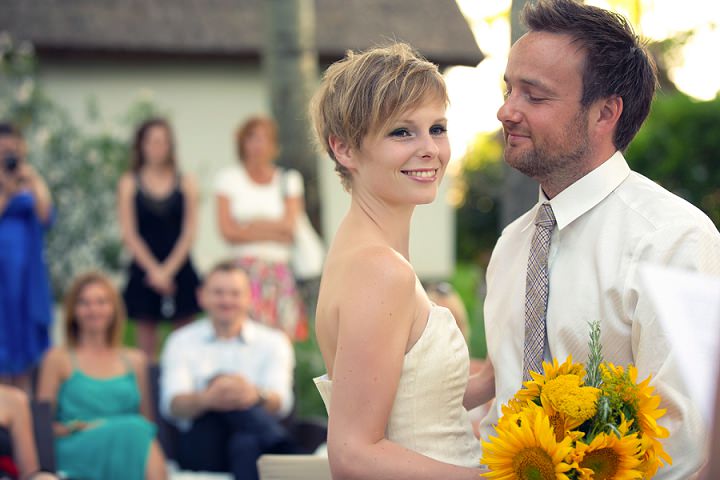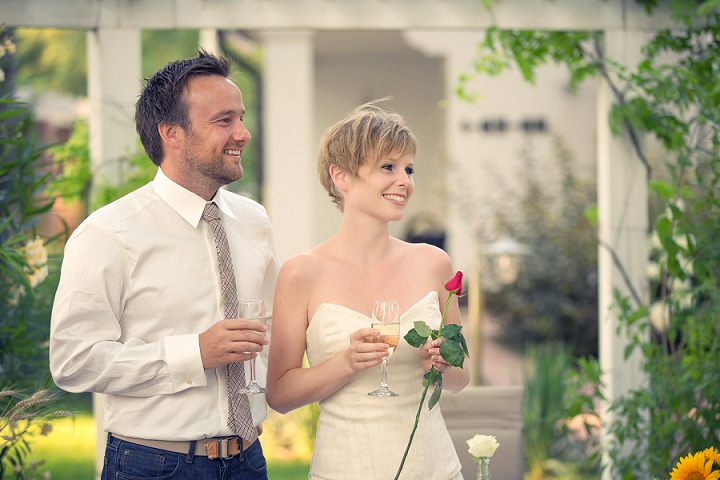 After the vows, the kissing, the exchanges and the champagne toast we were treated with a wonderful surprise! We were introduced to yet another incredibly brave and inspiring young man who had heard of our story on TV and wanted to celebrate with us. Andris Szabó, now 17, has been singing since he was 5 and won the hearts of his nation with his incredible voice, outstanding musical talent and drive to succeed as a professional musician despite being visually impaired. He had come along to our wedding to sing and play the piano for us and to wish us all the best on our journey. He took part in the Hungarian version of Britain's Got Talent at 14 and has gone on to release several albums since then and his enthusiasm to share our day with us was just wonderful. We asked if he would stay and sing for us that evening and to join us at the party and he said he would love to.
After the ceremony the wonderful (and extremely handsome) Attila Muller led the champagne toast and as he loaded our guests onto carriages pulled by horses we were taken with Timea to change into our traditional folk costumes. The costumes from Liszicsanek were for us to wear during the horse show and the dancing afterwards (we were told as we changed)! I was to wear a dress and so was Alex, it was quite amusing…but then it turned out that they were in fact baggy pants and my laughing stopped abruptly as we were loaded onto a carriage also and raced at incredible velocity towards, and then into the middle of the horse show!!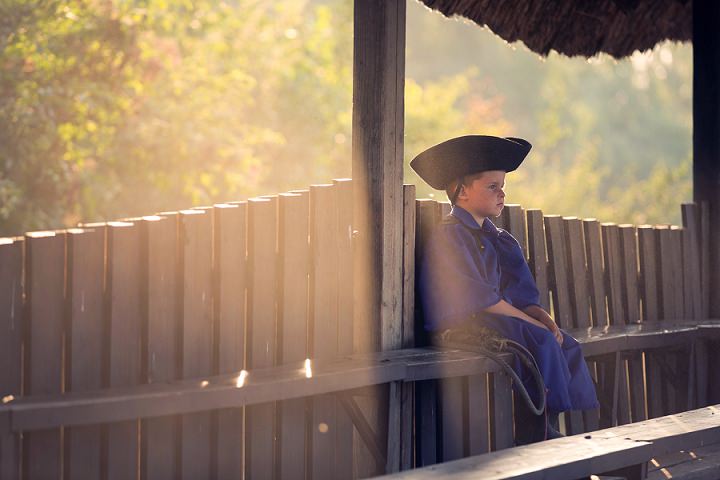 The show was fantastic and included some incredible acts of skill, all traditions of the Great Hungarian Plain. We watched old wrangler games, spectacular tricks including the horses sitting on their riders knee's and visa versa and Grey cattle herding which was just incredible! The sound and vibrations underfoot of the herd of huge cattle running into the grandstand caught the breath in my throat. The huge horned mothers protected their young and they all entered in an enormous cloud of dust rising from the ground like glitter! It was mesmerising.
The grand finale was just amazing and is quite rightly World-renowned,the unique Puszta-ten. This is when a very talented rider ('Wrangler' in Hungary) is riding ten horses at once…on his feet…on the backs of the horses!!! Yup…So, he has 2 rows of 5 horses all reigned up. They stand together like they are going to draw a carriage. He has a reign to each horse, one to each row on the left in his left hand, and one to each horse in the right row in his right hand. THEN, he STANDS on the back of the 2 horses at the back, his right foot on the right horses rump, and his left foot on the left horses rump. Then he makes ALL ten of the horses circle the field, first at a trot, then gaining speed to a gallop! All the while STOOD upright guiding the horses with his hands and going like stink in circles around the grand stand! It was one of the most incredible things I have ever seen!
Janet took some pictures of the show and has painted our horseman as part of her amazing 102 Faces project! We are proud to have the exclusive release on this amazing piece of art and of course super proud that she is our Mum! Click the link to find out more about her adventure!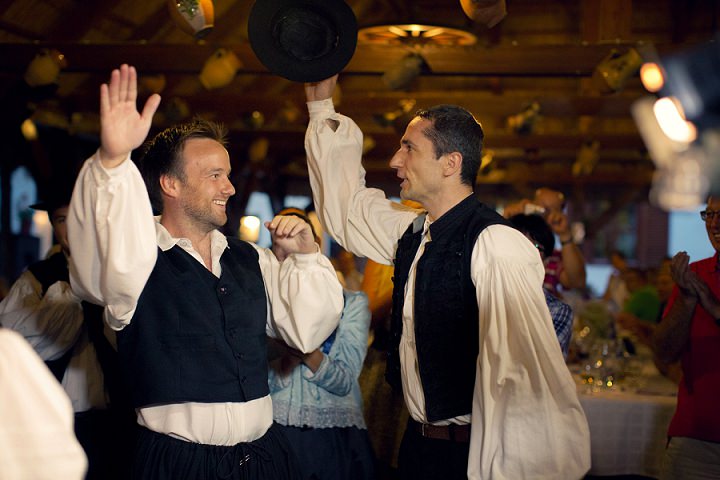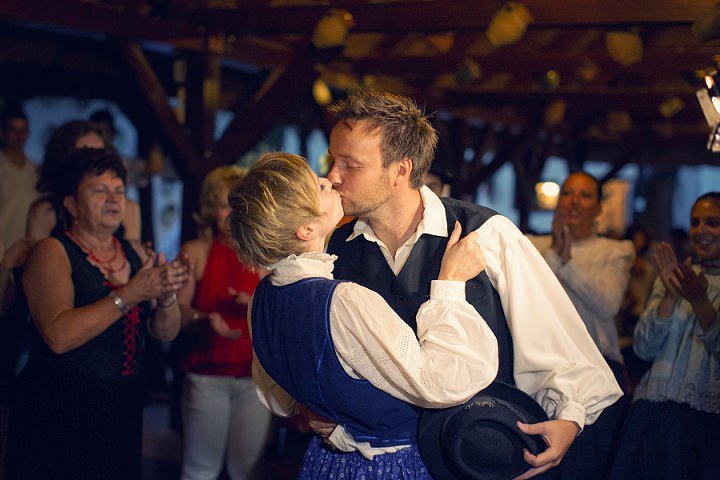 When we had all caught our breath from cheering and whooping and whistling so hard we were loaded back into the carriage and taken to the restaurant under the terrace where we all sat and ate wonderful traditional Hungarian Goulash which was DIVINE! We drank wine and tried our first round of Palinka and before we knew it, it was dancing time! We were taught traditional foot and thigh slapping dance moves, squealing noises and Palinka drinking and then let loose alone to show off what we had learned! We played drinking and dancing games and the night went dramatically (and drunkenly) downhill from there! It was a great night and we had such an incredible time laughing and dancing and of course crying with pride listening to Andris Szabó singing for us!
We reluctantly cut the stunning cake made by Kriszta Design to match my wedding dress and less reluctantly ate it to try to soak up some of the Palinka. DJ Schneider had everyone on the dancefloor all night long and we barely remember going to bed! The whole day was fabulous and entirely emotional. We got to speak to Viviens mum via skype and tell her how incredibly brave her family had been in the face of so much adversity, we felt so blessed to have so many people surrounding us and willing to join us in our adventure both in person and from afar.
Supplier Shout Outs:
To follow Lisa and Alex's journey go to
http://2people1life.com/blog/
http://2people1life.com/blog/the-whole-journey
FACEBOOK
@2people1life
If you have missed any of the previous weddings you can catch up HERE