Today we are back with Lisa and Alex from 2 people 1 life for wedding number 55 in Transylvania, Romania……..Yes wedding 55!! Last time Lisa and Alex were in Lithuania with a traditional pagan ritual, and today they are keeping up with tradition with this traditional Romanian wedding ceremony, which id not only full of love and sentiment but lots of fun as well!
(In case you have missed the whole story, Lisa and Alex have spent the last two years travelling round the world getting married in every country they visit, you can read more about their adventures HERE.)
Our wedding day in Romania, in the heart of Transyvania was filled to the brim with culture, tradition, friends, drinking, dancing and bride hiding and stealing, not to mention the crowing and hopping test we had to pass to be allowed to wed! Such an incredible day and in a beautiful country! Romania constantly surprised us during our stay there. Cluj Napoca is such a beautiful and historic town with a young, modern edge. Coffee shops and cool bars with outdoor seating lined the streets and gorgeous boutique stores hid among homes along cobbled streets.
We were to travel in convoy up to Lapustesti where all of our guests would set up tents for the night, build bonfires and then change for the wedding. We sat nervously waiting with bated breath until everyone arrived. We drove to the meeting point and soon our original 4 cars and Peggy turned into 10 cars and Peggy all with coloured streamers attached to bumpers, windows, handles and aerials and all tooting horns and toting beer and Tuica! We wound our way to the village then with the thunder! The heavens opened and as the coloured streamers got wet they painted rainbows down the sides of the cars and across wet windshields. The rain had thankfully died down to a drizzle as we arrived in Lapustesti and were greeted by Vasile and Silvia, the lovely old couple we had met the previous day. The whole village became a hive of activity, the men gathering wood for bonfires and putting up tents, the women collecting wild flowers from the nearby fields to make me a bouquet and Alex and I stood in the middle of it all completely bewildered but with a plastic beaker of wine in hand! It seemed like only moments had passed when Alex was led in one direction and I in the other.
The girls dressed me in my 100 year old costume, sang to me and fed me cakes while I was being prepared for the wedding. Once I was ready, the flower crown on my head, make up applied and cake eaten I was led to a back room where Alida explained to me the ritual of hiding the bride. I was to remain hidden until Alex had been offered two fake brides. One an old lady and one a young lady, the intention of this ritual is to remove any concealed magic or evil spirits which would threaten the new family. Alex had been dressed in his 50 year old outfit and prepared by all of the men in a separate house and by the time we were at each others sides he had drank 12 shots of Tuica which is a strong homemade plum brandy! He was wobbly on his feet and was at the stage in-between being giggly drunk and falling over drunk. The drinks master was good at his job and made sure we were all equally lubricated by the time we made it to the hill where we would exchange our vows.
As we left the house there was more singing and dancing, more Tuica to be drunk and Alex and I had to pin small bunches of flowers to everyones chests. Similar to a western Boutonniere, the COCARDE are worn to distinguish the guests relationship with the Bride and Groom, the parents, siblings and best men. In Romania all of the guests wear them and keep them as a memento from the wedding and wear them to represent their well wishes for the couple.
As we neared the wedding hill and the procession grew and grew we were met by a barrier blocking our way. A local farmer had a chain crossing our path and demanded payment from Alex to allow him to take me as his bride. The ritual is that they demand payment of some kind and to make the couple complete a forfeit to prove their willingness to be married. So without further ado, Alex's godfather for the day, Sorin, paid the farmer with Tuica and we were instructed that to pass, Alex had to crow like a cockerel while I hopped on one leg. Luckily he was satisfied and after all of these rituals we were finally allowed into the field over looking a beautiful valley to exchange our vows.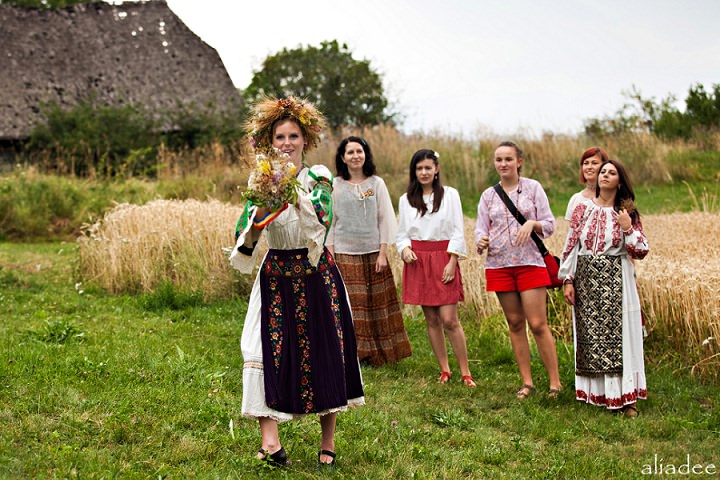 Camelia held us a small ceremony as our guests watched on, played guitar and sang quietly and before you we knew it we were wed for the 55th time! I threw the bouquet for all of the single ladies, it was a very strict tradition that no women with a partner or spouse could try to catch it and that was it! Time to party! Such an incredible day steeped in  culture, tradition and all incredible fun, and this was all before the wedding party began. Yet to come was bonfires, melting Salo on sticks until it dripped onto fresh bread, drinking more Tuica and wine, singing and dancing and being stolen…another ritual where I was physically picked up and stolen from the dance floor at the party, Alex of course won me back by offering the thieves more Tuica…as you can imagine it was rather a messy night.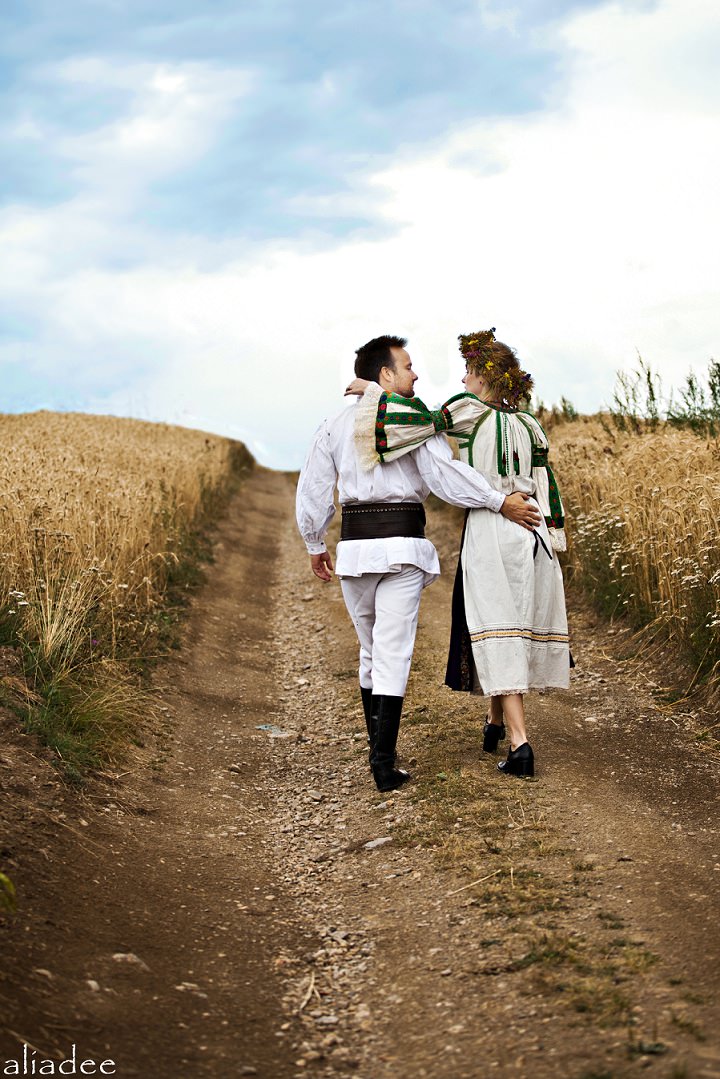 We had great fun and danced until the wee hours of the morning. Everyone stayed the night in the field in their tents regardless of the freezing drizzling weather and with our heads in our hands and feeling tired and rough we all went together for soup at the Matis Pension the next day. The wedding was definitely made by the people that gathered to help us celebrate. Every one of them started as a stranger that very same day but as we left the next afternoon we had made so many new friends. Even with language barriers, different histories and different futures, we all had the best fun together. We all let down our hair and partied like we had been friends for life, and I hope that now, that will be the case.
Supplier Shout Outs: 
To follow Lisa and Alex's journey go to
http://2people1life.com/blog/
http://2people1life.com/blog/the-whole-journey
FACEBOOK
@2people1life

If you have missed any of the previous weddings you can catch up HERE 

[jprel]