Five gorgeous little page boys with braces! Need I say any more? Quick, scroll down now, have a look and then come back to me…See I told you! I just love today's wedding featuring Katie and Chris, sent into us by Funky Pixel. Accents of yellow, art deco influences and every type of taste in food catered for, from stripy bags of pretzels and nuts to nibble on between the church and the reception, to an ice-cream van for the sweeter toothed guest. Just perfect.
'A family-filled wedding, full of laughter and love, with an absolutely incredible atmosphere. We were completely overwhelmed by the happiness our family & friends had for us, and how they helped make it such a memorable day.'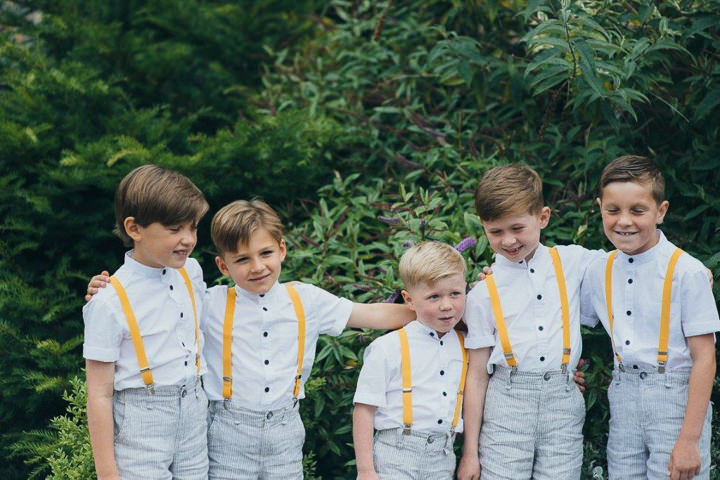 Katie and Chris were married on 14th June at Our Lady Star of the Sea church in Broadstairs and then Goss Hall in Ash, nr Canterbury, "We live in the quaint seaside town of Broadstairs and I always wanted to marry in a Catholic church. We relocated from Leeds where we met at university to Broadstairs for the seaside and surf (for Chris) and love it here. It's about 30 minutes away from where I grew up, but it has become mine and Chris' home as we started completely fresh here not knowing anyone.We chose Goss Hall after some intense 'googling'. Knowing we wanted to marry in our local church, we were conscious of the distance people would need to travel between church and venue. Then I found Goss Hall! I never knew it was there, even after driving the same road to work for over a year! I looked on their website and saw in small print that there was space in the grounds for a marquee. It couldn't have been better. There was a lake, ample space for the marquee and the kids to run around, and the B&B for immediate family and bridal prep."
How they met
We met whilst both at university in Leeds. We briefly worked together in a lively restaurant/bar in Headingley but it wasn't until I returned back from a year working in London as part of my degree that things turned from just friendship. Chris was a personal trainer at the time, and I subtly asked for personal training sessions in the gym…I must have been very subtle as it took him ages to realise what I was really going to the gym for!! Thankfully some mutual friends gave him the nudge and we quickly became an item after that…and I didn't have to go to the gym anymore!
We've been together coming up 6 years in October.
The proposal
It was my birthday and Chris had tried to get me the time off work to no avail. Instead he got up at the crack of dawn to make me breakfast in bed…which turned out to be alphabet spaghetti on toast with 'Will you marry me Katie' on it. When I read it and looked up at him he was by the side of the bed on one knee, with a gorgeous art deco style ring in an open ring box. We cried and I said yes.
How did you allocate your budget?
Things were tight where budget was concerned. We had only recently moved into our own house and it was still work-in-progress as we were having to redecorate everything. It also took us a bit of time to get back on our feet after we relocated as we moved south with just me having a job. We literally saved from the moment Chris proposed until the month of the wedding. There's only a little bit to pay off now as we didn't want to get into huge amounts of debt.
The marquee and tables/chairs/equipment was the biggest outlay, then the food. I also wanted to make sure we had the memories of the day so opted for a videographer, shortly followed by a photographer as well – even though this wasn't the initial plan.
Our parents helped too. My mum bought my dress, and my dad bought all the booze for the whole day! We ended up having a 'donations of £1 a drink' in a little letter box on the rustic door bar-top and this recouped that cost almost entirely. Dad and I also went halves on the car as we knew that the time travelling to the church together was going to be a very emotional and important moment for us as father and daughter.
Chris' family also helped with a contribution towards the marquee hire. We are very grateful and so thankful to everyone that helped us!
Why did you choose your photographer?
As the budget played a big part in the planning, I originally said we would just go for a videographer. We chose Skinny Boy Weddings very early on and completely trusted they were the guys for us where the 'moving memories' were concerned. But as an avid reader of wedding blogs I kept getting a pang of anxiety for not having an official photographer. In the end I started looking for photographers and didn't do very well at sticking to my original plan when I came across James from Funky Pixel. With a bit of discussion, as I originally thought the bridal prep and the ceremony was all we would need as we had the video too, James said he'd be able to do the whole day.
We felt James' photography style has a real warmth about it. Every photo has such depth, so we knew he would be able to capture our day perfectly. We are delighted with the photos and how well the love and laughter comes through them from all parts of the day!
The dress and accessories
My dress was by Sottero and Midgely and was bought from The Bridal Gallery in Broadstairs. Jean and Kat are amazing, and as dress makers too they did all the alterations in-house. I picked up the dress the Friday before the wedding after some last-minute alterations as my weight was fluctuating due to the build-up of the day. It really paid to have a bridal shop on my doorstep and buying so locally was quite feel-good for me.
My shoes were Rachel Simpson – I fell in love with Rachel Simpson shoes after following wedding blogs but the budget unfortunately wouldn't stretch to her current range. Call it fate, but I found a pair in my size in a gorgeous art deco style (with just the right heel height) on eBay. They were part of an auction and I blocked my diary out to make sure I was ready to bid. It was hugely nerve-racking but I managed to win them for under £70 in the last few seconds!
Stemming from my engagement ring and now the shoes, I ended up gradually bringing in the art deco style into other parts of my outfit. I chose a bridal comb from Etsy and some baguette diamond style studs from the No1 Jenny Packman range in Debenhams.
My veil was my something borrowed from one of my bridesmaids. It was exactly what I wanted and because she offered it to me, it was extra special.
The suit and bridesmaids
Chris' suit was from Next. I managed to get him to try on the skinny fit style (he hates shopping!) and he liked it! He opted for a slightly different shade to the other groomsmen who all wore a grey suit from Next's £75 suit range. They all bought the suits themselves and then wore their own shoes. We supplied yellow and grey silk ties, as well as shirts and bright socks.
I had x5 bridesmaids. I knew early on that I wanted a yellow and grey colour theme, so began searching very early for dresses for the girls. This in hindsight could've gone very wrong as one of my bridesmaids ended up falling pregnant about 6 months into planning, meaning she was 7 months pregnant at the wedding (this was the bridesmaid who lent me her veil!). Luckily the style I went for, in the sale from Phase 8, ended up being the perfect style for any shape, even someone pregnant, so they all looked stunning. Their shoes were also from the same Phase 8 range and in the sale too!
I also had x5 page boys. There are lots of little boys in the family (there are a lot of kids in general!) so I couldn't have one without the other. Following the grey and yellow theme, I had them in grey pin stripe shorts from monsoon and white granddad style shirts, and then bought some bright yellow braces (again from Ebay). They also had grey converse style booties. Being boys, I knew they would get their shoes muddy and get scruffy back at the venue so made sure we just had them in something that they could be comfortable in.

The theme
I was going for a vintage-inspired rustic vibe with grey and yellow colours. I used hessian around jam jars and lots of lace. I also collected vintage lace curtains for tablecloths and mis-matched vintage crockery from charity shops and eBay in the run up to the wedding. There was so much of it by the end of my collections and we thought it looked fab. I can't bear to part with it all so I've also started to hire the props and crockery out for other weddings in Kent and the South East, as well set myself up doing some wedding planning as I loved the experience so much – www.lunaroseweddings.co.uk.
The flowers
I focussed on a yellow rose as the main flower as it reminds me of my late granddad and means Love forever. I then asked the florist to go with a vintage rustic vibe. Believe it or not I had to choose the exact yellow (we opted for buttery lemon rose, rather than a sunshine yellow) and then added white peonies and gypsophilia, as well as other green foliage. I showed her a Pinterest board and she captured what I was looking for perfectly.
The decoration
The main decorations were the vintage crockery and tables with lace tablecloths etc. I decorated jam jars, and also made tissue paper pom poms in grey and yellow to hang from the ceiling. I didn't want bunting in the marquee, but we put some strands of handmade lace bunting on the poles outside. I also hired some festoon lights for outside as I wanted the gorgeous grounds of the venue to feel part of the marquee. Thankfully the weather was perfect and we had the sides of the marquee open too. My dad also made a light-up 'LOVE' sign which we hung behind the top table. It looked brilliant as it was getting dark and was twinkling.
The food and wedding cake
Instead of canapes I bought some candy striped grey and yellow sweety bags and filled them with cashew nuts and American pretzels so people could snack when they returned from the church.
We then had a DIY anti-pasti starter which groomsmen and members of my family laid out for us. A local baker made the fresh focaccia too which was collected the morning of the wedding so it was fresh.
We had a hog roast in the daytime followed by strawberries and cream or fruit flan, which a local catering company handled.
In the evening we struggled deciding the food as we didn't want a generic buffet. As my family has Indian roots and every family party involves everyone bringing curry, we decided we couldn't break tradition. We ordered chicken tikka and lamb sheesh kebabs to be delivered from our local Indian restaurant and then set up two large gas hobs with homemade curries my mum and aunty made the day before the wedding. Other family members warmed chapattis and roti's, with it all served in traditional foil containers with wooden cutlery. Street-food improvisation I liked to call it. We couldn't have done the evening food without the help of my family who were just incredible at cracking on with it even though I hadn't officially designated that as their job.
We also at the last minute managed to find a vintage ice cream van who dropped in for an hour or so. It was a lovely surprise for the guests and as I'm particularly a lover of ice cream, it was very apt. It rounded off the day perfectly and let the evening guests experience some of the fun that had been running throughout the day too.
I wasn't too fussed about a wedding cake, but a family friend heard what I was looking for and volunteered to help. Along with her daughter they made the most incredible naked cake…it was exactly like a picture I showed them but I didn't envisage the scale or anything so wonderful. It was a talking point at the wedding and was gifted to us from them so we are truly grateful to them for how fabulous it looked.
The entertainment
Chris and his groomsmen made playlists for the day's background music to create the atmosphere and we also had heaps of garden games for the kids. The football goal turned out to be a favourite for the boys (including some of the older groomsmen). We then had a 7-piece funk and soul band called the Soul Monkeys in the evening. The atmosphere was buzzing the whole day and the Soul Monkeys kept everyone on the dance floor from the first song.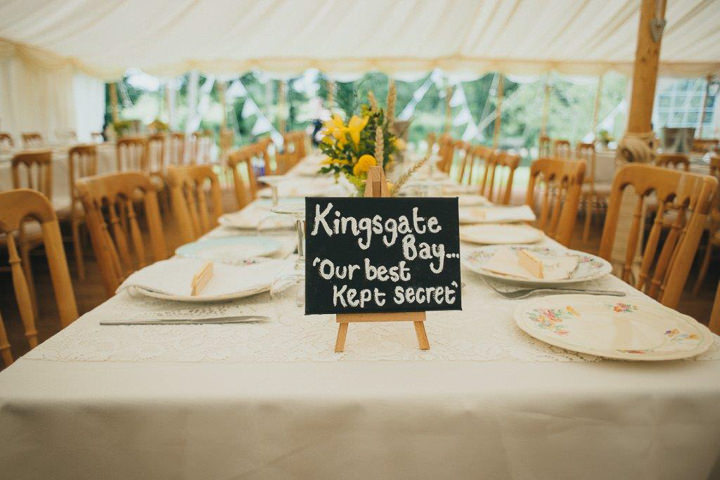 Buy or DIY your stationery?
I ordered my save the date magnets from vistaprint. I also sent tea towels as the official wedding invite and used the same design as the save the dates to carry it through. The tea towels I had printed by a local screen printers. The order of service was then designed by a friend who also has her own invite design company (Heart Invites).
Personal or handmade touches
I asked one of my cousins, Tom, to paint a seaside style themed board – one where you put your head through. Him and his girlfriend did a fab job and it was so personalised with Chris on a surfboard and a fireman's helmet on whilst carrying 'me' as a bride on the wave.
The table plan was also very personal. We chose our favourite beaches and added yellow seaside pin wheels to buckets of sand. We then hand-stamped people's names onto lollipop sticks and stuck them into their designated bucket. Little easel blackboards were placed on each table with a reason as to why the beach meant something to us.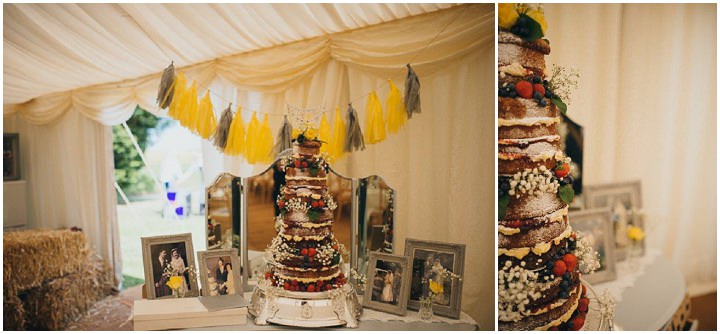 Special moments
My dad seeing me for the first time in my dress was nothing short of incredibly emotional. I will never forget his reaction as he gasped and immediately started getting teary as I walked out in my dress onto the landing at Goss Hall.
Walking down the aisle was a feeling I will never forget. My heart was racing and I don't remember seeing anyone in the congregation other than Chris waiting for me at the end. The video has helped me relive exactly what happened as it was all a bit of an overwhelming blur.
All the speeches were incredible too, especially the Best Man's who had everyone in fits of (appropriate) laughter from start to finish.
We remember looking round the marquee at various points in the day, seeing everyone laughing, smiling and dancing and thinking to ourselves what a fabulous day it had really been!
Advice to other couples
It's so cliché but enjoy every minute. If I could pay any amount of money to relive the day exactly as it was again and again, I would. It really flies by…at times I thought I had too much Prosecco but I was simply 'drunk' on the atmosphere.
Also, brides to be, don't get hung up on worrying about any guests' preconceptions of what the wedding will be like, or if your day will live up to expectations. Your guests are people who have come to share in the best day of your life and be completely happy for you, and if you think any of them won't think like that or pick holes in the food or drinks etc, ask yourself why you've invited them in the first place!
Biggest surprise
How calm I was.
Getting ready and during all the bridal prep I thought I would be a bag of nerves, but I actually felt completely calm as everything was organised and running to plan.
For Chris, his biggest surprise was his new bespoke surfboard arriving as a wedding gift from me the morning of the wedding.








Supplier Shout Out:
For more information on James' work please go to:
www.funkypixel.co.uk
www.funkypixel.co.uk/blog
 [email protected]
FACEBOOK
@FunkyPixelUK

[jprel]