The Competition is now Closed
Today I have a little treat for you in the form of a competition. Today I am offering TWO lucky readers the chance to win a copy each of the new wedding film, out in a weeks time; 112 Weddings'.
112 WEDDINGS
A film by Doug Block   
Out on DVD  25th August 2014 
"Enormously Touching" **** The Daily Telegraph
'For the past twenty years, Doug Block (The Kids Grow Up, 51 Birch Street), has supported his documentary filmmaking career with a side business of videotaping weddings. Now, as he approaches his own 25th wedding anniversary, Block uses the big event to take a broad and fascinating look at love and long-term marriage.  In his recognizable personal style of filmmaking he revisits some of his favourite wedding couples over the years, as well as experts and "advisors", to explore what holds some marriages together and what drives others apart.'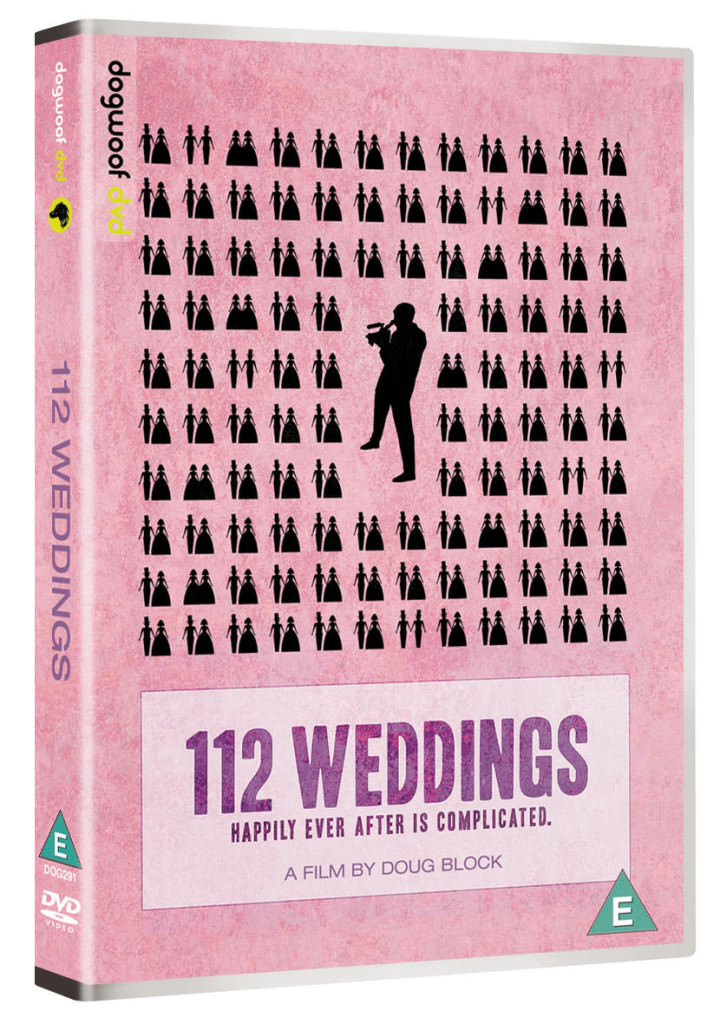 You may or may not be aware of this film, when I first heard about it I thought it was another Four Weddings and a Funeral, no bad thing, but I was expecting a rom com/chick flick and instead I got a thought-provoking, intelligent look at marriage, the highs the lows and all the real life in-between.
The film brings up many questions about why we get married, what we expect from marriage and the actual reality of what marriage has done for some couples. I found it incredibly interesting and would recommend anyone to watch it. 
Here is what my husband Nik thought of it!
I first came across 112 Weddings in a film review in GQ magazine which I have subscribed to for almost 15 years now. This is not the type of film one would expect to be reviewed in a men's lifestyle monthly mag, but none the less, it sounded like an interesting proposition. So much so, I mentioned it to Kelly, so when she was given the opportunity to review it for the blog, I was pleased to sit down for a couple of hours and see what it was all about.
As the name suggests, it is about 112 weddings, but not in a conventional sense. The majority of information, TV programmes, magazines etc are loaded with pre-wedding this, wedding day that, hen / stag do ideas – with very little given over to the actual marriage, other than the occasional solicitors advert for divorces! (Sad but true!). However, 112 Weddings charts the rise and fall of a select number of the 112 weddings filmed by videographer Doug Block.
There are spectacular highs and rock bottom lows – from couples who have it all on their wedding day, to being unable to face each other anymore and embarking on divorce. We watch the build-up and vows of 9 weddings over the last 20 years and the up to date nuptials of a young couple ready to undertake their happy day. From Partnership Ceremonies to huge big-budget affairs, all tastes are catered for.
The joy on the face of couples on the day they are married fills you with the expectant happiness that only married couples can understand. Surrounded by family and friends and the loved ones you wish to spend your future years with, you undertake a huge commitment to one another with all the very best intentions of it lasting forever. One thing we must all remember is that the wedding day itself is over in just 24 hours – the marriage is the thing that must last forever!
112 Weddings shows that even the strongest relationships can be put under strain with depression, illness and family issues and that for a marriage to work, sometimes we have to work at it!
Please seek out this movie as a married couple and you will see yourselves in all of the couples and have a wry smile at some of the excellent words of wisdom from long married couples.
Enjoy!
If you are interested in winning your self a copy of this film, I have made it super simple!
How to enter
Simply leave a comment below including your name and the date you are getting married/got married.
Hope over to 112 Weeedings Facebook page and like their page.
Terms and Condtions
Each winner will receive a copy of the film on DVD
Closing date for entries is 25th august. The Winner will be selected by me at random and notified via email after that date.
Only 1 entry per email/IP address
Contest is open to all readers of Boho Weddings in the UK
By entering the draw, you hereby warrant that all information submitted by you is true, current and complete.
The winners will be contacted via their email address within a week of the the competition draw date.
The prize may be exchanged or transferred and no cash alternative will be offered.
Liability cannot be accepted for entries which are lost in transit or not received due to technical difficulties.
Kelly Hood's decision and any decision taken by the promoter is final and no correspondence will be entered into.
No purchase necessary.
For more information on the film go to
www.112weddingsmovie.com
FACEBOOK

[jprel]