Happy Monday everyone, I hope you all had a wonderful weekend and that you are now all rested and ready for a busy week ahead fo us. We have lots planned for the blog this week, starting with this gorgeous rustic spanish wedding from Pixel Moreno Photography. The wedding features a beautiful Otaduy gown that Marta our beautiful bride is wearing, in fact it was the bridal company who actually sent in this beautiful wedding. Marta and Dani went for a rustic theme and put together lots of handmade details themselves to make sure their wedding had lots of meaning and really reflected them as a couple. It has a cool laid back feel to it, with amazing sunshine that really shows off  the Tarragona countryside.
Special and very personal, trying to make everyone part of our day.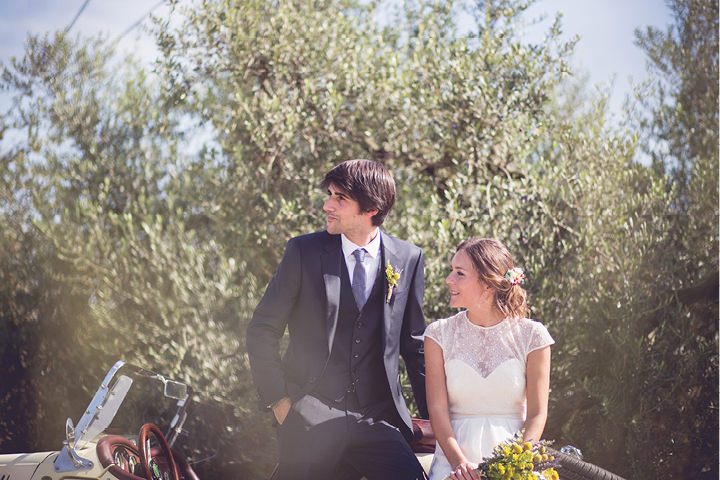 Marta and Dani were married on the 11th of October 2015 with a ceremony at "La Ermita de la Selva del Camp" and the reception in "L'Avellana – Riudecols". 'When we saw l'Avellana we fell in love, we immediately felt if was a magic place, with lots of details that fitted perfectly with our wedding idea. We had 160 guests and the wedding took 10 months to plan.'
How they met
We were friends since we were kids, when we were about 20 the spark lit up! We have been together for 10 years.
The Proposal
It was during a trip to Costa Rica, it was a trip we both worked hard to prepare, we were very excited. One night in the middle of the atlantic ocean (lots and lots of waves) in the Osa peninsula, after watching turtles making a nest (amazing!) Dani asked me if I wanted to spend the rest of my life by his side, I laughed for a while and without a doubt I gave him a kiss and a "yes".
Where did you splurge and where did you save?
Dani, being a cook, didn't want to save money on food, and we we're lucky to have Cal Blay, all the decoration was made by ourselves with the help of salioli – two girls with a lot of style and great friends.
Why did you choose your photographer?
We really loved Pixel Moreno's work, we knew them from previous weddings we had seen, they are very professionals and make you feel comfortable at the same time plus the pictures come out very naturally.
The Dress
The dress was by Otaduy Barcelona. Also, I was wearing a headpiece by Lito&Lola Barcelona. Dani's suit was from Hugo Boss
Theme or colour scheme
We wanted to reflect our personalities and lifestyle, there were colours and details that represented us with rustic decorations.
Flowers
We had lavander, astromels, craspeds, white dashes and lilium.
Food
We made an appetizer with lots of buffets and dishes, then in the table and appetizer and a main dish, the desserts we're buffet and served by us and at midnight a burger buffet.
Wedding Cake
Home made cheese cake, our favourite!
Entertainment
We had a music band playing live for all ages and then a dj that was a close friend.
Personal Touches
We arrived at l'Avellana on Dani's grandfather's motorcycle. The figures of the bride and groom were made out of spoons by ourselves and the gifts for the guests were jars of jam that we made ourselves a couple of days before the wedding, a music CD special for us and a tote bag with very funny cartoons of us.
Special Moments
I wouldn't say one in particular and at the same time I would say all of them! From the beginning it was special and everything turned out just as we dreamed and planned.
Advice for other couples
The planning is hard if you wanna make it yourself, there are a lot of decisions that have to be made just for one day, but you have to think that that day everybody is happy and enjoys watching you happy, everything else comes in second place.
Biggest Surprise
A pair of earrings my mother gave me, our friends made us a song and a video specially for us!
For more information on Otaduy brides please go to:
www.otaduy.co / FACEBOOK / PINTEREST / I: @otaduy/ T: @otaduy_official / YouTube