Welcome along to anther week, I hope you all had a good weekend? It looks like summer has eventually arrived, I hope you have all managed to grab a bit of the sunshine over the weekend, lets hope it stays with us, it's certainly a welcome change to all that rain!
I have a gorgeous wedding to start the week off which was sent into me by Mark Tattersall. Mark is a regular to the blog, and I'm working with him in September on the wedding of Claire and Tom, which is going to be a fab wedding, I can't wait!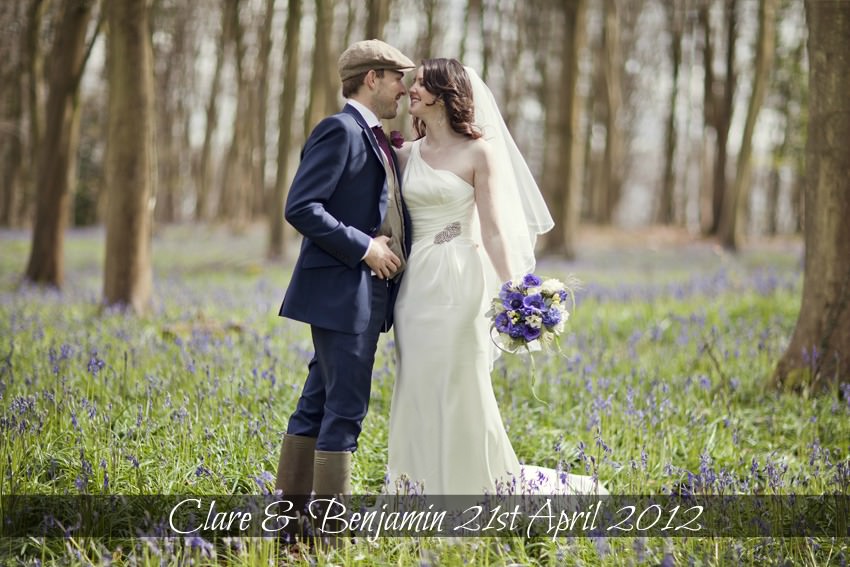 It's the wedding of Clare and Benjamin who were married on 21st April 2012. The ceremony was at Penallt Old Church, Monmouthshire, Wales.  Benjamin and Clare currently live in London, but Clare grew up in Penallt and her parents still live in the area. They had 80 guests and it took 11 months to plan.
It's such a pretty wedding, so relaxed and full of country details, some amazing personal touches, it is clear that Clare has put  a lot fo thought into her big day. what I love most of all though is Clare and Benjamin and their amazing smiles! In every photos they are beaming the biggest smiles, they look sooo happy and relaxed! perfect!!
They describe their day as 'A celebration of everything we are about – amazing scenery, incredible food, good friends and a great party!'
How they met
I returned from living in New Zealand for a year in 2007, so started to look for somewhere to live in North London.  I found a house share with 3 other guys on gumtree (which seems to be a bit of a matchmaker.  Another of my friends met the same way and they are now also happily married!).  After 3 months of living together, an Italian meal out with a rocket filled pizza, and a drunken, wobbly backie on Ben's single speed home…the rest is history!  We've been together 5 years since.
The proposal
Ben's family live in Southend-on-Sea, where his Father owns a boat, which we have been fishing on a number of times on The Thames.  Ben and I had arranged another fishing trip with his parents for the day.  We set off on the Sal D.C. and found a quiet little spot to cast out our lines.  The sea was quite choppy, giving the optimistic illusion of a potential catch on the end of our rods.  A couple of hours later and nothing to show for it.  Ben's parents had disappeared into the cabin.  Then Ben looks at my line, which is ever so slightly moving, sure that I have caught something.  "Reel it in" he says, so I do.  There, on the hook, was a ring!  Being totally unaware of what was about to happen, I had genuinely thought I had fished out somebody's long lost ring from the bottom of the Thames.  Then Ben unhooks the ring (which wasn't the 'real' ring, I must add) and gets down on one knee…..
I was in complete shock and disbelief, but over the moon!!
The venue
Getting married where I grew up seemed like a natural choice.  It's such a beautiful area and Ben has also fallen in love with it.
Reception – We had a beautiful traditional pole marquee located in a neighbour's field, just up the road from my Mother's house, which has stunning views over the Brecon Beacons National Park.
How did you choose your photographer?
We had originally asked a friend of Ben's, who is a professional photographer to take our photos.  He was offered a job abroad, so with only a couple of months to go until our wedding, we had to look elsewhere.
We soon realised, after looking at a lot of (bad) photographers online, that this was something very important to both of us.  These photos would be a keepsake for the rest of our lives.  Being quite a keen photographer myself, I knew exactly what I wanted from our photos.  We didn't want too many posed shots and we wanted the atmosphere of the day to come through.  We wanted to catch people in the moment, as opposed to forcing them into one!  It was also important to capture the surroundings, as the setting was so special to us, as too were all the personal details that we had created.
One photographer that we had enquired with, who was already booked, recommended we look on The Natural Wedding Blog .  This had listings of a number of photographers and this is where we found Mark Tattersall.  After looking in depth at his website and the style of his photos, I prayed that he would be available, which he was!  I had utter faith that he would capture our day perfectly.  We couldn't be happier with our photographs and we have had so many compliments from family and friends.
The dress
Dress was Pronovias Fiona – I wanted something quite vintage looking, without the price tag of an original vintage piece.
Shoes – Rachel Simpson Mimi
Veil – Rainbow Club
Hair clip – Original vintage brooch, which my sister-in-law wore when she and my brother married.
Earrings – Donna Crain, who handcrafts the most beautiful one-off pieces using vintage treasures, pearls, beading and Swarovski crystals.  Donna was an absolute gem herself.  I had originally bought an Art Deco headband from her at the National Wedding Show.  After trying on the headband with my dress I decided it wasn't quite right, so Donna invited me to her house to select something else instead.  The earrings I chose gave a real look of understated glamour.  Whilst I was in her studio, which was an Aladdin's Cave of goodies, I commented on a vintage silk bag, which I found out wasn't for sale.  Donna insisted that I borrow the bag for my wedding, which really finished off my look.  I couldn't believe Donna's generosity.
The suit and bridesmaids
Ben wore a Reiss suit – Bishopsgate Blue with a light brown waistcoat from a charity shop from years back.
Bridesmaids (my elder sister Anna & good friend Annie) wore dresses from Coast – Goddess Maxi Dress, Blue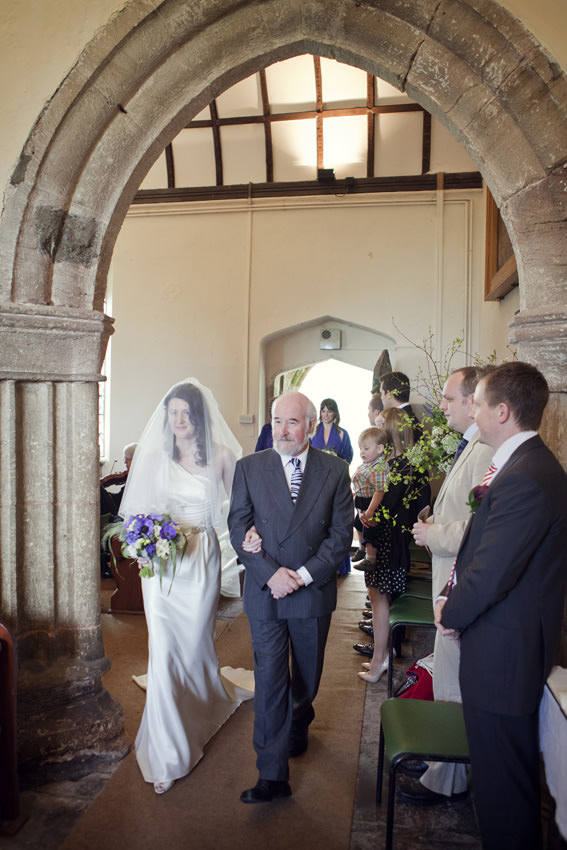 Theme
We didn't want to stick to much of a theme, just keep it all very natural and rustic.  My 1930's Sapphire engagement ring did inspire some blue hues, including the bridesmaid's dresses.
Food
Food was another very important aspect for us both.  It had to be damn good and where possible, locally sourced and in season.  We used caterer EJ Catering, who are based in Cardiff.  They did an incredible job and many people said they don't normally expect much from the food at weddings, but ours was something else!  The Welsh lamb rump was the most tender lamb I've ever eaten and it was great to include the increasingly well known Trealy Farm charcuterie, who are 5 minutes down the road.
MENU
canapés
Spicy tempura courgettes with a creamy dip
Local asparagus tips with dipping hollandaise
Fillet of Welsh beef with horseradish cream
Pembroke scallop and Trealy chorizo tartlets
Mini smoked haddock pies
Quail scotch eggs
Starter
local trealy farm chorizo, bresola & beech smoked air dried ham
grilled mediterranean vegetables
mozzarella, new season tomatoes & basil with a sticky balsamic dressing
boxes of homemade loaves and snap breads
mains
Welsh lamb rump with minted pea puree herb roasted haddock with lemon thyme & white wine sauce served with dauphinoise potatoes & garlicky green vegetable medley
for the little ones…
free range crispy chicken in a box with roasted new potatoes
dessert
nutty meringue galette with poached pears, praline cream and hot chocolate sauce
followed by
Tea and coffee and a naughty homemade digestif treat
My Mum had also made litres and litres of Damson Gin, with fruit picked from the lanes.  A bottle was brought out to each table along with the tea and coffee.  This went down like an absolute storm and it certainly got the party going!  It was A LOT stronger than it tasted!
Wedding Cake – We decided to steer away from the traditional iced cake and opted for a Victoria Sponge decorated with cream, strawberries and roses.  The cake itself only cost us £8, made by a lovely local cake maker.
Entertainment
String Quartet (the Clover Quartet) in the church, along with Uncle Ric on the organ for the hymns.  At the champagne reception, Uncle Paul played a short acoustic set on his guitar and then wound the gramophone up and played a selection of jazz 78's.  After the meal Uncle David (jazzdj.co.uk) DJ'd and warmed up the dance floor for the jump-jive band, The Zoltans  led by Uncle Ric, of which Ben popped up in the first set and sung an old Louis Jordan number, Knock Me A Kiss – complete surprise!  After the band finished their second set, Uncle David jumped back on the turntables and rocked the tent till the early hours.
Flowers
Bride + Bridesmaid's bouquets – I went for heavily scented flowers, including blue hyacinth, anemone, white freesia, rosemary and fountain grass, tied with raffia.
All the flower arrangements in the Church and Marquee were done by my very talented Mother!  She made a very early morning trip to Bristol Flower Market a couple of days beforehand.
Buttonholes – these were made from a beautiful burgundy hellebore from my Mother's garden, which matched Ben's tie.
Decoration
When we first decided to go for a Marquee reception, we thought this would be the cheaper option.  You soon realise this is a complete blank canvas, which is great because you can put your stamp on it, but you have to take into consideration all the extras – tables, chairs, electricity, lighting, heating, toilets, the bar, linen…the list goes on!
We decided against lining the marquee, as we loved the aesthetics of the canvas seams and distressed wooden poles..it all added to its charm, and saved us money.  Instead we decorated it with bunting, which we kindly borrowed from a friend, Dionne, who had spent a year before her wedding making what seemed to be miles of the stuff!
We collected and borrowed a selection of antique china jugs, which we simply filled with a posy of flowers for the centre piece of each tble.  This was encircled with vintage cups and saucers, also borrowed from friends.
The plants that filled the marquee made such a massive difference.  All of these were unbelievably loaned to us free of charge by our local garden centre , where my Mum is a very regular customer!  As it was Spring we went for fruit trees laden with stunning blossom, clematis, broom and a massive olive tree.
At one end of the marquee we had the bar and nestled in the corner, a chill out area of ottoman style seating, beanbags and cushions (which proved very useful for the tiring children…after numerous pillow fights!).  This was all ordered from oasis events.
Personal touches
I'm currently doing a ceramics course, so I decided to handcraft 80 ceramic heart place names, that also doubled up as favours.  This turned into a labour of love and took a lot longer than expected.  But it was well worth it, and everybody was thrilled with their handmade gift to take home as a reminder.
I also made the Seating plan out of an old fence panel from our garden in London!  I sawed this to size, rubbed over the paint with a rag, then strung up garden twine, from which luggage labels with each table were hung with mini pegs.
We made all our stationary ourselves, using luggage labels, garden twine, brown paper, stamps and embossing.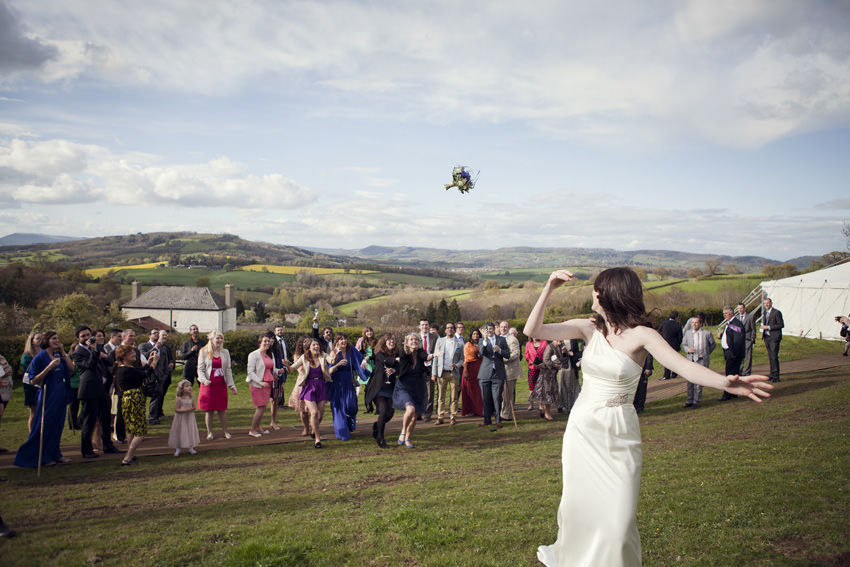 Special moments
The ceremony which was con-celebrated by both the vicar of Penallt Old Church and Father Tom, Ben's family priest from his Catholic Parish in Southend.
The reason we chose to have our wedding in April , despite the old-wives tale of 'April showers' was because we both love Spring – the burst of flowers, new growth and new beginnings.  This was also the optimum time for bluebells.  As a child I lived near to a woodland that had the most stunning array of bluebells at this time of the year.  This, I thought, would make the most perfect place for Ben and I to have photos taken….and it didn't fail to disappoint.  After the buzz of the ceremony it was very calming to wander alone with Ben (and Mark of course) in the most tranquil of settings.
Ceramic guest book – A friend of ours owns an Art Café Ceramic Studio in Devon (http://www.theartcafe.biz/).  Instead of a guest book, Georgina brought with her 80 plain ceramic tiles and coloured glazes.  In another corner of our marquee we set up a table, so throughout the night every guest could come and paint their message on a tile.  It was a wonderfully original idea.
Advice
Relax.  It will be alright on the day!
Biggest surprise
Not feeling nervous…And that it didn't rain!
Supplier Shout Outs
For more information on Marks work go to:
www.mark-tattersall.co.uk
http://mark-tattersall.co.uk/blog
TWITTER
[email protected]
Tel: 01282 816799
Mob: 07834240602
♥  You can see more Real Weddings featured on the Blog HERE  ♥