What a way to start the week! I was stunned by the pictures we received from Tony Fanning for today's wedding of Iola and Rhys.  Not just because Iola is absolutely beautiful in her bespoke wedding dress, but when I saw the flowers that were such a huge part of the whole celebrations, from the church to the ceremony and everything in between, it just made me smile. I absolutely adore Iola's floral crown, it's just so perfect against her dark hair, don't you think? I recommend you take some time to sit and look through this wedding at leisure today. If the sun isn't shining where you are, then it certainly will be when you've finished.
"It was the best and by far the happiest day of our lives. Everything about it felt like 'us', which we are very very proud of."
Iola and Rhys were married in front of just 44 guests on the 21st of June at Eglwys St Maelrhys Church, Y Rhiw. North Wales, with their reception for 140 more friends and family at Nant Gwrtheyrn. "The cute little church is in the village where my Mam grew up. A few of my family have been married/ christened/ buried there so to marry anywhere else would feel wrong. Myself and my brothers would visit my Grandparents' on their farm in the village every Saturday and all summer holidays as children, so it holds a special place in my heart. Our engagement was almost 3 years! – This was due to waiting for me to finish my masters degree as well as to have plenty of planning time."
How they met
We have been together nearly nine years. We first met when I worked in my Dad's garage/ filling station… But we met 'properly' in the dingy nightclub in our local town! Rhys had been on a mission to get my number for a while, but we bumped into each other and he asked me for it himself!
The proposal
I went travelling for 5 months with my friend from Uni. Whilst I was away, Rhys booked a surprise holiday for us for when I got back. We flew to Samos, a small Greek island. On the 17th of September 2011, on our 6th anniversary… He proposed! His plan was to ask whilst taking a late walk on the beach… but I complained so much for getting pebbles in my sandals (I swear a lot… so was a mood killer!)…. So he bottled it. He tried again, and I kept questioning him why he had such sweaty hands, so he bottled it again…. It finally happened on the Balcony of our lovely room overlooking the sea, it was perfect… He went down on one knee and everything (although my initial reaction was a swear word… it was lovely!). We rang home to tell the news, and turns out he'd already asked my Dad's permission the week before so everyone was expecting it!

Why did you choose your photographer?
This was the first and easiest decision we made. Tony Fanning had photographed two family weddings in the past (2 female cousins)… since seeing those pictures and regularly following his blog, we had always said we wouldn't consider another photographer… This has got to be the best decision in the planning, Tony was amazing! We also had Lee from Shutterbox films as our cinematographer for the day.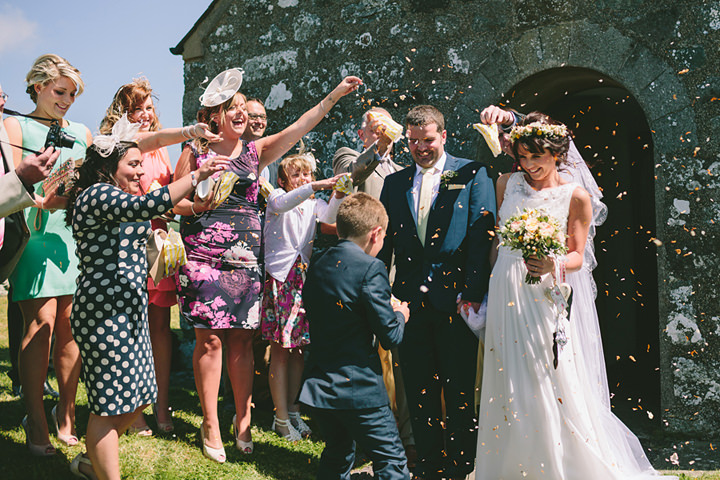 The dress and accessories
I got my dress in Wedding Belles in Llandudno on my first day dress shopping. Typical me, it wasn't an 'average' dress, I took bits from two different dresses. The dress itself was Ebony Rose – Destin, and the Bolero was part of a Benjamin Roberts dress. I wore Jimmy Choo Fiona Sandals in sparkly Gold. I wore my late great Aunt's amazing diamond earrings (she lived in south Africa…beautiful diamonds!) and I wore a gold and turquoise bangle… Some additional 'loom' bands were added by the end of the day!
The suit and bridesmaids
The suit was from Next. Teamed with Next shoes, M & S shirt and Dessy tie and pocket square. Cynan wore cool blue converse with his Next navy suit.
The bridesmaids' beautiful dresses were Dessy Lela Rose LR182 in buttercup. These were from Bride to be by Hannah Lois in Prestwich, Manchester. They teamed them with gold Kurt Geiger sandals and bags from Accesorize.
The theme
I fell in love with the Dessy 'Buttercup' colour, so the yellow theme emerged from there.
The flowers
I adored my flowers! I was never really a flower person until I met Sioned Rowlands of Tulipa. Her love for her work is very contagious! My bouquet consisted of: Juliet Roses, yellow craspedia , white astilbees, tudor rose, senecio, succulents, peach hypericum, scabiosa and small pale yellow roses. I wore a floral crown on the big day… and I loved it! Flowers tied in with my bouquet. Rhys absolutely loved this on me as well so it made it even more special.
Bridesmaids had similar/smaller bouquets and flowers in their hair. The buttonholes had craspedias in them also.
We decorated all the jam jars and gave them to Sioned beforehand. They were placed on log slices around the place. Sioned also created wonderful rustic displays in the church and at the reception venue and provided natural confetti.
The decoration
– Jugs for flowers in church.
– An old ladder, books, an old wash tub to hold the peroni.
– Log slices.
– Champagne cork placenames
– Jam jars… lots of them!
– Tin candles
– A pallet '9 years later', with photos of us.
– Hessian and Cath Kidson table runners.
– 3D table numbers.
The food and wedding cake
Canapés of smoked mackerel pate, bruschettas, goats cheese tarts and Glamorgan sausages.
Thai salmon fish cake on a bed of rocket to start
Steak and local ale pie with new potatoes, carrots and broccoli
Strawberry cheesecake
Tea/ coffee and Welsh cake.
And in the evening:
Local sausage and onions, warm baguettes and chips.
Strawberries and cream
Wedding cake – a 5 tier yellow ombre wedding cake from Nina at Mon Cottage Cupcakes. Lowest tier: Chocolate, 2nd: Victoria sponge, 3rd: Lemon, 4th: Carrot, 5th: Strawberry. Decorated by the florist with succulents and other flowers.
The entertainment
The amazing MUNCH band organised through Alive Network.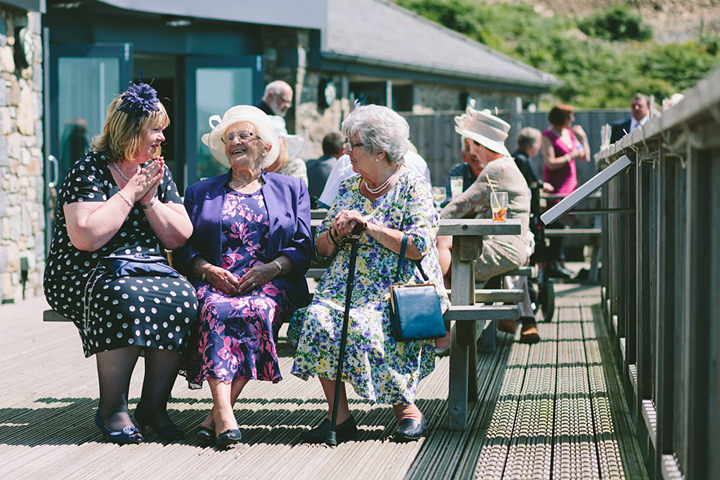 Buy or DIY your Stationery?
Our initial plan was to DIY, but then we discovered 'Mr a Mrs' And the lovely Elliw…. So decided to pass this massive job on to someone else…. Saved on masses of stress… They were lovely.
Personal or handmade touches
– A handkerchief I gave to my Dad on the morning.
– Confetti basket
– Wedding signposts
– Peroni and Pimms as welcome drinks
– I made the table plan corkboard and champagne cork placenames
– Bottle opener favours for the men
– Welsh lovespoon keyring favour for the ladies.
– Loom bands for the kids!
– Toiletries basket went down a treat in the ladies' toilet
– Flip flops for the 'dancing queens' were a big hit.
– A pallet with pictures of us stuck to it (sound so random when you write it!)
Special moments
– Cynan, Rhys' 9 ½ year old son being best man.
– My Nain (grandmother in Welsh) gave me her wedding ring,
– I borrowed my Mam's veil.
– One bridesmaid came over from NZ for wedding, and sang for us during the ceremony.
– Our first dance.
Advice to other couples
– Start planning asap.
– Once you make a decision, commit to it and don't look back. We did this with most decisions (dress shopping- 1 day, looked at 1 venue, 1 photographer etc.)
– It's never too early to start DIY projects. We had loads of things done early on
– Be yourself. There's no point pretending to be someone you are not!
Biggest surprise
The weather!! Not a single cloud in the sky here in North Wales doesn't happen very often! It was truly beautiful weather.








Supplier Shout Outs:
For more information on Tony's work please go to:
Website: www.tonyfanningphotography.co.uk
Blog: www.tonyfanningphotography.co.uk/blog
FACEBOOK
@t_fanningphoto