Today we are heading across to the Peak District in Derbyshire for this full on DIY extravaganza. Berni and Andy chose Lower Damgate Farm as it gave them the freedom to hold the outdoor weekend long wedding that they were looking for. They worked hard on many DIY projects to help keep the costs down and enlisted the help of all their friends and family. The results are this super cute, rustic wedding filled with yellow and green decor and so many handmade details. Many thanks to Charlie & Emma from Toast Photography for the fab photos.
Our wedding day was relaxed, sunny and lots of fun. Following lots of hard graft everything came together perfectly.
Berni and Andy were married on the 17th September 2016 at Lower Damgate Farm, Ilam in Derbyshire. 'We spend a lot of time in the Peak District as we enjoy walking and climbing. We knew we wanted to spend as much time outdoors as possible on our wedding day and Ilam provided the perfect backdrop (whilst not being too inconvenient for our guests to get to!!). We had 32 guests for the long weekend with an additional 70 on the wedding day itself… just over 100 in total. We were in engaged in January, the venue was booked in March (they had a cancellation…) and we were married in September so about 6 months to plan.'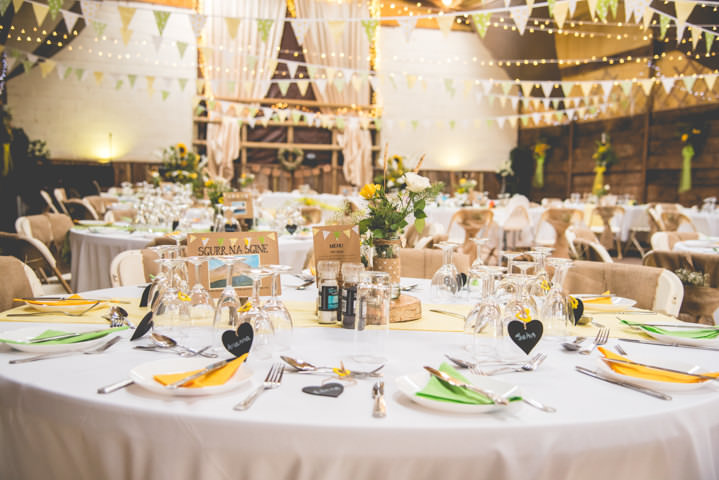 How they met
We were both climbing when we met, 8 years ago
The Proposal
We were skiing in the Austrian Alps with a group of friends. One of the clearer evenings we took the gondola up to the top of the mountain to watch the sun set in spectacular style. Andy surprised (and it was a huge surprise, I didn't expect it for a second!) me whilst my back was turned and we enjoyed a bottle of fizz before racing to get the last gondola back down (the alternative was a very long walk)!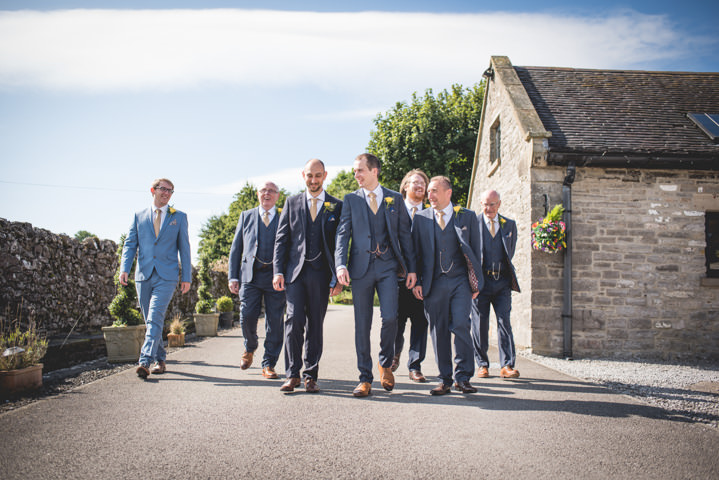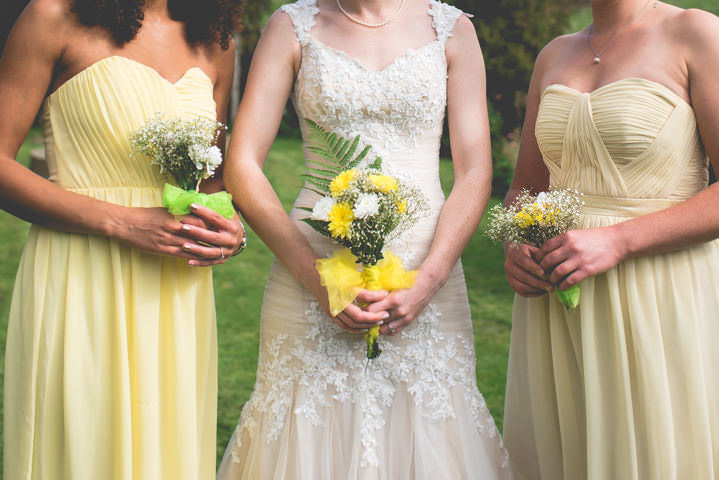 How did you allocate your budget?
The venue was by far the largest expense for us but it did give us the opportunity to celebrate for an entire long weekend instead of just one day! Providing good food and plenty of drinks to our guests was very important to us and where another large chunk of the budget went.
Where did you splurge and where did you save?
We splurged on our venue and built the rest of the day around it. We did a lot of the work ourselves, with significant help and support from our families and friends it has to be said. The key areas we saved money in were:
Very small (4 guests) 'legal' ceremony a couple of days before our wedding day to avoid the registry office on the morning of the wedding day which would not only have cost a fair bit but would also have required additional transport and would generally have made the day a lot more disjointed for our guests. We held a ceremony outside at the venue which we had complete control over – for us this was much better than being held to a 'legal' venue and it didn't cost much at all. Booze cruise – We took a mini break over to France to purchase our wedding wines which gave us far better value for money (plus it was a lot of fun). DIY – from the bunting to the table runners, the chair backs to the flowers (bought from local wholesaler and arranged by some of our very talented friends), the desserts to the cheese boards, the menus to the invites – the biggest place we saved was by doing a lot of the work ourselves. Although time consuming, it was a lot of fun and we were able to involve a lot of people – it was truly a team effort and for that we will be forever grateful!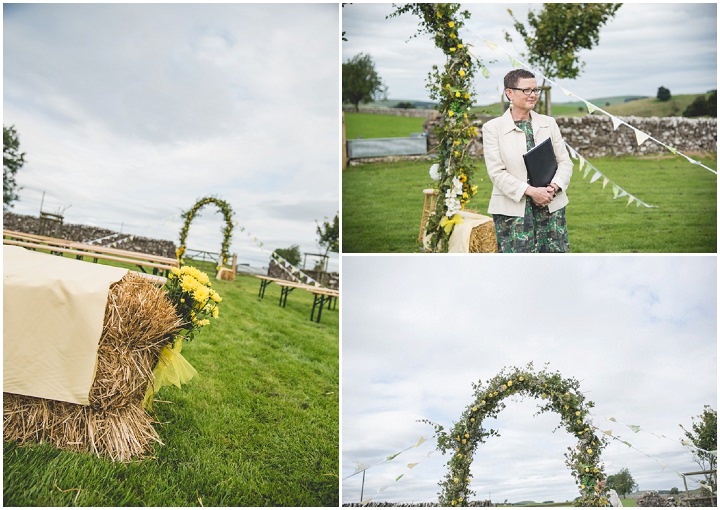 Why did you choose your photographer?
We contacted a few photographers to get an idea of packages/ prices. I had an initial chat with Charlie about the wedding (Andy and I are both quite camera shy so the thought of having a wedding photographer was quite daunting to us) and she put us both at ease. Charlie and Emma are both local too which appealed and were very happy to adapt what they were doing to suit us.
The Dress
I have no idea who the dress was by… I bought it off the peg from the Stockport bridal warehouse and my mother made the minor adjustments which were required. As the wedding day was held outside I just wore some flat sandals which did the trick and the only real accessories I had were a string of pearls I borrowed from my sister-in-law.
The Suit
The suit was from Slaters in Manchester.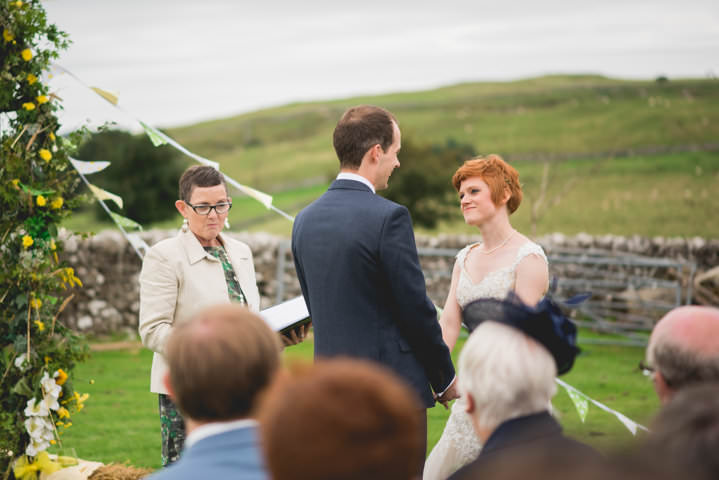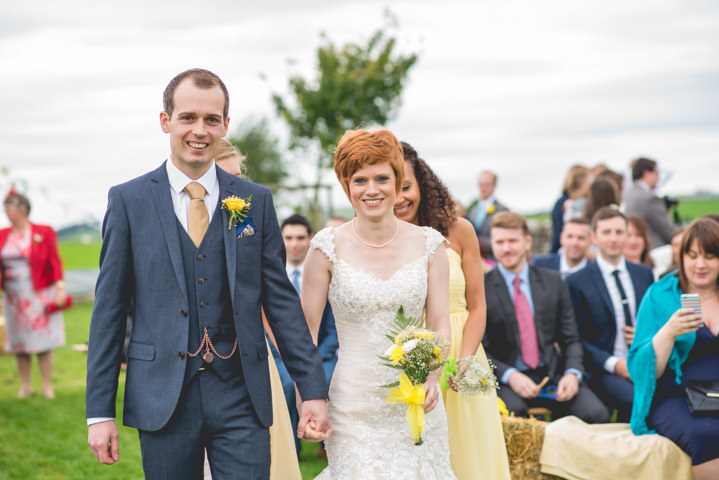 Theme or Colour Scheme
The colour scheme was yellow/ green, the theme was seasonal so we had a large number of sunflowers that various people had been growing and lots of wheat and barley gifted from local farms to give an autumnal feeling. It all worked well together being bright and fresh.
Flowers
Mostly yellow flowers and lots of greenery. We bought all the flowers from the local wholesaler except for the showpiece sunflowers which had been grown by family friends – they were stunning. In all our friends must have arranged 25 hanging displays, filled 4 huge vases and decorated the archway we would hold the ceremony under – a fantastic effort and we discovered some hidden talents!
Decoration
My sister in law made all of the bunting for us, my mother in law made the table runners from the same material. We decorated some old jam jars for the table centres, filled them with flowers and placed them on top of varnished wood slices (from the garden) which was very effective. We created hanging vases from baked bean tins, wood and spray paint as the barn had heavy duty hooks running all the way down the sides – again, these looked fantastic once we'd finished with them.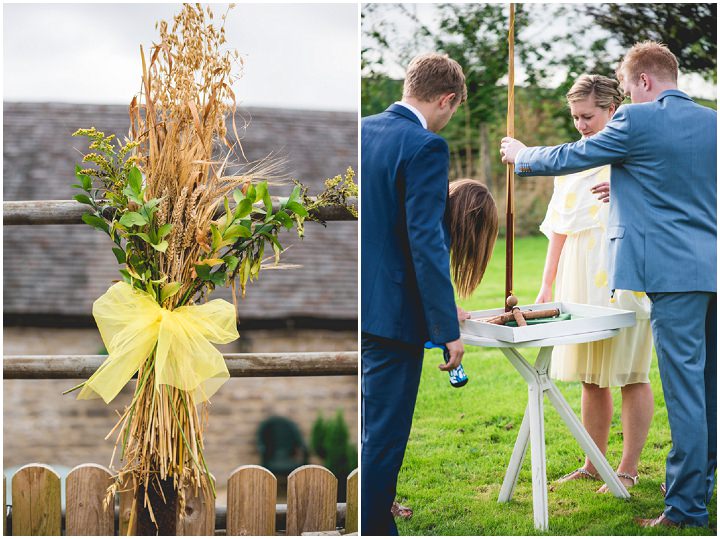 Food
Our best man (who happens to be a chef) created a range of delicious canapes which went down a storm. We then used a local company called Cameron Jack who provided a hog roast/ barbeque as the main. My mother and aunt made all of the deserts (tiramisu, pavlova, after 8 cheesecake and summer fruits flan) and we prepared cheese boards for each table.
Wedding Cake
The wedding cake was made by my mother, just a large single layer fruit cake and decorated by our tremendously talented friend Jane. The cupcakes (gin & tonic, lemon, coffee and carrot) were made by my mother and our friend Katherine who also decorated all of the cup cakes and did a lot of the flower arranging.
Entertainment
We were keen to keep things fairly informal. We booked an acoustic guitarist to play 2 sets (one after the ceremony and one whilst we were eating), he also played during the ceremony and was fantastic. We also had a number of lawn games which were made by Andy's dad and decorated by my dad, splat the rat, table skittles and a beanbag toss game amongst others. There was also a small playground at the venue which entertained the kids (and some of the adults) for hours!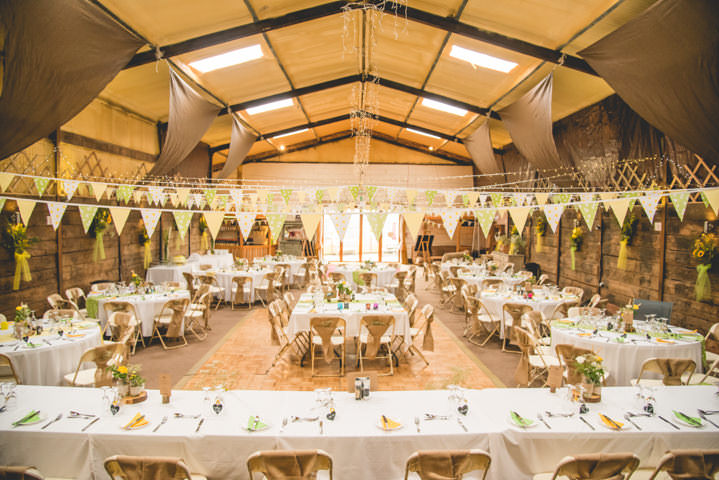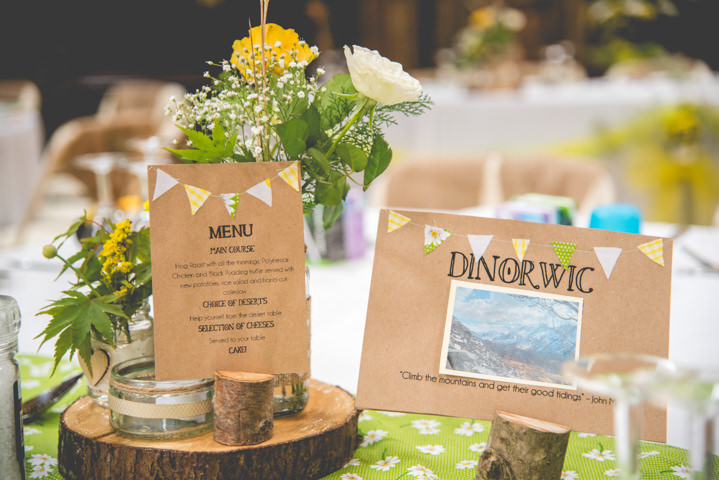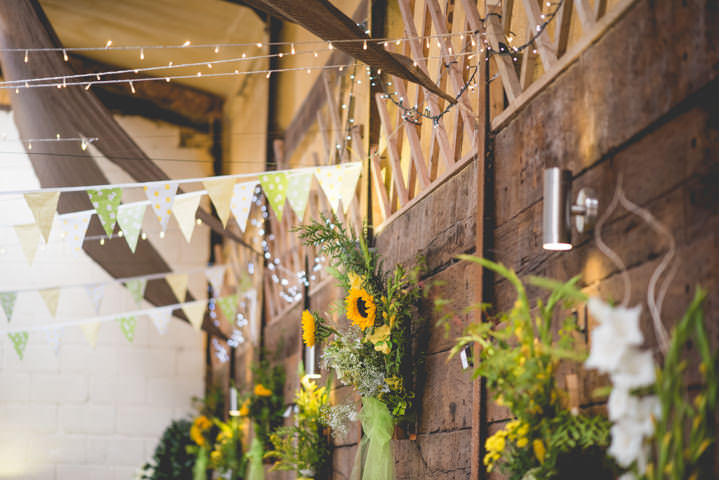 Stationery
I designed and created the invites, table plan and menu cards… the good thing about having a 'rustic' wedding is that hand made stationery is very acceptable!
Special Moments or Highlights
We enjoyed setting the barn up the day before the wedding with help from our nearest and dearest, it really was a gargantuan effort from everyone but the venue was totally transformed. We also enjoyed the ceremony which we had put together with the help of our celebrant Penny (who was also amazing) and we enjoyed watching all of our guests arrive hidden away in our cottage.
Advice for Other Couples
Everybody says it but don't sweat the small stuff, decide what's important to you at the beginning and try not to get caught up with the other stuff. There are lots of 'expectations' and 'traditions' and its very easy to get carried away by your perception of what will be expected rather than what you actually want to do – stick to your guns!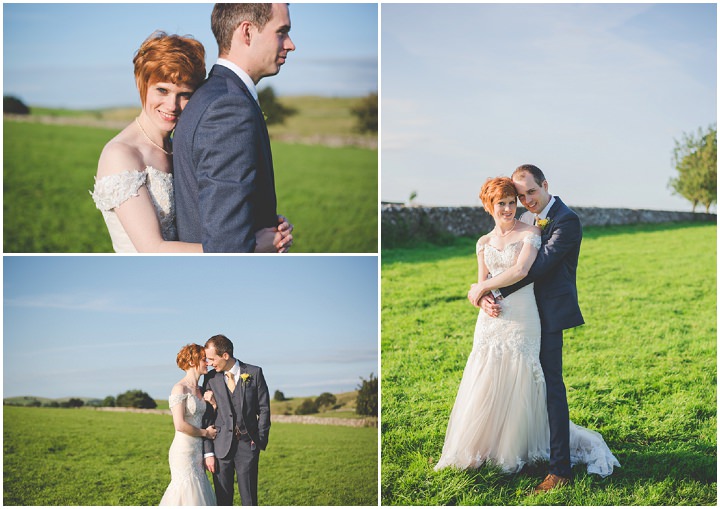 Biggest Surprise
I was genuinely surprised by how much I enjoyed the day which I know probably sounds quite odd…I don't enjoy being the centre of attention and I was quite nervous about that, particularly carrying out the ceremony which involved speaking…. Publically…. in front of everybody I know. Actually, I think the ceremony itself was probably my favourite part of the whole day which was a massive surprise. Andy and I walked up the aisle/ across the field together in the sunshine (the idea of being 'given away' or 'given to' anyone didn't sit easily with either of us!) with both sets of our parents and our bridesmaids. The setting, the 'script', the readings – everything was perfect. I wouldn't say I was surprised by the amount of help and support we had in the run up to the wedding as we have amazing friends and family however I think we both continue to be blown away when we think about the amount of time and effort that went into it, from so many different individuals – we genuinely could not have done it without them.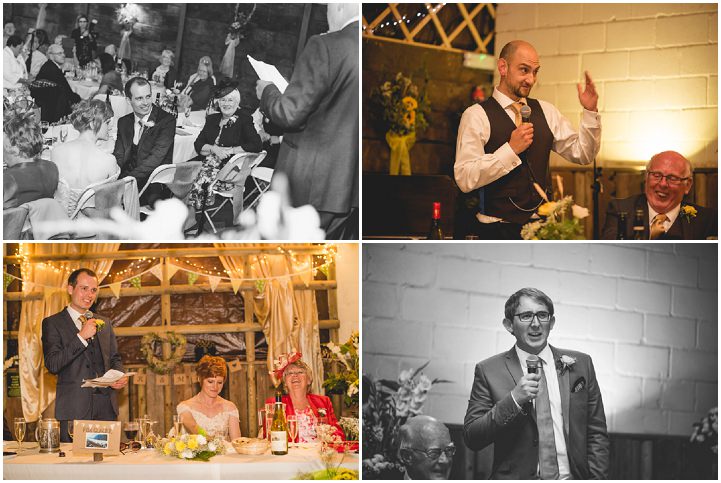 Supplier Shout Outs
For more information about Charlie & Emma's work go to:
www.toastphoto.co.uk / 07961770059 / FACEBOOK / I: @ toastimages
'We are a Staffordshire based wedding female duo. We specialise in elegant wedding story telling. Being unobtrusive, efficient and creative is our style. Having great eyes for detail we will endeavour to capture all the great moments of your day but not forgetting the little things too!'