Today we are heading across to Wales for Rachel and Daniel's gorgeous travel themed wedding. incorporating lots of different elements into their day including the wonderful countryside, as well as the gorgeous coastline, Rachel and Daniel have created a fun-filled wedding that all their guests thoroughly enjoyed. Mixing both the 1920s with the 1950s they have an eclectic mix of decorations, pretty details and a few vintage cars thrown in for good measure. With flowers a plenty and a whole host of garden games, this wedding is bound to put a smile on your face. Thanks to Tony Fanning for the wonderful images.
A magical day set deep in north Wales that took us back to the place we first laid eyes on each other. We celebrated our love surrounded by countryside and beaches with inspirations from the 1920s and 1950s and lots of homemade input from ourselves, family and friends to make it extra special.
Rachel and Daniel were married on 11th June 2016 at St Pedrogs Church, Llanbedrog then onto Bron Eifion in Criccieth for the reception. 'Llanbedrog is a special location for us because it is where we first met. It is also were we spend our summer holidays making lots of fond memories with our family and friends and our two cuddly Westies (dogs). We had 100 guests in the daytime, and 120 in the evening. We took 9 months from the engagement date to plan.'
How they met
On the day we met I took a photo of a VW Campervan with a group of people sat inside. Unknown to me that the man sat in the front seat would be my future husband. Later that evening Dan bumped into me at Wakestock music festival in Llanbedrog/Abersoch and we hit it off straight away.  I didn't believe in love at first sight until this moment. During the evening we realised that I had earlier took a photo of Dan in his VW Campervan. When Dan proposed to me we had been together for 5 wonderful years and we have now been together for 6 years in total.
The Proposal
Dan took me back to the spot where I first unknowing saw him. He parked in the exact same spot we're he was parked on the day I took the photograph. He was very traditional and got down on one knee to ask me to marry him. It was so special to us because this spot is where the magic all began. I couldn't off asked for anything more.
How did you allocate your budget?
We started by setting out a target amount for each thing and tried our best to keep underneath, doing this helped us keep tabs on the overall budget. Entertaining our guests and making sure we captured all of the special moments was important to us, so we spent a lot on both aspects.  We wanted our day to be personalised and for it to reflect us as a couple so we created a lot of the room decorations ourselves with help from family and friends.
Where did you splurge and where did you save?
We spent more than we intended too on the guest list as I have large family and we have a lot of friends. We already had Bob, our VW campervan, with him being an intricate part of our story we used him on the day instead of hiring a wedding car. We saved on bridesmaid dresses as I was able to find the style of dress I wanted online at a non-wedding shop for half of the price I would have paid for them to be made.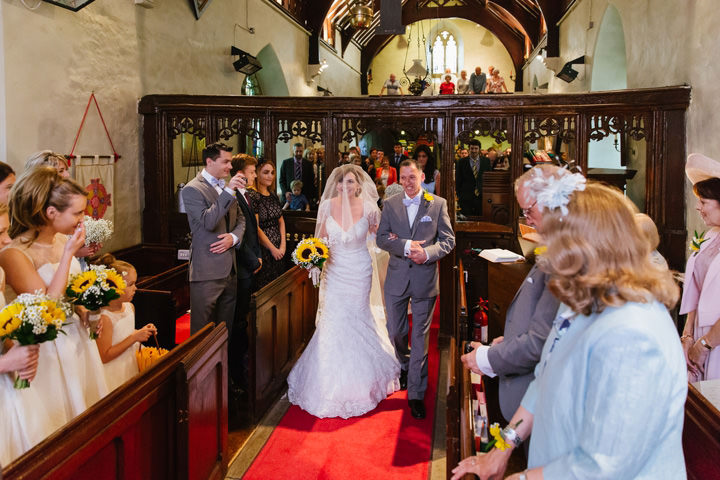 Why did you choose your photographer?
We absolutely love Tony Fanning's work! His style is very natural and he manages to capture all of the special moments in such an elegant way. He was very friendly and fitted right in – it was like he was part of the wedding party.
The Dress
My dress was originally created by Ronald Joyce however I had it altered to add a 1920's twist to it. I designed the alterations myself and the real Alice made all of the adjustments to create the look I wanted and I was so pleased with the embellishment – it was just perfect. The back pearl and head accessory was designed by myself and made by my creative Mum – thanks mum they were stunning and it completed my vintage look. I chose Rachel Simpson shoes as I wanted a 1920 style shoe to complete my outfit. They were so comfortable, I wore them all day and night.
The Suit and Bridesmaids
The suit is a DKNY three piece. I just love 1950's style dresses so I knew it had to be a swing dress for the bridesmaids. They came from Lindybop and were listed online as prom dresses, they matched perfectly against our baby blue VW campervan and complimented the lace wedding dress.
Theme or Colour Scheme
Our theme was travel and with the wedding being away from home this tied in well, we took our guests on a journey and we shared our memories of people and places that we have travelled to. The style was a slight mix as we both love 1950's style and music and I adore 1920 fashion so with this in mind we made sure we combined them in tasteful way.
Flowers
We had Sunflowers because they are my favourite flower in the world. They are my favourite flower because they are a happy flower that brightens up the day.
Decoration
We had a memory box on each table, vintage suitcases stacked up around the room and some other old travel related items.
Food
Canapés and cocktail sandwiches on arrival followed by mushroom bruschetta, lamb dinner and sticky toffee pudding
Wedding Cake
Stacks and stacks of cheese which we towered into a cake shape. We also had lots of gorgeously filled 50's style cupcakes which fitted with our theme and a 30th Birthday cake for my step sister made by Sticky Treats. I can't wait to go back to Porthmadog for more cake because it was so tasty!
Entertainment
In the afternoon we had a local acoustic band who played some really chilled and happy tunes which really added to the atmosphere.  In the evening we hired a band from London who played 1950's music to keep with our theme. They had people from all ages rocking around the clock, they were brilliant.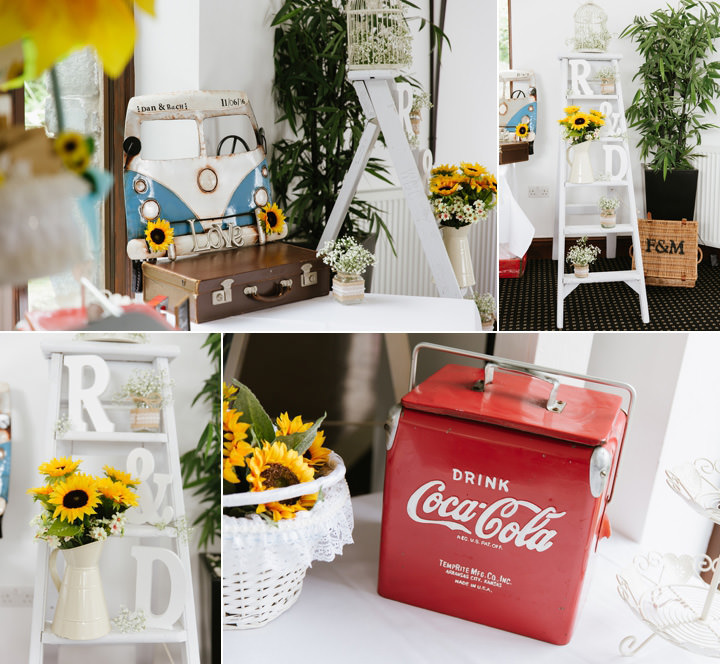 Stationery
We created and designed all of our own stationery and also printed it ourselves. We had so much fun doing this. The save the date was a post card and the invites where a travel document which included a 1950's style ticket to the wedding, along with a baggage tag that had a list of recommended hotels, taxi's and a map. We even had a stamp made with the date and church location.
Personal Touches
We designed everything ourselves and created a lot of the things for the day. On each table there was a memory box for each travel destination which we filled with our memories from each place and a token from each country inside. Bridal lace pocket book, clutch purse, garter, pillow cushion. Made with vintage lace doilies and wedding appliqués.
Special Moments of Highlights
Walking down the aisle and seeing Dan's face light up when he saw me for the first time.
Advice for other couples
Talk to each other as much as you can and decide what you want for each aspect together
Biggest Surprise
My mum hand made me a absolutely beautiful gift which she gave to me in the morning. It was a bridal lace pocket book, clutch purse, garter, and a pillow cushion. Made with vintage lace doilies and wedding appliqués.  It was so detailed and thoughtful I will cherish this forever and pass this onto my children one day.
Supplier Shout Outs
For more information on Tony's work go to:
www.tonyfanningphotography.co.uk / FACEBOOK / T: @t_fanningphoto / I: @tony_fanning /