Happy Friday! What a week of weddings it's been. I hope you have enjoyed them all. This week finishes with a truly traditional wedding of Elizabeth and Jonathan. I love its simplicity and what comes over most of all when you look at the images by Boho friend Jennifer Peel Photography and read their story, is that it's all about a boy who fell in love with a girl and their journey to married life. I don't need to say any more than that.
'A magical day, it felt like we had stepped back in a time machine with the theme and it was beautiful weather.'
Elizabeth and Jonathan were married on the 3rd May at St Mary's Church in Kingswinford, with their reception at Benjamin's Banqueting Suite in Halesowen in the West Midlands. "Jonathan and I used to be sweethearts in our teenage years and the church is located in our local area. It just felt right and we loved how old the church is."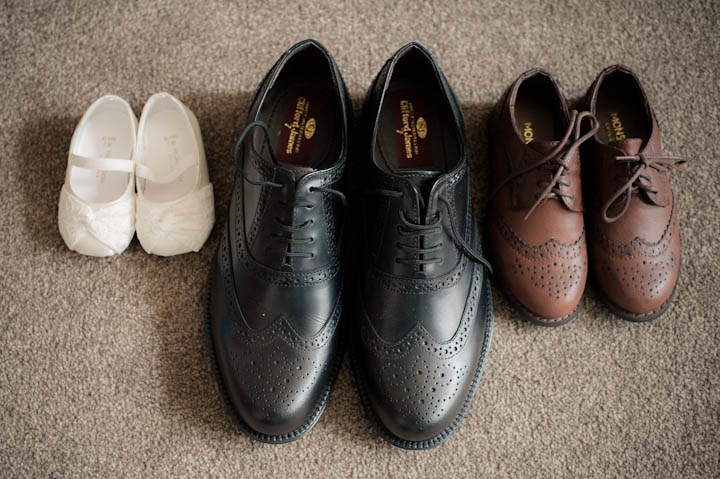 How they met
We first met when I was 14 and Jonathan was 16, I was besotted with him. Then life took us our separate ways and we met again in 2010 in Tesco! We have been together ever since.
The proposal
Jon wanted to get me a more expensive ring, so I knew about the engagement. I had to tell him it wasn't about the cost and he proposed about 3 days before Christmas 2011. He isn't a huge romantic though, so this was quite a big deal for him!
How did you allocate your budget?
We allocated most of our budget on our photographer, once we decided what theme we wanted we chose our photographer accordingly. The rest of the bulk of our budget was spent on the venue and food.
How did you choose your photographer?
I searched google for vintage photographers in the West Midlands, as soon as I called Jenny I knew she was the one.
The wedding dress and accessories
Now that is a mystery! I don't know who made my dress, it was made in the 50's so I imagine it would've been specially made for the bride. I bought it off Ebay for an absolute steal and boy I'm glad I did. My necklace was also an Ebay steal, another 50's piece with marcasite and silver. And finally my shoes were from Diechmann, I didn't want anything too fancy or high as Jon is vertically challenged like me!
The suit and bridesmaids
The suit was from Topman, as soon as I saw the 'rust brown' in the description and herringbone I knew that this would be the best suit for Jon. He loved it! Our daughters all wore dresses from BHS in a peach/blush colour. My maid of Honor bought her dress from BHS and it was very Audrey Hepburn, she wore 50's long gloves too!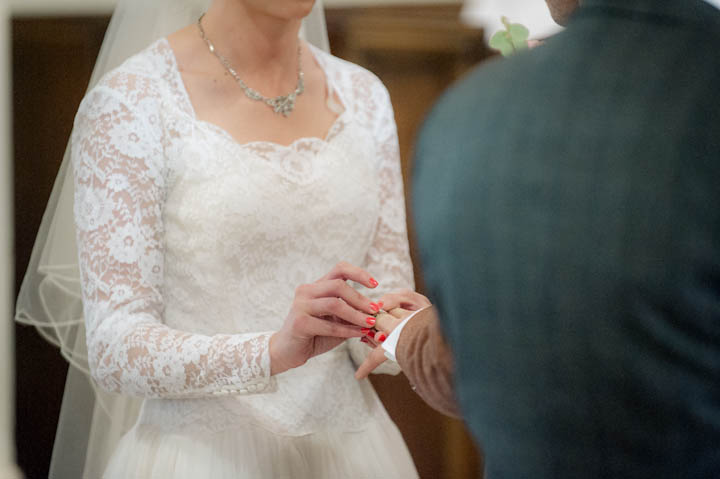 The theme
To begin with I would have been happy with a 'usual' wedding but I saw a birdcage veil and this inspired me. So I started hunting for vintage dresses and I was totally hooked. I even went as far as running across a busy road to engage with a man driving a lush vintage car to hire! Turned out he had a 50's Plymouth which fit our theme perfectly.
The flowers
As I did my own flowers I had chance to play around. I love peonies but it was touch and go whether they would be available this time of year. I bought a faux bouquet and in the end added some real eucalyptus, gypsophila, peonies and roses.
What sort of decoration did you have? Tea Cups! I had been collecting tea cups for some time and as I have been trying to start my own venue decoration business, I added some decorated birdcages and lace covered votives.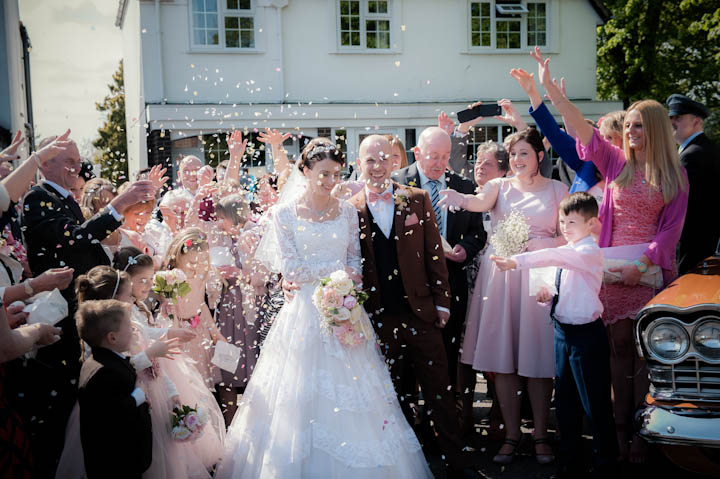 The food and wedding cake
We had a hog roast instead of a 3 course meal, with a few added extras. We had some vegetarians so we ordered 2 veggi pizza's! They went down a storm.
The wedding cake was again another one of my own master pieces, 4 tier Cath Kidston inspired wedding cake with fruit, red velvet, madeira and lemon layers.
The entertainment
We had a DJ, we both agreed from the beginning that we wanted a good old fashioned knees up!
Buy or DIY your stationery?
I did the stationery myself.
Personal or handmade touches
I did the flowers, the cake, the table decorations, the place names, the favours all myself. I also did a sweet tree for the kids and bought them activities to keep them entertained. I also made my own guest cards for guests to write a tip and draw a picture. Also the pew ends and orders of service.
Special moments
The highlights of the day were travelling in such a fabulous car and walking down the aisle following a robed choir towards the man I will spend the rest of my life with. I felt like royalty.
Advice to other couples
Don't worry about all of the little details, it is over so quickly and you don't stress about the little things on the day.
Biggest surprise
My dad's speech, it was a tear jerking moment. Other than that, the weather!




Supplier Shout Outs:
Jennifer Peel Photography – what a talent!!
Sarah Russell. She was my hair and makeup artist, she specialises in vintage looks and I have to say she really got me looking the part.
For more information on Jennifer's work go to:
Website www.jennifertakesphotos.co.uk
Email [email protected]
FACEBOOK
I'm a photographer based in Birmingham, West Midlands. I mix formal and traditional with more fun and quirky images as I believe that a bit of both is best! I especially love capturing all the little details that have been so careful thought out as well as creating beautiful portraits of the bride and groom.
[jprel]