Happy Tuesday everyone, how are you managing in this mini heatwave we are currently having? Isn't it lovely to at last have summer here! Today's is a bit of an emotional one for me as it's Dexter's last day in Reception. He will be moving into Year 1 in September, and I know it' a cliche to say it, but where has the time gone! I can't believe it's a year already! So I may well shed a little tear today as my little boy is growing up too fast! Anyway, enough of that, on to today's gorgeous wedding, all the way from Warwick in New York. Nicole and Andrew chose Pioneer Farm as their wedding venue and what an amazing choice. Set in the heart of the countryside, where they grow their own flowers, this venue gave Nicole and Andrew the flexibility they were looking for, plus the backdrop for their gorgeous rustic chic wedding. There are so many amazing decoration ideas, along with the stunning flowers grown by the venue. Jennifer Larsen Photography was there to capture the day so beautifully.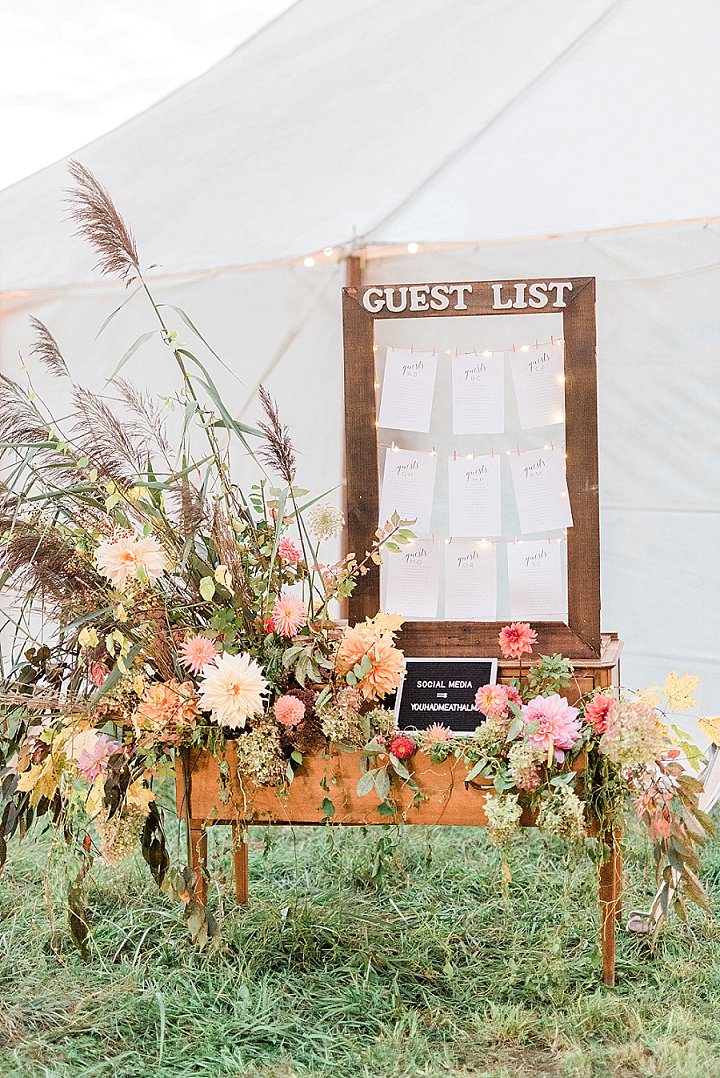 Nicole and Andrew's wedding day was hands down one of the coolest all around! From the impeccable venue, Pioneer Farm in Warwick new York to their stunning wild florals, and the unique cultural performances at their reception. These two know how to party hard and do it BIG. Pioneer Farm had so many incredible aspects to it. One of my favorites?! They GROW the flowers in their garden for the wedding couple to use. The property is vast and beautiful with such a unique vibe. There was tall grass to frolic through, vintage airstreams that people can rent on AirBnb but we used for portraits, mountain views for days, and plenty of stunning nooks for portraits.
All of Nicole's details were so carefully and tastefully chosen. The decor was amazing. For their sunset ceremony backdrop they used a floral-covered suspended window from a beautiful tree.
The Polaroid photobooth was adorable and the set up was so perfect! I loved seeing how people used it in so many different ways. Nicole is Lebanese, so she found so many ways to highlight that in their wedding day, like the olive oil favors that Nicole hand-bottled with her mother and mother-in-law, the traditional Lebanese drum and dance performance as they entered their reception, and an incredibly talented belly dancer! Best part, we had a killer sunset for husband and wife portraits – does it get any better than a golden glow surrounding vintage airstreams and running through a field of tall grass with a mountainscape in the background?
They ended the perfect day in the best way I could think of… with a bonfire and tons of pizza with their close friends. This wedding day was simply, a DREAM. And these photos bring me back to such a joyful, wildly fun day with such a thoughtful, funny, and super stylish couple.
A little about these two lovebirds: Nicole and Andy have known each other for over 10 years! Andrew was actually Nicole's manager at the clothing store they both worked at! They connected years later over Snapchat and Chris Martin, which sparked their love story and beautiful relationship!
Supplier Shout Outs
For more information on Jennifer Larsen Photography go to
jenniferlarsenphoto.com / [email protected] / FACEBOOK / INSTAGRAM / PINTEREST 
I'm Jen and I'm a southern at heart wedding & anniversary photographer based in New Jersey, serving couples worldwide. An artist by nature, photography goes so much deeper than just a beautiful image for me. In a world of 6 second videos and disappearing images, photographing special moments has a way of stopping time for a fleeting second and offers a chance to look back on a memory too sweet for words! I'm a hopeless romantic who's in love with love.