Well here goes, my first, official wedding post for Boho while Kelly takes a well-earned rest before the impending arrival of her bundle of joy! I hope you love this one as much as I do. It's a real union of not only two people very much in love, but two families. Samantha and Scott have six children between them and each child was one of the bridal party and played a hugely personal role in the wedding day. I love the mixture of delicate colouring and industrial feel to the interior of the wedding venue. It couldn't be in a better place too, at the intersection of New York's Union and Bond Street. Everything is beautifully captured by Boho regular Stacy Paul Photography – enjoy!
'We wanted this wedding to be an exquisite and elegant expression of our love and who we are together. Every detail, from the look and feel to the way we incorporated our six children into the ceremony was planned together by the bride and groom to serve that purpose.'
Samantha and Scott were married on April 5th at The Green Building in Brooklyn, New York. "We knew it was the right place for us when I texted Scott to tell him that I had found a great venue: "It's on the corner of Union and Bond!" But I didn't realize the significance until Scott said, "We have to get married there, if only for the street intersection names!" We had passed the building many times en route to our home in the neighborhood, and loved the re-purposed nature of the building, along with its rustic and industrial elegance, exposed brick, wood beams, and brass chandeliers. It also has such great period touches, such as the "speakeasy" where we got dressed, and an old Ford Model A truck out front. It appealed to our sensibilities and aesthetic."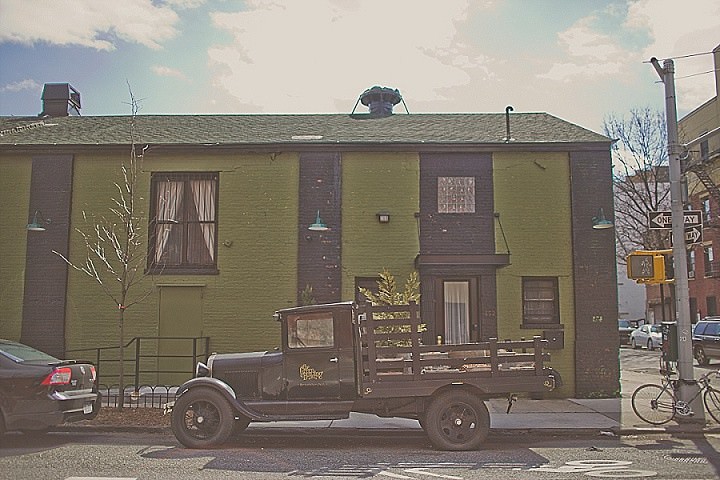 How they met
Our relationship was born and raised on social media. We both worked in the social entrepreneurship field, Samantha, as curator for the Skoll World Forum at Oxford University in the UK and Scott, as vice president for global development at Ashoka, a leading funder of social entrepreneurs. A mutual friend introduced us via LinkedIn, with the simple words, "You two should know each other."
Samantha invited Scott to speak at the Forum, but he was already scheduled to speak at another event. On a business trip back to the States for work, Samantha visited Philadelphia where Scott was living at the time. She posted this fact on Twitter. Scott immediately requested we meet, tweeting, "You can't be in my 'hood and not meet with me." We met that day for the first time and had lunch together. We had a chance to see each other more regularly later that year and our friendship blossomed.
With Samantha living in Brooklyn and Scott in Philadelphia, we kept in touch via Twitter and Google's chat service. We saw each other infrequently on Scott's business trips to New York but felt our friendship growing stronger.
Our longing for purpose and meaning in our lives brought us closer as we each began to wrestle with the complex emotions and stresses of separation and divorce. Each of us is a parent to three children and worried about how our children might deal with divorce.
One day, while meeting for breakfast Scott looked up from an impromptu sketch he was making of Samantha and realized he had fallen in love."It was one of those things where everything we were looking for in another person and hadn't found in prior relationships was staring us in the face when we looked at each other," Samantha relates. "He ticked all my boxes." We felt that being together would be a better expression of who we really were, to be true to ourselves, and to reach our full potential. It took us another year to find a way to be together. Then came the task of starting to blend our two families together, introducing the kids to each other, and dealing with the complexities of co-parenting and exes, and maintaining two homes.
"Bringing the two families together has been a remarkable gift," Samantha says. "The kids got along right away and really love being together. We try to bring them together once a month, which isn't easy with so many schedules to juggle."
The proposal
We talked a lot about getting married to each other and what it meant. Both having been married before, we wanted to make sure what marriage meant to each other and why we thought it was important to us. It was during one blended family trip to Florida and Disney World that Scott's oldest asked his father if he planned to get married again. Scott replied that if he did, he wanted Jasper to be his best man.
Scott then met with Samantha's mother over lunch to ask for her blessing. Samantha's father passed away suddenly in 2001.
Scott popped the question during a vacation trip to Bermuda the following month. Although it wasn't a surprise – we had talked about our desire to marry for some time and had designed an engagement ring together – it was a surprise the way he did it.
"We'd just come back from dinner our first night on the island," Samantha recounts. "We were having a nightcap on the bay-facing patio of our bed & breakfast when Scott went inside. He came out, got on one knee and said he couldn't wait any longer."
"I planned to wait until we were at the Botanical Gardens next to the Masterworks Museum of Bermuda Art," Scott says. "But I was overcome by my feelings for Samantha and caught up in the moment. The sound of the waves, the starry night sky, my beautiful woman, I couldn't resist."
The children seemed excited to, but not surprised, when we told them the next time we were all together, "They started calling each other fiancé stepbrothers and sisters," remembers Samantha."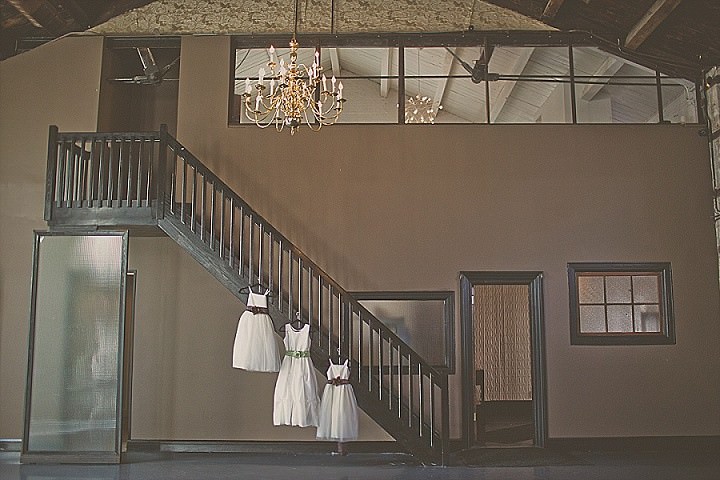 How did you allocate your budget?
We have 6 children, so we're constantly thinking about how to pinch pennies and save money. We spent most of our budget on the catering since that is often what is most memorable to people. We kept an eye on the small things that really add up, and tried to do as much as possible "DIY" and with the help of our friends. We made a lot of the decorations ourselves, and didn't hire an events coordinator. It was a bit challenging putting everything up and arranging the wedding venue on the morning of the wedding, but we had six kids to help!
Why did you choose your photographer?
Samantha saw a photo shoot by Stacy Paul on Boho Weddings, and was captivated by her style. We loved that she captures the spirit of the wedding couple, but Stacy also really understands children. Since we have 6 children between us, this was an important mix of talents! Also, it was Stacy's first trip to New York City, and it was a delight to "see" Brooklyn through her eyes! She was really easy to work with, too!
The dress and accessories
Samantha wanted to wear a vintage dress, harkening back to the old Hollywood classic film styles. But she couldn't find the right one anywhere. So, she took a few photographs of dresses that she liked and showed them to a custom couture dressmaker in New York City (Jenny Couture). We found the lace crochet fabric in the Garment District in Manhattan, and Jenny was able to craft the perfect dress, to fit my mature body and curves. I found the caramel birdcage veil on Etsy in Mignonne Handmade's shop. My rose gold Infinity earrings were also from Etsy, from Maimoda Jewelry's shop. Samantha gave her bridesmaids delicate necklaces with their initials and citrine stones, from the Etsy shop of JC Gems Jewelry.
The suit and bridesmaids
Scott's suit was also custom designed by Martin Greenfield Clothiers, a Brooklyn manufacturer of hand-tailored suits. Samantha's mother's companion is in the fabric business (Gladson Ltd.) and helped Scott pick out the fabric for the suit — brown with a fine pinstripe — and Joe from Greenfield worked with Scott on the cut, pattern, and measurements. Later, Scott and Samantha visited the Gladson, Ltd. showroom and picked out the ties, pocket squares, and socks worn by Scott and each of their sons, who comprised the male half of the wedding party. Scott gave the groomsmen monogrammed cufflinks from the Etsy shop of BlockandHammer. The bridesmaids were wearing dresses that we found on Etsy in the Luuni Shop.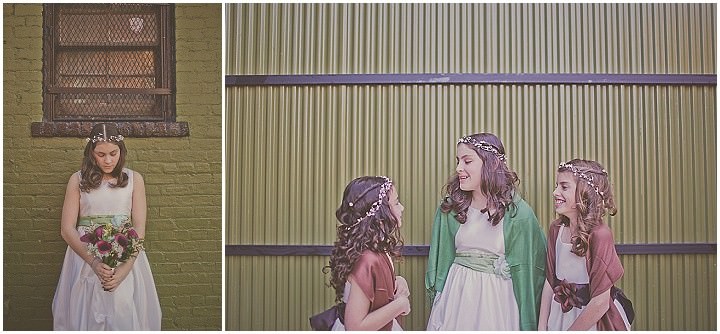 The theme
We gave a lot of thought to the design of the wedding, wanting the color combinations and the textures, the graphic design, and flowers to be an expression of our aesthetic. Samantha especially has an eye for such details – she designed handkerchiefs for the guests printed with the bride and groom's logo, framed "love quote" posters to adorn the walls at the wedding venue, created a wedding mix tape CD gift for guests. She is, as one friend who attended the wedding said, like "Mrs. Ramsey from Virginia Woolf's To the Lighthouse, who explained that her art form was not paintings or poems, but instead creating happy and meaningful memories and experiences for those she loved."
The flowers
We wanted the floral design to be vintage and dreamy, with lots of succulents and early spring varietals. We also included stone crystals that emit spiritual energy: citrine imparts joy, releases negativity; emerald is a stone of successful love and harmony, it provides domestic bliss and sensitivity, and loyalty in oneself as well as others; red calcite increases energy, uplifts emotions, aids will-power, and opens the Heart Chakra, its vitality energizes a party! Rose quartz promotes unconditional love and infinite peace, attracting love, trust, and harmony.
The decoration
We found a graphic designer in Australia on Etsy, JJ from The Love Shop, to produce posters with love quotes from various sources — poets, songwriters, famous lovers — and the centerpiece, featuring the John Lennon quote mentioned above, which was placed at the marriage altar with a light curtain cascading all around it. We wanted everything to look natural and earthy, hence we choose moss green and brown as our primary colors. The themes that we chose were the Union and Bond street signs that we incorporated into the wedding invitation, the programs, and guest book. We also designed the heart sign with two "S's" which was an element used throughout the wedding.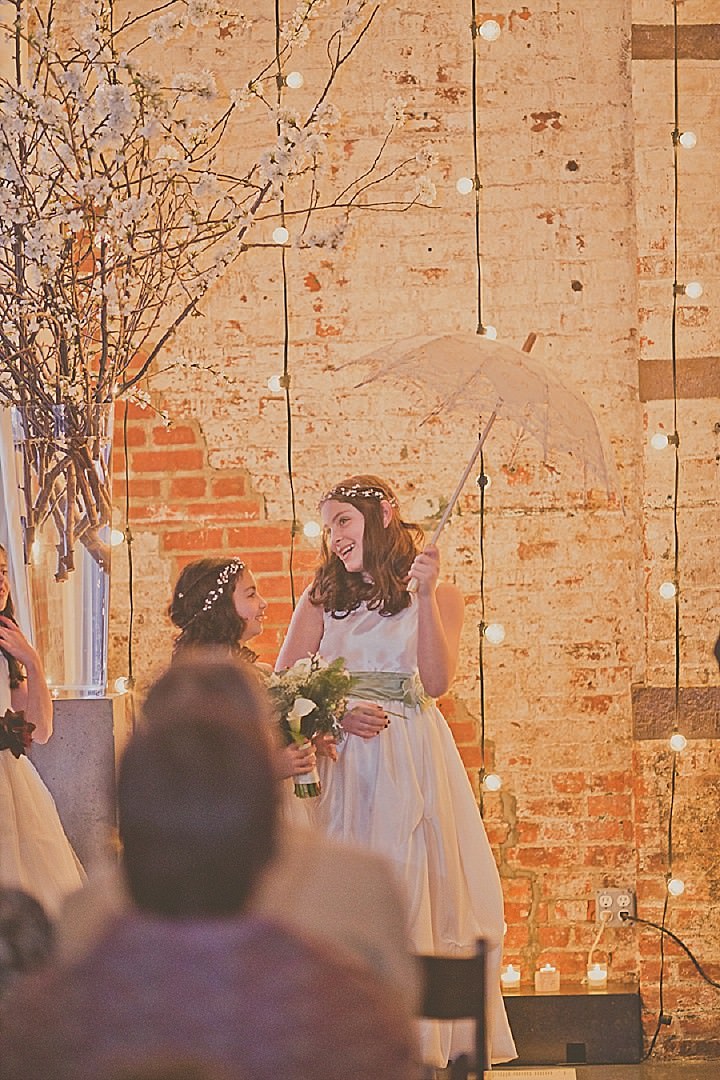 The food and wedding cake
Our friend Marcey Brownstein has an amazing catering company, and we worked with her to create a meal that was fun and reflective of our love for food. We picked two types of foods to feature: 1) Coastal New England (where Scott is from) and 2) Mediterranean (where we love to travel). The Mediterranean menu, in particular, was influenced by the recipes and style of Israeli-born chef, Ottolenghi, whose cookbook, JERUSALEM, is a favorite of ours. Our wedding cake was designed by Nine Cakes, and it looked like a beautiful birch tree, just like the candle holders we had made and that were positioned around the room. It was mocha and dark chocolate inside. Samantha has a gluten allergy, but she made an exception to eat the cake that night!
The entertainment
Our friend (and long-time babysitter), Jono Waldman, is in a 20's style jazz band, the 5000 Jazz Assassins, and we asked them to play for the ceremony and cocktail reception. An old friend of Scott's, Art Baron, took the night off from his appearance in the Broadway show "After Midnight" to join Jono's band on trombone. It was an amazing group! We also had a phenomenal DJ, James Arnold, from 74 Events spinning tunes during the party. We wanted music to be an all-inclusive feature of our wedding, so we asked guests to pick a song that for them "the night would not be complete without hearing…" on their RSVP cards.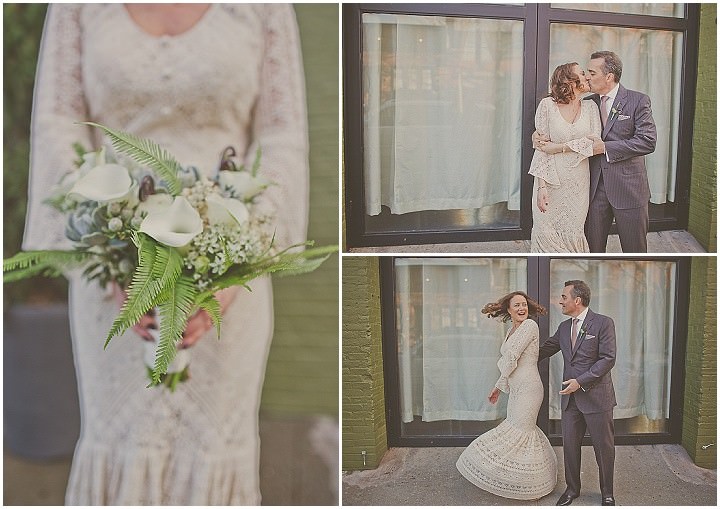 Buy or DIY your stationery?
A few weeks after we signed the contract on the Green Building, we walked by and saw the two street signs, Union & Bond, staring at us. Scott took a photo of signs with his iPhone, but it wasn't quite right. He did some drawings, altering the arrangement of the signs to make it read the way we wanted. Then we worked with a graphic designer to clean the lines and incorporate it into the various components of our invitation. We used Paper Source for much of the cards, paper, and envelopes, including for all the inserts, and wrapped it all up in a quote from John Lennon, which serves as our life-theme, "A dream you dream alone is only a dream. A dream you dream together is reality."










Special moments
There was a very special moment with our kids in the back room, just before we were to go into the Ceremony. One of the kids organized a huddle and shouted "Let's Do This!" Another one said "hands in the middle" and led us in a team cheer, "1-2-3…wedding!" Then we all got in position and began the processional. It was such a beautiful expression that this wasn't just our wedding, but their celebration too, the blending of our two families.  We both felt strongly that we should walk each other down the aisle. As we turned into the room, we were so solid and united, and as we were serenaded by Samantha's son playing guitar and joined at the marriage alter by all of our six children, it was truly an unforgettable moment.
Advice to other couples
Do what you both feel is right and make your wedding your own — no one else should tell you how your wedding should look and feel and you CAN be in control of it.
Biggest surprise
How calm we both felt. No nerves, no skittishness… just calm and bliss. It felt absolutely right. The perfect day, evening, and expression of our love and intentions.





Supplier Shout Outs:
For more information on Stacy's work please go to:
www.stacypaulphotography.com
stacypaulphotography.com/blog
[email protected]
FACEBOOK
Hi! I'm Stacy, a wedding and portrait photographer based out of Tampa, Florida. I like to think of my style as being light and airy, with a hint of whimsy and a whole lot of genuine moments. Shooting weddings is amazing because there is always so much love all around me. I wouldn't give it up for the world!