I just LOVE today's wedding, full of rustic chic details, mixed with vintage items and lots of DIY projects. The photos come courtesy of Stacy Paul Photography who is now a regular to the blog, her work is so soft and dream like and suits this wedding perfectly! The couple Dani & Jon-Michael put together a 'perfectly them' wedding and chose the venue as it had the option of getting married under a huge tree, something that had been on their wish list from day one. Keeping the day relaxed and informal they created a wedding full of character, beautiful details and full of love and smiles, just perfect!
The perfect result of everything falling into place. Just right. It was real; it was fun; it was us.
Dani and Jon-Michael were married just a couple of months ago on March 15th at the Bird Island Lake Ranch, Dade City in Florida. "We wanted to have the ceremony under a big grand tree. Bird Island was the only venue we were able to view together. While walking around and talking with Casie, the owner, we fell in love with how peaceful the entire place was. Trees were EVERYWHERE. We saw our tree at the same time, and instantly knew that this was THE tree. There was no extra cost for wanting the ceremony at any tree on the property. The cost of the venue was also a big factor in this simple decision to have our wedding there. Casie, was also there to help with the day of transitions, at no extra cost, like other places. We were half way ok with the idea of not having the wedding on March 15th, as we wanted to try to keep the wedding on our actual anniversary. Again, the instant that Casie said the day was still available we knew this was the place we'd share the most memorable day together."
How they met
We used to work with each other. Became very close friends, fell in love at the wrong time. After a tumultuous year of struggling, the right time finally came and everything started to fall into place. On our 6th anniversary, we got to obtain new, more permanent titles, husband and wife.
The proposal
Jon-Michael knew that I had wanted to be married before I turned 30. (no particular reason why either) and that year, life just started to feel right, that we finally felt ready to embark on the magical journey of planning a wedding. We are not over the top, super grand gesture kind of people. He was able to arrive home before me on this particular Friday. I thought we would just be coming home to freshen up and head back out for some fun dinner and maybe a movie. As I walked in the door, he was down on one knee holding that small black box every lady knows so well, music playing, our dogs barking like crazy that we were both home. After mustering out the sweetest words he could to express how much he loves and cares for me and our lives, the big question came. Without hesitation YES poured out of me followed by a BIG hug and kiss!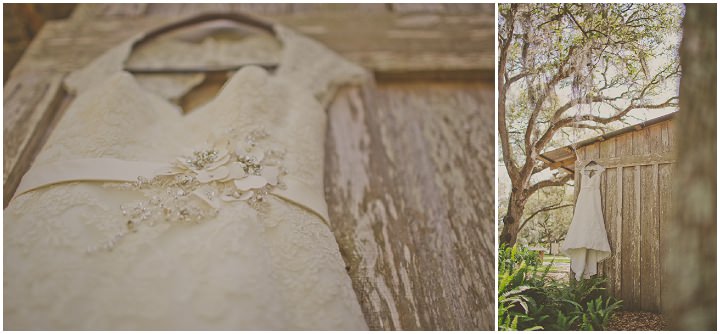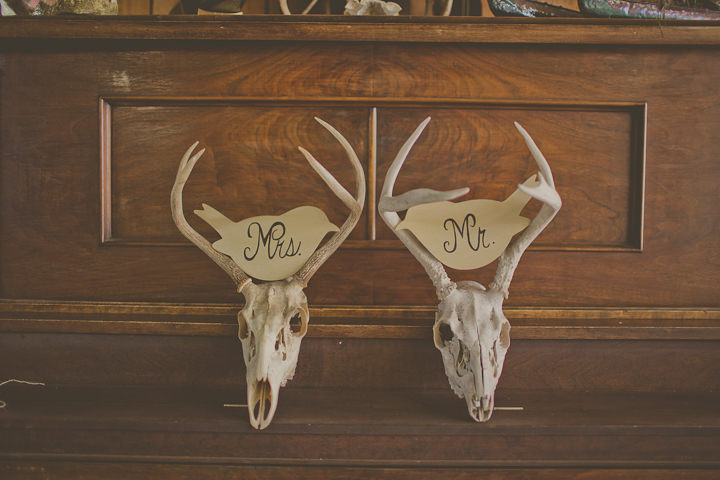 How did you spend your budget?
We were thankful that my mother was able to help foot most of the high ticket items. Venue, Dress, and Food. We then picked up the bill for Photographer and DJ. While the rest of everything was taken care of by my father.
Why did you choose your photographer?
Oh, Stacy Paul, we picked her because after one, maybe long phone call with her, I felt like we were going to be working with a real person who can go with anything. That was of course after falling in love with her work online. When we finally met her, 6 months later for the engagement photo shoot, it was set in stone, that she was as real as we thought. What I really enjoyed about her is how quick and effortless she was to talk with and work with. When talking with her, and watching her work, sparks of magic radiate from her.
The dress and accessories
– Allure Bridal.
– Earrings, something I picked up from Francesca's
– Pearl Necklace was either borrowed or given to me, by my mother, as it belonged to her grandmother.
– Pearl Bracelet was borrowed from my stepmother, as it belonged to her mother before passing away.
– Birdcage Veil, I purchased from Etsy, it originally came as a comb, but it didn't stay in my hair, so, I took it apart, and turned it into a bandeau birdcage veil. Worked out perfectly.
– Shoes. Oh those, I made them with the help from a how to glitter shoes on Pinterest, Payless, and Michael's Craft store. I was having the hardest time finding the right shade/hue of purple, and finally threw in the towel and saw the right purple in glitter, and knew someone had to have pinned something on Pinterest on how to glitter their shoes. Bam! There you have it.
The suit and bridesmaids
The boys, we told them, that they had to have charcoal-grey pants, white shirt, black suspenders, and black Converse. We supplied them with the exact bow tie to match the girl's dresses.
Ladies, after having an almost melt down at the price of bridesmaids dresses, I found the cutest Etsy shop who worked with me and them to make it possible. Each gal's shoes were different as I encouraged them to be comfortable, considering our venue did not have much solid ground. Their earrings were gifts from Francesca's.
The theme
I would say in the end, the theme turned out to be vintage, rustic, and elegant without the fancy schmancy stuff. Simple can be elegant. I love colors and could not pick just one. Spring fun, but not baby shower.
The flowers
Cases of fresh flowers from Whole Foods supplied the baby's breath, regular and mini carnations, spray roses, and mixed bouquets as well for an extra flair.
The decoration
Tons of rustic/vintage feeling items: mason jars wrapped in burlap and lace, scuffed up mason jars, wooden crates to create an isle for the ceremony, old silver trays, vintage typewriter. Doilies.
The food and wedding cake
John Mason Catering supplied our scrumptious garlic herb chicken and roast beef. With wild rice, sherried carrots, and broccoli cheese casserole. Betty's Cakes in Dade City did the cupcakes and wedding cake.
The entertainment
This was a very last-minute decision to hire a DJ over an iPod of music. Alfred Stanford's information was given to me by my friend, who agreed to the terms and went with the flow of the day. I was happy that he was given our first dance song, and somehow, had "What does the Fox Say?" Happy Happy Bride at the end of the night hehehe.
Buy or DIY your stationery?
Designed and assembly by us. Fedex did the printing and cutting.
Any personal or handmade touches
Tons!! Invitations, brides shoes, bouquets, boutonnieres, all flower arrangements, all chalkboards (chalkboard painted and written), all mason jars on the tables, laced candles, gift card birdcage, suitcase card stand, ceremony entrance doors, wedding cake topper (handmade by Jon-Michael to look like us), cake stands, mason jars mugs that were gifts given to guests (etched with their initials)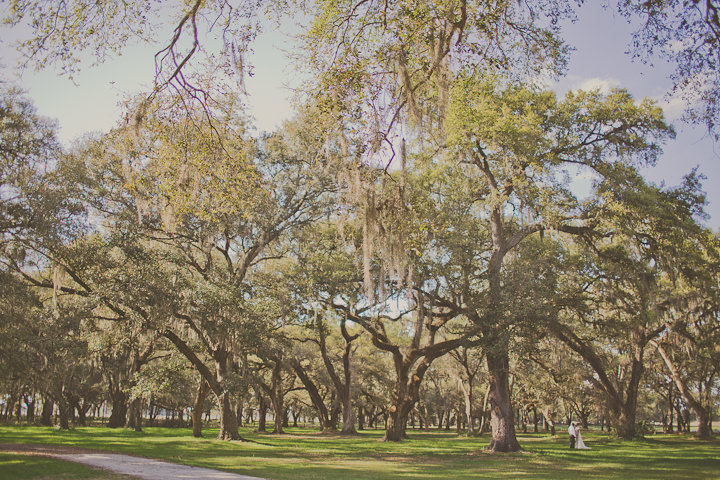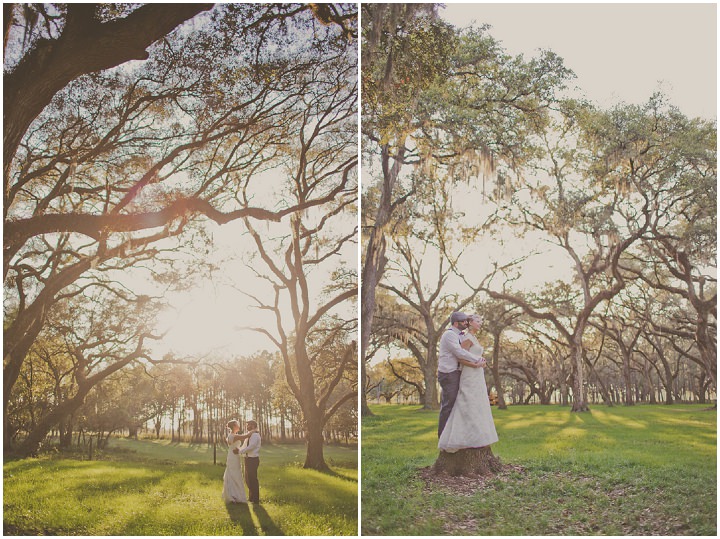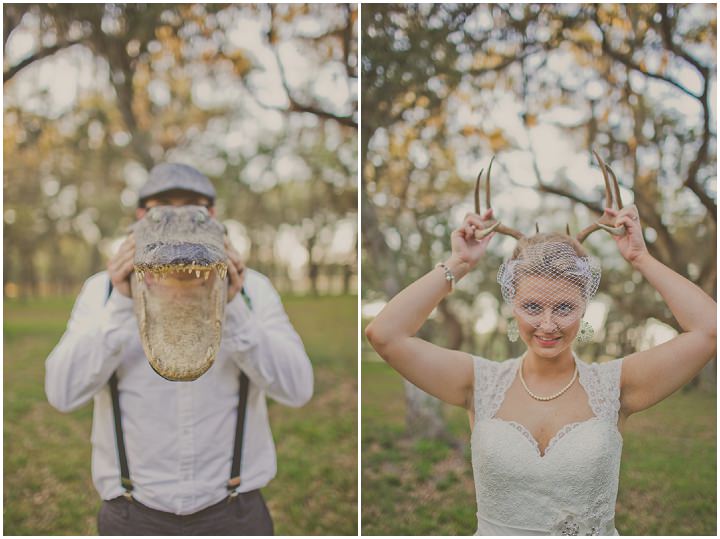 Special moments
– Seeing the vision in my head come to reality.
– The unconditional support from family on the day of.
– Having a laugh at all the boys of the wedding cutting and making all the flower arraignments, on the night before.
– Laughing about inappropriate things during our photography moments.
– Stopping home to let our dogs out, and being able to take a photo with my dog still in my dress.
Advice for other couples
– Don't forget to ask each other for help, advice, or opinions, it's just as much his day as it is hers.
– Don't assume that soon to be hubby wants to wear a formal outfit, ask for his opinion and see if you two can smash it together with the vision in her head.
– Scope out Craigslist for things, the candles don't have to be new.
– Ask for help, DIY does not mean solely yourself. (Boys are just as crafty as girls… wink wink)
– Don't be afraid to throw traditions out the window, we didn't stand on the "right side" during the ceremony; didn't have a guest book; matching plates; a bouquet toss or did I even wear a garter…
Biggest surprise
How effortless the entire day came together. Everything went smoothly; and any weird hiccups that happened- were us- and it became funny. The other big surprise- how beyond exhausted we were at the end of the night. No one ever mentions that.
Supplier Shout Outs:
For more information on Stacey's work please go to:
www.stacypaulphotography.com
stacypaulphotography.com/blog
[email protected]
FACEBOOK
Hi! I'm Stacy, a wedding and portrait photographer based out of Tampa, Florida. I like to think of my style as being light and airy, with a hint of whimsy and a whole lot of genuine moments. Shooting weddings is amazing because there is always so much love all around me. I wouldn't give it up for the world! 
[jprel]