I have a stunning wedding for you today from Stacy Paul Photography. It comes from sunny Florida, but today features somewhat of a wet wedding. This beautiful rustic wedding includes an outdoor ceremony and barn reception, and even though the rain poured down hours before the ceremony Bethany and Brad didn't let this dampen their day. Luckily the rain stopped in time for them to say their vows and also let them have their gorgeous first look that they so wanted! I wish more couples would do a first look, it is such an amazing and special time to get some very personal couple photos and lets you get these shots out the way before the madness of the day begins! With a whole host of antique decorations loaned to them by the venue, this wedding is just oozing rustic and vintage glamour. You would never know this is a budget wedding either but Bethany was very clever where she spent her money, managing to create the whole wedding breakfast for $700. I hope you love this wedding as much as I do!
A whirlwind; nothing started out as planned. Lots of people in the wedding party were late and the weather wasn't cooperating but everything worked out, the groomsmen were really helpful with rain damage control. It turned out to be amazing with a warm, romantic atmosphere and everyone had a wonderful time, which was really important to me.
Bethany and Brad chose Birdsong Barn as the perfect venue to marry in front of 120 guests on 31st January. "The atmosphere of the venue was perfect, as well as the garage full of decorations available for the bride to use.  It was also important to me to use a venue that did not restrict us to using specific caterers, DJ's, etc. If it is important to you to have more than a few choices, Birdsong Barn is reasonable and very flexible and easy to work with. We were engaged for a year but I got 80% of the planning done in the last four months."
How they met
We had a lot of friends in common and therefore ended up meeting at a glow in the dark-capture the flag beach party. We really hit it off, however nothing formed because we were both in the midst of recovering from recently ended relationships and lived in different cities. Four years later he found me on Facebook and we started chatting. Chatting moved to texting, texting moved to phone calls and Skype. We eventually met in person after which we started dating and both moved back to Orlando to be together.
The proposal
Brad led me into thinking that his friends and I were planning a surprise birthday trip for him to a cabin in the mountains of North Carolina, which ended up being an elaborate rouse. Towards the end of the trip, I took him on a hike through the Blue Ridge Mountains, which ended at a waterfall. When we arrived at the waterfall, Brad surprised me by proposing. He later explained that he was behind the planning of the entire trip. It was amazing!
How did you allocate your budget?
I had a restricted budget to work within. I knew that the best method would be to allocate the money. We did however have somewhat of an untraditional wedding; it was therefore more difficult to know how to allocate the money in my budget. As a result I took the approach of spending as little as possible on every aspect of the wedding. I also didn't feel obligated or restricted by traditions in terms of what a bride should buy and where a bride should buy specific things from. As a result I was able to have nice results without spending the 'expected' amounts. It worked out very well for me, I had a beautiful wedding and even had money left over!
Why did you choose your photographer?
I love the way Stacy uses colour and light. Her pictures have a certain feel to them. I also love her laid back personality, she is fun and easy to work with.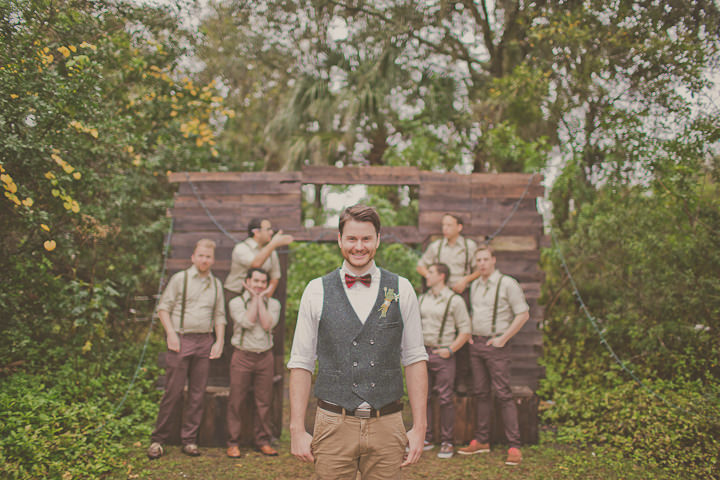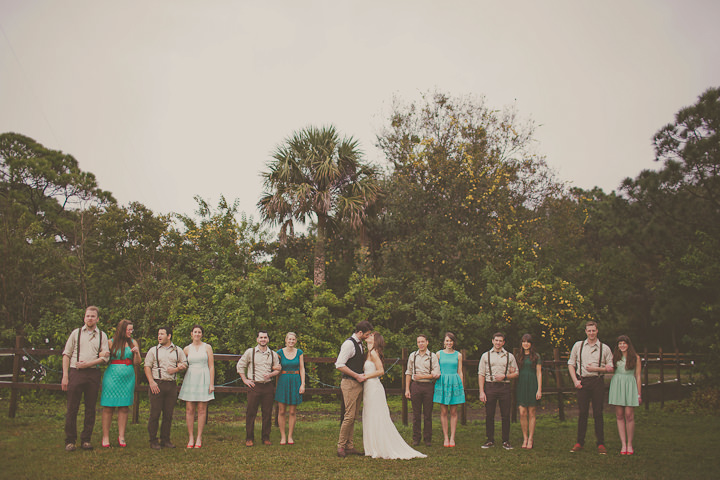 The dress and accessories
My dress was from Ann Taylor, the shoes were from ModCloth and my necklace was from a vintage store on Etsy. My mother made my veil.
The suit and the bridesmaids
For the groomsmen I wanted dark brown pants, cream-colored shirts, brown shoes and brown suspenders. My fiancé and I chose each of the pieces together. The pants were from Urban Outfitters, the shirts from Kohls, and suspenders were from Target. And as long as the shoes were brown it didn't matter where they were from.
I wanted my bridesmaids to have green dresses and red shoes. I went to JoAnns and got fabric swatches, about 5 types of green, which fit the color scheme I wanted for their dresses. I cut up the fabric swatches and gave each of my bridesmaid's a sample of each green color. They used the fabric swatches to choose a dress. I wanted my bridesmaids to choose a dress that they would like, that would fit their body types and hopefully, one that they would wear again. I told them to find three dresses that they liked. The dress had to generally match any of the green fabric swatches I gave them. The only parameter was the dress was knee-length or higher. I set a due date and then chose one of the dresses from each of the girl's top three choices. During my process of choosing the dresses I definitely leaned towards more textured materials. The result was a variety of dresses in a variety of greens that led to more of a 'feel' of my color scheme, in contrast to a 'direct 'this is my color scheme' approach.
Theme or colour scheme
The colours I aimed for were plum purple, browns, cream, and a variety of greens (you can get an idea of the greens from the bridesmaids dresses). As far as theme goes I leaned towards raw materials with a rustic feel, nothing too forced. I liked to use materials that naturally had the colours I wanted instead of making things to fit the colours I wanted. I put a huge weight on the outdoors in relation to colours and in the types of flowers and materials I chose. I wanted more of a 'feel' that flowed and blended well so that if you looked around you couldn't actually pick out the specific colours I chose. I think it ended up working well.
The flowers
For the bridesmaids bouquets I used Eucalyptus, mini poppy pods, wax flowers and white tallow berries.  For my bouquet I used Eucalyptus, lotus pods, wax flowers, mini poppy pods, hot chocolate-coloured lilies, white anemones and Dusty Miller.  For the boutonnières I used eucalyptus, mini poppy pods and white tallow berries.  I would love to thank my cousin, Amy, and my sister, Stephanie, for helping me make all the bouquets, boutonnieres, and floral arrangements!
The decoration
The type of decorations I wanted had the feel of antique mixed with the outdoors.

The food and the wedding cake
We had Black Bean Deli cater the wedding. The food is made fresh every day. Everyone I have talked to who went to the wedding, the subject of the food was brought up many times in relation to how amazing it was. Their prices are also unbeatable! I spent around $700 on food for 120 and had a bunch of leftovers.
I'm not a huge fan of the typical 'birthday/wedding cake' and tend to lean more towards the less traditional kinds of cakes and desserts. I'm also somewhat of a 'foodie' and so I really wanted to enjoy my own cake at my wedding as well as provide my guests with something they probably don't get at most weddings – delicious, homemade desserts! It also helps that I love to bake. I made Orange Almond Poppy Seed Cake, Carrot Cake, Apple Cinnamon Cake, and Flourless Chocolate Cake. My mom, who I got my love of cooking from, baked some loaves of banana and pumpkin bread.
The entertainment
Brad and I chose every song that played during our wedding and we came up with a list of songs for dancing. The venue provided a fire pit and all we needed to provide was the makings for s'mores. We made a photobooth (all thank to my parents) and a video guestbook. We also had a hot chocolate, coffee and hot tea bar. One of my bridesmaids, Laura, made colouring books, from scratch, for all the children that were at the wedding that included stories and pictures of and about Brad and I. They were amazing!
Buy or DIY your Stationery?
We used paperless post to do our invites and rsvp's. We were very happy with the site and would definitely use it again. This is a HUGE money saver. We spent $0 on invites.
Any personal or handmade touches
The venue came with the lighting, tables and chairs that were already set up. The lady who owns the venue also had a small garage room full of random decorations that she has collected over the years from yard sales and leftovers from past weddings. It is a treasure trove and I was able to go through it and choose whatever I wanted to use for my wedding! Since a lot of the decorations were provided I didn't have a wedding that was particularly heavy on the DIY side. Things that are worth nothing that I did DIY (or done by friends and family) were the photobooth, the wooden structure that held everyone's names/seating cards, all the flowers, the cakes, the veil, and the children's coloring books.
Special moments
My husband and I really enjoyed the time we set aside to meet before the ceremony to have some quality time. We decided to have our photographer capture the moments as well. If we hadn't done that I doubt we would have had a moment to enjoy one another the entire day.
Advice for other couples
Set time aside to be alone with your groom before the craziness starts and everyone wants time with you. I don't remember most of the wedding day because I was so busy and going from person to person to say hi, etc. I do remember every moment of the 30 minutes Brad and I had to be with just one another.
Biggest surprise
Thankfully I did not have any surprises, assuming that by 'surprise' you mean something unexpected that is not welcome considering that most everything is completely planned out on your wedding day. I was completely happy with how everything turned out and thankful there weren't any real surprises.
Supplier Shout Outs:
Food: Black Bean Deli – , their food is amazing and they have very fair pricing.
Flowers: I got all my dried flowers from Etsy and the rest from Florida Wholesale Florists
For more information on Stacy Paul Photography please go to:
www.stacypaulphotography.com
www.stacypaulphotography.com/blog
Telephone: 813.841.8160
Hello lovelies, I'm Stacy! I'm a wedding and portrait photographer based out of Tampa, Florida USA, but I love, love, love to travel! I like to think that my style of photography is storytelling, whimsical and fun, which is exactly how I want it to be.