Todays wedding is a very grand affair, set in the gorgeous Parley Manor with photos by Dorset wedding photographer Paul Underhill. It is the civil partnership of Alan and Tony who chose Parley Manor for its grand setting. The first thing I noticed when I was sent this submission was firstly, how handsome the two grooms were and secondly how totally fabulous the flowers were. I do love this venue having attended a wedding here last July, where Nik was best man for his mate Matt, it really is a stunning place which I think is shown off perfectly in these photos. Big congratulations to the two grooms for letting the florist have full creative freedom and on a totally awesome day.
Our day was amazing and all we could have asked for. The weather was perfect, the venue was beyond our dreams, everything flowed and all guests were entertained. The day showed our love for each other and for our families and friends.
Alan and Tony were married on 1st September at Parley Manor in Christchurch. "The venue was perfect, as we both had always wanted a large manor house and marquee and this venue met all of the criteria we wanted to host our perfect day." They celebrated alongside 120 friends and family and took 16 months to plan their big day.
How they met
We were out with separate groups of friends and our eyes met across a table and it was one of those moments, where everything else stops around you and you find yourself just looking at them. We instantly started talking and got on like a house on fire, we had a few dates out for meals together and never looked back.
The proposal
Tony came home from work to all the lights off and a candle lit in one room, as he walked into the room, he saw Alan on one knee holding out a ring box.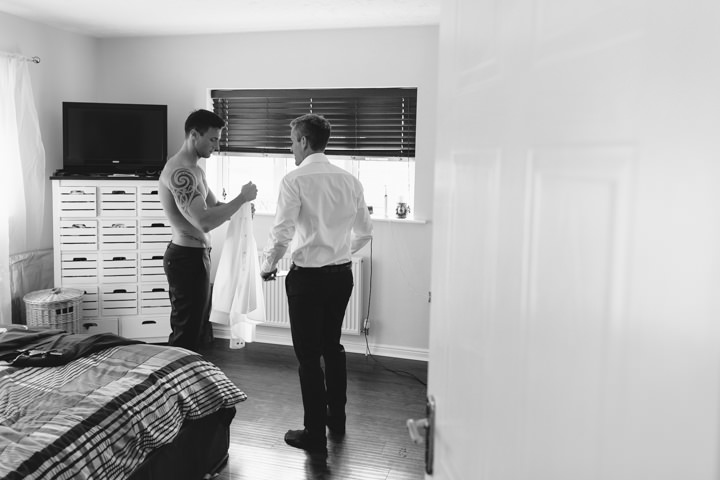 How did you spend your budget?
We knew we wanted it to be a show stopper and as we didn't have a dress to pay for, our extravagance was the flowers – this was the "wow factor" at our wedding. We ensured that our budget would allow this and set aside a large part for this and therefore reduced other areas, making our own invites/ wedding favours and using our friends' contacts to reduce other costs.
Why did you choose your photographer?
After seeing Paul's portfolio, his photos are of such a high standard and the quality of them made it an easy choice. We had seen a couple of other photographers and were unsure, but after meeting Paul, we knew straight away that he would be our photographer.
Your suits
Our suits were from Hugo Boss
The theme
We went for Black and White with a hint of Red.
The flowers
We went wild with the flowers and ensured that each table had a different table top. The Florist (Simply Flowers) was able to go beyond the norm and be extravagant with the designs, we gave them full creative control. We had a variety of flowers, but I wanted dark velvet red roses to be used, as these are our favourite so this was our only stipulation.
The decoration
Apart from all of the flowers – and there was a lot of flowers, we had the marquee decorated with lights to create a backdrop to the head table and also with the favours matching our colour scheme, ensured our theme continued throughout the wedding day.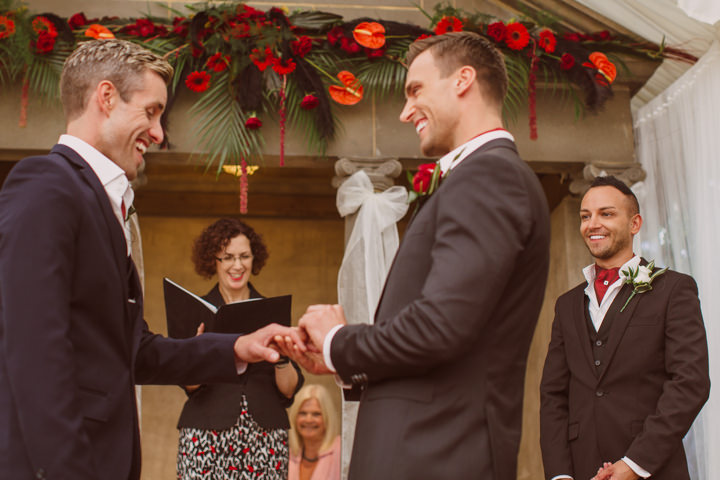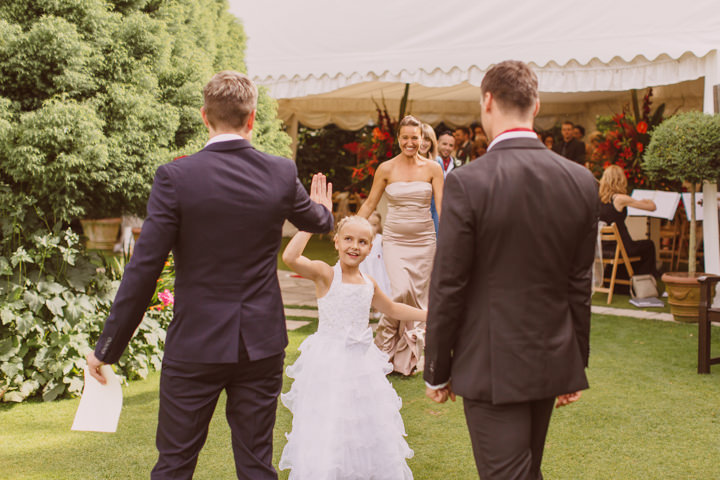 The food and wedding cake
We had a 3-course sit down meal, butternut squash and cumin soup, followed by organic chicken and vegetables, and finally Dorset strawberry cheesecake. We also had a Hog Roast for the evening, plus a 6 foot chocolate fountain. After the ceremony we had Gin Garden Cocktails and Purbeck ice cream.
We had a 3-layered cake, chocolate, vanilla and my personal favourite the Baileys layer. Our best man's mum (Wendy Clarke) arranged it all for us and decorated the cake with hand-made roses and cherubs.
The entertainment
We had the traditional disco, but to put a spin on it we also had a Drag Queen (Wezley Sebastian) do a performance as we love Drag Queens and this is a side of gay culture that our families and friends had not all experienced.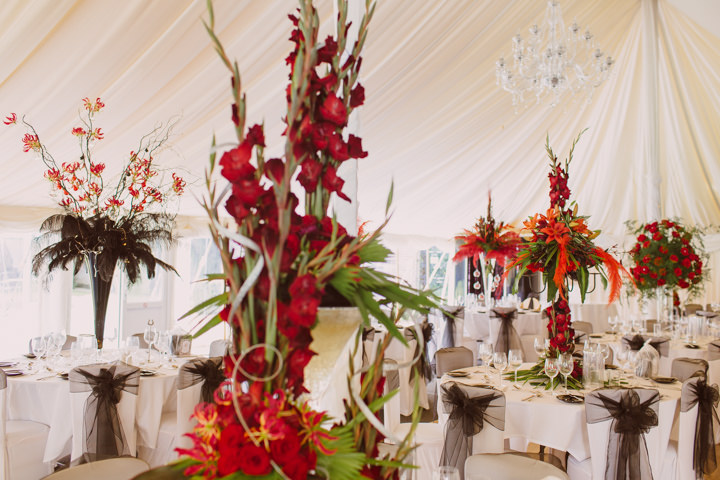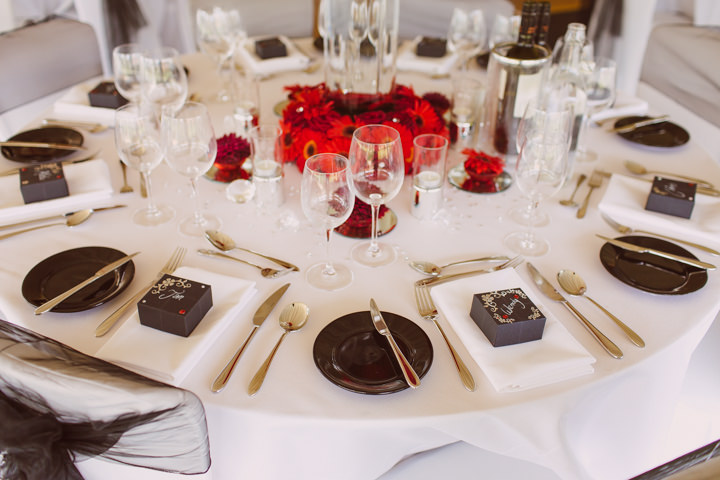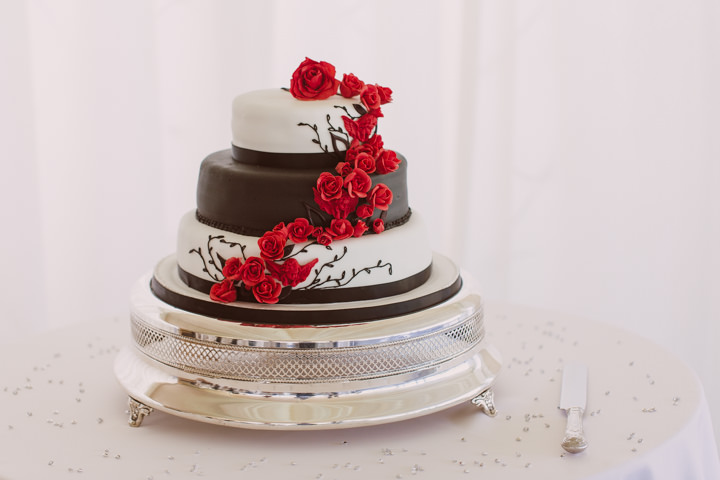 Buy or DIY your stationery?
We made our own invites, which I must admit was a lot more work than Ii thought and we handmade our wedding favours. We created the black and white box, decorating it with red gems and diamonds. We also wrote our guest's names on them with a romantic letter style, giving it a personal touch to our ceremony.
Personal or handmade touches
The personal touch for us was the wedding favours that we made ourselves and allowed our guests to take home with them and keep a memento of our day. Also the wedding invites were made by ourselves and a lot of our guests have kept them, due to the way we made them (details of the wedding were printed on printable tracing paper which was placed over a picture of ourselves).
Special moments
Walking down the aisle with our mums on our arms and as you turn in and everyone was smiling at me and then exchanging our vows in front of all our family and friends.
Advice for other couples
– Enjoy the day as much as you can as it goes so fast.
– Take a moment throughout the day and night where you step back and appreciate everything that's going on around you and that these people are here to celebrate your special day with you.
– Talk to your other half when making decisions as this is both your days.
Biggest surprise
The flowers – we gave full creative control to the florists and they took our ideas and took them beyond our wildest dreams. Walking into the venue when we arrived and seeing them all set up was breath-taking, I couldn't stop smiling and couldn't wait until the guests would see it all.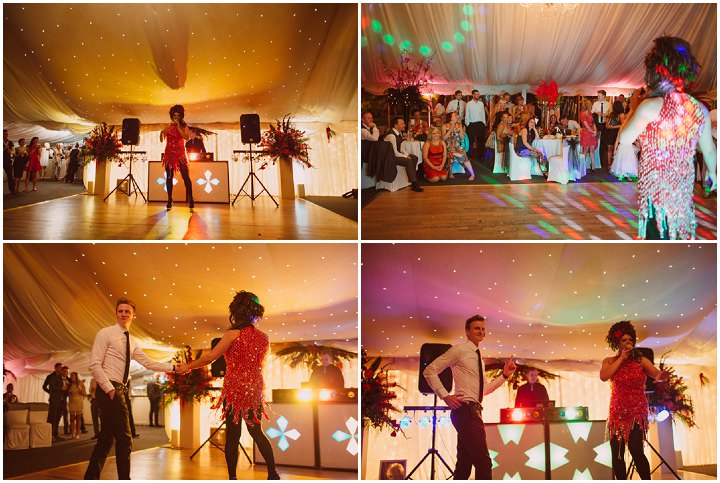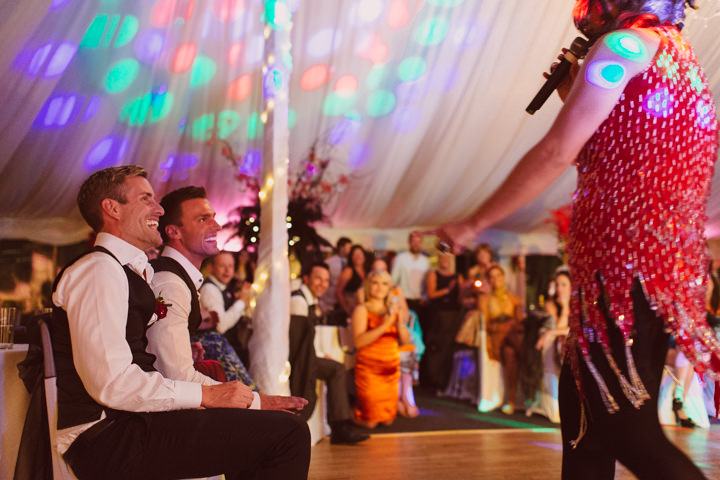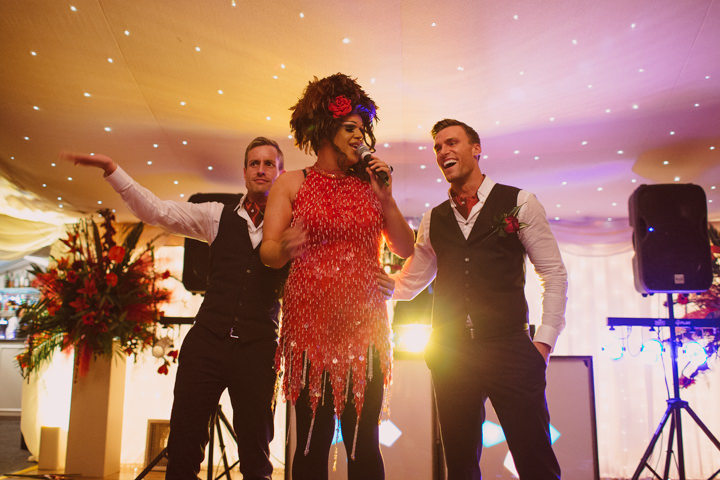 Supplier Shout Outs:
For more information on Dorset wedding photographer Paul Underhill's work, please go to:
www.paulunderhill.com
FACEBOOK
@paulunderhill
0844 504 9547