Happy Friday everyone! I'm not sure about you but this week has whizzed past! It's been a week of amazing weddings on the blog with record traffic, so I am finishing the week off with another cracker! This bright and beautiful beach wedding is here to fill our rainy Friday with lots of summer sunshine. Bournemouth beach gives couples the opportunity to hold their own Boho style wedding right by the sea and this wedding is oozing Boho charm and so much love and happiness. Jessica and Oliver chose a colour scheme of pink, orange and yellow to really bring the marquee to life. The colours pop against the sand and offer a beautiful contrast against the bright blue summer sky. I love everything about this wedding, the colours, the decor, the outfits, all absolutely stunning. Big thanks to Paul Underhill Photography for these beautiful images.
'An amazing day of relaxed celebrations, filled with fun, laughter, love and friendship'
Jessica and Oliver were married on 19th September 2015 at Beach Weddings Bournemouth, Bournemouth Beach, Dorset. 'We wanted a relaxed and informal event, so the beach venue was perfect for that vibe – plus as the 7th wedding of the year among our friends we wanted something a bit different! Olie also grew up in Southampton and has spent a lot of time in Bournemouth, and just loves being by the sea. We had just over 100 guests. We chose not to have children there, but it was important to have close family members such as Olie's nieces and nephews and my cousins so they all became part of the wedding party. We had quite a long 18 month engagement, but also bought and renovated our house during his time, so I don't think we really started planning the wedding (apart from the big stuff) until about 8 months before'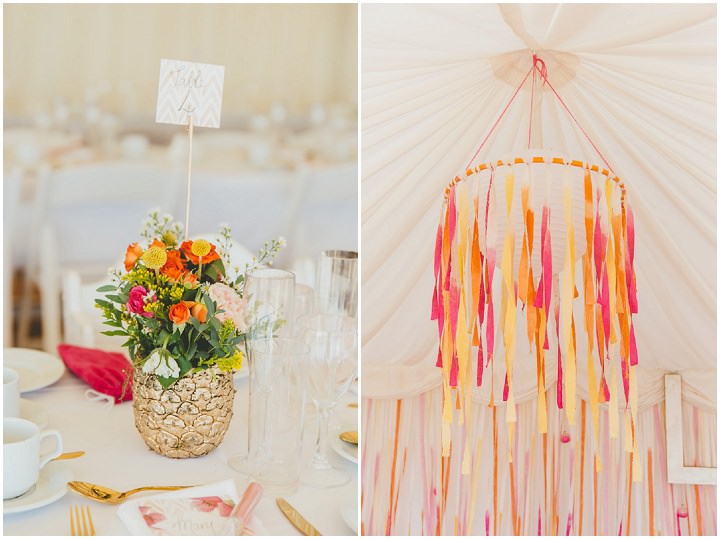 How they met
We met on a blind date after being set up by a friend of Olie's mother that I had met at a wedding. It was love at first sight 3 and a half years ago
The Proposal
We went on holiday to Morocco and travelled across the Atlas Mountains to do a trip into the Sahara. Olie had organised glamping accommodation so we could stay overnight and he'd sold it to me by saying we'd have dinner under the stars in the middle of the desert. As we began our journey into the desert it started to get windy, but the time we got further into the desert it was a full on sand storm, resulting in our driver getting lost. We finally arrived slightly shell shocked at our camp and enjoyed an amazing meal inside the main tent, cracking open the champagne Olie had bought with him and sharing it with the only other person mad enough to there in a sand storm! We got up ready for sunrise the next day, and trekked to the top of one if the dunes. It was freezing cold and as we sat huddled, watching the sunrise, Olie popped the question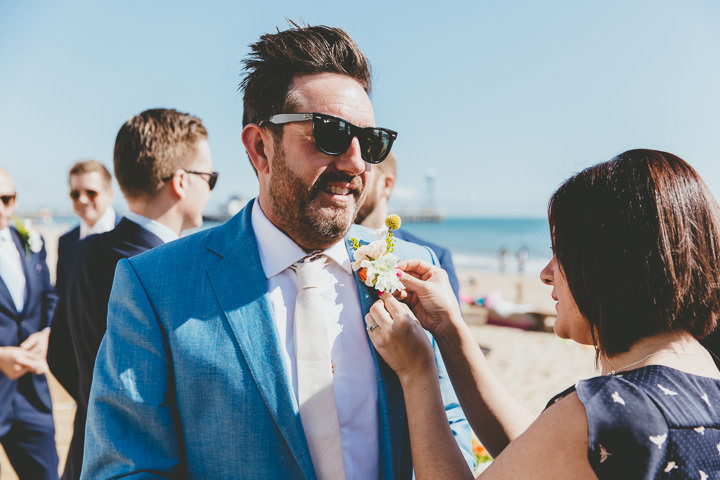 How did you allocate your budget
The biggest chunks of cash were on the obvious things like the venue and food/booze. The photographer and band also seemed like a lot when we booked them, but both were incredible so were well worth it
Where did you splurge and where did you save
We tried to be fairly sensible about everything and save money where we could. I knew there was a lot we could do ourselves too with lots of creative friends and family members to help; I made the flower girl dresses, my mum, friends and I made all the decorations, my grandmother made the cake, one of my bridesmaids is a makeup artist, so that was handy too!
One if the best money savers was making the LOVE letters instead of hiring them, and an indulgence was probably the gold cutlery (hired from Classic Crockery). My dress definitely felt like the biggest splurge, but we were lucky that my parents were generous enough to pay for it.
We did spend quite a bit on things like the rugs, cushions and the firepit, but we'll reuse these in our garden this summer so they won't go to waste



How did you choose your photographer
We wanted a really relaxed approach for to the photography and were adamant we didn't want to miss out on parts of the day because we were posing for various group shots. We found Dorset Wedding Photographer Paul Underhill website pretty quickly having searched for reportage wedding photographers in Dorset. We loved his documentary style and booked pretty much immediately. We'd so delighted with our choice; Paul was amazing on the day, everyone said that they barely realised we had a photographer as he just seemed to slot right in, and we've had so many wonderful comments since about how well he captured our day
The Dress
My dress was Jenny Packham, but I worked with the amazing staff and seamstress at Exquisite Brides (Winchester) to alter the back making it completely unique and much more me. My veil was also from Exquisite Brides, but I decided to make my belt as wanted it to be far more simple than those available – it was also a much cheaper option! I'd always planned to have an amazing pair of designer shoes, but once we'd decided on the beach venue thought a blocker heel and opted for a rose gold pair of chunky heeled sandals in the end from Office. I didn't wear any jewellery as my dress was already so detailed, but I did have a cross which belonged to my late sister, pinned on the inside of my dress so she was with me throughout the day. I also had a little cape made by a family friend, based on a Zara one I already had, it was really plain so worked perfectly with my beaded dress.
The Suit and Bridesmaids
Olie's suit was the British tailor Richard James on Saville Row. When we got engaged we dreamt up the perfect suit but of course never thought we'd find it. We were lucky enough to find the perfect suit in the exact colour and fabric we'd imagined, plus it was in the sale! Finding the dream shoes was a bit more difficult, but we eventually found some amazing linen loafers from Grenson. I decided to put the girls in different dresses of a similar pale nude/ivory colour – this was the beginning of a very long, but fun journey! After many dresses being purchased and returned we settled on a vintage 1940s dress sourced from Etsy, a Ghost dress and a last minute purchase just a few weeks before from ASOS.
I also commissioned Alice Barnes (www.alicebarnes.co.uk), a good friend and very talented jewellery designer to make 'pinwheel' necklaces for the girls, again making sure they were to their taste by making one silver, one gold and the other rose gold.
Theme or Colour Scheme
It was really important that we had bright colours as with the white marquees and sandy beach as a backdrop I feared it could l be a bit 'biege'! Orange as the main colour was the obvious choice all along and it worked brilliantly with the paleness of the bridesmaids dresses. We added details to bring out the colour too, such as Electric Orange CND nails!
Flowers
Jess did the flowers with a lot of help from friends and family, and all the flowers were sourced from The Flowermonger a really helpful wholesaler that specialises in DIY weddings.
I fell in love with the English David Austin roses and chose Juliet for their delicate texture and peachy colour. For all of the wedding party we added various white, orange and small touches of yellows in white scabiosa, orange spray roses plus yellow solidago and 'billy balls'. In honour of my late sister Stephanie, we included Stephanotis flowers in my bouquet and the buttonholes.
When it came to the decorations, the Juliet roses were really expensive, but I discovered an alternative, the gorgeous apple tea carnations that came in the same colour and had the same delicate look – a much cheaper option! We also added bright pink into the mix for these with punk spray roses.
I love pineapples so as a nod to this we used pineapples which we cored and sprayed gold instead of vases for the table displays. They looked really different and striking on the tables.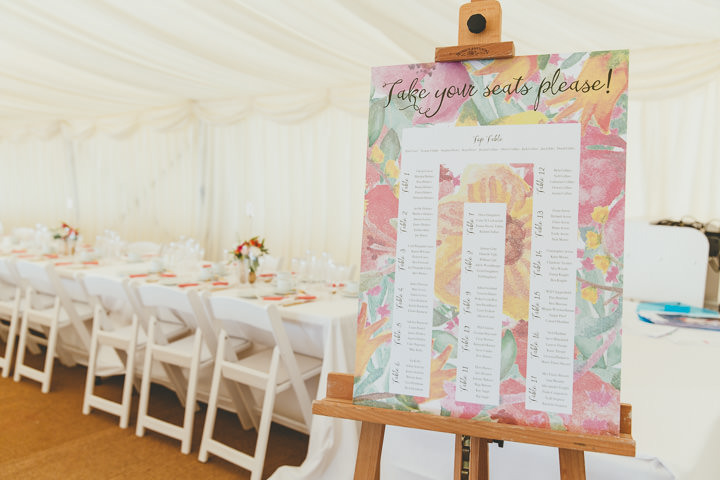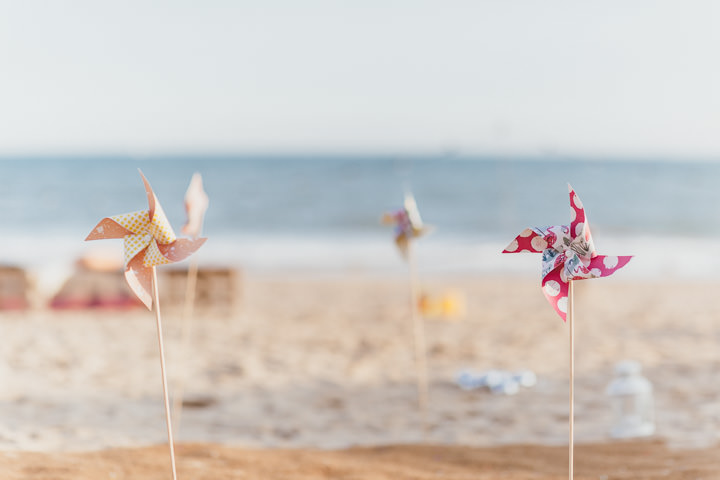 Decoration
I wanted a bright pop of colour on the outside of the marquees, so we made dip dyed bunting in Orange, pink and yellow. We then added various floral arrangements in big jars on the sand and milk bottles on shepherds hooks, plus sprayed some bird cage candle holders bright orange.
When it came to the inside, the focal point of the main marquee was the driftwood arch which we covered in a combination of bright orange and pink tissue paper pom poms and softer pale peachy tulle pom poms. We also made the flower chandeliers from plastic hula hoops and these were a big statement piece too.
The bar marquee was our favourite bit, but took a lot if work to make it happen. With help from my mum we made the dip dyed ribbon curtain as the main feature along the back wall, and Olie also made the 3d gold love letters which were lightweight enough to hang from the marquee bar. We created the low Moroccan style seating area from hessian covered hay bails, and accessorised with bright outdoor rugs and mismatching cushions. We're glad we made the most of this space by hosting a cocktail hour with the speeches and cake cutting in it!
Food
We wanted food that reflected what we love cooking and eating at home. For the starter we got one of our favourite pubs (parlourkensal) to make their signature chestnut humous and sourced flat breads from an artisan bakery (www.hobbshousebakery.co.uk) I worked closely with the chef from www.fishfaceevents.com to recreate some of our favourite Persian influenced dishes for the main; pomegranate glazed lamb, shawarma chicken, bbq'd mackerel served with sweet potato falafel, roasted vegetables, bulgar wheat tabbouleh with pomegranate and feta, fig and halloumi green bean salad. All served with salsa verde that we'd made ourselves. Dessert was a no brainer, it had to be Olie's fave of Panacotta!
For the snack later in the evening, we did a huge cheeseboard with all the trimmings – again something welcome having at home, it went down a storm! We included our favourite cheese and Olie's mum made chutneys, so we made sure it was still really personal to us.
Wedding Cake
My grandmother makes cakes for a living so we asked her to make our wedding cakes – but we wanted something really simple and modern that we could decorate with fresh flowers. In the end it was more about the flavours than the visual; we had a rose water and raspberry jam victoria sponge, pistachio and white chocolate, and a gluten free orange blossom polenta cake.
We kept them simple with buttercream icing and decorated with fresh flowers – not as many as I'd envisaged as we ran out of time!
Entertainment
During the reception drinks, the children had an excellent time playing in the sand, whilst the bigger kids tucked into pimms and played boules. We were also really lucky to have a friend who helped out with the playlists for the reception and for the after dinner cocktail hour.
In the evening we had an amazing band The Bangz who we found on The Band Boutique. They had a brilliant repertoire of poppy covers, but did them in a really cool way – and of course they looked massively hipster!
The Stationery
I designed the stationery and we printed it online with a company called Printed.com. A really economical way if doing it if you have some basic Photoshop skills.
Personal or Handmade Touches
So many! We didn't want typical beach styling, but we do want a nod to retro seaside themes, so we got sticks of rock labelled with our names, location and date as the favours.
Special Moments
We really loved every minute of it and felt relaxed throughout the day.
Having a glass of prosecco together after the ceremony was really nice, it was one of the few moments we had alone. And the confetti throwing was just great fun and felt really celebratory – nice after the seriousness and feeling so nervous throughout the ceremony.
One thing that also stands out, was the number of people waiting to see me go down onto the beach, there were loads of them just stood waiting – and I was late of course, so they did have a bit of a wait! The initial moments of seeing each as I came down the aisle really stand out for both of us, as seeing each other on the day and in the venue that we'd talked about for so long was really exciting
Advice to other couples
Remember to enjoy every minute, it only happens once!
Plan and delegate as much as possible prior to the day, especially if there's lots of details and friends and family are helping – have pictures, diagrams and everything labelled!
Don't underestimate how long it takes to get ready! I'm pretty low maintainance so thought two hours would be more than enough, especially as I wanted to look really natural, but there are so many people and things to consider that the time just disappears.
Biggest surprise
The weather! It was the one thing we couldn't control and could have ruined the day had it been bad. We were so lucky with bright sunshine and clear blue skies.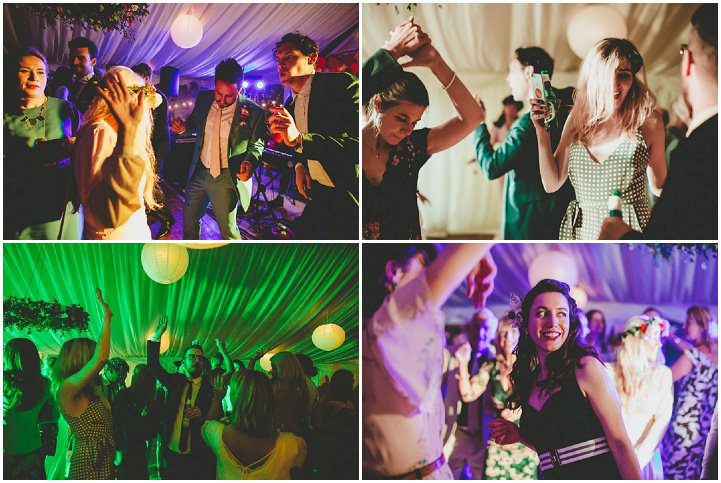 Supplier Shout Outs
FOR MORE INFORMATION ON PAUL'S WORK PLEASE GO TO:
Dorset wedding photographer Paul Underhill / www.paulunderhill.com / FACEBOOK / T:@paulunderhill / I:paulunderhillphoto