Happy Friday everyone, I hope you all have that Friday feeling and are looking forward to another bank holiday weekend, let's hope the weather stays good for us all! Today's wedding is proof  that you can have a fabulous wedding for lots of guests on a small budget. Kathy & Jon brought in lots of help from friends and family which made the day even more personal, they even created picnic baskets for the wedding breakfast that guests were able to enjoy outside in the sunshine. Entertainment included lots of fab garden games that really made the most of the late summer weather, as well as amazing decoration including 400 pom poms and a quilt cake! Big thanks to How Photography for the images.
It was exactly what we wanted, a relaxed picnic of a countryside wedding full of dancing, laughter and cider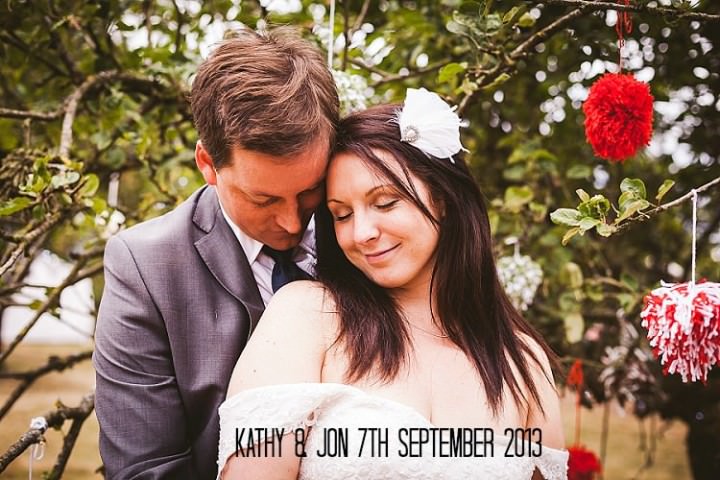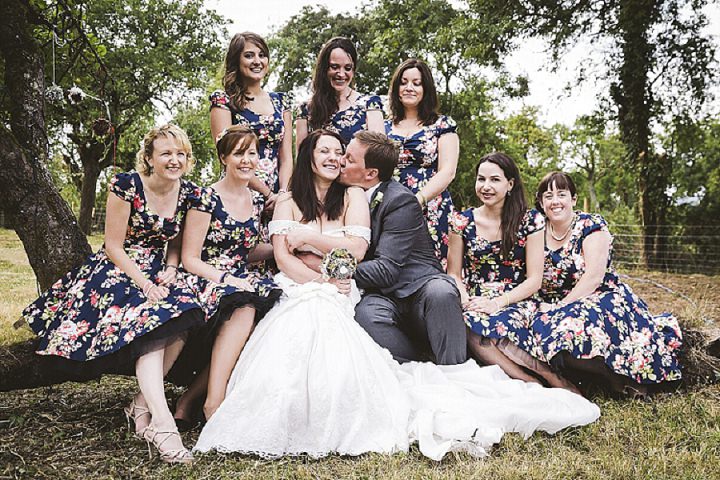 Kathy and Jon were married on 7th September at Bagley Baptist Church followed by a Marquee in their friend's orchard. They tied the knot in front of 140 guests. "I (Kathy) grew up in Somerset. My parents are Christians and I've been dragged along to Bagley since I was 9. My wonderful former Youth Leader actually married us and gave a brilliant personal speech including the fact he thought Jesus would have enjoyed our wedding, given the fact that we were handing out wine & Prosecco as the guests entered the Church (yep !) and there's the parable of Jesus turning water into wine at a wedding! It took 18 months to plan and save for it. We had very limited financial support but SO MUCH support in other ways – making pom poms, bunting, painting table decorations, the wedding dress, baking cookies – the list goes on!"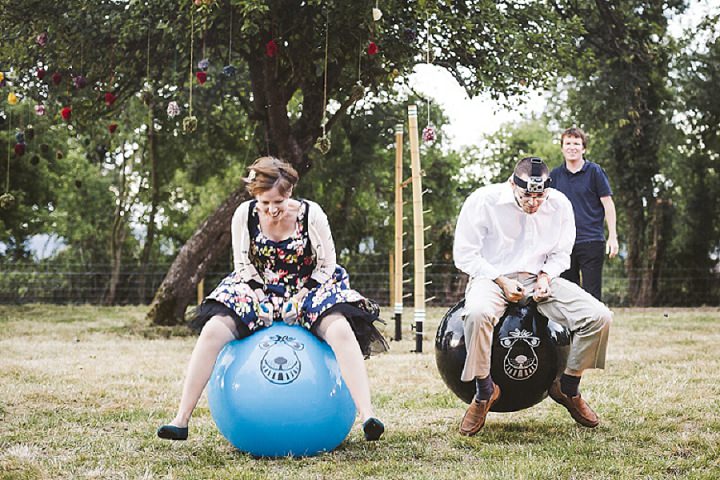 How they met
Jon was my boss! It was my first job out of university in London. We fought like cat and dog for a year and then fell in love, engaged after 5 years and married after 6 years together. He makes me laugh every day.
The proposal
Very very sweet. We moved to Vancouver for 6 months and on my 28th birthday we went walking in Whytecliff Park in the rain. Parks in Canada are amazing, they're basically a bit of land they just corner off and leave – no manicured grass or tender flower patches! We hiked up a cliff face and sat looking for seals when he asked me.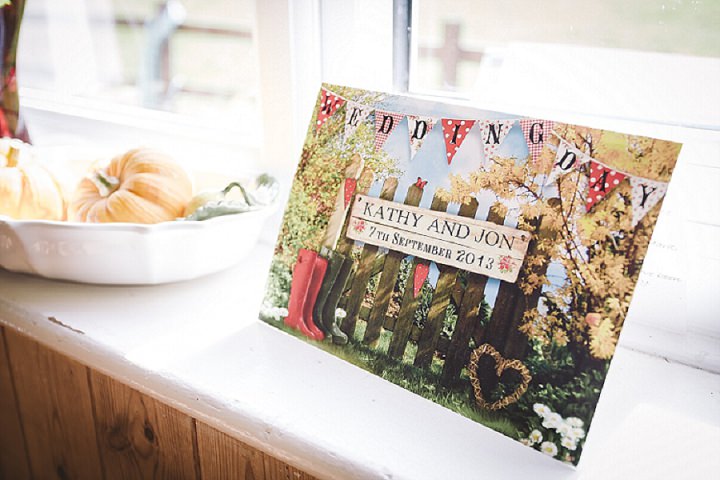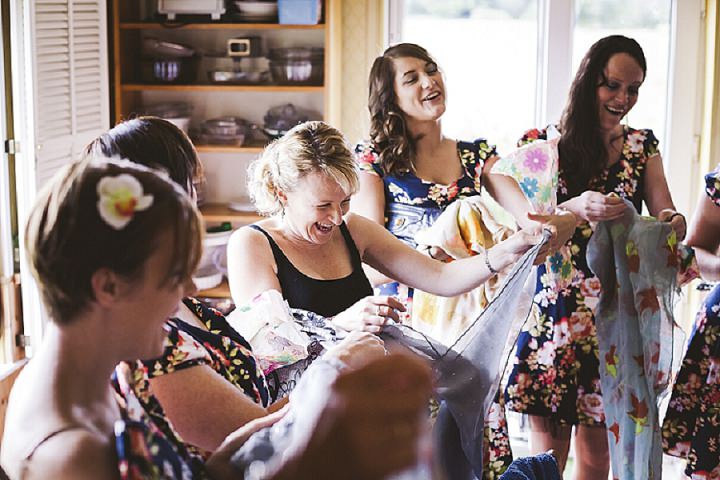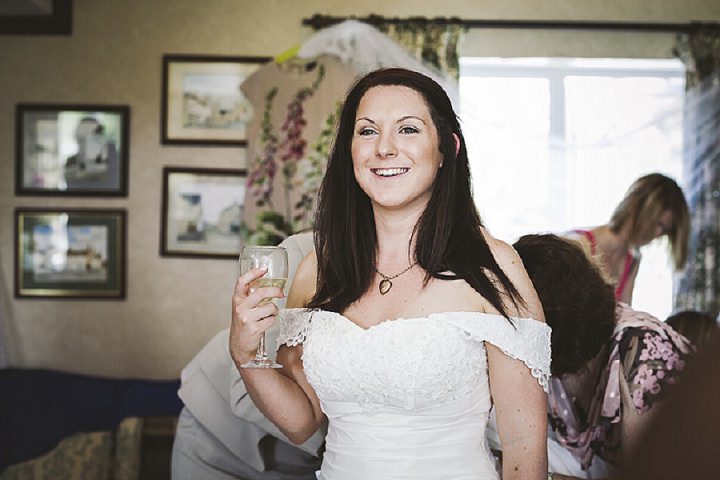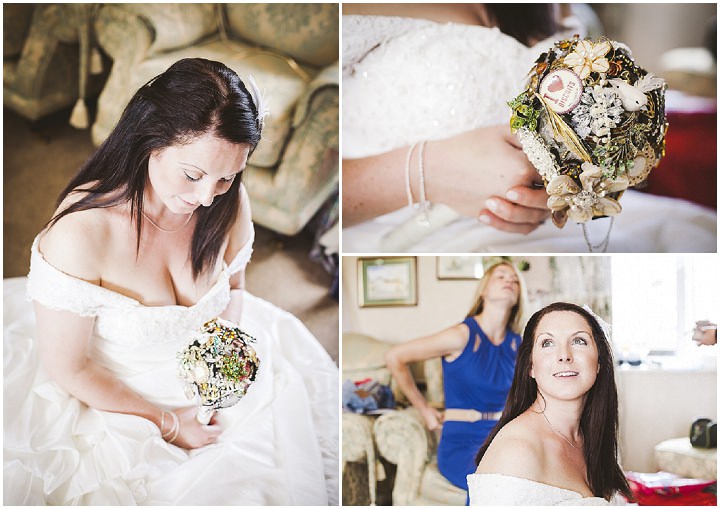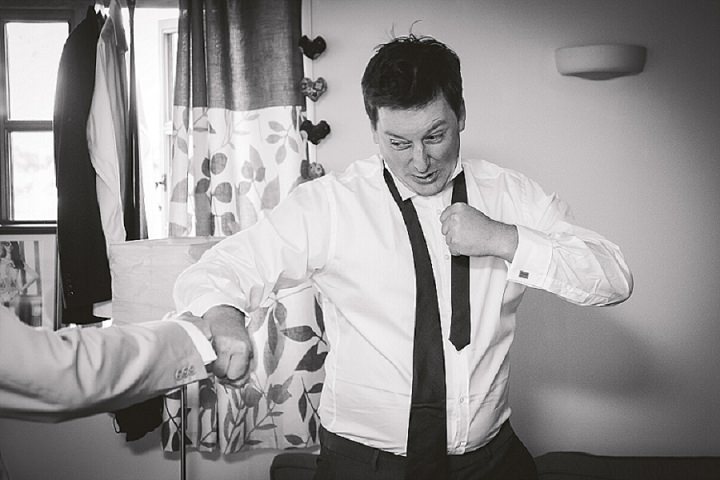 How did you allocate your budget?
We saved up, took a loan and called in every favour we could!
How did you choose your photographer?
We absolutely LOVE photography so this was the one thing we were prepared to pay for to ensure good quality. Russ and Laura How were fantastic. We went to their beautiful home to discuss our requirements and they were so warm and friendly and, importantly, calm! They came to look at both locations with us and on the day were AWESOME with our (somewhat rowdy) guests! Really professional and down to earth and very creative – the pictures are just gorgeous and perfectly capture the feel of the day.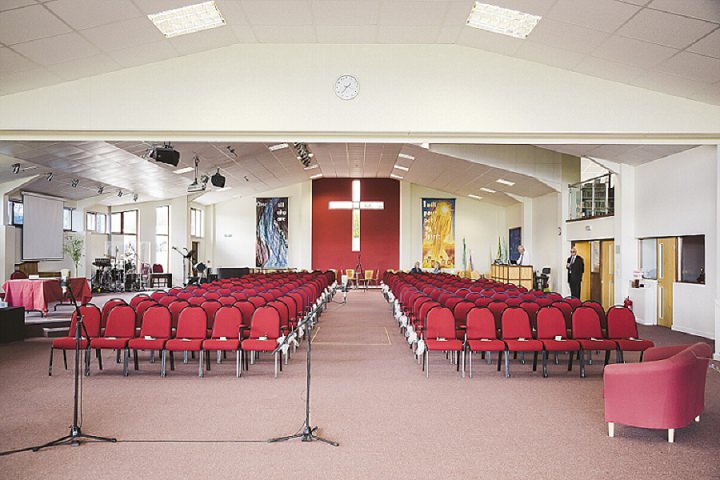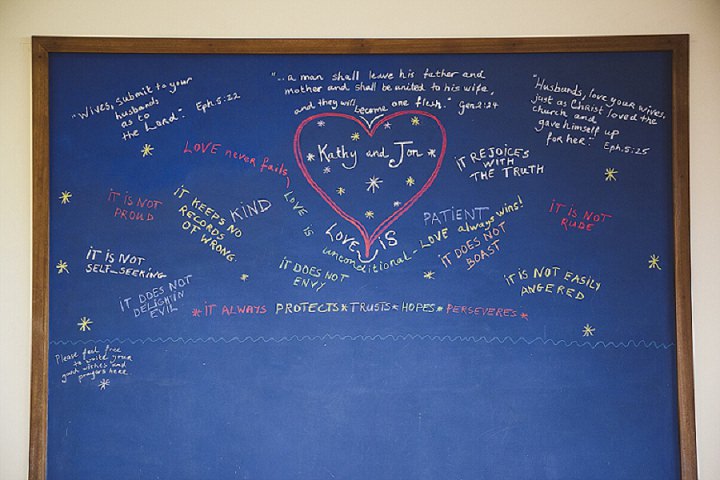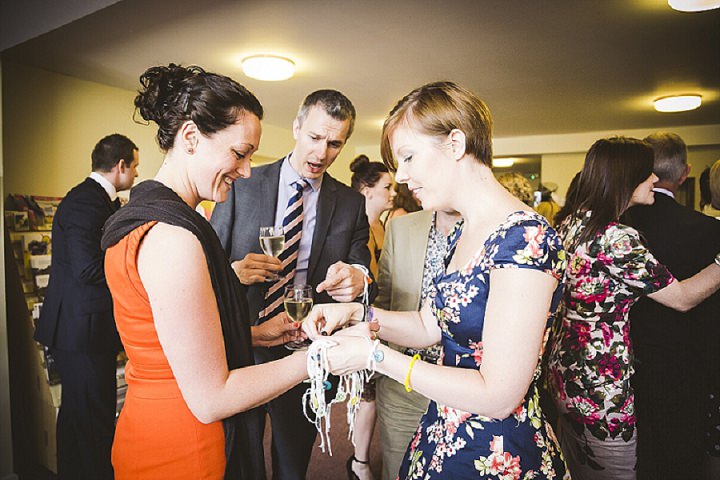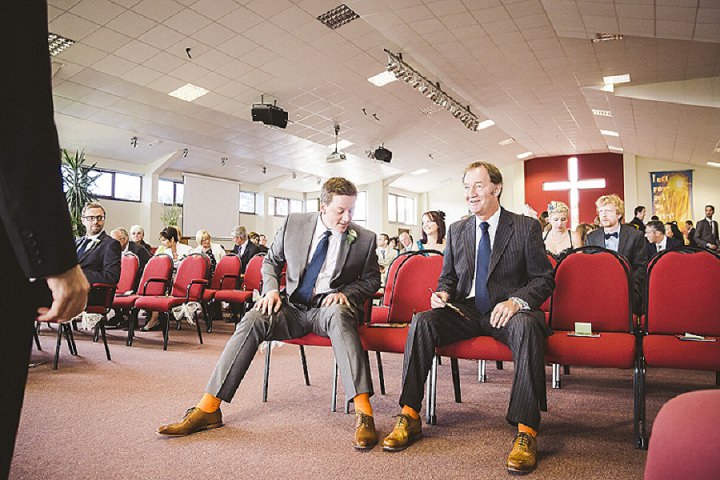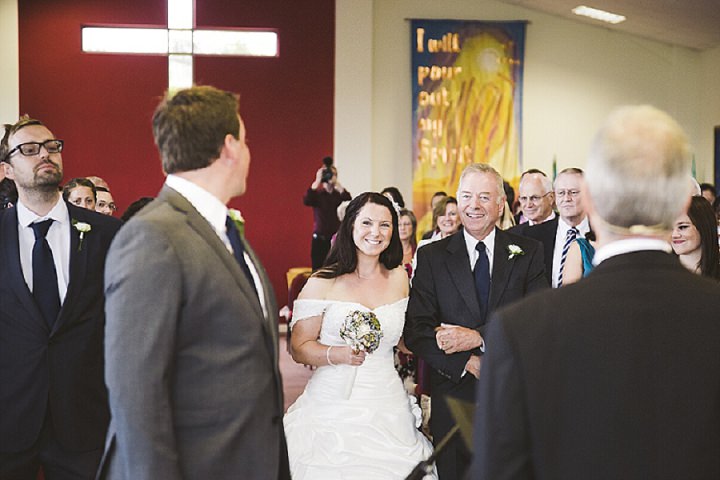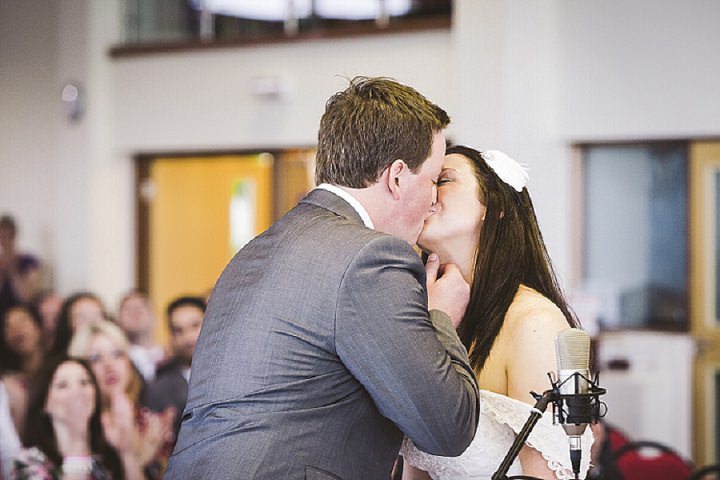 The dress and accessories
The dress was £495 from the very romantically named Wedding Factory Outlet shop in Bromley and the shoes from New Look, my evening change was a £85 dress from Coast. My stunning jewellery was made for me by Maya-Luu and I made my brooch bouquet by collecting 60 brooches and badges from friends and charity shops. I had a brooch to represent every family member including 'I Love biscuits' especially for one of my brothers with a very sweet tooth!
The suit and bridesmaids
Jon's suit was £200 from Moss Bros and I got the beautiful bridesmaid dresses for £25 each on Amazon. Truly believe it is worth hunting for good deals! The girls all looked amazing and I managed to dress all seven of them for £175.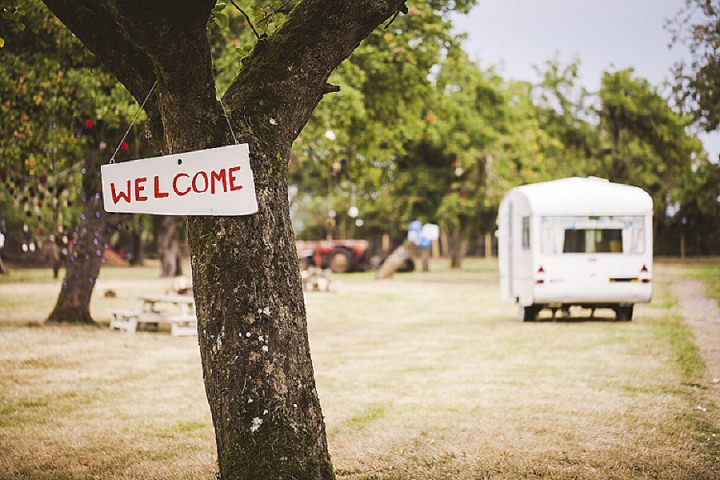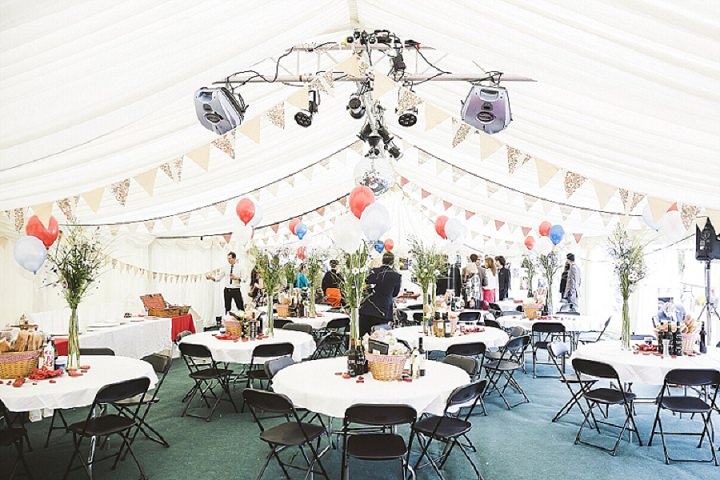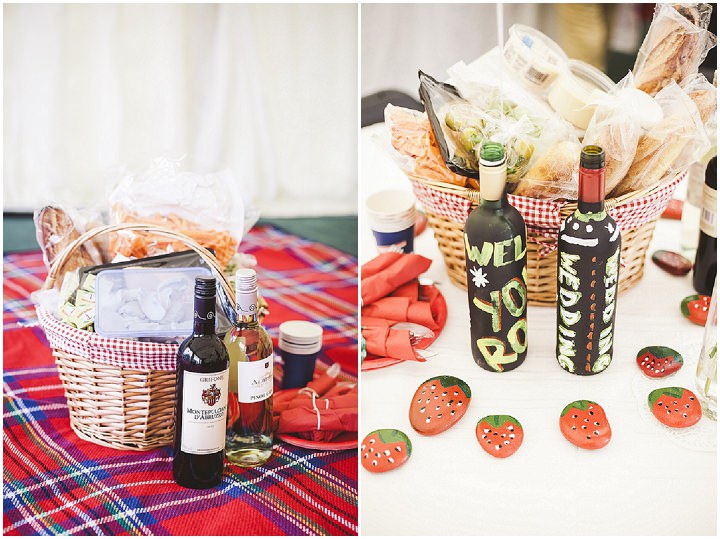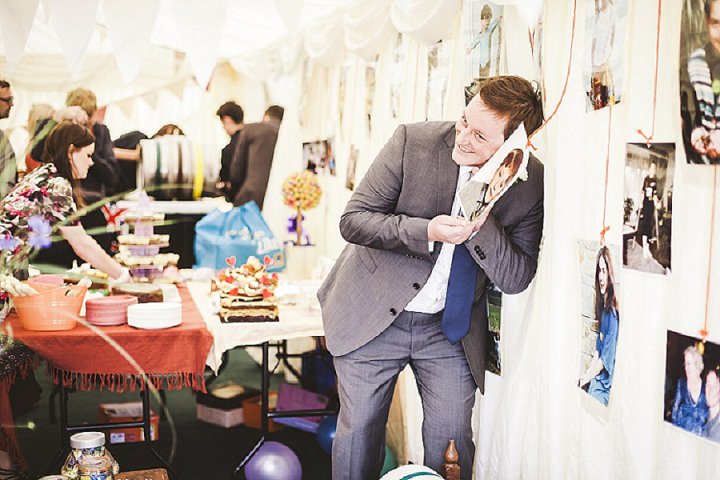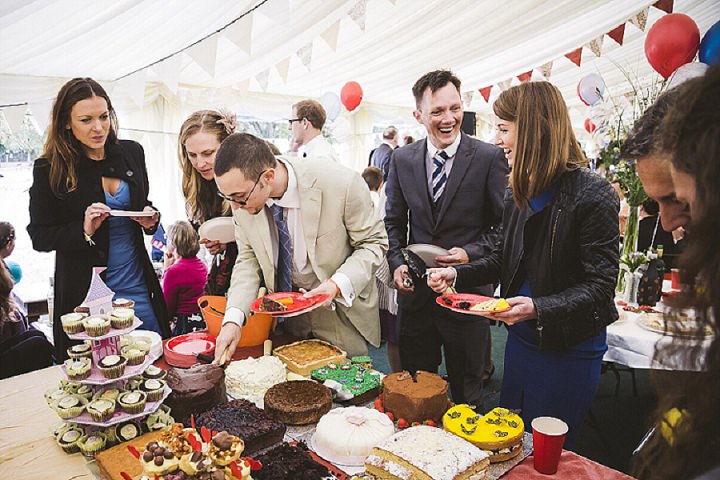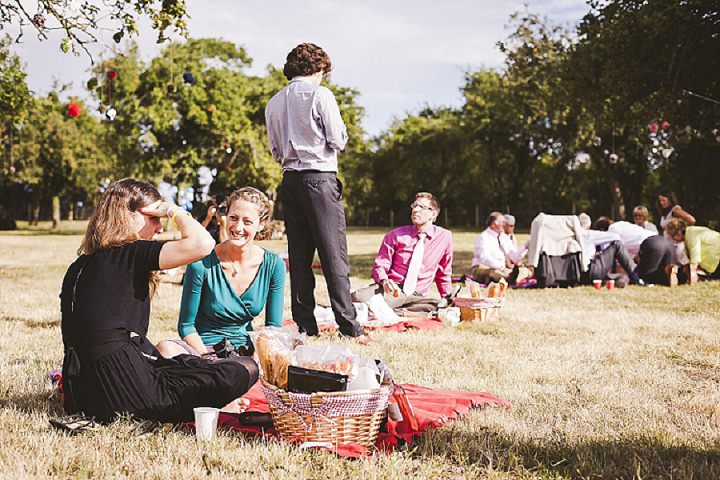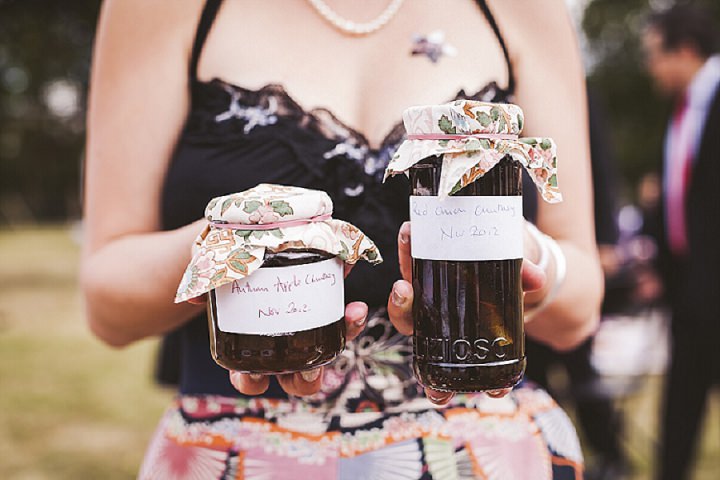 The theme
No, actually didn't although hilariously we randomly ended up with a lot of red, white and blue – terribly patriotic!
The flowers
One of the ladies at Dad's church collected lots of wild flowers and made displays that were used in the church and then on the tables in the marquee.
The decoration
Never ending bunting – made out of old curtains – balloons, pom poms (we had a pom pom party where we got all our mates round and made about 400 of them!) and flowers. The reception was in a truly beautiful orchard, didn't really need much decoration!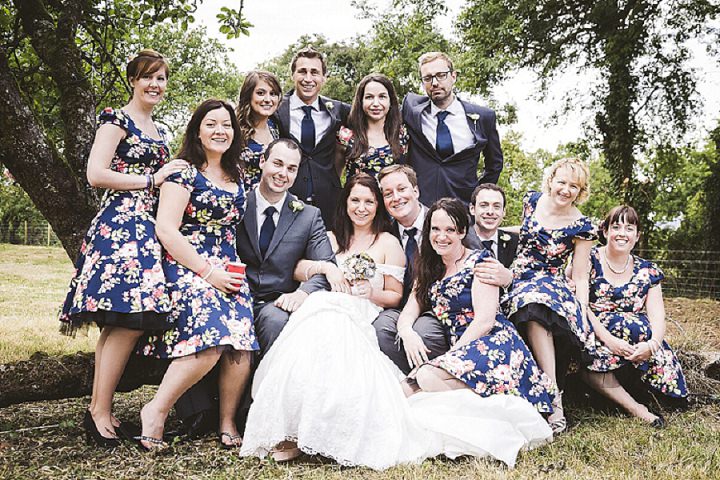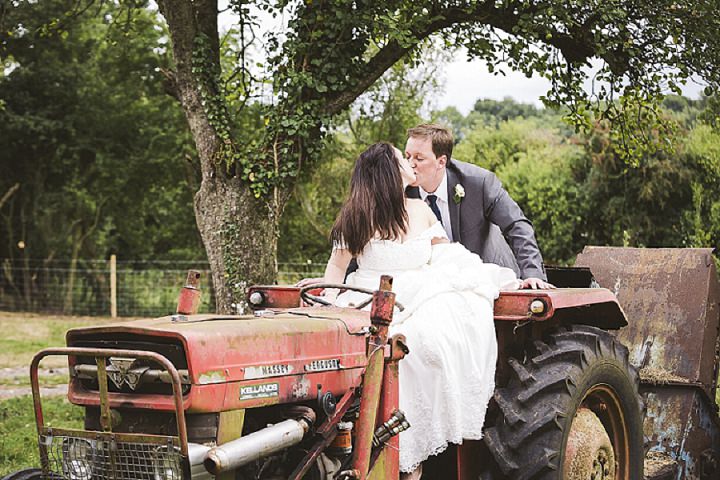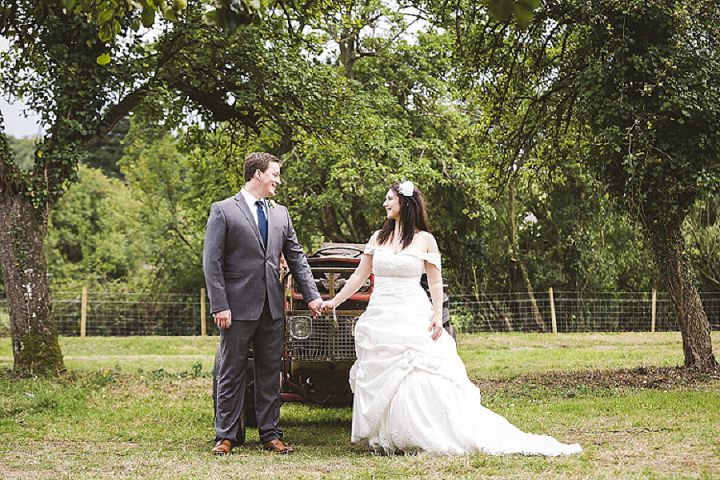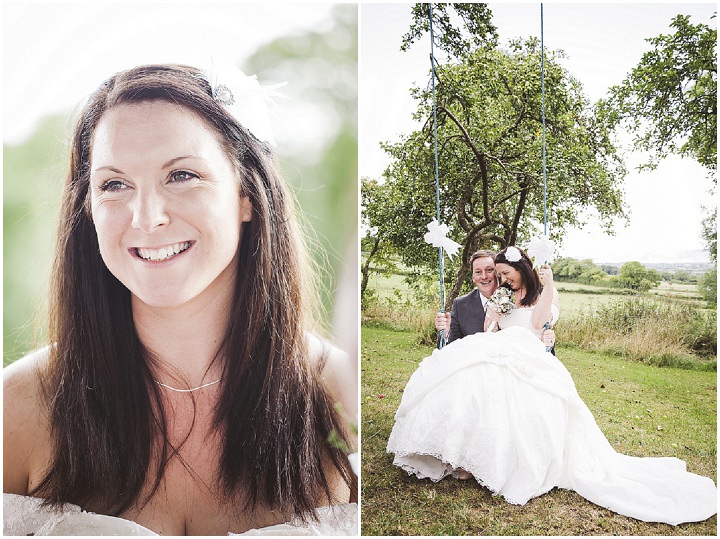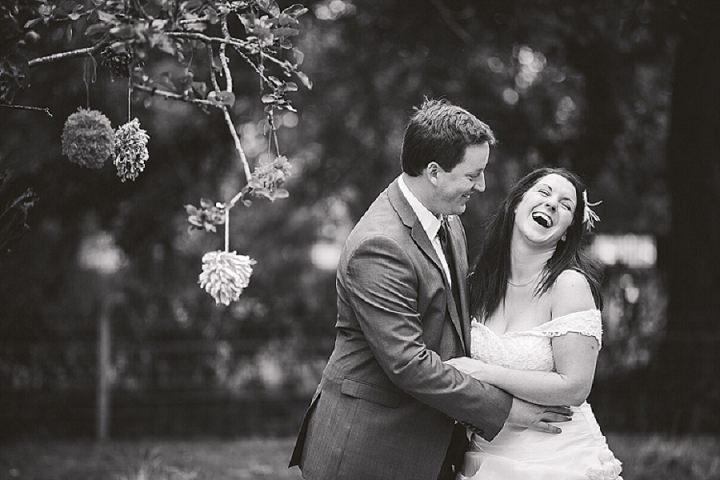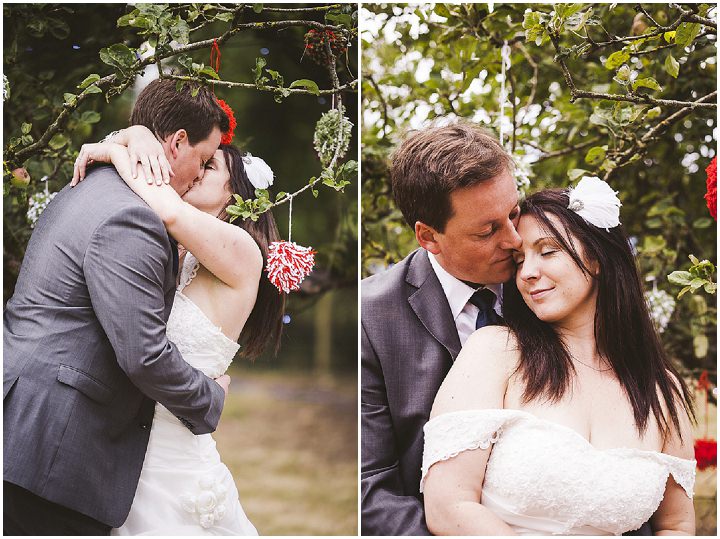 The food and the wedding cake
We had a picnic. I made a huge amount of chutney, then on the day my Maid of Honour and I went to Morrisons and collected a prearranged order, we then made up 20 picnic baskets of food (cheese, ham, pickles, bread, olives, humus etc) and put them in the marquee. There was also a hog roast in the evening. Including all the booze (wine/cider/beer/soft drinks) it cost us £11 per head.
We had a Cake quilt! I bought 16 square cake boards and gave them to 16 friends and family and just asked them to make a cake (any type or size or height!) that would fit on the cake board. We then put them all together on the day to make a GIANT wedding cake quilt. It was beautiful.
The entertainment
We had lots of games! Jon made a coconut shy, we had space hopper racing, giant cards, limbo, hoopla etc. Then in the afternoon we had a Ceilidh dance which was followed by a disco.
Buy or DIY your stationery?
We sent save the dates via email, and then used Pixar Postcards (with pictures of all of their fab movie characters e.g. Toy story / Monsters inc) for the actual invite which directed them to our wedding website with all the details.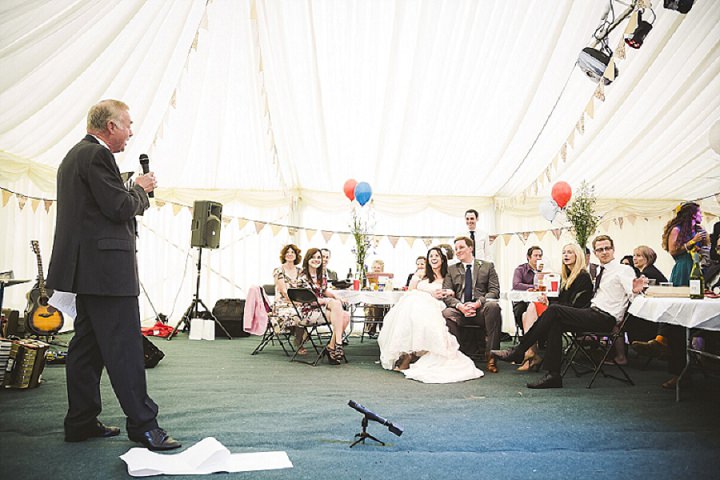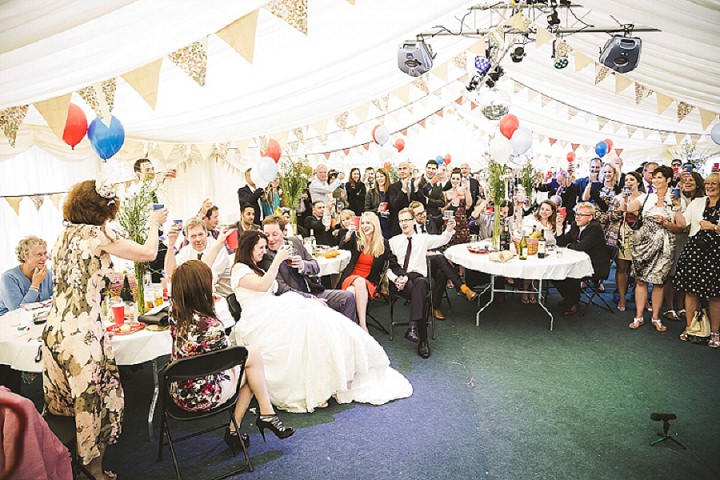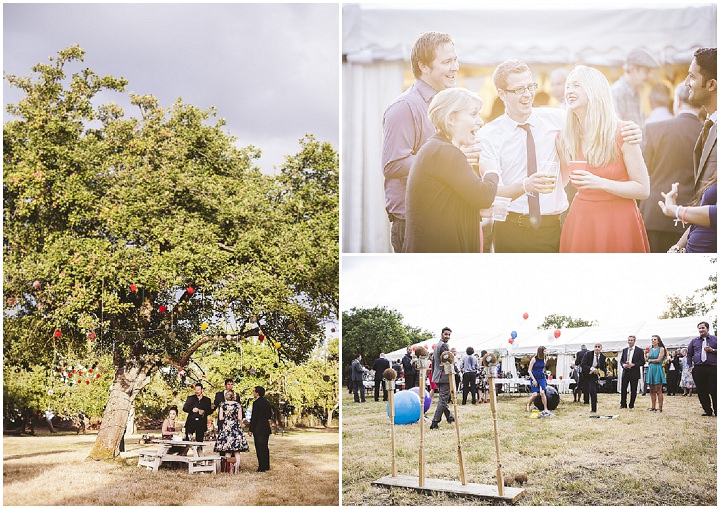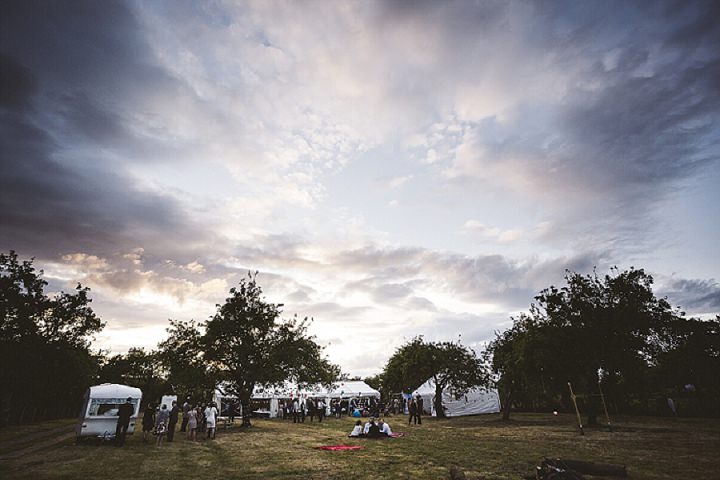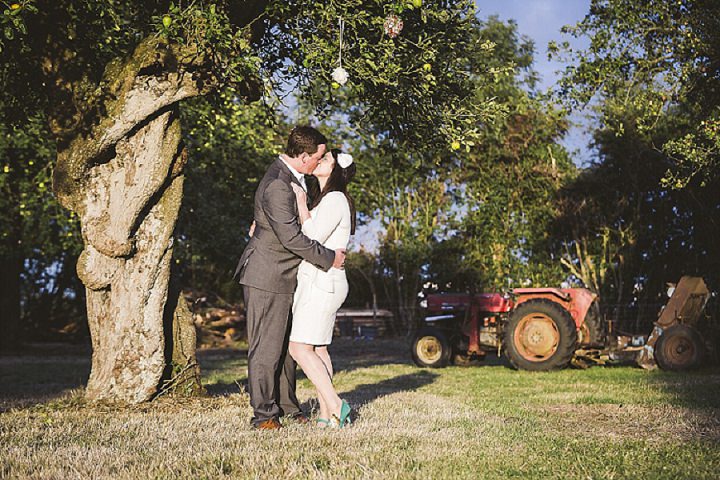 Special moments
There was a wonderful moment when Jon and I were having photos taken on the tractor (which was hilarious in itself) and we looked back across the orchard to the wedding where all our most adored friends and family were sitting in the sunshine on picnic blankets surrounded by apples trees and pom poms, eating their picnics, drinking wine and chatting, while Ceilidh music played in the background. It was EXACTLY what we'd be going for and it was there, perfect, right in front of us. Totally worth the effort.
Advice to other couples
Don't be discouraged by a small budget, you can be creative and work round it. Also, don't take tips from anyone about your guest list, invite everyone you love right now and have a brilliant time – try not to be sad about the people who RSVP no, their loss not yours, focus on the wonderful people who said yes.
Biggest surprise
The rain held off! Only 5 days before hand they were predicting thunder storms which was rather concerning but on the day we had one 30 min shower while the ceremony was happening and the rest of the day was stunning warm September sunshine! Such lucky puppies.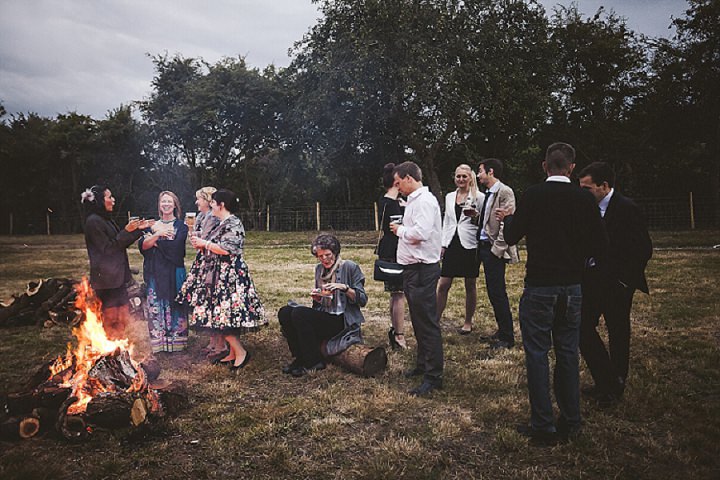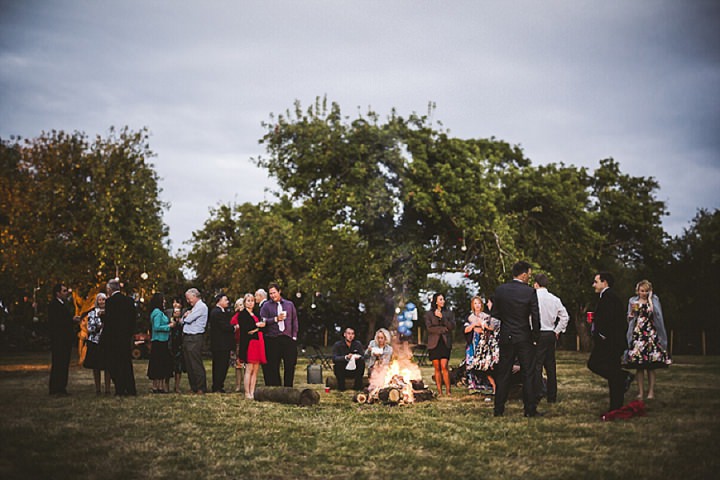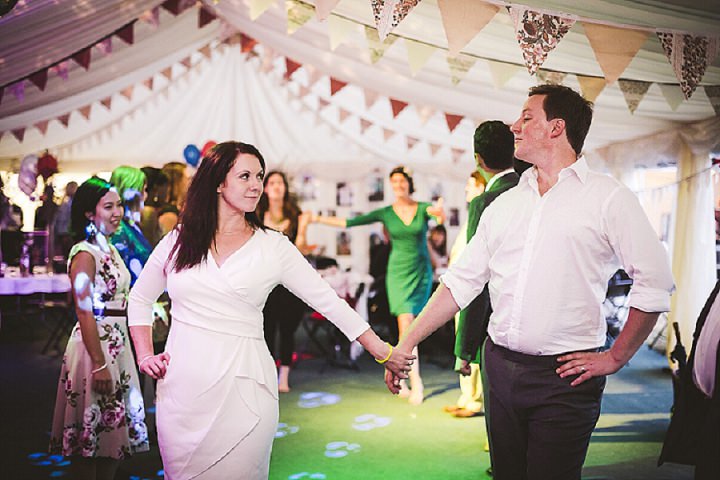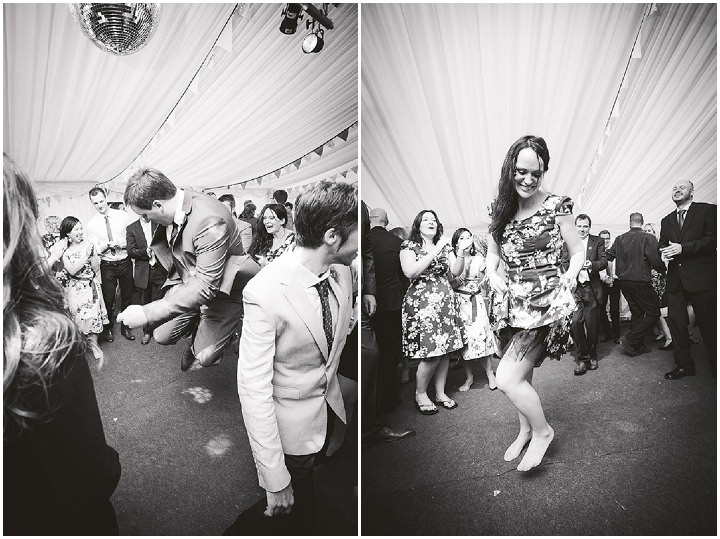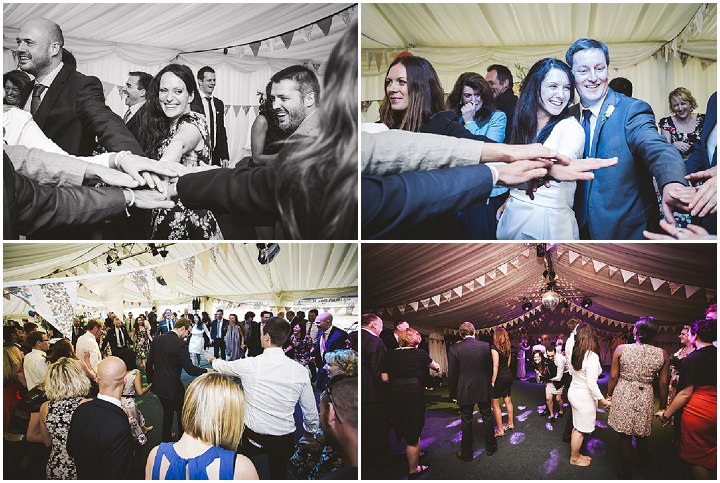 Supplier Shout Outs:
For more information on How Photography's work please go to:
Howphotography.co.uk
howphotography.co.uk/blog
FACEBOOK
@howphotography