Remember summer? Remember how warm and sunny it was? I know it's hard to imagine now that winter is here but today's wedding is full proof that we did have an amazing summer and there were a lot of very sunny weddings this year! Katie and Marc held their relaxed, summer garden party wedding in the height of July which turned out to be one of the hottest days of the year. With a beautiful marquee venue and lots of DIY projects, this wedding is bursting with summer goodness. Paper pom poms, bunting, pastel colours, garden games and paper lanterns all went together to create this gorgeous summer wedding. Thanks to Maureen Du Preez for the photos
'Informal, relaxed, summer garden party on one of the hottest days of the year! We wanted to be able to celebrate and enjoy our day with family and friends and of course each other.'
Katie & Marc were married on the 13th July at The Millhouse Hotel, Sharnbrook, Bedfordshire. 'We liked The Millhouse from our very first visit. We'd seen other venues previously, some of which were lovely but just didn't feel right. Key things that sealed the deal for us were being able to have the ceremony and reception in one place, exclusive use of the entire venue, great food and flexibility to have the day we wanted in a nice setting. The Millhouse could offer all this and more and we immediately felt we could trust the manager Karl to facilitate our plans for the day. By coincidence, I actually grew up less than 10 miles away from Sharnbrook and went to upper school in the village. We had 80 guests during the day and an additional 70 in the evening. It took 8 months to plan the wedding'.
How they met
We were set up on a date by a couple who were mutual friends back in 2007 who thought we'd like each other! Fortunately we did and 6 months later I followed Marc to New Zealand where he was going to play rugby. We lived there for 6 months then spent a further 5 backpacking our way around Australia, Bali, Malaysia, Thailand, Cambodia, Vietnam and Nepal.
The proposal
It was a weekday evening in October last year and I had had a few stressful days at work, unbeknown to me Marc had bought an engagement ring some time before and had been contemplating how best to pop the question. So on the spur of the moment on this particular evening he decided to present the ring and ask me to marry him as a way of cheering me up, he was in his rugby kit and I was in my pyjamas! Not exactly your typical proposal but romantic all the same, he had even already secretly met with my dad to get his blessing to propose which I hadn't expected and thought was really sweet.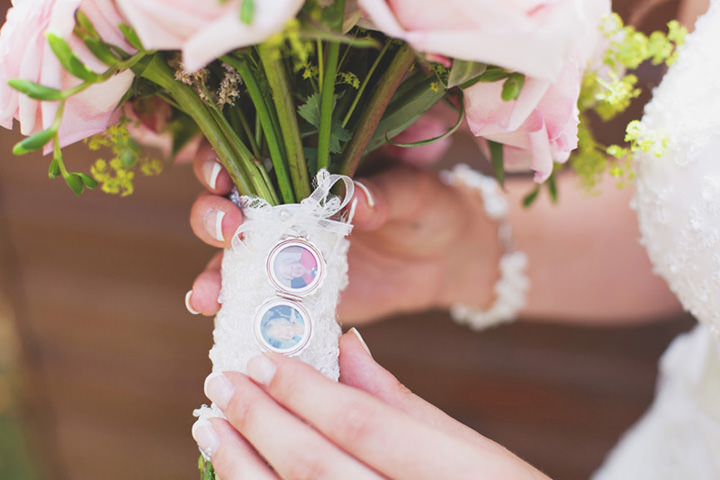 Why did you choose your photographer?
Our photographer Maureen was recommended to us by one of my work colleagues who had been a guest at a wedding she had covered. I checked out her website and loved her photography style straight away; it was also refreshing to find a photographer whose prices were very reasonable and still included the additional services e.g. pre-wedding shoot, copies of images at no extra cost. We first met with Maureen in January for our pre-wedding shoot, which my now-husband wasn't looking forward to at all! Her relaxed style and friendly manner put us at ease and we got along straight away.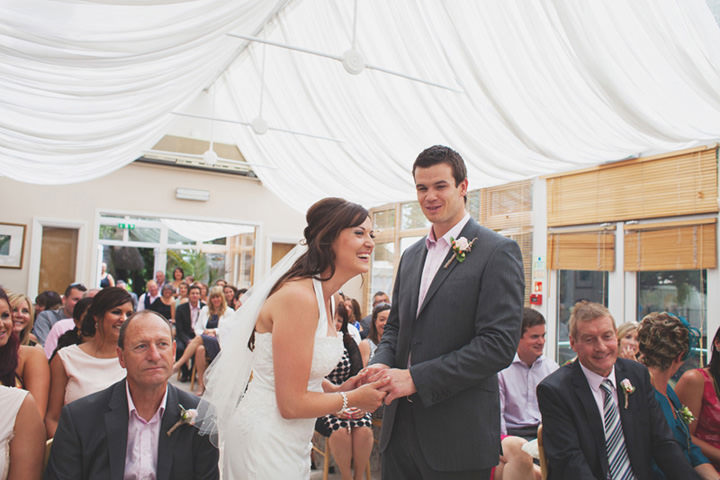 The dress
My dress was a pre-loved gown by Sincerity, which I found rather unexpectedly in a bridal shop near where I live. I fell in love with it straight away and whilst there were a few things I wanted to change, I bought it that day. I got in touch with a talented dressmaker who made a friend's wedding dress and she transformed my ideas for the dress into reality. My shoes were from the Pink Collection at Paradox London and my hair piece was from To Have & To Hold in Dunstable.
The suit and bridesmaids
The grooms suit was a bespoke design by Jeff Banks at Debenhams. The bridesmaids wore dresses from Coast.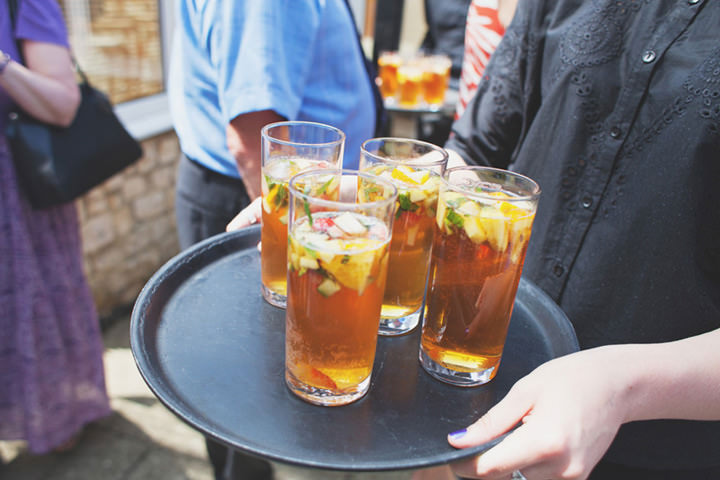 Theme or colour scheme
I was naturally drawn towards pastel colours, particularly pale pinks, yellows and peaches; they reflected the simplistic relaxed vibe we wanted from the day and a summer wedding. The bridesmaids dresses were blush pink and whilst we wanted an informal feel to the day we still wanted the men in the wedding party to look smart, so we asked them to wear a grey suit of their choice. We bought pale pink shirts for them all to tie in with the bridesmaids outfits and these colours flowed through in the wedding stationary and other elements of the day.
Decoration
In order to jazz up the marquee and give it a softer look, we decorated it with paper lanterns, homemade pom poms and bunting. On the Thursday afternoon before the wedding 6 of us spent a few hours hanging lanterns and pom poms one by one from the rafters of the marquee! It was well worth the hard work though as it totally transformed the space and looked beautiful on the day.
Flowers
The flowers followed a country garden theme, which consequently complemented the venue, gardens and the marquee setting really well. Our florist, who is a family friend, had lots of great ideas and after the initial meeting understood what I wanted so we pretty much left her to it. The only thing I was absolutely set on from the start was having pale pink peonies in my bouquet, which I was advised can be temperamental, so I was over the moon when I saw them in my bouquet on the day! In addition to the peonies, the bouquets and buttonholes/corsages also included various roses, avalanche freesias, pink astilbe, alchemilla mollis and giant pink hypericum. For the table flowers we had an assortment of roses, peonies, delphiniums, scabiosa caucasica anika and white stocks in various decorative jugs and glass jars wrapped in hessian and lace.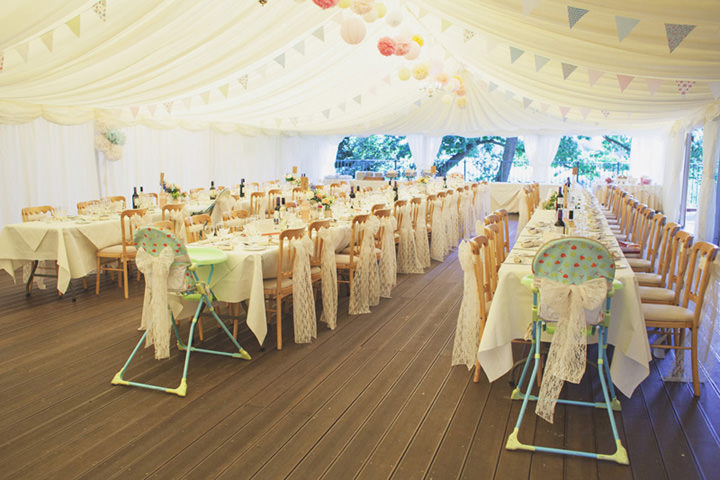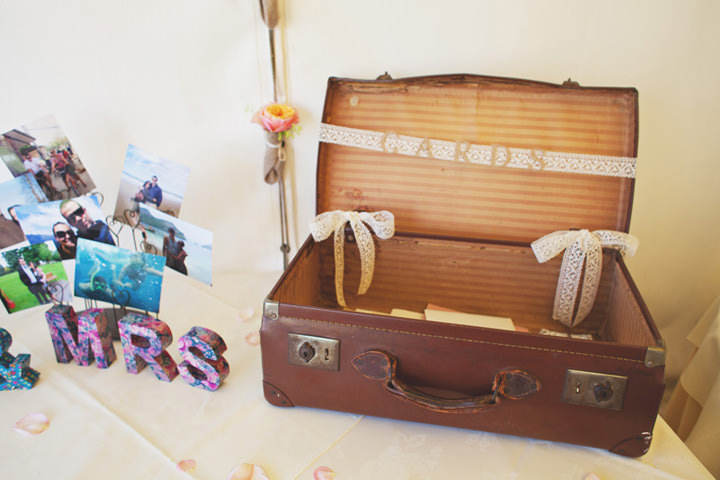 Food
We decided upon a buffet for the day with freshly cooked meats, salads and homemade breads. Then there were cheese boards, pavlova, bread and butter pudding and fresh fruit salad for desert. In the evening we had mini fish and chip portions served in newspaper style cones with homemade tartare sauce.
The cake
The wedding cake was a masterpiece. Created by my best friends mum, an extremely talented sugar artist and cake designer. It had three tiers; chocolate sponge with white chocolate ganache buttercream, Victoria sponge with vanilla buttercream and a traditional fruit top tier. The bottom two tiers had ruffle effect icing on the exterior and the top tier was decorated with small handmade sugar flowers. It was the fusion of two different cakes I had seen that I loved and it had sugar peonies and an anemone bouquet on top (anemones because they were my late Nan's favourite flower and were out of season to have in my bouquet).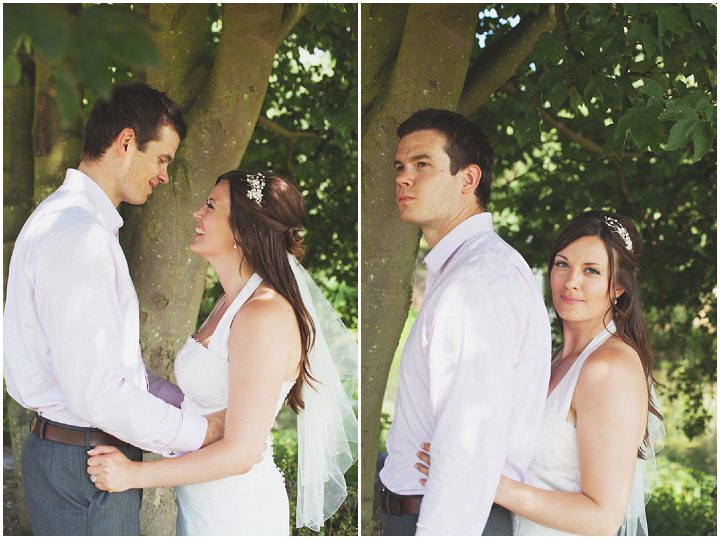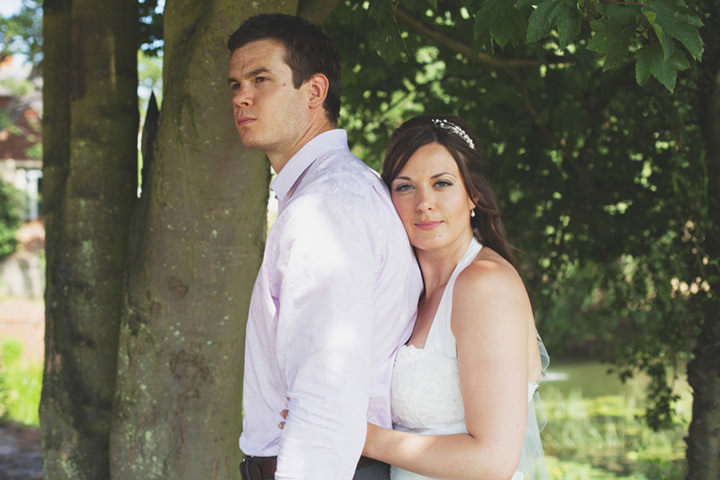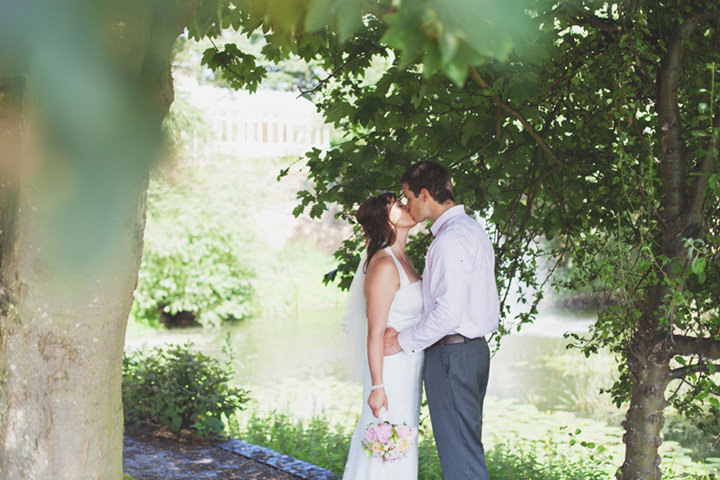 Entertainment
For entertainment during the day for our guests we had garden games including swingball, giant jenga and Cornhole (an American bean bag toss game). In the evening the entertainment was supplied by The Blue Rinse, a live covers band from Luton. We first saw the band at a friend's wedding back in 2010, they were fantastic and Marc and I said to each other that when we decided to get married we wanted this band at our wedding. We'd also seen them twice in March this year at other weddings. Those couples had also been at the same wedding back in 2010!
Buy or DIY your Stationery?
The invitations and inserts, place cards and table numbers were all self-designed and hand made by my mum and I. My mum is really into card making and craftwork so I think she enjoyed it but for me the main motivation was achieving the personal touch. It was very time consuming but the end result was stationary that was completely unique and exactly what I wanted. It also saved us a lot of money!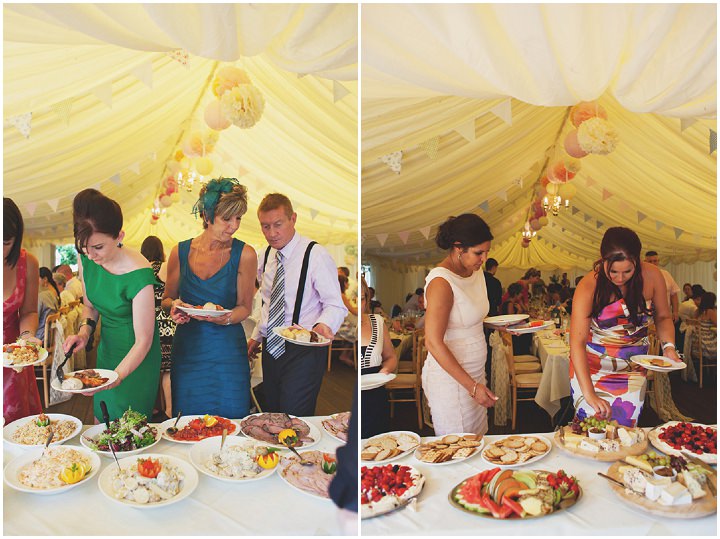 Personal or handmade touches
• Invitations and inserts
• Table placecards and numbers
• Donation info cards – in place of traditional wedding favours we decided to make a contribution to two organisations in honour of family members and created cards to tell the story of these individuals and how the organisations support them and others
• Card box – I bought an old leather suitcase from an antique shop and decorated it with lace
• Mirrors for table plans – I originally bought a mirror from an antique shop I intended to write the table plan on with chalk pen, then realised it was too small! It was Marc that made the suggestion to use three mirrors, one for each table, which looked fantastic and we set them up near the entrance to the marquee and created a bit of a feature
• Something old – locket given to me by my late nan with pictures of both my nans inside which was attached to the handle of my bouquet
• Something blue – wedding date stitched into hem of my dress
• Jug with flowers for decoration on registrars table – belongs to my mum and given to her by her mum
• Pom poms – lovingly homemade, mainly by my mum
• Sweet jars/dishes for sweet table which were collected, bought and borrowed from various places and people
• Labels for sweet jars and ribbons for scoops
• Garden games – we wanted something fun for the adults and the children to do during any lulls in the day
• Personal message cards for guest book – similar style to invitation design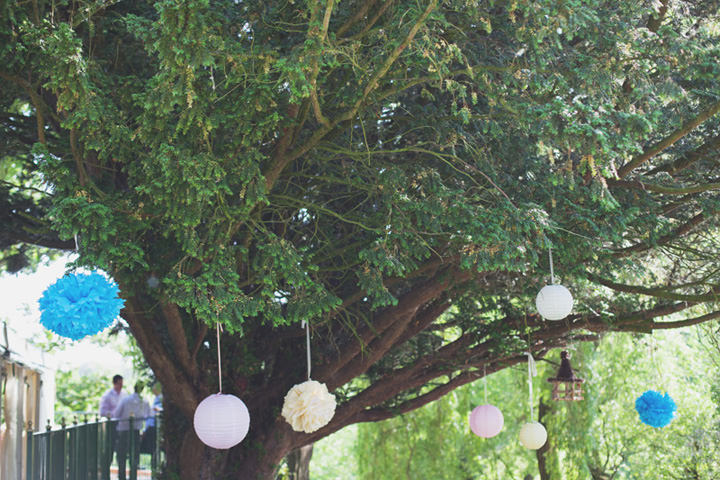 Special moments
Seeing Marc waiting for me at the bottom of the aisle, the speeches, seeing the whole day come together and people relaxing and enjoying themselves and the weather which enabled us to use the venue and grounds as we had hoped.
Biggest surprise
Our beautiful cake, I knew it was going to be amazing but it exceeded all hopes and expectations. Each and every flower on the cake was made of sugar, by hand, by Priscilla and must have taken hours and hours of work. I still look at pictures of the cake and think wow, it tasted great too!
Advice for other couples
Do your day your way and don't worry or stress about the small things, of course everyone wants the day to be perfect but once the key things are organised the small things aren't going to matter on the day.

Supplier Shout Outs:
For more information on Maureen's work go to
http://www.maureendupreez.com
[email protected]
07902 593 832
FACEBOOK
@MaureenDuPreez_
'I offer beautiful, natural & creative wedding photography for couples planning a laid-back yet meaningful day filled with love. My home base is Glasgow but I also have a base in London & travel all across the UK for weddings.'