Today it's inspiration Friday and I am delighted to bring you the Terry Fox Spring/Summer 2011 Couture Bridal Collection.
I have built up a great relationship with the Terry Fox design house over the last few months, both on twitter, facebook and on email. So I was honoured when they asked if I would like to post the new collection…and I jumped at the opportunity.
The press office has sent me over a whole host of stuff to share with you…………….
Acclaimed Bridal Couturier,
Terry Fox
debuts her Spring Summer 2011 collection, presenting 12 stunning unique designs for the style conscious bride.



Unique in both design and execution a Terry Fox dress is a thing of technical beauty, each dress is masterly constructed utilising the secrets of corsetry to create the perfect feminine silhouette. Smoothing and scuplting tummies, bottoms and hips to give any women the confidence to truly shine on her wedding day.
With Terry's eye for detail and perfection each dress has been lovingly handmade using only the finest tulle, chiffon and duchesse satin in pure silk with embellishments of vintage pearls and crystals.
All dresses are made to order with additional accessories and bridesmaid dress on offer.
'The collection encompasses a new direction for the Bridal designer to the stars. While maintaining her signature avant-garde style, Terry has incorporated vintage design influences, taking inspirations from Madeleine Vionnet-style fabric draping, Mad Men skirts and glamorous swing jackets, all in luxurious white chocolate-inspired shades.'
Galaxy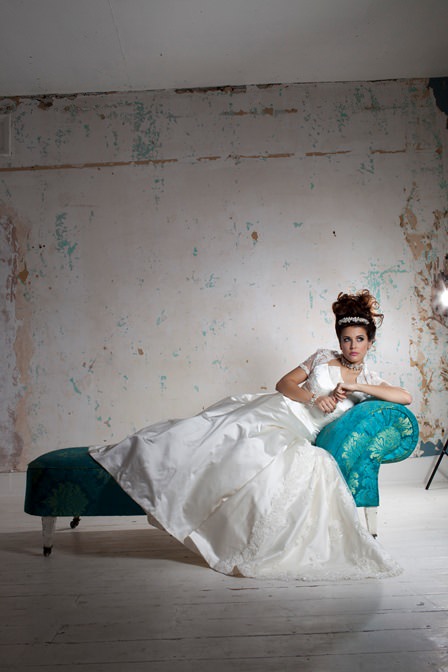 Grace

Terry Fox has been designing and making clothes all her life!! "Well, certainly for over 30 years.
My Egyptian Grandmother started me off I guess, but my first commercial attempts at fashion designs were for girls at my school – for their dolls that is!! I used to design and make clothes, and package them as rofessionally as I could. I pretended that my aunt worked at the factory which made the dolls and got them cheap!! I was selling these designer doll outfits when I was only 9 years old!! And of course, I used to design and make my own clothes as a teenager, purely because it was the only way to afford the trendiest outfits."
After college she rented some space in a shop to sell a few of her designs, but soon realised she had plenty more to learn, so took off to London and began her training in earnest, working with such luminaries as
Belville Sassoon, The Emmanuels and Zandra Rhodes. It was daunting but invaluable.
"Everybody's hyper and it's not an easy industry to work in but I went there purely with the desire to learn. And learn, I did. When I worked with Zandra Rhodes it was madness, but a gift as well."
Oscar with coat
Oscar

Terry spent three years paying her dues as a humble backroom machinist before launching her own label and whilst still a new designer she was brave enough to approach the buyer at Harrods. I was so terrified that I couldn't even open my portfolio and she had to do it for me… but I got an order!"

Then one evening she went along to an event at Liberty's and simply went up to one of the girls and announced that she would really like to get involved with them. With that she found herself  setting up a sewing school in Liberty's where you would find her holding forth, working in a room behind the fabric department doing a range of courses including The Inside Secrets and The boned Bodice.

"When we did One-Day or short courses on professional finishes, you wouldn't believe the people who came along – we got designers and people in the fashion business as well as home dress makers."

For many years, Terry also ran workshops teaching 'The Inside Secrets of How to make the Outsides Work' to thousands of students. Her company 'The English Couture Company' enjoyed massive success, and Terry worked all over the world teaching at her workshops. The company was sold and franchised, and still continues very successfully. Terry continued to teach as a couture design specialist and became the 'darling girl' of Husqvarna sewing machines, and this took Terry's techniques and insider-secrets all over Europe, USA and the UK.
Bellini
Sheer Drop

Corsetry I love!! To see the total control, and engineering of fabric, then to make a women feel the most desired being on the planet – And of course, what other garment reduce your waist by 4"? Corsetry is GENIOUS!!"

Terry always tries to incorporate as many of the client's ideas as possible into her designs, and as  everything is made in her own workroom. "All our clients enjoy a relaxing and fun time trying on at the studio, and they all comment on how enjoyable the experience is. Appointments are allowed to flow, with no time pressure, and our clients may try on as many dresses as they wish." "We recently moved into a much larger showroom and studios, with wonderful vaulted ceilings and skylights offering loads of naturally

sunlit space to appreciate the dresses in. The showroom also boasts huge mirrors, a stage and even a mini-catwalk!! It's true to say that our Brides really make an entrance when trying-on!!" Who is your muse or who do you have in mind when you are designing? "I love women who are individual – Dita Von Teese, Jane Goldman, Gwen Stefani – they all have an inherent style. They don't need to be told what to wear; they know what is right for them.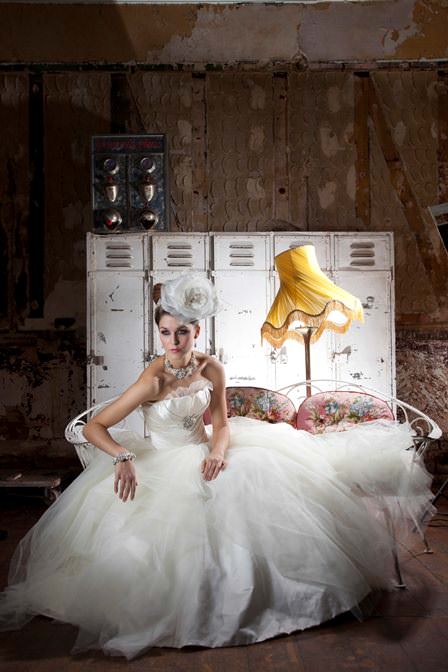 Fan Tutti
Eyes Wie Open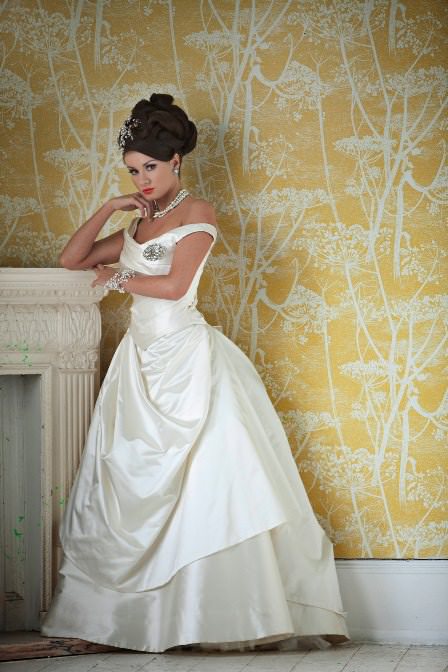 Naughty Lucy

My clients are often professional, self-assured, sexy women of all age groups. Let's face it, most of the time success comes with age. These sort of clients start off by advising me what they want, yet by the time we're finished, they say 'Just get on with it, do what you do want, I know it will be fantastic", And I won't stop until it is!"

Terry mainly works with all types of silk, but she's big on infrastructure! "I build skeletons in my designs – you may call it interlining or underpinnings. Basically I don't mind what the fabric is or what it's character is going to make it do – I control it from underneath. I always say dress fabrics are like wallpapers, they won't stay up without the walls."

Terry's enthusiastic and down to earth approach to fashion created a fantastic opportunity for her,  presenting an eighteen part BBC television series entitled 'Wear It Well'. Her book 'Terry Fox Fashion

Collection', appearances on 'The Clothes Show', a range of videos and magazine articles were soon to follow.

Corsets start at £500, and dresses from £1,500 to £10,000. One of the 'big numbers' would typically cost £3500 with full embellishment etc. Prices vary according to the choices made by my clients regarding
What Katie Did Next
Firebird
Gl'Amour
Twinkle Twinkle Little Star

Thank you so much to the team at Terry Fox for sharing these amazing images with me.

Full credits:
Images by Adam Alex Photography www.adamalexphotography.com
Hair/MakeUp by Silhouette Du Barry Silhouette Du Barry (01245 257137)
Models from Sue Salmon at Modelplan (07775 683 955) / Stephanie Walton at Wise Buddah (07714 099 363)
Jewellery Magpie Vintage

For further information on the collection
please visit www.terryfox.co.uk
or call 01284 752191