Wedding fair season is in full swing, I have been busy exhibiting myslef  But next weekend I am pleased to be a visitor not an exhibitor at the first designer Vintage Bridal show
The Designer Vintage Bridal Show, takes place at Birmingham's Highbury Hall on the 19th and 20th February and has signed up a host of the hottest designers and  suppliers of vintage inspired products and services for that bride-to-be looking for something a little different.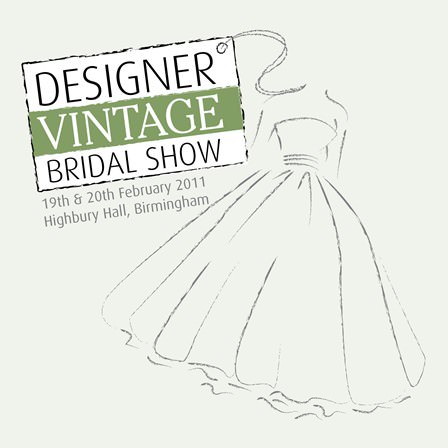 Highbury Hall, an impressive Victorian house, plays host to the 2-day event where guests can wander through an explosion of eras, each area dedicated to a decade of style, oozing with treasures and must-haves for the vintage loving bride-to-be.
From designer gowns to boudoir style underwear, from head to toe, from brand new to vintage originals, from fashion shows to afternoon tea and all nicely wrapped up with entertainment and a chance to meet and talk to the experts.
So What's On at the Show?
If you were thinking of just 'popping in' to the Designer Vintage Bridal Show, then we would like to politely ask you to THINK AGAIN!
Two days absolutely jam packed with the most amazing designers and wedding suppliers might be enough for some, but spread deliciously across each day is a smörgåsbord of entertainment to not only give you some fantastic ideas on how to plan your big day, but to generally keep your feet tapping, your tummies full and your eyes popping with so many delights to frazzle your senses, we'll be escorting you from the premises after last orders!
Designer Fashion Show in the Drawing Room. At 12noon, 2pm and 4pm each day, come and feast your eyes on a different show each time with feature gowns and accessories taken from a selection of our exhibitors.
Tea Parlour in the Main Hall. Hosted by The Boutique Baking Company & Vintage Frocks 'n' Crocks, put up your feet and put aside your pre-wedding diet whilst you relax over a sumptuous afternoon tea served in original vintage crockery.
Tea Dance in the Drawing Room. Hosted by The Sugarfoot Stomp DJs, release those inhibitions and let down your hair, while you dance away to music from across the decades. Test out your dancing feet and ready yourself for your first vintage inspired bride and groom dance.
Gown Heaven in Miss Hilda's Boudoir– lose yourself amongst the divine dresses from designers including Jenny Packham.
Speakeasy in the Dorothy Lloyd Room. Music by It's a Wind Up. Unwind in our vintage chill out zone and meet some amazing experts over a cocktail.
With stylist makeovers courtesy of Emily-Jayne in the North Wing throughout the day and music on the Landing courtesy of the Nero String Quartet, we can't wait to welcome you to the Designer Vintage Bridal Show!
Opening Times:
Saturday 19th February – 10am to 6pm
Sunday 20th February – 10am to 5pm
Fashion Show times – 12pm, 2pm & 4pm both days
I'm going to visit on the Sunday and I'm very excited as a few of my friends are going to be there:
Meet and talk to the wedding bloggers themsleves Kat from Rock n Roll Bride and Annabel from Love My Dress
Also meet some amazing vintage suppliers: my good friends Lucy from Lucy Ledger Designs and Debbie from Debbie Carlisle Bouquets as well as Emma Case Photography Steve Gerrard Photography and Rachel Simpson Shoes and The wedding club.
Other exhibitors include:
Vintage Frocks 'n' Crocks,  Jenny Packham, Lindsay Fleming Couture,  Tobi Hannah, Kate Edmonson, Laurel Lime, Terry Terry, Ragged Rose,  Sharper Millinery,  HT Headwear,  Gabrielle Louise,  Bonne Fete, Passion for flowers,  The Wedding of my Dreams, Vintage Glamour Days, James Crockford Photography,  AE Photography, Liezl Croft Photography, I AM ANNA, Abigail Hall Interior Styling,  Little A Florist,  Helena Sinclair Hair Styling,  A Vintage Affair Ltd,  Boutique Baking Company, Sugarfoot Stomp DJs.
To get your tickets CLICK HERE
and for full information go to: www.designervintagebridal.co.uk
Do let me know if you plan to go visit on Sunday as I would love to meet up with as many people as possible while I'm there…….see you next Sunday
Due to an email issue if you have emailed me between the 2nd & 9th of December, please resend it.
X