yesterday I brought you a beautiful wedding (Click HERE to view) from a fabulous Photographer Sassy from Assassynation.  Today is part 2 of the Assassynation special as she has been kind enough to answer a few questions for me.
I love Sassy's work and I also love the unconventional couples she gets to tack pictures of! her weddings are truly stunning! I am also rather excited as Sassy will be tacking my picture on 5th March for a little photography project that we have been working on with her sister in law Vikki from Liliia
So here is everything you wanted to know about this lovely lady.
Name and company name:
Sassy from Assassynation Photography
Intro/Bio:
Fun & funky photography specialising in unconventional weddings.
How long have you been taking photos for?
I have been taking photographs seriously for a year and a half but I have always loved art and photography
How would you describe your style?
I would say that my style is natural but fun.  I love any weddings that are that bit different!
What made you get into wedding photography?
I really got in to wedding photography because I wanted to provide beautiful photographs with a difference after I had a bad experience with my wedding photographs
Where are you based?
The Cotswolds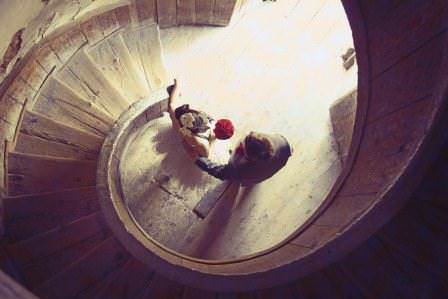 How far will you travel for a wedding?
Worldwide….seriously anywhere.  Last year I photographed weddings stretching from the Isle of Wight right up to Edinburgh!
How long do you normally spend at a wedding?
It really depends on my customers requirements but I have been known to be at a wedding for 12 hours!
What is your favorite bit of technical kit?
I totally love my prime lens, it looks basic but it takes some fantastic pictures!
What is it about wedding photography that you love?
I love couples in love, I think it's such a special thing being part of some ones big day and such an honour to be chosen to photograph the days events.
What sort of couple would be your ideal couple to photograph?
I love customers who are true to their own style and don't compromise. There is nothing quite like couples who really know their own mind.
What celeb would you like to photograph?
Kat Von D…..or Dita Von Teese (hmmm how odd they both have von in the middle).  I just think they are both beautiful but in very different ways!
Who is your favorite photographer and why?
I love Al Overdrive, his tattoo photography is fantastic…I just love it
Who took the pictures at your wedding?
Unfortunately when I got married I hired a friend and whilst he did his best he didn't capture it as well as I would have liked.  It was totally my fault.  When I renew my vows I will not make the same mistake and will put a chunk of my budget aside to have someone like Allebach Photography from the States
What are you plans for the next 2 years?
In the next couple of years I would like to have a few more projects for me.  Fun shoots to show off my imagination.  Of course I will still be looking for plenty of really cool weddings to shoot.  I actually don't do this full time so my biggest aim is to go full time so that I can do this and still have the odd day off
What in your opinion makes the perfect photo?
Wow that's a tough question.  In my opinion the perfect photo captures a moment without looking posed
What is your biggest achievement so far within your photography?
My biggest achievement so far was shooting the wedding of the famous portrait artist Stuart Pearson Wright.  It was the biggest wedding I had shot and included famous guests such as John Hurt!  He was so pleased with the images he has offered to paint a portrait as a token of his gratitude….I was blown away!
What sort of other photography do you do apart from weddings?
My main work is weddings but aside from this I do Trash/Cherish the Dress shoots, portraits, and fashion shoots including work for dress designer Liliia and Tiara maker Tiararama.
What advice would you give couples when choosing their wedding photographer?
The best advice I could give is look at plenty of pictures and make sure that you like that photographers style.  Make sure that you gel with the photographer, they will be with you on the day longer than most of your guests and it's important that you can be yourselves around them.
What is your favorite photo that you have taken?
It's really hard to choose a favourite photo because I like different photo's for different reasons.  I recently took one of my new niece Grace, she had just had a bath and was chewing on her rubber duck, it was just a quick snap but I just love it…..I don't often have time to take photos of the people I love!
Tell us something about yourself that we may not know, non work related
Hmmmm tricky! I love cars and once was lucky enough to work as a checkpoint girl on the Cannonball Run….it was awesome!
What do you really love? And what do you really hate?
I really love cars, cats, tattoo's and of course my husband.  I really hate any form of prejudice and narrow minded people
Thanks so much to Sassy for answering my questions. More details about our future photography project will be coming up on the blog soon.
www.assassynation.co.uk
FACEBOOK
[email protected]
07968948114