I have another Tipi wedding for you today, the third of the week which goes to show just how popular they are these days! This time it's Jojo and Tim who chose to get married over the whole weekend and decided on an amazing venue in Pembrokeshire. The venue did a wonderful job at not only providing a stunning location, but the whole weekend's catering, the flowers and the accommodation. Jojo and Tim made the weekend as special as they could for the guests by arranging the food, welcome bags full of essential weekend survival items as well as organising activities for the guests to take part in. With a peacock theme the vivid blue colour gives off a vibrant detailing throughout the wedding décor. Throw in a load of personal touches and this wedding is just gorgeous! Thanks to Andy Squires for the photos.
'It was the most loving and caring environment we have ever experienced, like being enveloped in a warm hug. The whole weekend had a relaxed flow about it which it's difficult to put into words.'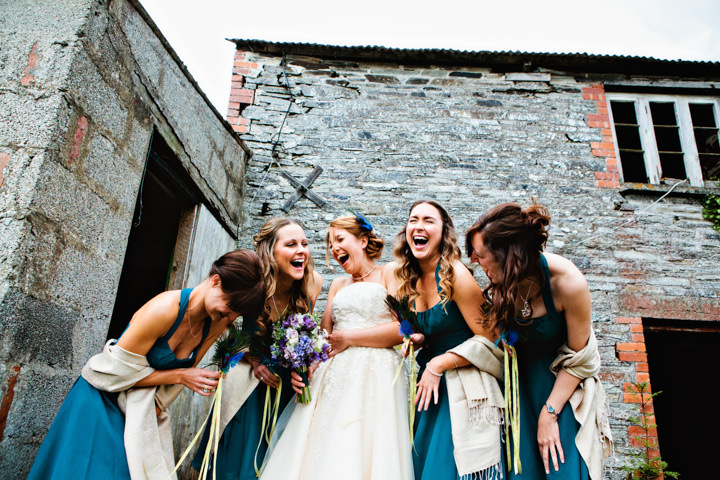 Jojo and Tim were married in two ceremonies and receptions over 17-19th May at Fforest Farm, Cardigan, Pembrokeshire, Wales. 'We both wanted a wedding that represented our love of the outdoors, so hunted around the country for venues that would allow us to host a weekend in the countryside. Pembrokeshire was meaningful for us because we got engaged down the road at St David's bay. Fforest Farm itself is a really beautiful place and we fell in love with it as soon as we walked in. They do a lot of weddings so they understood what we needed and made it easy for us. For example they have lovely indoor spaces in case the weather turns bad and do all their own catering onsite with locally sourced ingredients. We had 94 guests in the end, including children and babies. We booked the venue in May 2012, so that was the first big decision and the rest fell into place after that. We decided to have a humanist celebration in the outside teepee which meant that we had to have a separate legal ceremony. We did this in London so that some of our less mobile family could be there. This meant that we ended up with two ceremonies and receptions to organise. It took up most of our weekends for about couple of months before but it was worth it because we created exactly what we wanted.'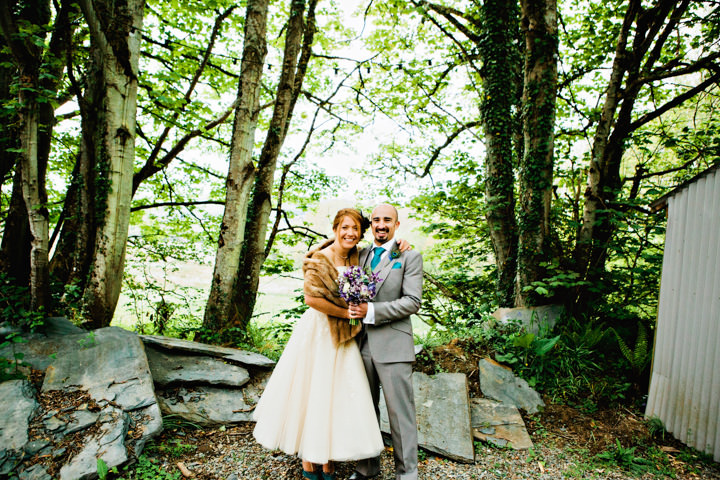 How they met
We met at university on a rock climbing trip to Cornwall in the year 2000, and got married on the 13 year anniversary of when we met.
The proposal
We were walking on New Year's day on the Pembrokeshire coastline. We'd climbed to the top of a hill to get a view of the bay. The weather was wild; on the way up we'd had to shelter in a cave from hailstones, and the wind was blowing a gale. When we got to the top the sun suddenly came out and there was a rainbow, and wild white horses galloping across the plain. It was the perfect moment to propose, so Tim spontaneously popped the question.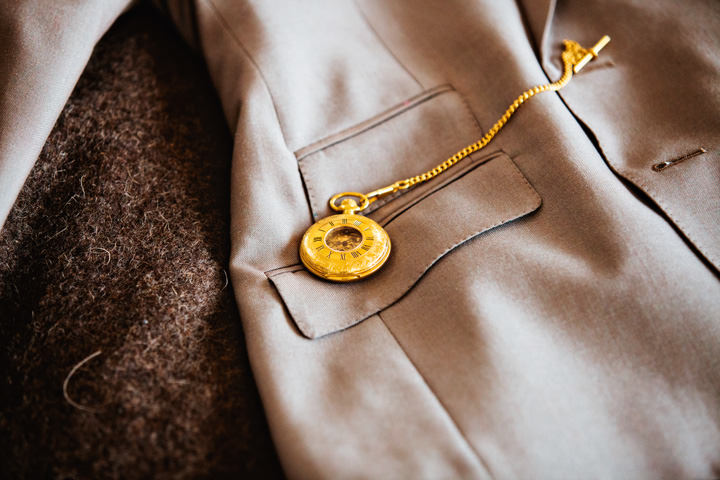 How did you allocate your budget?
In the end approximately 30% went on venue hire, 30% on catering, 20% booze and entertainment, and 20% everything else (photographer, outfits, celebrants etc).
Why did you choose your photographer?
We choose Andy because we really liked his photos, both the subject matter and the processing style. We wanted a reportage style photographer and of all the portfolios we looked at, Andy seemed to have the most life in his pictures. He achieves the perfect balance of arty, beautiful shots and capturing the emotion of the occasion.
The dress
The dress was by True Bride. It took a long time to find as there isn't a lot of choice in the short dress market, so Jojo was delighted when she finally found a whole shop which specialised in them (Cutting Edge Brides in Bexley). The shoes were from a vintage shop in the US, and the peacock feather hairpiece from Etsy. The faux-fur wrap was a present from Jojo's Granddad to her Nan in the 1940s.
The suit and bridesmaids
Tim's suit was made bespoke by Brighton-based tailor Gresham Blake. The bridesmaids' dresses were from a shop on ebay and their wraps were from Coast.
Theme or colour scheme
The inspiration for the colour theme was peacock feathers, as they are so dramatic and fitted in well with the natural environment. We had peacock feathers in the bouquets and button holes, and the two colours we chose to go with that were gold and teal.
Flowers
Fforest did a great job of using the wild flowers that were growing around the site to decorate the venue. Our families also bought some extra seasonal flowers and we arranged these in lots of mismatched vases and jugs which created a very rustic feel.
The bouquet was arranged by a florist near our house in London: Scarlet and Violet. They make beautiful arrangements.
Decoration
We bought a large amount of fairy lights and teal bunting to decorate the roof of the barn with. It looked really atmospheric after it got dark in the evening. We decorated the giant tepee very simply with teal and champagne organza tied in to large bows and hung from the wooden uprights. We hung small vases with wild flowers on the ends of all the rows.
Food
The food was incredible, even more so because there were so many meals to cater for and the chefs did a fantastic job of every one. On Friday night as the guests arrived there was freshly baked wood-fired pizza and soup, and afterwards we toasted marshmallows around the fire. On Saturday morning there was a healthy breakfast of fruit, yoghurt, cereal, fresh bread and homemade preserves. The wedding breakfast was a tea party with sandwiches, delicious cupcakes and meringues. On Saturday night there was a hog roast with fresh salads. On Sunday morning we had a huge BBQ brunch with mouth-watering organic bacon and sausages.
Entertainment
For early evening we had a local ceilidh band that Fforest had recommended. They were great fun and the first dance was a freestyle 'jig'. Everyone couldn't wait to join in and it got pretty rough and tumble for a while. After the band finished we had two DJ friends play tunes late into the evening. The police came and shut us down in the end!
Personal or handmade touches
• We were conscious that most people had come a long way to be at the wedding, so we decided to give them a surprise when they arrived. We made each person a personal "wedding survival kit" which was waiting for them in their tent. We printed up some little turquoise tote bags and inside put everything they needed for a good camping weekend – a mini keyring torch, rain poncho, suncream, shower gel, homemade flapjack, handwarmers, a sachet of Alka Seltzer, and a postcard with a personal message saying how glad we were that they'd made it. It worked wonders to eliminate the post-M4 travel blues.
• We wanted it to feel like a proper mini holiday so on the morning of the wedding itself we organised a trip for anyone who wanted to go sea kayaking. It was a beautiful sunny day and a group of guests went out with some local guides. They had a magical time playing in the surf and exploring the local coastline.
• Another thing that worked really well was instead of having a guest book, we printed out individual message cards that we placed on everyone's seat before the ceremony. We asked guests to fill the cards in and hang them with a little peg on a string that we had set up around the barn. Later in the evening people could move around the room and read them. We collected them all up at the end of the weekend and have bound them in to a small book. It means we have a message from everyone and a custom book with no blank pages.
• We didn't really want a cake but Jojo's mum decided to surprise us by creating an unusual cake made of 300 cake balls each individually wrapped in tissue paper in peacock feather colours. Rather than cutting the cake we fed each other cake balls which got quite messy. Then we threw them out to all our guests which turned into a big game of "catch the cake" and was a lot of fun.
Special moments or highlights
The most special part was the wedding ceremony itself. Our humanist celebrant worked with us to write it, so it was all in our own words rather than from a standard service. This made it very personal and emotional. A few couples said that by being in the ceremony they felt like they had renewed their own vows.
Biggest surprise
The biggest surprise of the day was when Jojo's uncle got up unexpectedly and read a very funny poem for us both which he'd written himself. It was really special. Another surprise that went down really well was the raffle that the MC organised with a collection of silly prizes, including a love making kit, a signed photo of the bride and groom, and a very fashionable pink trilby and matching pants combo.
Advice for other couples
Although it felt a bit control-freaky at the time, we were glad that we'd created a plan for the whole weekend with timings and printed it out for the staff, the ushers and the bridesmaids. It helped things to run smoothly and meant everyone knew where they had to be. It really helped that the lodge at Fforest had a blackboard outside with the plan for the weekend, so guests could see the timings in black and white.
Having said that, it's good to accept in advance that things won't go to plan. We ended up running behind schedule but it didn't matter at all. What's important is that you're getting married, not whether the band starts on time. You have to remember that no-one else cares about the plan, they're just there to have fun.
A good bit of advice is to let other people help you. One of the things that made the day special was that lots of people had been involved in different bits of it, from decorating to DJing. The surprising thing was that giving people a part to play actually made them enjoy the wedding more rather than less as they felt like they were part of it.
For more information on Andrew's work to go:
www.andrewjrsquires.com
www.andrewjrsquires.com/Blog/Latest.html
FACEBOOK
@andysquires

[jprel]