Happy Monday everyone, I do hope you all had a wonderful fun-filled weekend? What did you get up to? Was it a relaxing one or a full on hectic one? Mine was a bit of both really. Work mixed in with shopping, meeting up with friends and spending time with my wonderful family. Now I'm ready for the week ahead and I have so much planned for you. I'm starting off with this gorgeous elegant blush pink themed wedding from the gorgeous Pembrokeshire coast line. Holly and James were lucky enough to hold their reception on his parents' land as they own a farm and they picked a stunning spot overlooking the coastline, which leant to some quite amazing photos. Big thanks to Hannah Miles Photography for the fabulous photos.
The most perfect day of our lives, surrounded by all of our loved ones. A day filled with love and laughter
Holly and James were married on 5th August 2017, the ceremony at Albany Church, Haverfordwest, Pembrokeshire and the reception in a Marquee at Musselwick Farm, Marloes, Pembrokeshire. 'We got married in the Albany Church as this was the church where all of my (Holly's) family celebrations have been; family weddings, my christening and it is also where I went to Sunday school when I was a child so it only seemed right to get married in this church. We were lucky enough to be able to have our marquee reception on James' Dad and Step-Mum's farm, right on the coastline of Pembrokeshire. They have over 200 acres of land so when we were deciding about where exactly to position the marquee, we knew we had to choose the best spot to really make the most of the stunning scenery. We had165 guests in the day and about another 100 in the evening. We got engaged on New Year's Day in 2016 but we didn't get planning straight away so I would say about just over a year we took to plan everything.'
How they met
We met in secondary school when I was 14 and James was 16 and have been together ever since. It was our 15th anniversary on our wedding day.
The proposal
James surprised me on Christmas day with a skiing holiday to Lake Louise in Canada. I was none the wiser and didn't even think he was taking me there to propose, I assumed it was just going to be a great skiing holiday, as we both love to ski. On New Year's Eve he tried to propose just after midnight on the frozen lake by an ice castle, however things didn't quite go to plan. I was in heels and wouldn't step onto the ice as I thought I would fall, although not knowing what he was actually trying to do. I refused as I said it was too dangerous. So then on New Year's Day we went for a walk around the frozen lake and it was just as we were right in the middle, he got down on one knee and proposed. I was totally in shock and didn't suspect a thing. He actually filmed it all on the Gopro and created an incredible video of our skiing trip and the proposal, which he later put up on YouTube.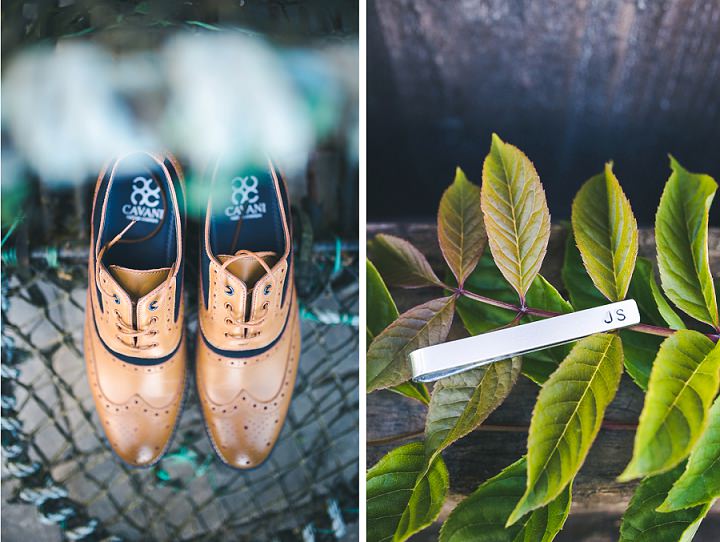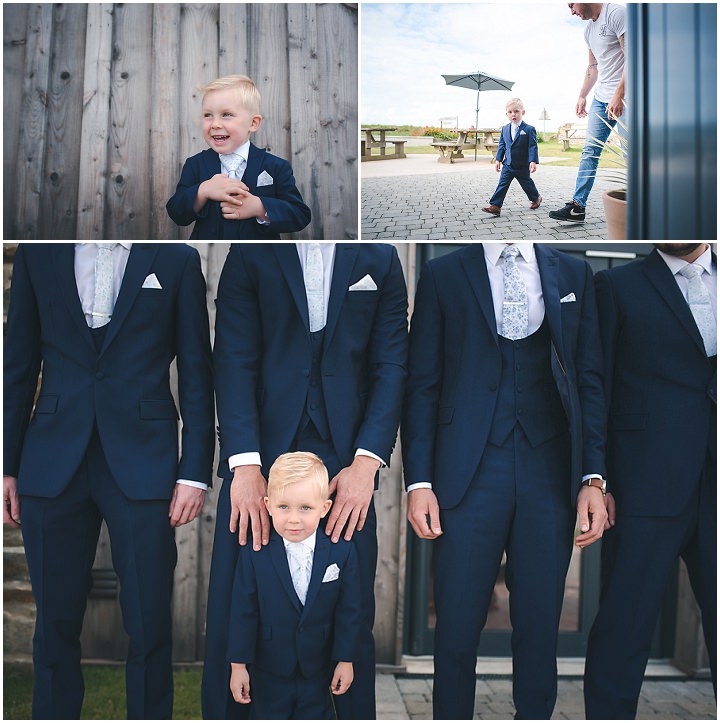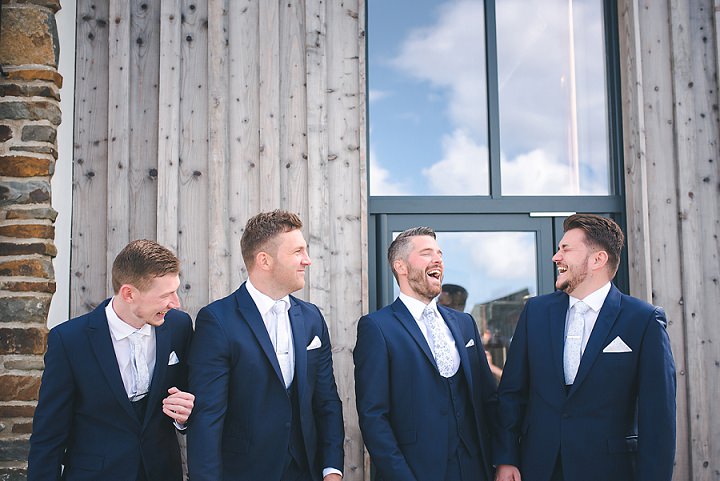 How did you allocate your budget?
We thought that location and food are probably the two main essentials when it comes to a good wedding so we ensured we had a great marquee and the best caterer. So this is where the majority of our budget went. I did a lot of researching when it came to choosing our suppliers to make sure I chose the best but at a reasonable price. I got to know the going rates for certain things so made sure I didn't over/under spend. I also made sure we allocated a good amount of our budget for photography and videography, as I wanted to ensure we had the best memories to look back on from our day.
Where did you splurge and where did you save?
I splurged on buying a pair of Jimmy Choos to wear on the day and I'm so glad I did, as I love them and have worn them again since. We also splurged on an incredible honeymoon to the Maldives, as we've both always wanted to go there so it was a holiday we'll never forget. We saved on so many things by having such generous friends and family who helped us out with the finer details. For example my cousin's husband co-owns a slate centre so they supplied us with the slate which we used for the place names and was something our guests could take home. James' aunty is an investor in a local chocolate company so they kindly supplied us with luxury handmade truffles for our favours. One of my good friends is a hairdresser who styled my bridesmaid's hair fabulously. Also I had award winning and professional hairdresser Andrew Barton style my hair for me and James also had Cinta Miller, a celebrity hair stylist cut and style his hair on the day.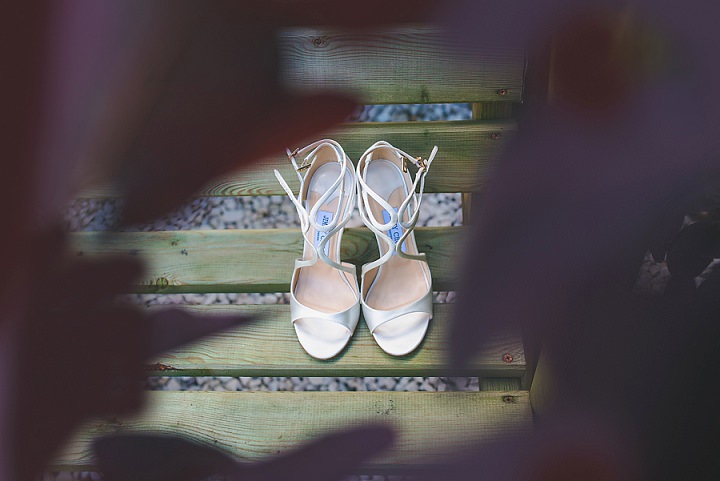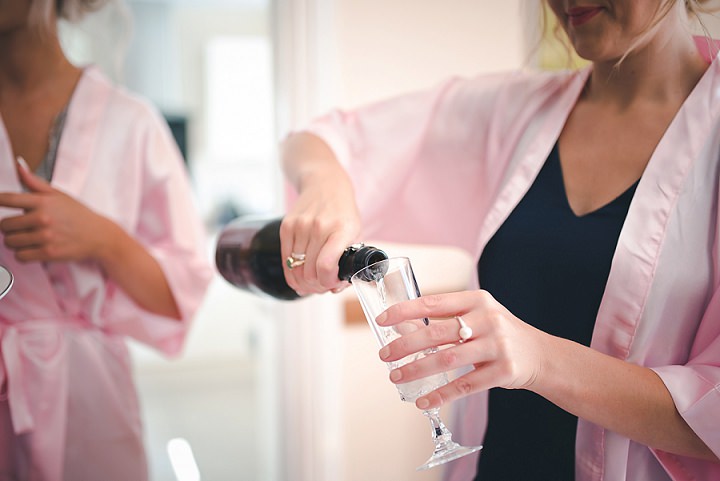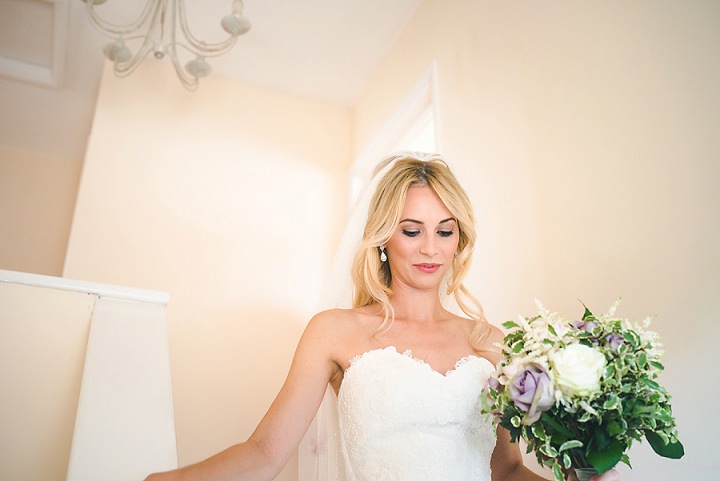 How did you choose your photographer?
We chose Hannah Miles Photography as we knew of Hannah from living in Pembrokeshire and had heard of how amazing her work was. It was from the moment we met with Hannah, we started to chat and saw some of her work, that we knew she was the photographer for us. We wanted someone who was professional, creative but also relaxed and Hannah was just that so she suited us perfectly. Hannah is an incredible photographer but not only that, is such a lovely person and so easy to get along with, which made us feel at ease throughout the whole day.
The dress
My bridal dress was by Enzoani and was called 'Kendall'. I bought it from Laura May Bridal in Cardiff. My veil was Augusta Jones and was also from Laura May Bridal. I wore crystal drop earrings by Liberty in Love, a diamond bracelet from Haulfryn Jewellers and our wedding rings were custom made in The Diamond Centre Wales. My shoes were Jimmy Choo.
The suit and bridesmaids
James' and his best men and ushers suits were from Dyfed Menswear. The bridesmaid's dresses were Asos Wedding Collection.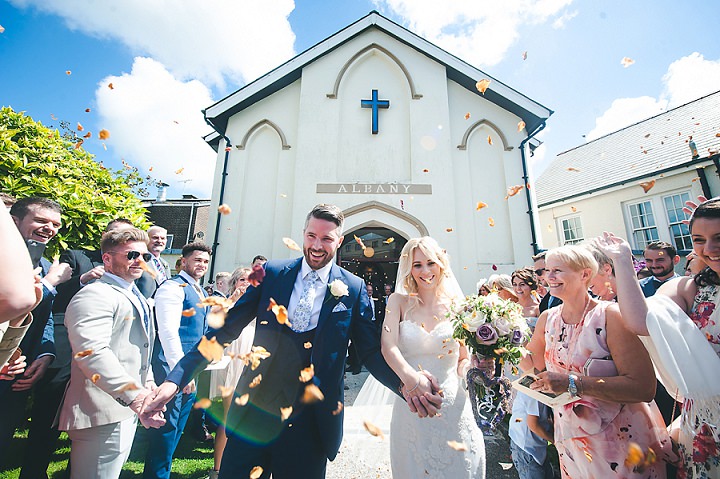 Theme or colour scheme 
We didn't really have a specific theme but I knew I wanted a romantic and relaxed feel, which I think was the vibe throughout the whole day. The colour scheme was blush pink and cream, as blush pink was the colour of my bridesmaid's dresses and I had cream and blush pink/purple flowers throughout.
Flowers 
I had cream, blush pink and amnesia roses, cream astilbe and foliage for my bouquet, similar for my bridesmaid's bouquets but they had gyp, a single blush pink rose for the buttonholes, eucalyptus, white hydrangeas, white stock, pink astilbe, roses and foliage for the table centre pieces. We also had a gorgeous flower arrangement around our table plan, which had similar flowers and foliage.
Decoration
I didn't go overboard with decorations, as I like a simple and elegant style. So we had fairy lights decorated all around the marquee, also wrapped around a pallet with photos of us both throughout the years. We had little details such as wooden hearts on the tables with our initials and the wedding date inscribed with a wood burning pen. Outside the back of the marquee we used cable drum reels and hay bales for tables and chairs and also a friend of ours set up some outdoor light bulbs draped around this area to create a cosy and chilled vibe in the evening.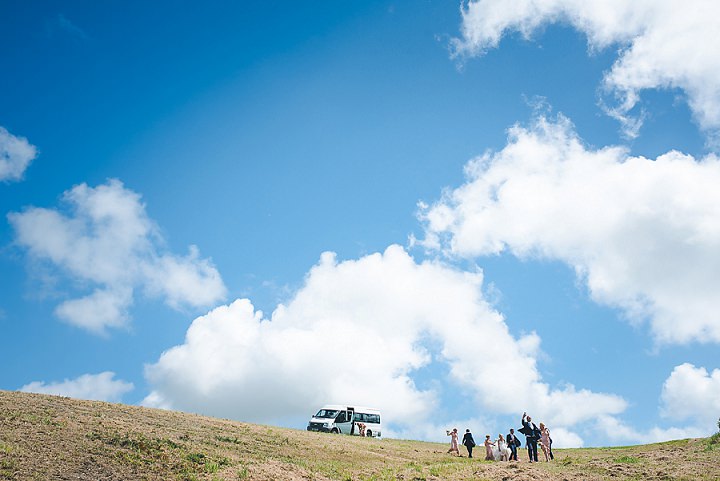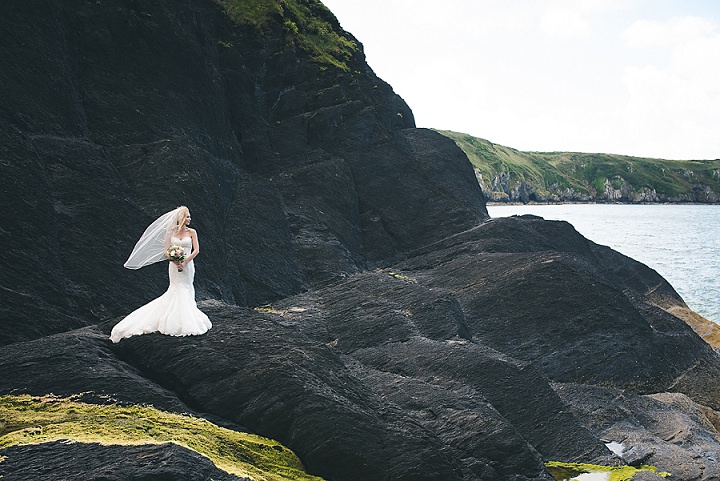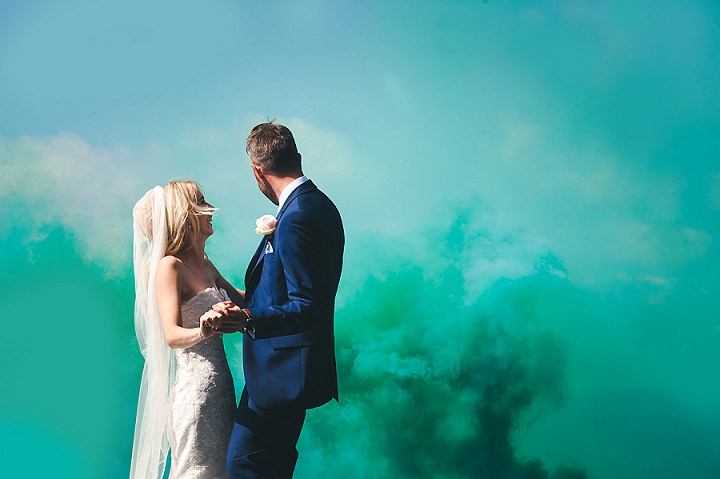 Food
We had a selection of canapés as our starter. For our main we had chicken supreme with basil, lemon, garlic and olive oil and a selection of summer veg. We then had a trio of desserts. We also had a children's table where they had their very own tea party, with a selection of fun but tasty finger food. For our evening food we had a local street food business called 'The Pembrokeshire Beach Food Company'. We had their famous lobster rolls and Café Môr burgers. They served the rolls from their decked out fishing boat, which looked awesome with the coastline view as the backdrop.
Wedding cake
For our cake we had a 3 tier buttercream iced sponge cake, with 3 different flavours. The bottom tier was white chocolate and raspberry, middle tier was lemon and the top tier was chocolate. We also decorated it with small posies of flowers.
Entertainment
We had a fantastic 5 piece band called Honey Fungus, who are well-known throughout Pembrokeshire. They were absolutely brilliant all night, playing a range of styles to suit everyone and the trombone player was a big hit! We also had The Celebration DJ to continue the party until the early hours and he most definitely kept the party alive, as he didn't finish until 4.30am!
We hired a Marryoke booth for the evening, which was a photo booth with all the funny fancy dress items but was also a booth to produce our very own song! We chose Ed Sheeran's 'Castle on the hill' and all of our guests sang along to it, whilst creating a music video. It was fantastic and we're so glad we did, as everyone loved it and had so much fun doing it.
Late on in the evening we also had an amazing firework display, which James' Dad had organised and also sparklers, which James' Mum had got for us. Both were a lovely ending to an incredible day.
Who supplied the stationery?
Our invites were created by RLA Weddings Designs and we had the most perfect ivory laser cut design, with a handtied satin bow. Our place names were supplied by The Slate Centre Ltd and our table plan and order of service cards were made by Cleddau Press Ltd.
Personal touches?
We tried to create as many homemade items as we could to make the day more personal (and also to save money!). As previously mentioned we created our own place names, which were pieces of slate supplied by my cousin's husband. My Mum's cousin and her husband handmade a sign for us we placed this sign in front of our photo wall, which we also created ourselves. A couple of James' friends made by hand our very own L-shaped sofa made out of pallets. We put them outside the back of the marquee for our guests to sit and enjoy the view.
We created our own signs to direct and welcome people to our wedding and also a sign to show our 'love story' as it was 15 years to the day since we first got together.
Our table names were names of countries/places we've travelled to together.
Two of my friend's Mums handmade the confetti from one of their Mother's rose bush. They started making the confetti months and months ahead of schedule and had a whole system going on with drying out the petals. They also divided it up into small boxes with our initials and date on to give out to the guests.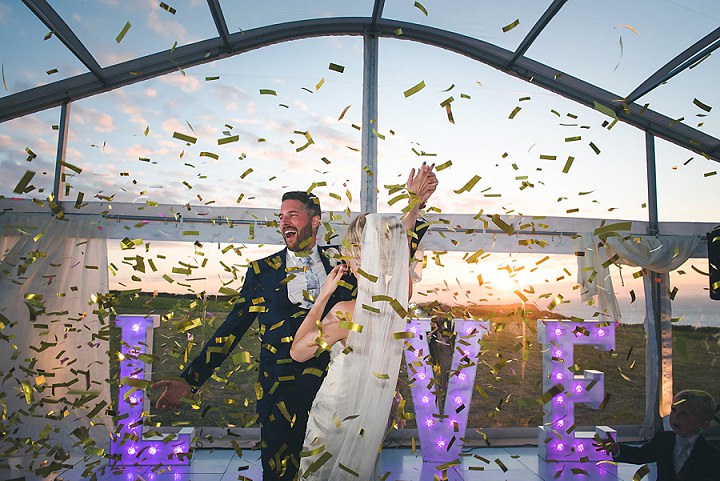 Special moments
A special moment was when James had bought me a stunning diamond bracelet, which he had given to my sister to give to me on the morning of whilst we were getting ready. The funny thing was that my sister had already bought me a bracelet to wear and was exactly the same one. It was a memorable moment as it was such a thoughtful gift and was lovely as me and my sister both wore the bracelets on the day.
Another special moment was when James saw me for the first time as I approached the alter with my Dad. He broke down in tears, which I wasn't expecting at all and it took him a while to compose himself. He and our minister had a bet on as to who would cry first, as James lost the bet! It was such a lovely moment to start off the day with love and laughter.
Advice for other couples 
Time always goes so quickly in the run up to the day so be organised and give yourself plenty of time to plan and don't leave the little things until the last minute.Another bit of advice I would give would be to taste test your chosen food beforehand, as myself, my husband and our parents had an evening where our caterer cooked the meal for us that we would be having on the day.
Try to make as many things as possible yourself, as you will always remember them and it's lovely to have those little personal touches.
You always hear people say the day goes so quickly and some brides and grooms don't actually spend much time together on the day. So a tip for the big day would be to ask your maid of honour or bridesmaids to every so often throughout the day tell you and your husband to take some time away from all of your guests just to enjoy that moment together.
Biggest surprise 
James' older brother who was one of his best men, sang his own version of the song 'Let it go' from the film Frozen during his best man speech. It was absolutely incredible and was hilarious, he had everyone up on their feet, creasing with laughter. It was a surprise we will never forget and every time we hear that song now we think back to that moment.
Supplier Shout Outs
For more information on Hannah's work go to
www.hannahmilesphotography.com / [email protected] / T: 07814625923 / FACEBOOK / INSTAGRAM / TWITTER 
I'm a documentary wedding photographer who loves style and details too. I want to blend in at your wedding capturing it all as it unfolds.