Today's wedding venue really does have the Wow factor! An African themed venue set in Solihull is the location for Lauren and Jaco's wedding and what a location it is! They needed no fancy decoration for this wedding as the venue has it all, palm trees, status and a really relaxed and chilled out vibe, perfect for this laid back couple!  Lauren and Jaco managed to plan the whole wedding on a budget with careful planning, favours from friends and some careful negotiation! Big thanks to Rebecca Goddard for these beautiful photos.
Absolutely amazing, the best day of our lives. Filled with love, laughter, friends, family and celebrations!
Lauren and Jaco were married on the 6th of September at Akamba, Solihull. 'Jaco is from South Africa, the venue was just perfect as it has an African theme. We used to love going there on the weekends to have a drink as it feels like you're on holiday. The atmosphere there is great, it's really chilled out and we loved the sculptures and the fact it feels like you're in the jungle when you are in amongst all the plants. We had approximately 115 guests. We booked Akamba in January 2013, we started planning it properly from about march 2013 onwards, think the African laid back vibes must have rubbed off on us!'
How they met
We have been together for about 4 and a half years now. It's quite embarrassing how we met as it was on Broad Street in Birmingham where neither of us would ever normally go. I was out for a friends birthday and Jaco was out with mates from work. Our eyes did literally lock across the bar (in walkabout). I wondered why Jaco was dressed in shorts and flip flops but later realised the theme of the night was 'beach theme' so that explained a lot. It doesn't explain why he still wears shorts and flip flops well into winter though- that's the South African side in him!
The proposal
Jaco and I were planning to go horse riding which we both love and he wanted to propose on the horse but he realised that he wouldn't be able to get off to get down on one knee! He ended up preparing a picnic for us and we took it to the beach in Ogmore, Wales (near where our family live). I was already suspicious as he never plans things like this. He had written a note in a bottle and wanted to hide it in the sand for me to stumble across but I wanted to sit on the rocks which kind of scuppered his plans. So he hid the bottle in a crevice in the rocks. He couldn't wait long enough for me to find it so he pulled it out from the rocks declaring 'what's this?' I pulled the note out which read 'will you marry me pikkewyne' (Afrikaans for penguin, which is my nick name) then we had champagne and strawberries on the beach!.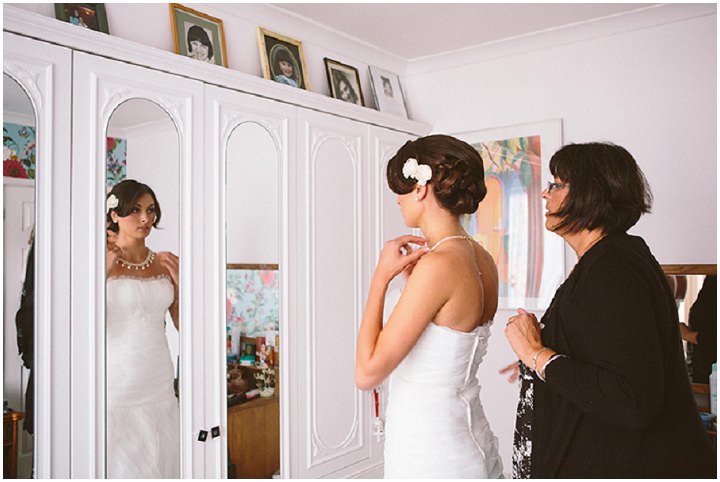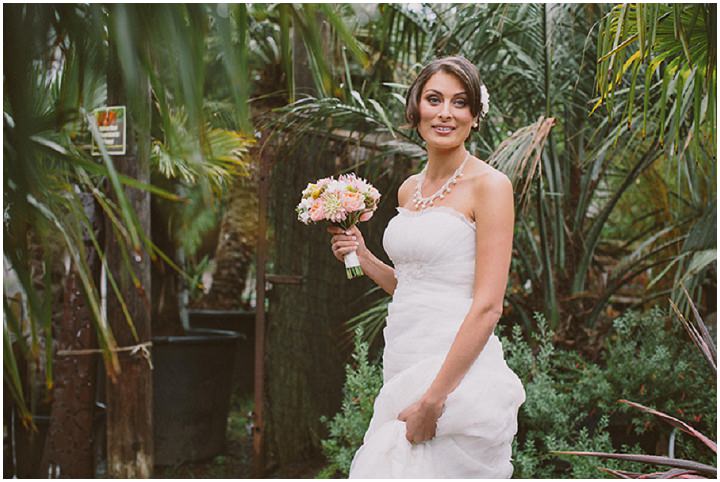 How did you spend your budget?
We didn't' have much at all to spend on the wedding but we just set a realistic budget. The last thing we wanted was starting married life in debt! We saved really hard and I kept a note of everything we spent so I could keep a close eye on what we were spending. We pulled in favours from people too. We had a buffet instead of a sit down meal and we managed to haggle everything down with the venue just by using our charm! It also helped having the wedding on a Friday instead of a Saturday as this knocked a lot off the venue straight away. Part of the condition of using the venue was you had to use their band, luckily they were a great reggae band so we didn't mind, but we haggled them down to about half price. Choosing Akamba helped as we did not have to decorate the place at all so no money was needed for that.
Why did you choose your photographer?
She was recommended through my cousin, I had seen her photos and they were amazing and really trendy- not dowdy traditional shots. We weren't going to have a photographer but it's one of the best things we spent our money on! I love looking through the photo album; she really captured the day beautifully.
The dress
I got my dress online from Alfred Angelo, I would not recommend this to any bride as it did not turn out the same as it looked in the picture. It was lovely though and cheaper. I had to borrow some shoes off my friend as I am a size 9 and could not find any nice shoes to fit, I just made sure I kept them out of all the shots! I got my necklace made online with Etsy for very cheap and it was custom made!
The suit
Jaco got his suit from Topman, he loved it as soon as he saw it!
Theme or colour scheme
No, we just let Akamba be the colour scheme, just bright African colours. We didn't want to get bogged down in those sort of details as we thought it would detract from the day
Flowers
Just mixed colours, my cousin did an amazing job, I just told her about the venue and trusted her do me proud and she did
Decoration
We didn't really need much, Akamba is tropical and colourful enough! My cousin lay a few church candles in wicker holders along the make-shift aisle and she made beautiful table settings which were flowers in vintage type jars. My friends and I made some bunting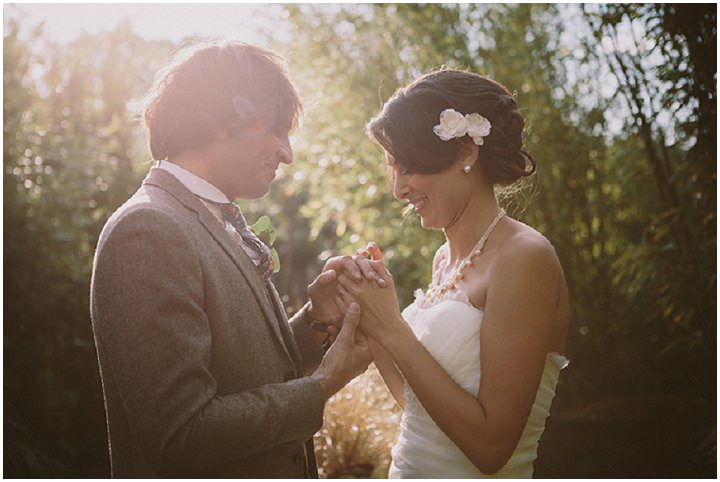 Food
A Caribbean feast!
Wedding Cake
My friend made this, I did not give her any brief on what we wanted really, I just let her get on with it! Again, for us it was a detail that just wasn't important
Entertainment
We had the band reggae magic

Buy or DIY your stationery?
I wasn't going to but then the venue said they do the invites for free so that was a bonus!
Personal or handmade touches
• We had a bell tent village over the road so that we could carry on the celebrations, I organised this through a private company and the lovely people that owned the football pitch let us have the land for free for the night.
• My friends and I made bunting for each tent and I made names for each tent which were based on places or things that are meaningful to myself and Jaco.
• We got a vintage wooden crate from a market in France (when we were there on holiday) to put the confetti in.
• My cousin Claire made a guest book for us that asked guests to sign a coloured circle and stick it to the picture, it looked like balloons and we can't wait to hang it in our home.
• My friend made J and L out of material, it was supposed to be put in the wooden crate but they ended up on the top table, never mind!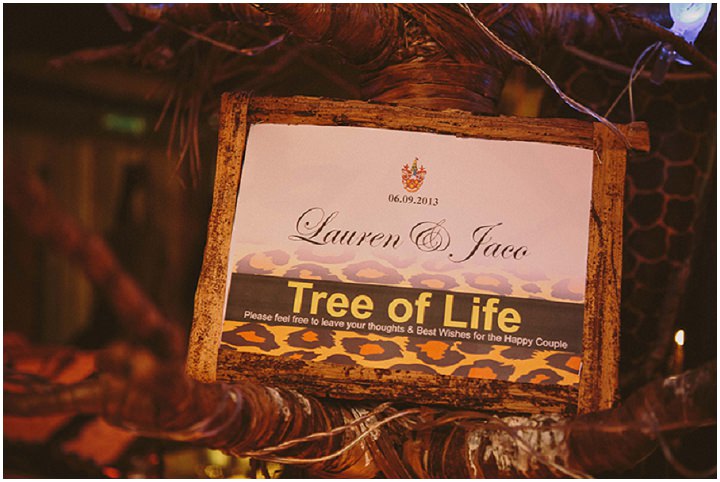 Special moments or highlights
It rained all day but as I arrived at the venue and the ceremony started the sun came out and the rest of the day was beautiful from then on. It was so amazing to have everyone we love in one space enjoying themselves; we all danced the night away that was a highlight. Everyone tells you that your wedding day will be the most amazing day of your life and you can't picture it because you have planned it for so long. We both felt like we were on an adrenaline high all day, even though on reflection there were a few details that might not have been exactly right, none of that matters because every felt so perfect. We wish we could relive it as it goes by in a flash!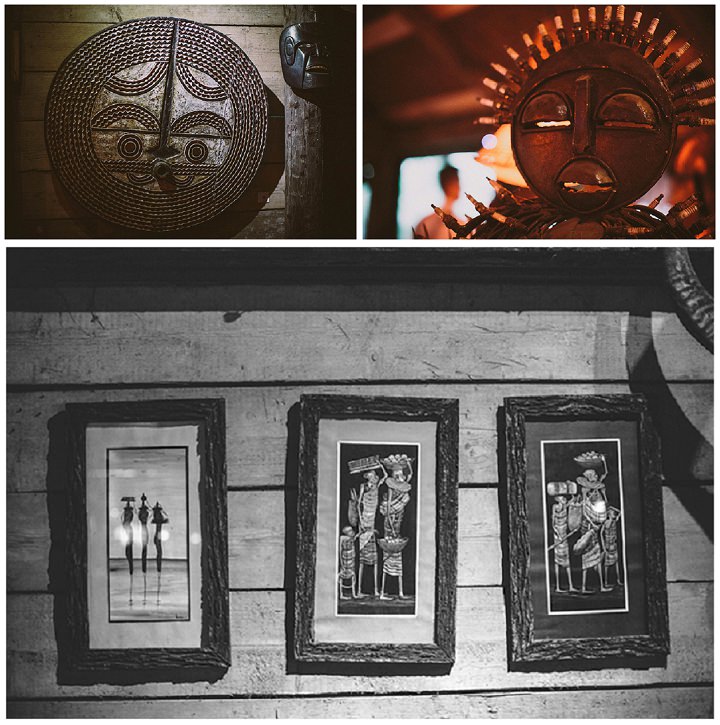 Biggest surprise
I was surprised I didn't cry like a baby!
Advice for other couples
Relax and enjoy every moment of the day, it goes by in a flash. If you create a relaxed laid back atmosphere, it will allow your guests to feel that way and everyone will be able to enjoy the day. Don't worry about things you can't change like the weather! Make a plan B to fall back on for outdoor events! We had a gazebo put up in the bell tent field just in case and we had loads of umbrellas at the ready for our guests. In the end the sun came out and we didn't need our plan B but it was reassuring to know it was there. We also didn't start planning years in advance, which worked for us as we didn't have heaps of time to stress about things. One thing that is very important is to remember you have lots of friends and family that are all eager to get involved and help.
Supplier Shout Outs:
For more information on Rebecca's work go to:
www.rebeccagoddardphotography.com
www.rebeccagoddardphotography.com/blog
FACEBOOK
@beccygoddard