We have a beautiful wedding for you today, a real Boho Luxe day, filled with rustic autumnal charm, and a large helping of elegance. It was sent into me by dress designer Katya Katya Shehurina, and the gown that Rebecca is wearing is simply stunning. The rich autumnal colours of the flowers really pop against the backdrop of Orchardleigh House, and the addition of the woodland theme in the grand dinning room, turns this wedding into a bohemian dream. A stunning day, filled with so much love and wonderful deep autumn tones. Big thanks to HOW Photography for the images.
Our wedding was magical and personal. It was full of laughter and excitement; we enjoyed every second of it and were surrounded and uplifted by the love of our family and friends in an enchanted, stunning venue.
Rebecca and Rob were married on the 22nd October 2016 at Orchardleigh House, Somerset with a civil ceremony in the hall and reception in the gardens/house. 'Rob found Orchardleigh online. We had been researching London based weddings and weren't being very successful. We live in London so initially that was our research area. We started looking further afield and Rob came across Orchardleigh. He is a keen Glastonbury goer and so has always had a fondness for Somerset. He showed me Orchardleigh's website and I loved it. We arranged a visit and instantly felt it was the perfect venue for us. We had 100 guests. We were engaged for nearly two years, so we had some time where we enjoyed being engaged and didn't think too much about the wedding. We booked Orchardleigh and then did very little until 5-6 months before the wedding!'
How they met
Rob and I met in April, 2012 at my sister's birthday. Rob and her husband are best friends! So it was rather an ideal situation. It is so corny, but I knew there was something there when we first met. We have been together 4 years.
The Proposal
We went skiing for New Years and on New Year's Day, 2015 Rob proposed. We were rather jaded from the previous night so we got up to the pistes in the afternoon. We were skiing down a quiet piste the sky was bright blue and the sun was shining. The way I was feeling, I was pretty irritable and wanted to keep moving! However Rob seemed to be taking his time… He took off his board and accidently his feet disappeared into the snow. He asked for me to help him up, as I helped him up, laughing at him; he was on one knee. In that moment a load of expletives ran through my mind and I realised what was about to happen. I can't actually remember his wording but Rob asked me to marry him and he had an engagement ring with an emerald green stone. We had a wonderful half an hour or so sitting on the edge of the piste, gazing out at the mountain tops, just talking and feeling elated…quite literally 'on top of the world'.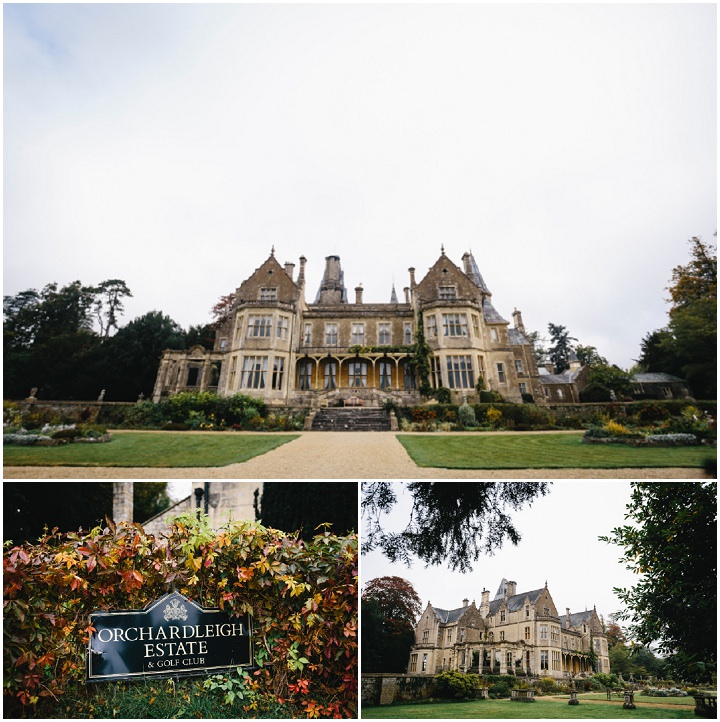 How did you allocate your budget?
We discussed what we could manage together and made a spreadsheet. I think what worked for us was spreading the cost across the year so that the final outgoings wouldn't hit us hard. I got my dress and the bridesmaids dresses quite early on. We also paid for our photographer very early as this was one of our biggest allocations of budget.
Where did you splurge and where did you save?
We splurged on the band, the booze and the photographer! Our focus was for guests to feel happy and content for the whole wedding. Guests could stay overnight at Orchardleigh as we had exclusive use of the venue, so guests paid for their rooms and breakfast whilst we covered the rest. It was important for us for guests to have unlimited alcohol and to be well fed and to dance the night away; so we splurged on those elements. We had exclusive use of the house so we could party until the early hours.
We saved on 'the personal touches', so we bought jars and fairy lights and I ordered flower fairy cards as 'favours' for place settings. This tied in to our woodland, autumnal theme.I saved on my veil as my friend Heather kindly leant me hers. This was my something 'borrowed'. My mum and godmother helped to set up the tables and my mum made wonderful lavender bag that guests could take home. A big 'save' was the time of year that we got married. The cost of a summer wedding is very high compared to autumnal/ winter weddings!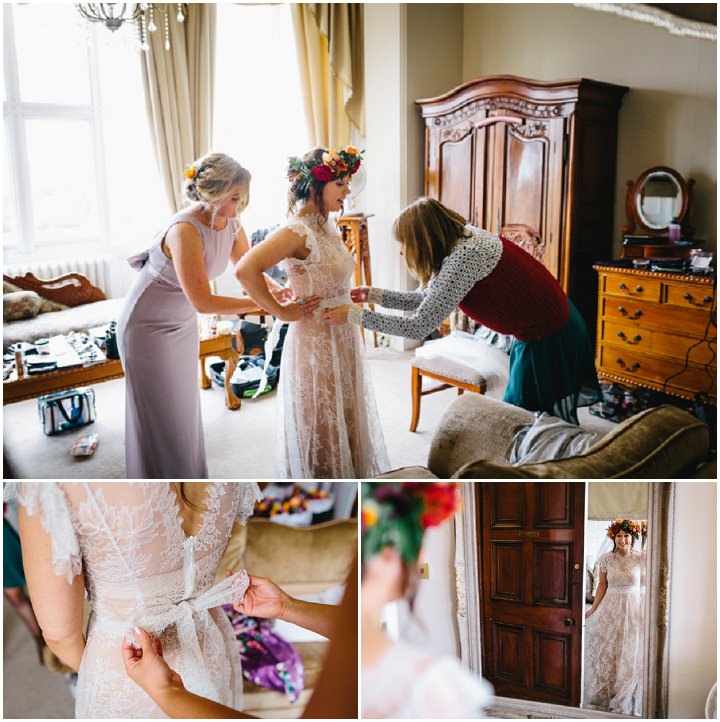 Why did you choose your photographer?
We chose our photographer mainly because of the reviews online. I guess we took a risk with that but we looked at his portfolio and fell in love with his style. We really liked the composition of his pictures with multiple conversations of interactions going on in one picture. We also like his natural style and the sepia/ black and white vintage look of his shots. The photography was important to us as we knew those will be the keepsakes and the lasting memories for our families. Russ was incredible and we can't recommend him more! He was 'invisible' during the day and yet assertive when group pictures were needed. If you want a professional, focused photographer and creative, visually stunning photographs; HOW photography are the people to have!
The Dress
My dress was from the 2015-16 Katya Katya Shehurina collection. I bought the sample 'Andrea' dress from their Soho boutique. I wore some emerald earings that Rob bought me as a gift on the wedding day and my shoes were actually from Amazon! They were only £20.
The Suit and Bridesmaids
Rob's suit trousers and waistcoat were from Reiss. The jacket was a midnight blue velvet dinner jacket from Moss. He wore Herring black patent shoes and wore a signet ring that I gave him as a wedding gift.
Bridesmaids wore 'lavender grey' floor length dresses from Asos. I had 6 bridesmaids so I had to be careful with my budget! I loved these dresses, especially the back and the bow. My bridesmaids looked absolutely stunning! The groomsmen looked dashing and handsome in their velvet jackets and the guests wore black tie. Everyone looked so polished and elegant!
Theme or Colour Scheme
We had an autumnal, woodland theme with reds, oranges, purples and cream tones.
Flowers
We had gorgeous natural arrangements of seasonal blooms and foliage with just a hint of the woodland to echo the fabulous Orchardleigh estate. This was in a combination of autumnal colours including dark red and lavender, roses, calla lilies, dahlias, lisianthus, alstroemeria, hydrangea, berries and foliage. We used Norma, a local florist in Frome. She completely fitted our brief and highlights for me were my flower crown and the table centerpieces. The wreath centre pieces doubled as gifts for chosen guests who had helped us prepare for the wedding.
Decoration
We went for a mix of bohemian and traditional which somehow worked! We had ivy trailing the stair cases, autumnal flowers and fairy lights. Some of our centre pieces were mini trees with bauble tea candles. I chose individual flower fairy postcards for each guest and wrote a note to each person. We also used tied lavender for place settings that my mum and I spent a long time making at her home! Our friend Olivia is a very talented graphic designer and kindly did our wedding stationary for us, from invites to table plan…the autumnal theme carried through this as well. Orchardleigh is a stunning venue so actually it didn't need decorating that much!
Food
We had a selection of canapés (mini bloody mary shots were a fave!) and for our wedding breakfast we ate pate or fish chowder, then roast lamb with roast potatoes and vegetables followed by profiteroles with a caramel sauce.
Wedding Cake
We chose a cheese cake (tiers of different cheeses!), which we sourced from a local shop in Frome.
Entertainment
A two person band called SuperSpokes, who are based in Clapham, London. They came down to Somerset to do two 50 minutes sets for us. We love their beautiful voices and quirky covers.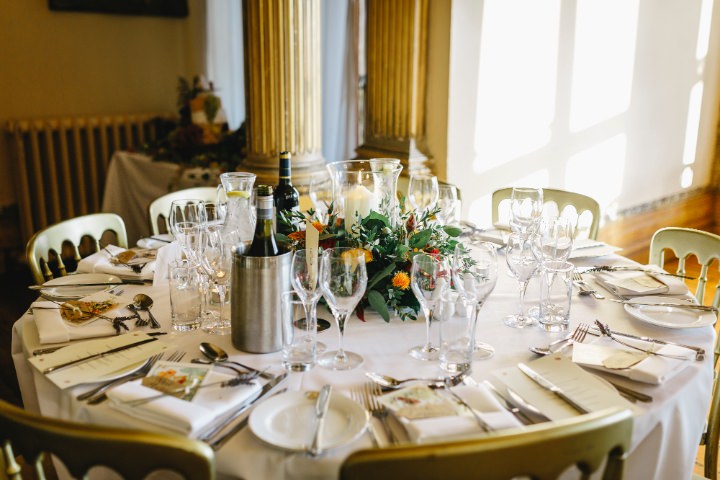 Stationery
Our friend Olivia Twaites designed our stationary. She completely took on board all of our wishes and we absolutely loved our invitations, order of service design and table plan. She even did our table number signs and menus.
Personal Touches
The flower fairies were the main personal touch. I also made a collage of photographs of people that couldn't join us on the day. I lost my grandfather in February and my father in June, and Rob lost his grandmothers last year so it was important that they were remembered on our special day. The lavender bags, place settings and lighting touches were all done by us but the staff at Orchardleigh ran everything else really.
I also chose my entrance music for the ceremony. The bridesmaids preceded me and walked to 'The Circle of Life' from the Lion King and I walked down the aisle to 'Praise You'- a Fatboy Slim remix by Maribou State. We have had some 'hard times' with family bereavements so the words really echoed how I feel about Rob… We've come a long long way together, through the hard times and the good, I have to celebrate you baby. I have to praise you like I should.
Special Moments or Highlights
I loved the 'getting ready' time with Evie and Naomi. Evie is a very talented make-up artist and we had such a giggle in the morning! I think my highlights were my mum giving me away; I felt so proud after everything we have been through. Seeing Rob facing me as I walked down the aisle was priceless; we didn't look at anyone else! The readings from my beautiful sister and my friend Julia were so heart felt and I loved hearing poetry in the service. We also wrote our own vows and read them to each other when exchanging rings; this was such a privilege and gave pertinent words to our feelings on the day. A surprise was that my mum had bought flower fairy figurines that she placed in the flower wreath centerpiece in front of my place setting for the meal; these are now hanging on my Christmas tree! This was a magical, thoughtful touch and a special moment between my mum and me when I noticed them.  The best part was definitely the dancing! We had Disclosure's 'Help me lose my mind' as our first dance and we twirled around the library room that was set up with purple lighting. I loved everyone smiling and mouthing the words to the songs and hugging each other. We partied until 3am and really made the most of our time.
I also paid tribute to my father with the song 'Sit Down' by James, that the band played for us. My sister and I had our own hugs and happy tears. It was 'our song'. Rob and I also had a bottle of our favourite champagne put in our room to enjoy together privately for a moment of calm; I absolutely loved that.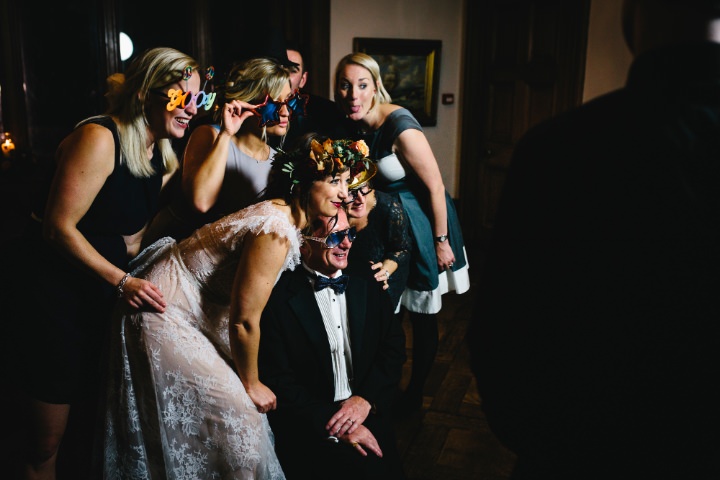 Advice for Other Couples
Don't lose sight of what you want. Rob and I wanted our guests to feel special so that's what our money went on, and by doing that we made ourselves so happy. Happy because the people we love were happy too. You can't beat a room full of happy people! Remember to take a moment for just you two. Look at your guests, look at the landscape you're in and take mental snapshots. Those are the memories that will stay with me forever.
Biggest Surprise
I think it was our 'sparkler walk'! We didn't have confetti so thought it would be fun to have sparklers in the evening. Our photographer kindly said he'd stay late to take some photographs. I told him I wanted an avenue made with our guests on each side and then I grabbed Rob whilst everyone held sparklers up. I don't think I've ever been so happy as that moment walking past our loved ones, with the twinkling stars above and the bright yellow streams of light as they waved the sparklers. I think you can see from my face in the pictures how wildly happy I was!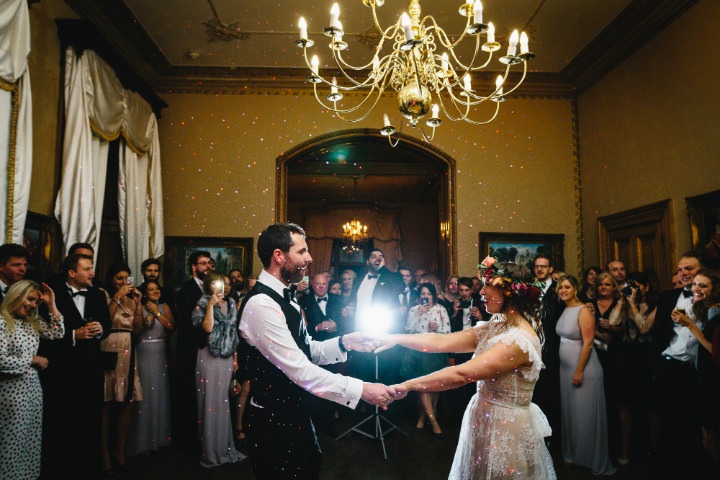 Supplier Shout Outs
For more information on Russ' work go to:
Howphotography.co.uk / howphotography.co.uk/blog / FACEBOOK / @howphotography
Due to an email issue if you have emailed me between the 2nd & 9th of December, please resend it.
X