As we reach the mid point of the week I am taking you away from this horrible windy and rainy weather, back to last summer when the sun shone and the sky was blue! Stephanie and James held their Elegant Bohemian wedding in a gorgeous venue in Solihull that allowed them to have the outdoor ceremony that they wanted. They mixed in gorgeous blooms and foliage for a Bohemian touch, along with pink flamingos and gold pineapples for a fun edge! I just love the bridesmaids outfits long with Stephanie's Charlie Brear gown and James in his flowered converse. A fun-filled wedding brought to us courtesy of Silverstar Photographic.
A relaxed and sun-soaked outdoor celebration with barbeque, drinks and dancing. It was everything we hoped it would be and more.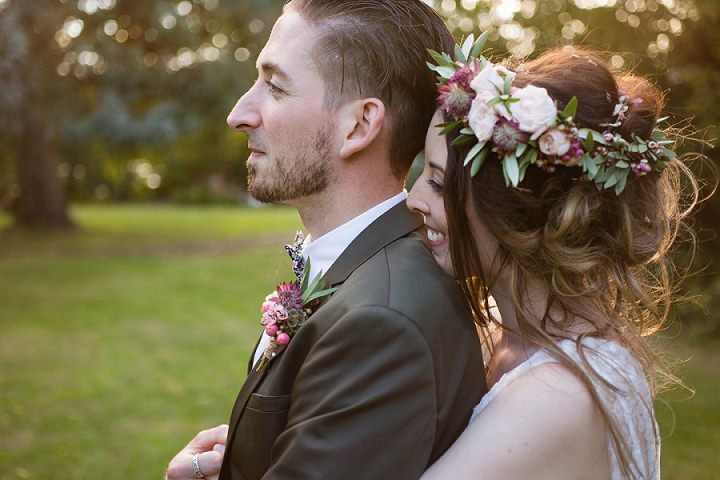 Stephanie and James were married on Friday 12th August 2016 at The Limes Country Lodge, Earlswood, Solihull. 'We didn't have any fixed ideas about our wedding day so we researched a wide range of venues, from rural barns (that were out of budget) to quirky, inner city spaces (that we couldn't agree on). We wanted a venue close to home that wouldn't prove inconvenient for our guests and, because we had no intention of having a religious ceremony, we hoped to spend the day and the evening in one place. My sister-in-law recommended The Limes Country Lodge and we knew straight away that it would allow us to create the personal, intimate and relaxed wedding day we wanted. We were especially excited by the outdoor space, which meant that (weather permitting!) we could get married outside and have a barbeque afterwards. We took a huge gamble on the weather and it paid off because we had glorious sunshine all day. We had 90 guests in the daytime and another 45 guests in the evening. It took us just over a year to plan the wedding. We got engaged in March 2015 and were married in August 2016.'
How they met
James and I met at school when we were 15 years old. We had mutual friends and interests and started to spend a lot of time together. We used to surprise each other by putting notes, letters and drawings in one another's school bags. Our friends knew there was something between us but we didn't start dating until ten years later when it's fair to say we were probably already in love. We said we'd take it slow but, in the end, we were pretty much inseparable and moved in together as soon as we could. We risked our friendship to make a go of it.
The Proposal
James proposed during a minibreak on the Isle of White. We'd spent the day exploring Steephill Cove, which happened to be at the bottom of the aptly named Love Lane. He proposed back at the hotel room before dinner with the most beautiful and delicate diamond ring from Birmingham's Jewellery Quarter. We celebrated with a bottle of champagne that we finished off in bed later on that night. In a world characterised by grand gestures that are inevitably shared on social media, it was a romantic and private moment that I'll never forget. Over a year later, James came across a card with a photograph of Love Lane printed on the front, which he gave to me on our wedding day. It was a lovely reminder of how it all began.
How did you allocate your budget?
We worked out the budget for the wedding by figuring out, realistically and sensibly, what we could save over the course of our engagement that we topped up with generous donations from our parents. Most of the budget was spent on the venue and catering, and we didn't compromise on the photography, entertainment and flowers.
Where did you splurge and where did you save?
Flowers make my heart sing. They were always going to be a big feature of our wedding day and an important part of the budget. We saved by picking flowers for the outdoor ceremony space from my auntie's back garden and by sourcing decorative items and props from discount shops and the sale at Zara Home. We also saved by forgoing traditional wedding favours. We invited our guests to take home the flamingo water glasses at their place settings instead, which were an absolute bargain at 50 pence each. My personalised wedding band cost next to nothing as I had it made from my parents' wedding rings

Why did you choose your photographer?
Michelle and Rich at Silverstar Photographic were our wedding photographers. We had actually started the booking process with another photographer when I came across Michelle's work. She and Rich have such a candid, natural and unobtrusive style that, coupled with their overall loveliness, meant that even the most intimate moments of the day were by no means stilted or uncomfortable. We adore the photos and how they tell the story of the day.
The Dress
My dress was by Charlie Brear. I was looking for something simple, feminine and unique, and from her collection of versatile bridal pieces and separates at The Wedding Club in Birmingham, I chose the understated Payton slip in lightweight ivory silk crepe layered with the sequinned Fayette overdress, which is just breathtakingly beautiful. I accessorised with the ivory silk sash during the day and the Demi Corello gold belt for the evening, sourced from the sample sale at the Charlie Brear flagship store in London. My single-tier, floor length veil was a happy find from Britten and my shoes were Mimosa in ivory by Rachel Simpson.
The Suit and Bridesmaids
James lives in a 'uniform' of jeans, band T-shirts and flannel shirts so suit shopping certainly wasn't high on the agenda. He and the groomsmen wore olive green suit jackets from River Island teamed with black trousers and either a bow tie or a skinny tie in a pink and grey botanical print from Mrs Bow Tie. James added a waistcoat, also from River Island, and tan brogues from Jones the Bootmaker, which he replaced with pink floral Converse trainers at the earliest opportunity! The bridesmaids wore white sequin tops and powder pink statement skirts from Coast, which they paired with pink strappy heels from M&S.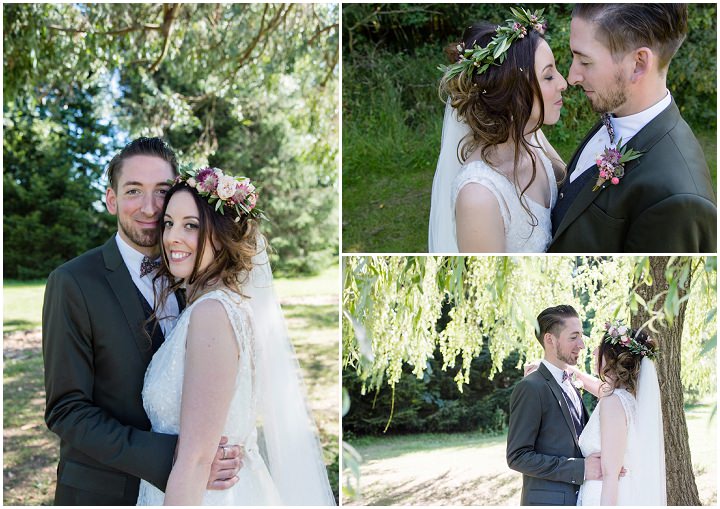 Theme or Colour Scheme
We didn't have a theme for the wedding, although many of the decorative details were influenced by a summer vibe and by my love of flamingos, which also inspired the unapologetically pretty colour palette of pinks. I'd like to think that we found a balance between the bohemian and the elegant.
Flowers
From my ill-informed ideas, Hannah at Bloom Fleuriste chose a unique combination of stunning Romantic Antique garden roses and peachy spray roses, pink fluffy grass, sweet peas, snapdragon, scabiosa pods, thlaspi and my very favourite, eucalyptus. The bridesmaids had identical mini versions of my bouquet and our flowergirl had a special flower 'wand'. Hannah created small posies with statement blooms and mini potted succulents in mis-matched vintage vessels for the guest tables and the most amazing, 18-foot foliage garland for the top table. My mum cried when she saw the finished look.
Decoration
We decorated the outdoor ceremony space with dreamcatchers from Rockett St George and, against the simple white backdrop, we hung distressed metal letters of our initials from The Estate Yard. A collection of mini Moroccan lanterns were hung from tree branches above a seating area created using oversized floor cushions from Wayfair. Festoon lighting added instant character and warmth to the marquee, in addition to the colourful origami bird curtain that I made over the course of our engagement. We created focal-point displays using an eclectic mix of metallic pineapple ornaments, stylish bimala lanterns and a Morrocan wedding blanket that my mum brought back from a holiday to Marrakech.  We hired the giant, light-up LOVE sign from the florist, along with a selection of glass votives and candlesticks that really came into their own when the sun set.
Food
We ate a barbeque feast of burgers, sausages, minted lamb chops, pork spare ribs, chicken and halloumi skewers, and big bowls of summer salads. In the evening, we served fish finger sandwiches, chip butties and a cheese board.
Wedding Cake
As a talented baker and maker of family birthday cakes, it felt only natural that we ask James' twin sister to make our wedding cake, which had tiers of Victoria sponge, chocolate sponge with chocolate buttercream filling, and coconut sponge with lemon buttercream filling. I hastily decorated the cake during the drinks' reception when I realised that the statement blooms provided by the florist hadn't made their way onto it! Our aunties also contributed to the cake table with homemade coffee and walnut cake, lemon drizzle cake and millionaire's shortbread.
Entertainment
We considered a band but, ultimately, you can't often better the original record and so we decided on a DJ. We met up with Benny a few weeks before the wedding and he took the time to get to know us and our music preferences to design a playlist that included James' favourites (Weezer) and mine (Beyoncé). Our particular highlights of the evening were the Best Man and one of the ushers dirty dancing to Mysterious Girl and group slow-dancing to Bump N Grind! Our first dance was to You're The One by The Black Keys.
Stationery
James and I are big fans of the illustrator Carson Ellis, who produces album artwork, posters and merchandise for The Decemberists. The designs at Printable Press, based in Brooklyn, New York, had the custom-illustrated, ink-art look we love for a fraction of the price as the stationary was customised to our specifications and sent electronically. The lovely Kimi supplied designs for our invitations, ceremony programs, menus and table plan, and James' parents printed them on white linen-finish card.  I made the place settings using scallop-edged tags, vintage-style stamps and handmade mini ombré tassels from Etsy.
Personal Touches
It was important to us that our wedding day reflected us as a couple and included meaningful and personal elements that involved our nearest and dearest. We asked two of our oldest and closest friends to witness our marriage and had two readings that were chosen by James and very much inspired by his love of American literature. We walked back down the aisle as husband and wife to Tonight Tonight by James' beloved Smashing Pumpkins and displayed photographs of our parents on their respective wedding days. We had a Polaroid guestbook and our table plan was made up of photographs of us taken over the years.
Special Moments or Highlights
I got ready with my mum and my bridesmaids at the hotel and my bedroom overlooked the ceremony space in the garden. It was fun to watch the guests arrive and especially exciting to have a peek at James in his wedding suit before I walked down the aisle. My brother stood in for my dad, who died four years ago, and he most definitely did him, and me, proud during the speeches.
Advice for Other Couples
Think creatively about the venues that are in your budget. I never imagined that I'd get married in a hotel but I trusted my instincts and we transformed what could have been a generic, conference hall-type space into a personalised and romantic setting.
Try and imagine how your friends and family can contribute to the wedding, both in organisational elements and on the day itself. I'm the first person to admit to a fear of delegation but you will benefit from the support and asking loved ones to help out only adds to the sense of occasion.
To brides, I would say: there is no one dress that is The One and you may never shed tears of joy at the moment you find your favourite. In the end, it will probably come down to choosing one of several beautiful gowns that each have things that you love about them. Have faith in your choice, stand by it and stop looking.
Finally, Pinterest is a wonderful way to source ideas and to create moodboards for your wedding but keep things in perspective and don't compare yourself to other couples. Thankfully, there are honest and pragmatic people in my life (hi, mum) who were there to remind me that a wedding is one day and does not equal a marriage.
Biggest Surprise
It shouldn't have been a surprise but we were so overwhelmed by our family and friends' love and generosity. From their genuine interest in and excitement leading up to the wedding to their kind words on the day and afterwards, it meant so much to us and left us floating on air for days.
Supplier Shout Outs 
For more information on Michelle and Rich's work go to:
www.silverstarphotographic.co.uk / www.silverstarphotographic.co.uk/blog / 07875705204 / FACEBOOK /  PINTEREST / T: @silverstarphoto / YouTube /