Morning everyone and welcome along to another week! This week I am preparing for the Designer Vintage Bridal Show at  Hagley Hall in Worcestershire where I will be exhibiting on Saturday and Sunday. It's going to be a fab show so if you haven't already booked your tickets make sure you do! Because I'm going to be away all weekend I've got a busy old week coming up as I make final preparations for next weekends wedding, as well as bringing you the best the wedding world has to offer in the Blog.
But this morning is all about this gorgeous Cath Kidston themed wedding which has been sent into me by Jodi Brennan Photography
It's the wedding of Deborah and Roberto who were married on 20th July. The ceremony and reception were held at Consall Gardens in Stoke on Trent 'We were both blown away by the venue the first time we visited. We fell in love with the breathtaking scenery. Also, the staff at Consall Hall were very friendly and helpful.' They had 65 guests and it took 18 months to plan.
'Our wedding was very much about 'Family'. Seeing everyone's hard work come together and being able to share our day with so many close friends and family, many of which we hadn't seen for a long time as they live overseas. The combination of all these things gave us a day which was way beyond our highest hopes and expectations.'
How they met
We have been together for 3 ½ years. We were first introduced by Jodie Brennan, our wedding photographer. Jodie and Robb work together at a local college. There was a leaving party for someone they worked with and Jodie asked me to join her for a couple of drinks as she was trying to set us up to meet.
The proposal
The proposal happened on December 28th 2010. Robb cooked us a nice meal which we sat at the table to eat (not something we usually do), then we went into the living room to watch some telly. Robb disappeared upstairs and then came down and handed me a box with the engagement ring in it and asked me to marry him. Earlier that evening we had given our dog Toby a new rope toy and at the moment of the proposal Toby decided to get in on the act by joining us with shredded rope all over his face!! I then forgot to give Robb an answer as we were laughing at the dog!
Why did you choose your photographer?
As a small group of friends, we have worked together to photograph each others weddings. To have one of our closest friends photograph our wedding day was the obvious and perfect choice. As we are photographers ourselves we had clear ideas of the kind of images we wanted. Jodie knows us so well and we knew that she would work with our ideas and capture every detail and every moment perfectly. Knowing that a friend is in charge of such an important part of your wedding day takes away a lot of stress as we know how hard Jodie works at wedding shoots to ensure that she captures the day perfectly.
The Wedding Dress
Dress was 'Bernadette' by Maggie Sottero. Accessories and dress were purchased from Rebecca Jayne at Mix n Match, Rugeley, Staffordshire. Shoes from Schuh.
The suit and bridesmaids
Groom and Paige Boy suits by Ted Baker Endurance. Bridesmaid dresses made by Sally Tippet, friend of the family, using Cath Kidston material.
Wedding Theme
The theme was based on vintage prints, pastel colour scheme and a hand made feel.
Flowers
Peonies, sweet peas & carnations
Food
We wanted the food to have a more relaxed feel. Opting not to have a sit down meal, we chose to have a high tea including open sandwiches salads and fresh fruit and an evening barbecue. This meant that all our guests could socialize and share the day together rather than sitting at set tables.
Entertainment
The evening entertainment was Oscars Disco. We had used him for a previous Birthday celebration and he has been seen at other friends weddings. He always creates a great atmosphere and listens to your requests for style of music.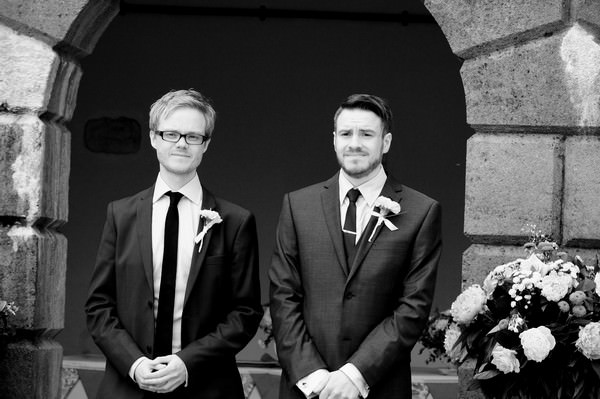 Decoration
All decorations were hand made by family members.
Personal touches
Bunting, ribbons for tables, favour bags, favours, post box and napkin rings were all made by Robb's mum with the help of his Auntie and Nonna. The bird table number holders were made by Deborah's mum. The flower arrangements and the cake were done by Robb's Nan.
Wedding advice
Don't be afraid to communicate your ideas with other people. If there is something you want a specific way be sure to stick to your guns, however, be willing to compromise in some cases. Make lists and plans and decide who will be responsible for each job. Check the lists regularly and support each other throughout.
Biggest surprise
The biggest surprise was just how glorious the weather was. As the venue has over 70 acres of landscape gardens we were hoping for an outdoor wedding. The morning of the wedding was looking gloomy and the venue had set up the ceremony to be indoors. However, just 30 mins before the ceremony it brightened up and so they quickly arranged the seating outdoors by the pool. Everyone keeps telling me that the moment I walked up the steps to join Robb the sun broke through the clouds and just lit up the venue! We were all able to enjoy the beautiful sights of the gardens for the rest of the day in beautiful sunshine.
Supplier Shout Outs
For more information on Jodie's work got to
www.jodiebrennan.co.uk
www.jodiebrennan.co.uk/blog
[email protected]
FACEBOOK
TWITTER
07773 064280
Jodie Brennan – I am a wedding & portrait photographer based in Staffordshire. My style & that of my 'second shooters' is unobtrusive and informal making the photography an enjoyable experience for all. Weddings are fun occasions, individual to each couple. I ensure your images will tell a story of the day and capture all those special moments – some of which you might even have missed yourselves!
  ♥ You can see more Real Weddings featured on the Boho Blog HERE ♥