As it's Valentines day next week, I thought I would treat you with this fabulous FREE printable Valentines day DIY. It's so cute and ultra modern, I'm sure anyone would love to receive it, male or female and when they find out you made it your self you will get extra brownie points! The DIY comes from the  lovely Anna from Download and Print. Anna has proven to be incredibly popular on the blog and so far has brought you these FREE Printable Invitation and RSVP Card Template, FREE Printable Folded Wedding Program and  FREE Printable Paper Christmas Ornaments and FREE Printable Gilded Edge Invitations.
This DIY is possibly my favourite yet and I'm actually going to give it a go myself, I'm sure Nik will love it! The download can be found HERE. Simply follow the easy instructions and it will be downloaded to your computer in a matter of seconds.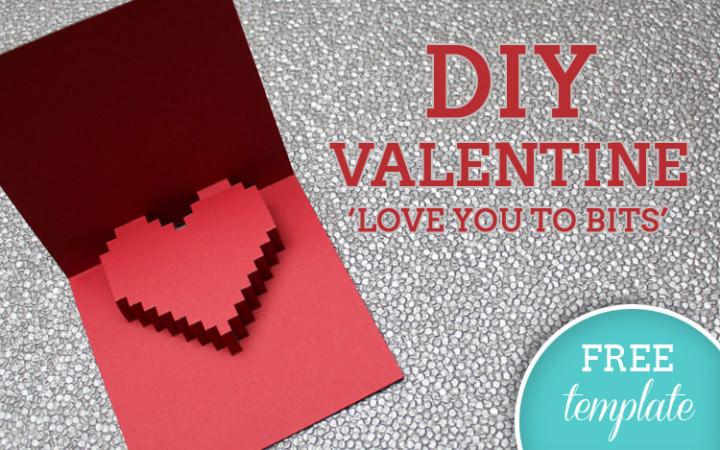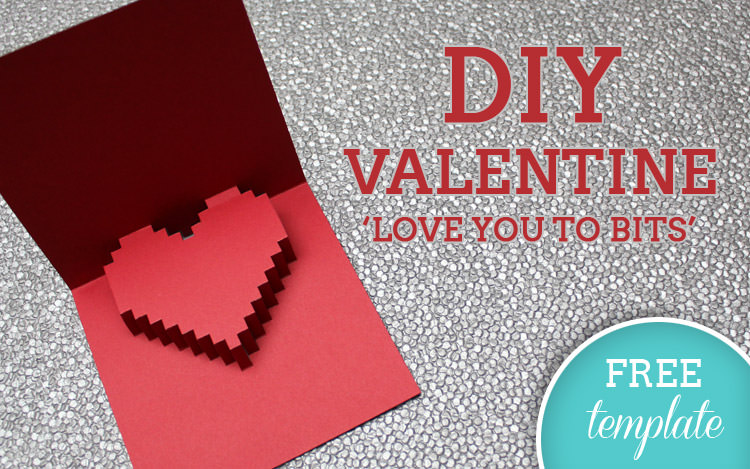 I'll pass the Blog over to Anna………..
Love is in the air and this month I'm over the moon to be able to share with you a whimsical Valentine's card that you can make for your sweetie. Open the card to reveal a pop out heart. It's simple to make and you can really turn it into your own when choosing the contrasting card. Add an enchanting love note and this card is bound to have someone falling head over heels for you*.
*claims not based on actual results, but a handmade and thoughtful note always goes a long way!
STEP 1) Download and Cut
Download the template PDF and print on the coloured cardstock that you have chosen for the inside of your card. I chose red for the inside and gray for the outside, but be creative and make the card your own!
Take the printed template and listen closely as here's the important part. Cut along the dotted lines, score along the solid lines. Not the other way around or any other variation! You could end up with a very wonky looking heart. Use your X-acto knife to make the cuts on the dotted lines, using a ruler if this helps. Don't panic! It looks more complicated than it is.
Trim around the outer edge of the card with your scissors. Cut a second rectangle from your coordinating cardstock the same size as your inner card, or slightly larger if you would like a layered look. Fold this second piece of card in half.
STEP 2)  Score
Run your scoring tool along the solid lines to start the creases that will make the heart pop up.
STEP 3)  Gently Pop Up
Very carefully begin to pop the heart up and fold the card in two. Take your time and make sure that each paper strip folds the correct way.
STEP 4)  Press Folds
Using your bone folder or your fingernails and palm of your hand, press the creases to give them a nice, crisp edge.
STEP 5) Tape
Attach double sided tape to the back of one side your heart card, or use a glue stick. Tape is less messy and works best. Position the heart card over your outer card and push down. Repeat with the second side by first attaching tape to the inner card, and folding over the outer card to join the two together.
STEP 6) Seal with a Kiss
Write a sweet message of love to your valentine. Finish with a pretty bow around the card, and seal with a kiss.
Signed, sealed, and delivered. Or just sealed and delivered if you prefer to go incognito. May Cupid's golden arrow touch you this St. Valentine's day.
Thanks so much to Anna for this handy DIY, I'm sure your valentines will really appreciate this hand-made card! ! Anna will be back in a months time with another fantastic FREE downloadable DIY Tutorial for you.
Fore information on Downlaod and print go to:
www.downloadandprint.com
www.downloadandprint.com/Blog
FACEBOOK