Happy Friday everyone and Happy Valentines day! I hope you are having a lovely romantic day with your loved one. Are you celebrating this day of love at all? Nik and I are celebrating by attending Dexter's end of term assembly…I know so romantic! We are both working from home today so I am hoping to pop out for some coffee and cake at some point. I normally work on a Friday evening, but I'm taking the night off, Nik is cooking some delicious food and then we are going to watch a film. Not exactly the height of romance BUT after 11 years of marriage just getting the whole night together is a rarity! So as it's Valentines day I had to share a super romantic wedding with you and what could be more romantic than a traditional Greek wedding, with plenty of sunshine, on the beautiful Island of Crete. Jacqueline and Adam used to live and work in Crete, in fact it's where they met each other, so it seemed only fitting to return to the island for their wedding. The wedding has been sent into me by their wedding planners Crete for Love and captured perfectly by Andreas Markakis.
Our wedding day was a fun, relaxed and very sunny affair. Our life together and our personalities were entwined throughout but everything was given a fantastic Greek twist!
Jacqueline and Adam were married on 22nd June 2019 at Spilia Village, Chania in Crete. After meeting at the airport in Crete and then working on the island we always knew we would come back here to get married and have our wedding in a traditional Greek setting. The moment our wedding planner took us to the village of Spilia outside Chania we knew it was the one. The area outside the church was just gorgeous but it was the Taverna in the middle of the village that stole our hearts. Cobbled stone floor and rustic wooden tables underneath an array of tree branches – it was breathtaking. We wanted somewhere beautiful and that our guest could have fun well into the night – dancing under the stars! Our guests were truly blown away by the setting. We had 85 guests and it took 18 months to plan..
How they met 
We met at the airport in Crete, Adam asked to help me with my luggage! At the time we didn't know that we were on our way to work at the same hotel. We've been together 11 years
The proposal
Adam proposed to me in Bordeaux on Dec 11th 2017. His parents live in France but I'd never been to Bordeaux and always wanted to. He booked a night there as a surprise on our Christmas trip to see his family but I had no idea he was going to propose. We went for walk after a lovely dinner and he got down on one knee by a beautiful fountain. I was quite overwhelmed by the situation and wanted him to repeat it all again so I could listen properly. He thought that might happen so he'd also written his proposal in a card so I could read it again and again.
How did you allocate your budget?
We made a list of all the things that were really important to us and we were happy to spend money on. Then we made a list of everything else we would need but that we were ok to do as cheaply as possible.
Where did you splurge and where did you save?
Having the Pre Wedding Beach Party was an additional cost and we spent a while looking at ways of getting all our guests together more cheaply. However this was the first impression they were going to have of our wedding so we wanted it to be perfect. Thankfully we got lots of comments on the stunning setting and it was great to have everyone meet before the big day.
I found asking your guests to come abroad means you feel you want to do a lot for them. We spent a lot of money on drinks and having a free bar – we even created bespoke cocktails!. We also spent more on lighting for the Taverna as I love fairy lights so wanted all the big old trees covered in them. It really did look beautiful! And we had the most gorgeous garland around the door of the church building which was such a stunning feature and provided the perfect backdrop for the ceremony.
We met a number of wedding planners in Crete before deciding on Crete for Love. They weren't the cheapest but you get what you pay for. They were amazing throughout our whole year of planning  and incredible at the pre party and on the day itself. We 100% could not have done it without them – every penny was worth it.
I did however spend a little too much on all my outfits for our time in Crete!
The areas we saved were in not having too many add ons like personalised napkins, elaborate table settings etc. The setting was so beautiful we didn't need these things.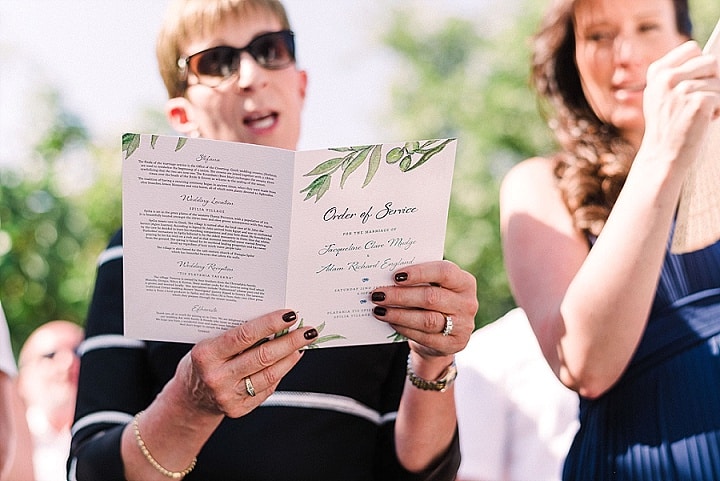 How did you choose your photographer?
Once we had found our wonderful Wedding Planners 'Crete for Love' and the perfect venue, we started to think about a photographer. We knew we wanted someone local who knew the area and was used to photographing in bright sunlight. It was really important the photographs were natural but that we also got some beautiful family portraits. Our Wedding Planners recommended some photographers and we started to look at their portfolios. Andreas Markakis stood out immediately – his photographs were just beautiful, really natural and they had such a gorgeous bright tone.
The dress
My dress was by Grace Loves Lace and I visited the Shoreditch showroom. The service was incredible! I'd always loved their wedding dresses and I was so excited to be getting married in one! I borrowed some diamond earrings from my mum and pinned my grandmas brooch to the inside of my dress. I struggled for a while to find shoes that matched the dress and would be appropriate for the cobbles and Greek dancing. I eventually settled on a pair of gold flat sandals from River Island. I didn't have any other accessories as I wanted to keep it simple – the setting had enough going on.
The suit and bridesmaids
The Groom and Groomsmens outfits were all from Marks & Spencers. The Groom wore a navy shirt with pale blue linen trousers. We were originally going to go with shorts but thought these would look too casual against my dress and the ceremony setting. We loved the idea of blue trousers to go with the Greek theme – we looked at some cream options but we kept going back to the blue.
The bridesmaids wore dusky pink silky dresses from & Other Stories – they had a real Grecian feel which was perfect. My sister the Maid of Honour was 7 months pregnant so she wore a navy silky maternity bridesmaid dress from ASOS. I was conscious it was going to be hot so I wanted to put the girls in something lightweight and flowing.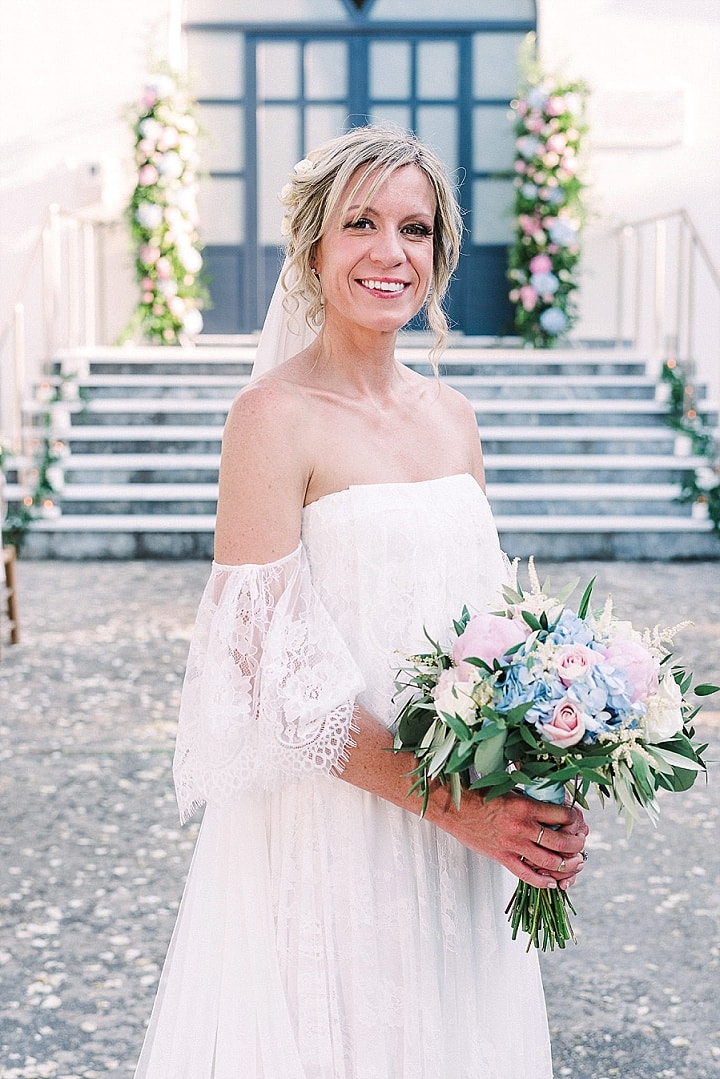 Theme or colour scheme
Our theme was very much based around Crete so predominantly Greek. We used some of the Greek traditions such as Wedding Crowns 'Stefana', and served Greek food and drink. Blue was a dominant colour but amongst a more English wedding pale pink and cream. Olives leaves also featured heavily.
Flowers 
The colour theme was white, blush pink, baby blue & olive green. We had Peonies, Roses, Olive twigs and Eucalyptus leaves. We had a huge display of flowers either side of the church doors – these looked incredible. We also had cream flowers in the table settings. The colours of the flowers were brighter than I had imagined on the day but I'm so pleased they were as the colours look so gorgeous in the pics! The local florist did an amazing job!
Decoration
The setting really spoke for itself so we didn't want to do too much. We put fairy lights in the trees and had olive leaves, candles and cream roses as the table settings. We also had big vases with candles and olive leaves inside lining the stairs to the ceremony area.  We had a bespoke Taverna sign made reading 'Mr & Mrs England's Taverna" which we revealed once we were pronounced as man and wife.
We had pale blue and pink ribbon with olive leaves tied to chairs at the end of each aisle.
We moved the flower displays lining the doors to an entrance arch of the Taverna for the reception -they were too beautiful not to make more of and use throughout the wedding.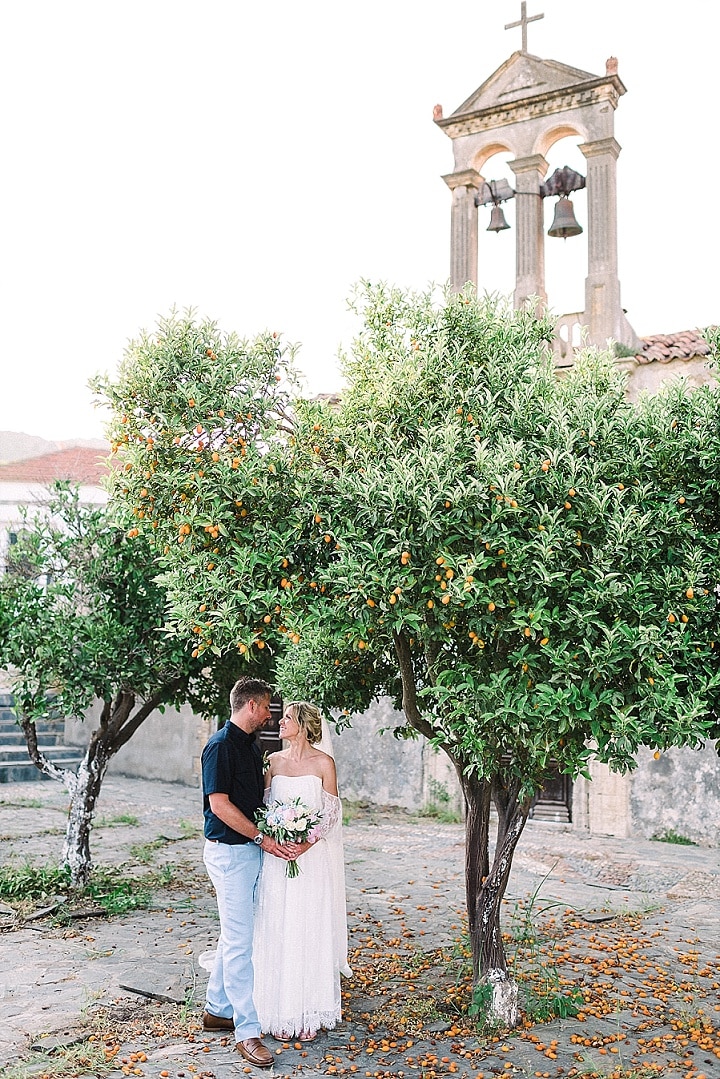 Food 
We wanted traditional Greek food (our favourite) and the shared Mediterranean style of eating for the wedding breakfast. It was incredible – we've never seen so much food – it just kept coming! The Taverna is owned by 4 brothers and lots of the produce was local from their farm – their mum even made us a traditional Cretan Wedding dessert "xerotigana"! We also served little Greek canapes straight after the ceremony as I was conscious people might need a little something – especially drinking in the sun.
Wedding cake
I love cakes, but really simple sweet ones. So we had a one layer maderia sponge cake with vanilla frosted icing. It was decorated with a greek flag on the top and our names in Greek. I'd say the cake matched the relaxed, fun feel of the day.
Entertainment
We had an amazing Greek band playing as I walked through the village, throughout the ceremony and start of the reception. As a surprise for our guests we had 6 traditional Greek dancers who got everyone up dancing  – it was amazing and so much fun! Then we had a DJ to take the party into the night. We had the same DJ for both the pre wedding beach party and the wedding – DJ Giorgos was fab and worked on the play lists with us prior.
Who supplied the stationery?
An artist friend designed my wedding stationery as I wanted something unique that reflected the theme of my wedding. I used the designs for the Save The Date Cards, Wedding day stationery, through to the Thank You Cards. I chose Printed.com to print everything, the website is super easy to use. It was definitely a labour of love and an important part of the story of our wedding, and I have the original artwork to frame as a keepsake!
Personal touches
We had wooden fans made for the wedding favours, personalised with our names and wedding date. These came in very handy on such a hot day!
During the ceremony we sung two of our favourite songs – 'True love ways' by Buddy Holly and 'The Wonder of you' by Elvis; but as these were played by the Greek band they were unique versions which is just what we wanted.
We had a separate cocktail bar which served 3 signature cocktails we had created for the day – our guests loved this!
Our table's were named after our favourite places on the island that had special memories for us.
We also had our own wooden Taverna sign made which read 'Mr & Mrs England's Taverna'. This was hung but covered during the ceremony and revealed once we married.
Special moments
Walking through the village with the Greek band playing is something I'll never forget! And walking down the aisle looking at how beautiful the setting was and seeing all my friends and family smiling back at me, before I walked up the steps to meet my groom – that was an incredible moment! I loved that we were higher so we could look down and see everyone during the ceremony.
The Greek dancing was a real highlight – it was so much fun and I loved seeing how much our guests were enjoying it!
The DJ was great and we all danced well into the night which was just what I wanted. Adam and I eventually left around 4am!
Advice for other couples
Firstly, it's all about you so make sure your wedding has some personal touches that are unique to you as a couple. Everyone's there because they love you and want to celebrate your relationship so let them into your world.
Secondly although it is all about you; everyone wants their guests to have a great time! Do really think about what's important to them. Don't fixate on the little things and miss something big like not having enough bar staff so it takes ages to get a drink. If you're guests are relaxed and having a great time you will be too!
Thirdly, as hard as it may be at times, try and keep things in perspective – you're incredibly lucky to be marrying the person you love – everything else is a bonus.
Biggest surprise 
To be honest – just how much fun we had! I was worried I'd find it all quite overwhelming but we both just felt so relaxed and happy, we couldn't stop smiling! All the planning, and having an amazing wedding planner, really paid off so we could just enjoy the day. I know people say it's the best day of your life but it truly was! I still cry happy tears every time I think about it!
Supplier Shout Outs
Due to an email issue if you have emailed me between the 2nd & 9th of December, please resend it.
X