This week it's a welcome return to Anna from Download and Print who is a regular to the Blog. So far she has brought you these FREE Printable Invitation and RSVP Card Template, FREE Printable Folded Wedding Program and  FREE Printable Paper Christmas Ornaments,  FREE Printable Gilded Edge Invitations,  FREE Printable DIY Valentines Card  and FREE printable Easter place cards. Today Anna is showing us how to make these super cute Garden Wreath themed Ceremony Booklets, that make perfect order of service for your wedding ceremony.
You can download the Free printable HERE 
I'll pass the blog over to Anna………..
Hello lovely Boho brides. I'm back with another of my free wedding program templates. This time I've chosen to share a lovely Garden Wedding Program. I love this design for the accordion fold and that it folds up so small. The inside packs a sizeable punch though, with a ton of room for your ceremony details. Most of all though, I love how simple this wedding ceremony program is to put together. One simple cut and a couple of folds is all it takes. You only need print on one side of your paper which makes running copies a breeze. Download the free Microsoft Word wedding program template and follow along with the steps below to make this for yourself.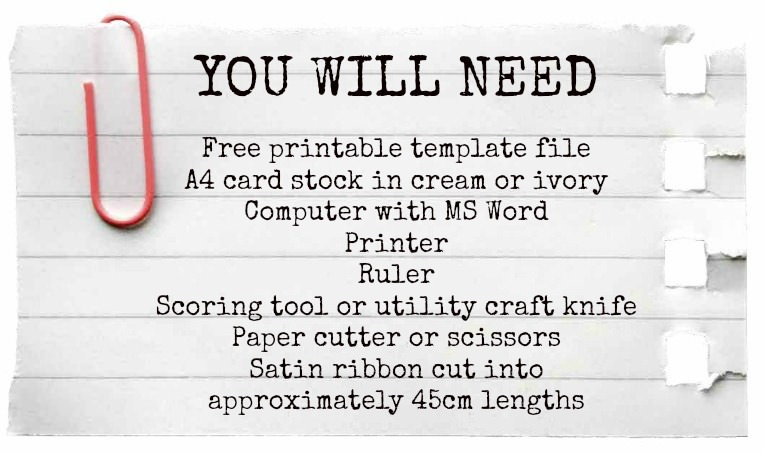 STEP 1)  Download and Print – Download the free wedding ceremony program file and open in MS Word or Mac Pages. Add your ceremony details. The fonts I chose are Lavanderia and London MM. Word will substitute different fonts if you don't have these installed on your computer. You can grab the free font downloads from the links above, or substitute any fonts that you like. Once you have entered your information and are happy with the layout:
Check your work for spelling mistakes and typos.
Have someone else check your work for spelling mistakes and typos.
Print one copy and double check for spelling mistakes and typos.
Print the remaining copies.
Pat yourself on the back for not having to print your entire programs again!
I promise you, this could save you a lot of heartache.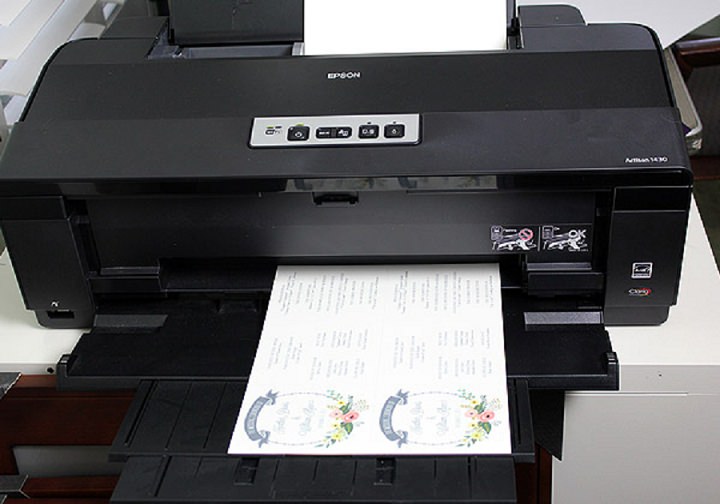 STEP 2) Cut – This template has a measly one simple cut. Use a paper cutter, scissors, or ruler and utility knife to cut lengthways along the centerline.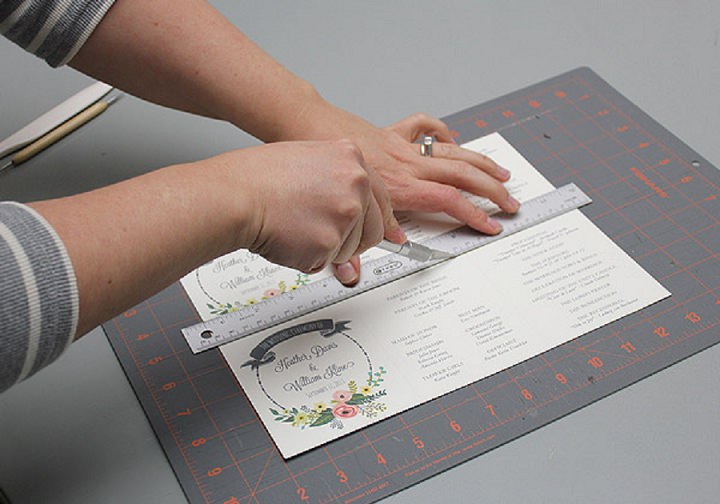 STEP 3) Score – Use a scoring tool, the back of your utility knife, or any other blunt pointed object (a closed mechanical pencil) to start the creases on the fold lines. Run the tool firmly along the crease using a ruler as a guide.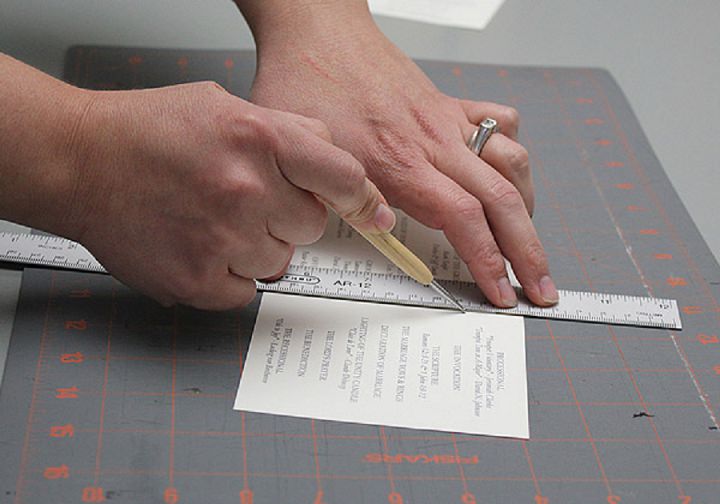 STEP 4)  Fold – Accordion fold the booklet along the creases that you just created. I like to use a bone folder to help achieve sharper creases, but you can press firmly with the palm of your hand (scoring those creases first make this step so much easier).
Fold in the back flap so that the printing is on the inside of the fold, then fold the front cover back so it appears on the outside of the small wedding program.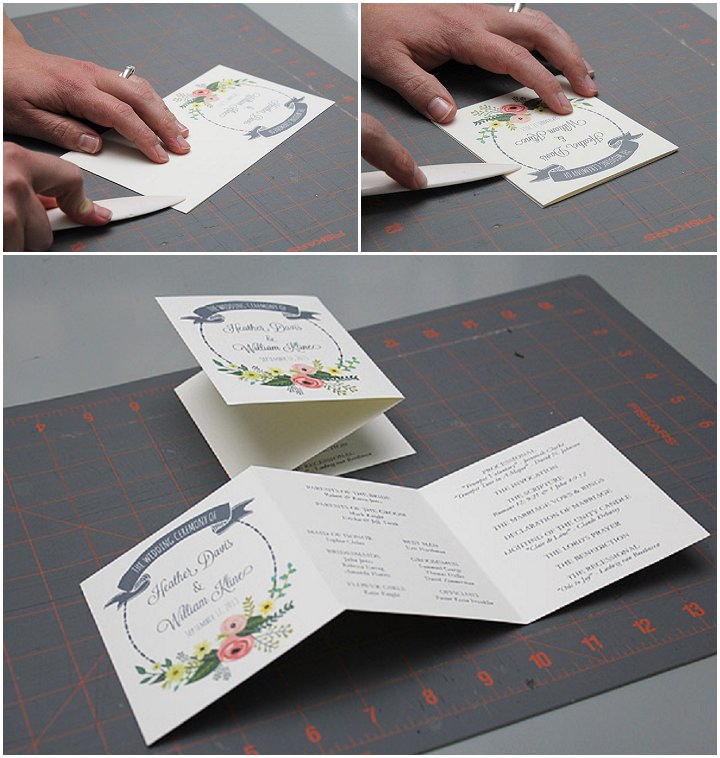 STEP 5)  Add Ribbon – Tie a length of ribbon around the booklet to seal it shut, finishing with a bow. Trim the tails at an angle to discourage fraying.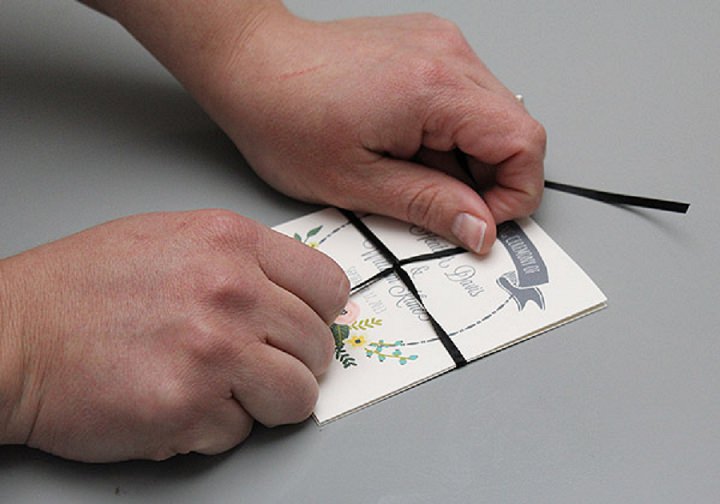 And there you have it, a gorgeous garden wedding program that couldn't be simpler to put together.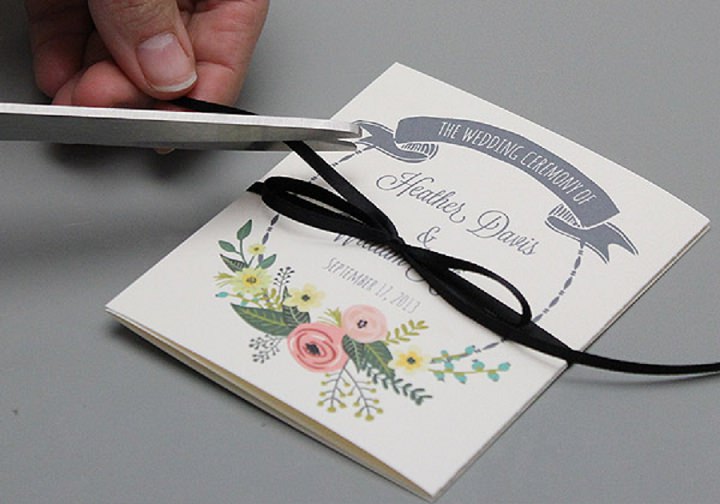 Fore information on download and print go to:
www.downloadandprint.com
www.downloadandprint.com/Blog
FACEBOOK

[jprel]