It's January, it's cold, dull and wet, so what better way to cheer you all up than to send you a bit of sunshine from very sunny and very warm Florida! The sunshine and good vibes come courtesy of this lovely wedding sent into me by Stacey Paul. The couple, Misty and Jason chose the venue as they wanted their wedding not only to be a celebration but a vacation for the majority of their wedding guests, and what a place for a holiday! Sun, sea and amazing sunshine. The relaxed nature of the day really shines through in these gorgeous photos, doesn't it make you want to book your holiday straight away!
'A beautiful, relaxing beach weekend surrounded by our loved ones. Making lots of memories in the Florida sunshine and a late night swim in the Gulf – in our wedding attire!'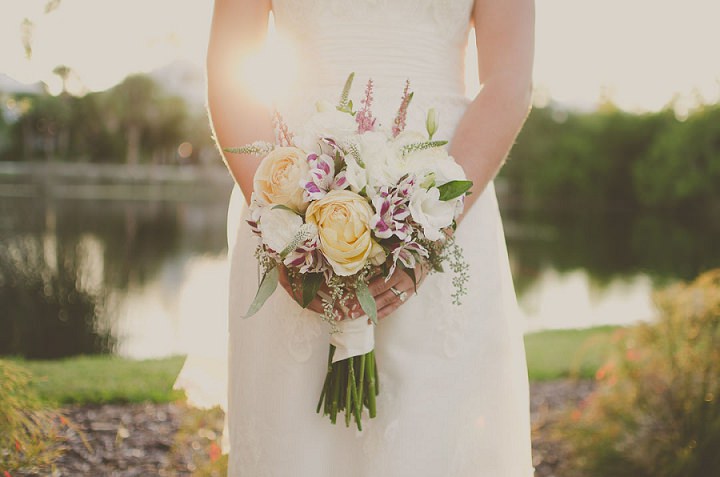 Misty and Jason were married on the 12th of October, at Palm Island Resort, Florida USA with a beach ceremony and the reception at the pool pavilion. 'Jason and I love the beach. We both grew up in Wisconsin and moved to Florida 6 years ago. We are so grateful to live in such a beautiful place where people plan for months (maybe years) to visit. The beach represents so many things to us; peace, love, relaxation, fun, excitement, opportunity. We knew we wanted to get married at the beach and wanted our families and friends (a majority of whom were travelling from Wisconsin and Illinois) to be able to make our wedding a vacation weekend. Palm Island Resort was the perfect location! We had about 120 guests and planning began in early 2013.'
How they met
Jason & I met in August 1999 when I was moving into my freshman year dorm room. We were friends for many years before starting to date in 2008.
The proposal
On September 28, 2012, Jason asked if I wanted to go to the beach to watch the sunset. I casually responded yes – and didn't give it a second thought. On our way to St Pete, I didn't suspect a thing. We arrived at Pass-a-Grille beach and navigated our way to our favourite spot. Still, nothing seemed unusual. We set-up our miniature plot in paradise, and turned on some music. We talked, took pics, and relaxed. As the sun was setting over the Gulf and Israel Kamahawiwo'ole's rendition of "Wonderful World/Somewhere Over the Rainbow" was playing softly in the background, Jason asked me if I would spend the rest of my life with him. I was completely surprised, elated, relieved, excited and before he opened the ring box, I had already responded with a resounding YES.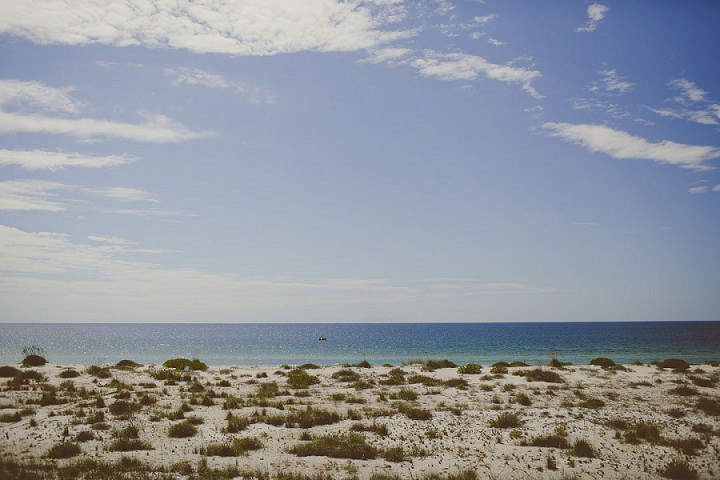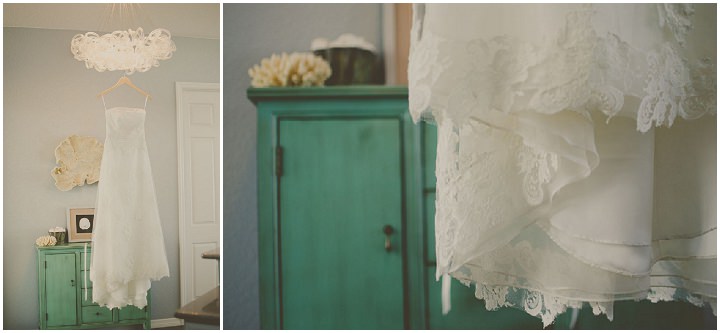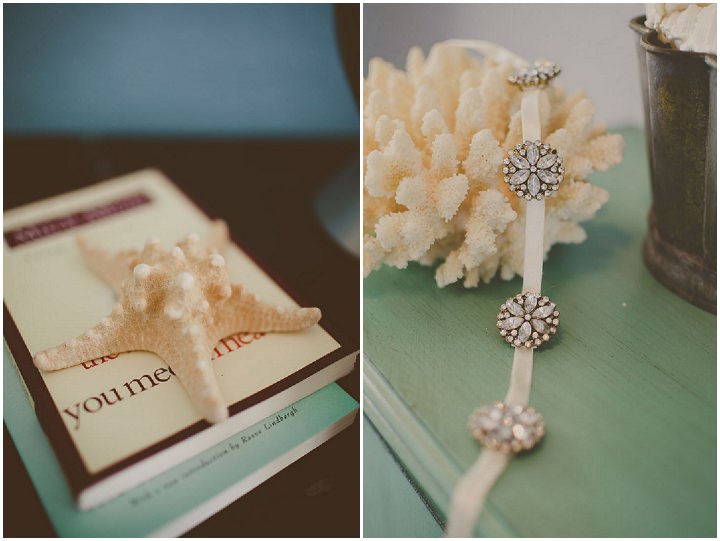 How did you allocate your budget?
Our families were very generous and gave us the wedding of our dreams.
Why did you choose your photographer?
Stacy Paul was a referral from a close friend. After looking at her website and her artistic style, we knew Stacy was our girl. Stacy's photographs have a warm, vintage feel. The pictures captured not only us, but our friends & family, as well as the beautiful backdrop perfectly.
The dress
Anne Barge was the designer of my wedding dress. I was planning to wear a pair of earrings of my grandmother's, but my Aunt Shannan had a surprise for me. While I was showing the dress to my aunts, I explained I was going to wear Mamaw's (grandma's) earrings. With a mischievous smile, Shannan handed me a gift bag. Inside was a pair of silver hoop earrings with diamonds made from one Mamaw's rings. They were perfect! It was a beautiful way to include my late grandmother in our special day. I also wore a delicate silver bracelet, given to me that weekend by a very close friend. I wanted to be a barefoot bride, but I was wary of the sea shells. I wore a pair of Ivanka Trump sandals with turquoise beading.
The suit and bridesmaids
Jason and I really wanted our wedding to reflect that two families were now becoming one and were honoured to have our brothers as our wedding party. Benjamin was Jason's best man. Jefferson was my bride's man. The guys dressed in light blue Dockers, white collared shirts and black flip-flops. The perfect attire for a relaxed beach ceremony!
Theme or colour scheme?
We didn't really have a theme or colour scheme. Rather, we focused on making the wedding weekend about relaxation, comfort, fun and reunion of family and friends.
Decoration
The island provided a beautiful backdrop and we didn't want to take away from its natural beauty. Our seaside ceremony was decorated with a bamboo aisle runner and flowers. One of my favourite pieces was the bamboo alter adorned with a curtain of alstroemaria.
Flowers
Choosing the flowers was the hardest decision for me and it seemed that everything I wanted was out of season. Our florist was amazingly patient with my many requests. She created a gorgeous pieces of peonies and garden roses with accents of astilbe, and alstroemaria.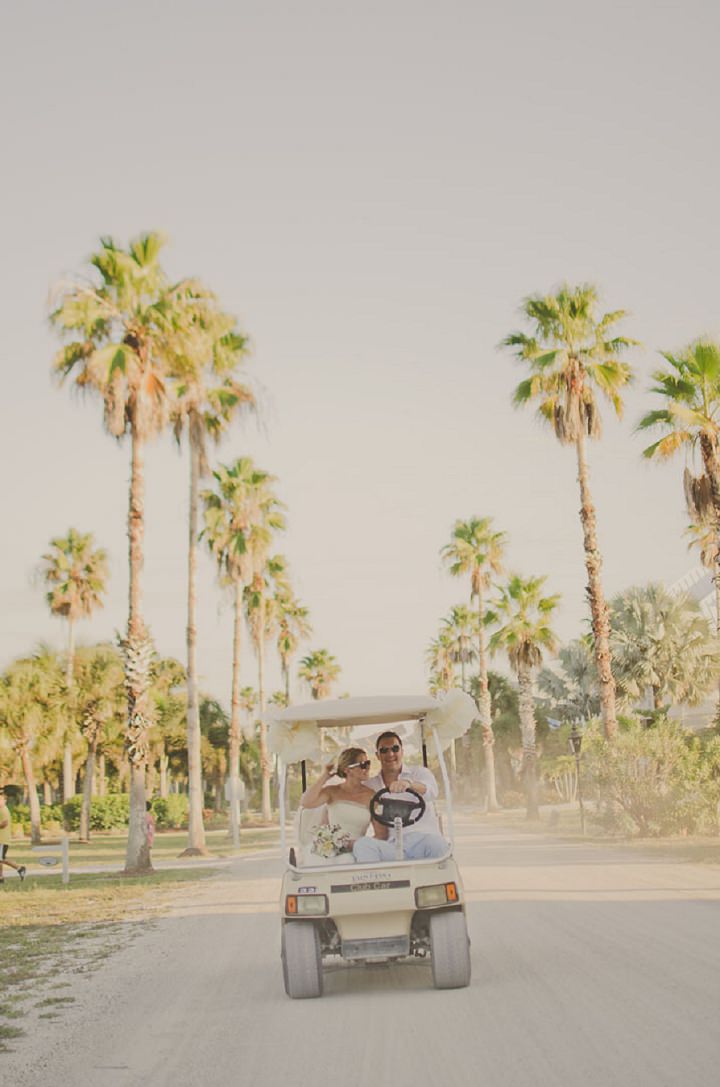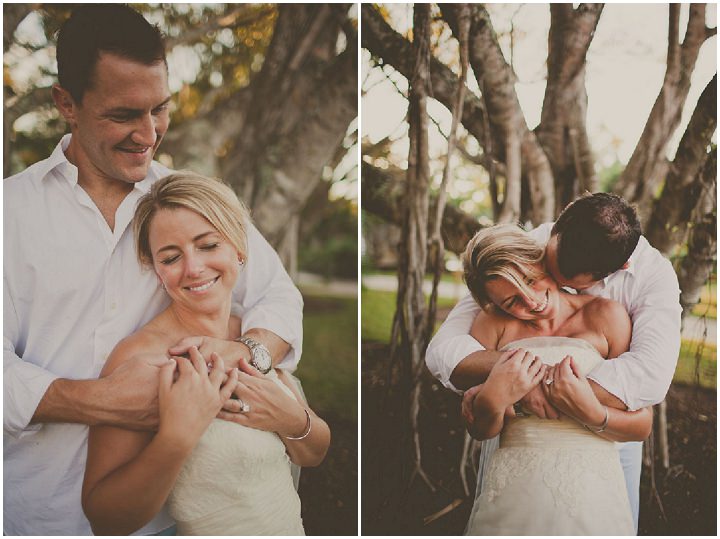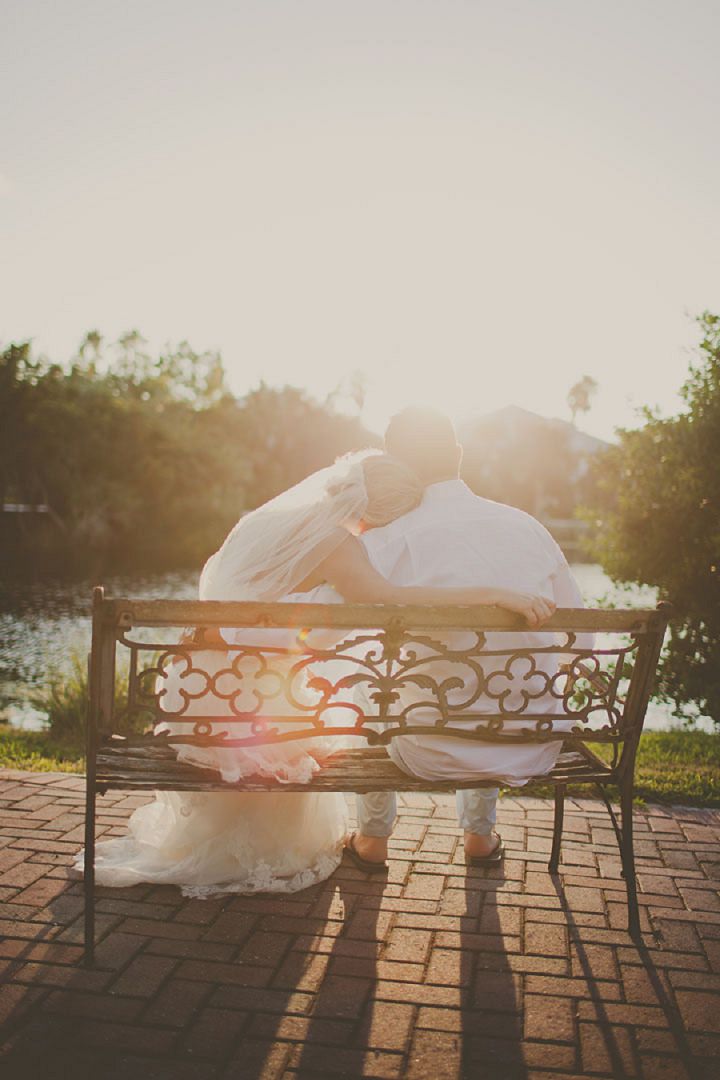 Food
We had a plated dinner of mahi-mahi with mango salsa and island chicken with fresh grilled veggies and rice.
Wedding Cake
Ron Zammet designed 3 cakes for us. A two layer vanilla cake with decadent butter crème frosting. A triple layer delectable chocolate cake with chocolate ganache filling. And a refreshing two layer lemon cake with lemon curd filling. All three cakes were topped off with dreamy butter cream frosting.
Entertainment
My uncle, Barry Cloyd, played guitar and sang for the ceremony. We had a DJ for the reception. For the post-reception party, the groom brought out his turntables and spun records for the after-party!
Buy or DIY your Stationery?
We purchased our stationery from a designer on Etsy. I fretted over the wording on the invitations for weeks!
Personal or handmade touches
• Beach Bags for Guests: At check-in, each of our guests was given a special beach bag filled with goodies for the weekend. In and of itself, the bag was a project. My mom hand-sewed each bag using fabric to compliment the beach theme. Inside the bags were beach towels with our wedding logo and date, a snack box with pumpkin bread and chocolate chip cookies, a bag of organic coffee and few tea bags, bottled water and a brochure we put together outlining the weekend agenda.
• Wish Lantern Release: After the reception, we had a wish lantern release on the beach. It was, in-part, a way to pay tribute to those loved ones who could not be with us on our special day and also a beautiful way to wish us luck on the new chapter in our lives.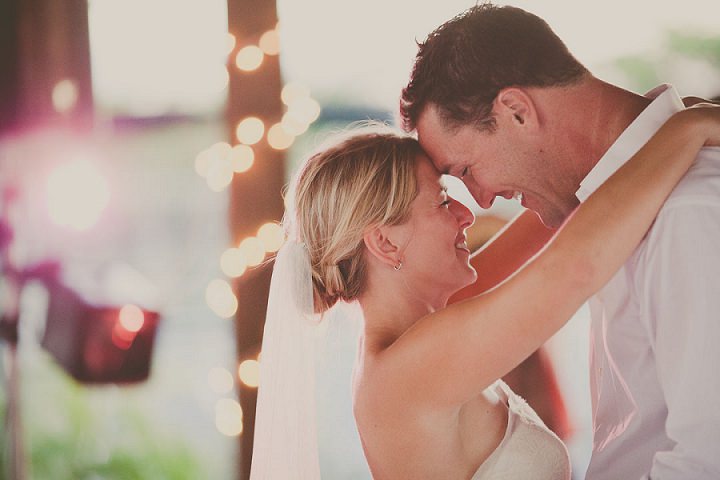 Special moments or highlights
Marrying my best friend on a beautiful beach surrounded by our family and friends. It was the reason for the weekend and saying "I do" was the most magical feeling.
Biggest surprise
How quickly it was over! Everyone told us that the time would fly by – and they were right!
Advice for other couples
Relax! Take lots of photos! Enjoy every minute!
Supplier Shout Outs:
For more information Stacey's work go to:
www.stacypaulphotography.com
stacypaulphotography.com/blog
[email protected]
(813)841-8160
FACEBOOK
Hi! I'm Stacy, a wedding and portrait photographer based out of Tampa, Florida. I like to think of my style as being light and airy, with a hint of whimsy and a whole lot of genuine moments. Shooting weddings is amazing because there is always so much love all around me. I wouldn't give it up for the world!