It's cold and rather wet outside today so what better cure for this chilly autumn weather than a trip to the Bahamas for todays wedding. Heather and Andrew chose a destination wedding as they were looking for a chilled out Boho style day which they wanted to keep intimate and low-key. The result is this stunning beach wedding with just 8 guests and the most amazing back drop. A beautiful ceremony followed by an elegant feast and lots of dancing. A truly beautiful day that has been captured perfectly by regular to the blog Stacy Paul Photography.
'Our wedding was a seaside elegant

boho

dream come true where the rain remained

at sea, our written vows filled the ocean

, the music played on as our bodies collaborated in

joy, and unconditional love and laughter infected us

all. We feasted like how we imagine

Bahamian royals would

, bartender serving the best Bahama Mamas, and strung lights and candles illuminat

ed

our

committed

love.

'
Heather and Andrew were married on 12th September 2015.  'We rented a home on the north shores of New Providence, Bahamas. Our ceremony was in front of the house on the beach, nearest the water. Our reception took place outside on the pool deck overlooking the ocean.  From the moment we first began discussing our wedding, we knew we were going to make it a destination with only a handful of guests. We're very low key.. our favorite days are relaxing in the water with a drink in hand. We knew we wanted tropical! Deciding where was fun as we searched hundreds of VRBOs looking for the perfect beach house to not only host our wedding but to have our guests enjoy a vacation. We researched everywhere from Mexico to Puerto Rico and from Jamaica to St. Maarten. The Bahamas kept calling to us as we had visited there in the past with great experiences of the friendly people, beautiful beaches, and quick travel from Tampa. We found the perfect house to accommodate our ideas of a dream wedding and knew this was it!  We had 8 guests for a total of 10 including us. Small, perfect, complete. Both sets of parents, we each have a brother, and they each have a lovely lady.  We got engaged at the end of October, had the house booked in November, the wedding coordinator and photographer booked in December.. everything else just fell into place! It was the smoothest wedding planning I could have ever imagined. We made it a point to not stress over our wedding—it'll all happen the way it's supposed to.'
How they met
We met in 2009 during the last few weeks of college at the University of Florida. Go Gators! My Nursing College and his Building & Construction College hosted annual socials together, and he approached me since he says he just loved my hair (: Four fur babies, two apartments, two homes, a few moves and job transfers, and almost 5 years together..he finally proposed!
The Proposal
We left on October 23rd for a relaxing cruise to Cozumel out of Tampa. He kept saying he can't wait to relax and have no stresses or plans for excursions. He purposely reiterated "relaxing" and "no stress". Every other vacation and event I tried predicting if this was finally going to be it, so I definitely didn't expect a proposal this time! As we got onto the ship, we went our normal routine, ordered drinks, people watched, reported to our muster station, and headed to dinner. After dinner, I opened the door to our room to find it fully decorated in a Bon Voyage theme! I get all excited thinking they decorated our room because we signed up for some extra incentives (silly me!). I turn around and he's holding open a ring box. That's about at the moment I began sobbing and squealing, disbelieving this is really happening! I jumped around, continued crying, called my mom ($9 room charge haha), and cried some more. What can I say, I waited 5 years for this moment! Then we enjoyed 4 days on the ship, it was perfect.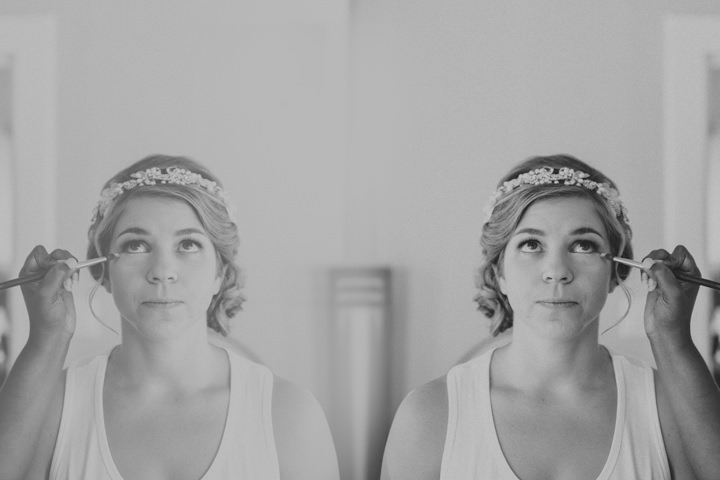 How did you allocate your budget
I had a personal savings for photography as I knew it was most important to me being a photographer myself. My dress was gifted to me from my mom and mother-in-law. Since we were planning a wedding at a private home in another country, we knew we needed to recruit help. The primary budget went to my wedding coordinator. It was money well spent as I couldn't imagine having to research and contact businesses internationally.
Where did you splurge and where did you save
We splurged with the photography as I found her in Tampa and knew we had to fly her to the Bahamas! We definitely saved by hosting the ceremony and reception at the private residence where we also had a vacation. The outside area was beautifully transformed that we couldn't tell we were at the same house. We also saved on décor by crafting several pieces and bringing them and other great finds all with us.
How did you choose your photographer
I was already a fan of Stacy's and admired her work and modern style to her images. We connected on a few levels..I was getting married in the Bahamas, she wanted to travel and was marketing for it, I love little details & candid shots, she appreciates those moments and captures them impeccably. She was the only photographer I actually contacted for the wedding, and I couldn't be more happy! It was my dream to have my photographer capture beautiful images and in turn get featured on a wedding blog site—I was ecstatic when she shared with me that Boho Weddings was featuring her photos of my wedding!!! Is this real?! Stacy Paul and her second shooter Jessica Cruz really are amazing at what they do and are such down to earth, easy going people.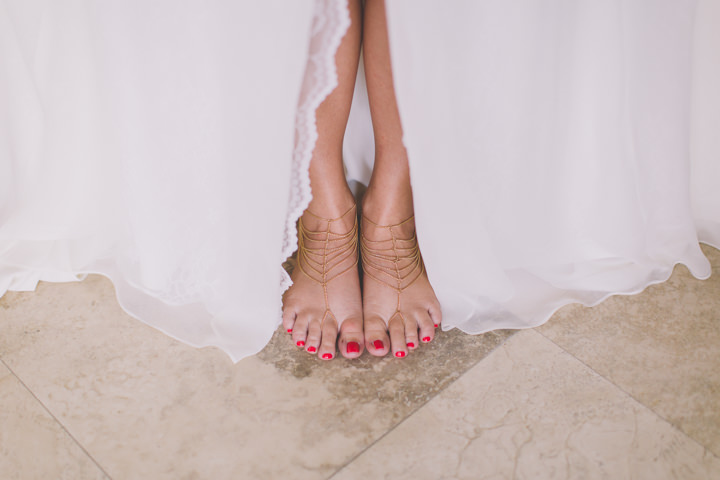 The Dress
Dress by Hayley Paige. My parents gifted me the night before the bangle bracelet and the Marine Corps ring. My husband gifted me the earrings from Blue Nile just before the wedding.
My barefoot sandals were delicate gold chains.
The Suit and Bridesmaids
Andrew's outfit was Tommy Bahama. Father of Bride's hat by Stetson.
Theme or Colour Scheme
Our overall theme was boho seaside chic with an elegant flare. Colors ranged from muted beach tones to pops of glitter and gold.
Flowers
Hydrangeas, succulents, lilies, red pin cushion protea, green and yellow spider mums, orchids, tropical plants, and more..
Decoration
Driftwood, mason jars, starfish, sand, and the bluest waters for the ceremony,
Pillows, couches, and candles for the lounge area..
Gold and pops of colourful flowers on the tables..
Flowing dream catchers and frosted globe lights for the dance floor.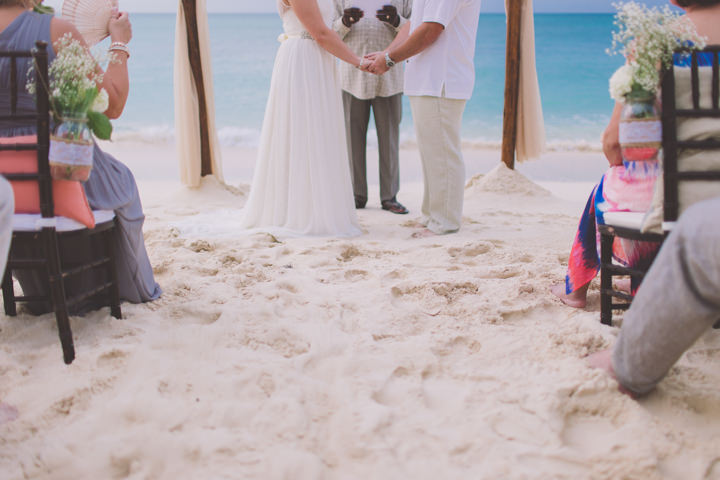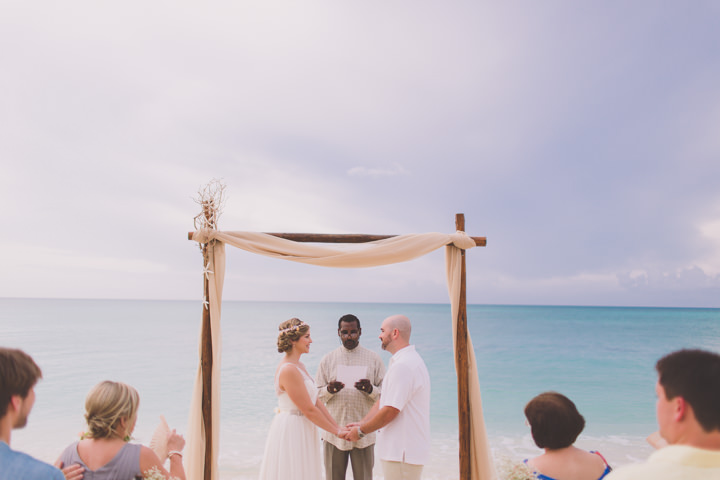 Food
Cocktail hour appetizers: conch salad shooters, ginger curry infused beef samosas with mango chutney sauce, grilled shrimp with tropical salsa, Mediterranean stuffed mushrooms, and a tropical fruit platter.
Dinner: Native Bahamian style conch chowder with coconut rolls to begin. Entrée was herb roasted snapper fillet with creole sauce served beside garlic poached lobster tail, peas and rice, banana pancake dip plantains, and candied coleslaw. Vegetarian dish was sautéed curried spring vegetables with honey glaze chilli tofu.
Wedding Cake
The cake was pina colada cake—pound cake with native coconut, pineapple, and rum, topped with a pineapple buttercream frosting and flaked coconut. The cupcakes were banana rum—banana cake soaked in John Watlings amber rum, topped with butter cream frosting and drizzled with rum glaze.
Entertainment
We had a beautiful violinist during the ceremony who played 5 handpicked songs from Jason Mraz's I'm Yours to Tale as Old as Time. We partied with our hilarious bartender while our DJ played the best music—chill island music while we ate and mingled, then the best mix of songs while we danced.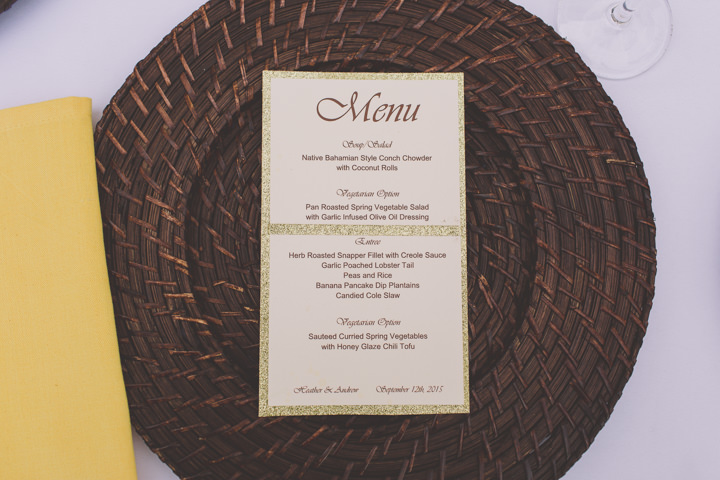 The Stationery
We actually didn't send out invitations!
Personal or Handmade Touches
I incorporated my style by bringing the personalized napkins, bar and chair chalkboard signs, place card holders, beachy garland, cake toppers, and the ceremony chair pillows, burlap tissue pouches, and wooden fans.
I've always had a personal connection to dream catchers, and I knew I had to incorporate them into my wedding day. I handmade the dream catchers with jute and various lace and ribbon, "sweep the beach from your feet" sign with gold marker and linen, stencilled the "K" on the tissue pouches, and my brother drew the lettering on the bar and chair signs.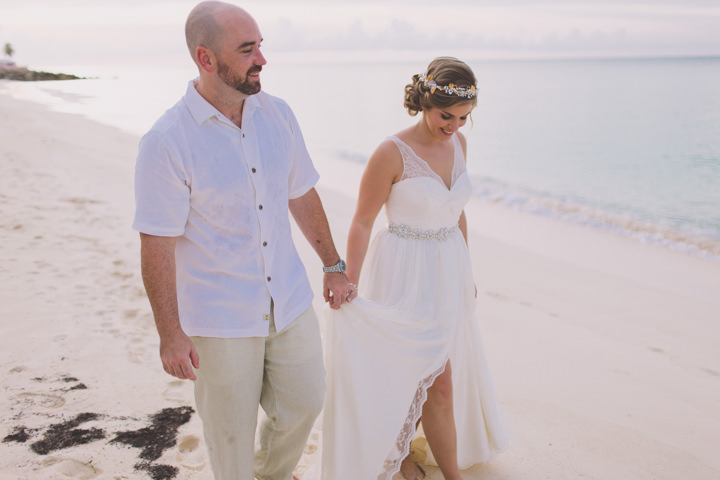 Special Moments
Highlight of the day: He cried!!! Every bride's wish. He's such a tough guy and really surprised us all. Then his dad says, "It just goes to show that he truly loves you." We wrote our own vows and listening to what we wrote to each other was truly indescribable. Not a dry eye!
Advice to other couples
Hire help. There's no point in being so stressed and worked up during the planning and wedding day—enjoy yourself! Be involved, but also put trust in others to help you. We only had 8 other guests which was perfect for us, but that's not everyone's ideal wedding. Follow your wedding dreams without letting others influence you otherwise. It's your day! On the wedding day, take an hour to yourself to unwind and relax your eyes, drink a lot of water, and only surround yourself with happy, helpful people. No need to run around and get all sweaty before your moment to shine. Sip slowly and soak it all up.
Biggest surprise
Mid hurricane season and it didn't rain during the wedding! We had such bad luck with it constantly raining on all of our wedding related activities, but it stayed clear for the full event. We couldn't believe it.
Supplier Shout Outs
For more information on Stacey Paul's work go to:
www.stacypaulphotography.com / stacypaulphotography.com/blog / [email protected] / (813)841-8160 / FACEBOOK / I: @stacypaulphotography