Here at Boho Weddings I love a high street wedding dress, don't get me wrong I am a big fan of the designer wedding dress and have lots of my own personal favourite designers. However I also think it's important to let brides know about the cheaper alternatives that are out there. The high street has come a long way over the last few years and with many stores now designing their own collection of off the peg dresses, there really is a wedding dress for every sort of budget.
Today I'd like to focus on Phase Eights' new 2014 Bridal Collection. I have featured Phase Eight before on the blog and I am a big fan of the dresses they sell. They offer a great alternative to the designer dresses which can often come with a price tag in their thousands. These dresses however range from £250 for the shorter wedding dresses up to £750 for the more embellished items and the sizes range from size 6 to size 20.
Phase Eight let us have a few questions with the Designer of the new collection……….
What was the inspiration behind the wedding dress collection?
The collection was inspired by glamorous Hollywood looks of the 1930's and 1950's with embellishments taken from exquisite vintage embroidery and beadings.
I would describe the collection as ultimate femininity, with a glamorous and whimsically beautiful vintage feel. Real wedding dresses that are soft and special to wear with delicate detailing, lots of beading, fringing and lace.  Each bridal gown, accessory and bridesmaid dress has been created to ensure that you can customise and personalise your look with beaded belts, lace edged veils, coloured sashes to link in with your bridesmaids and capes in feathers and beading to give glamorous coverage.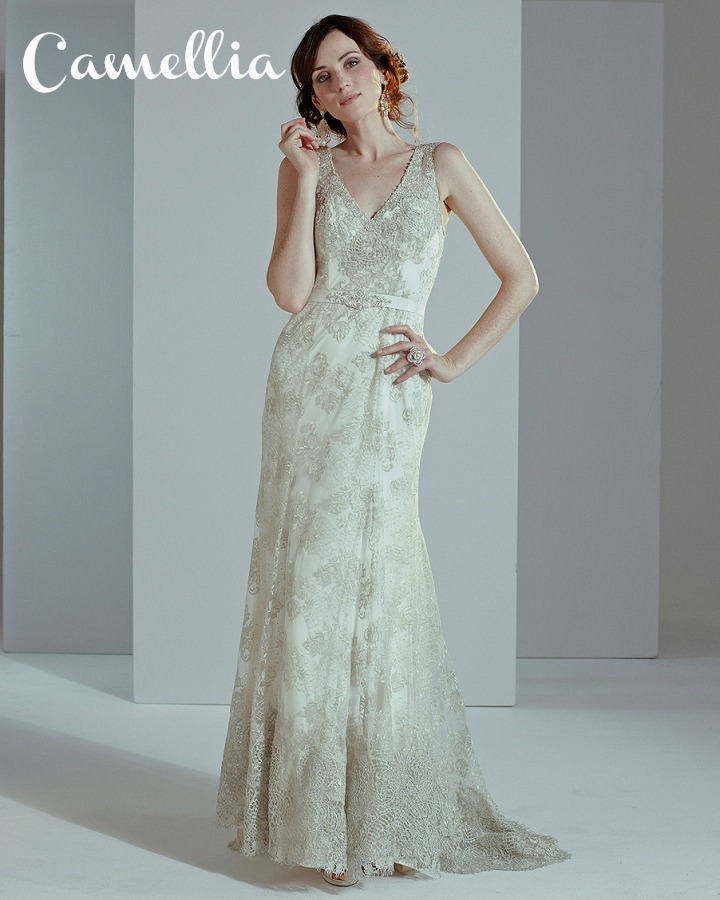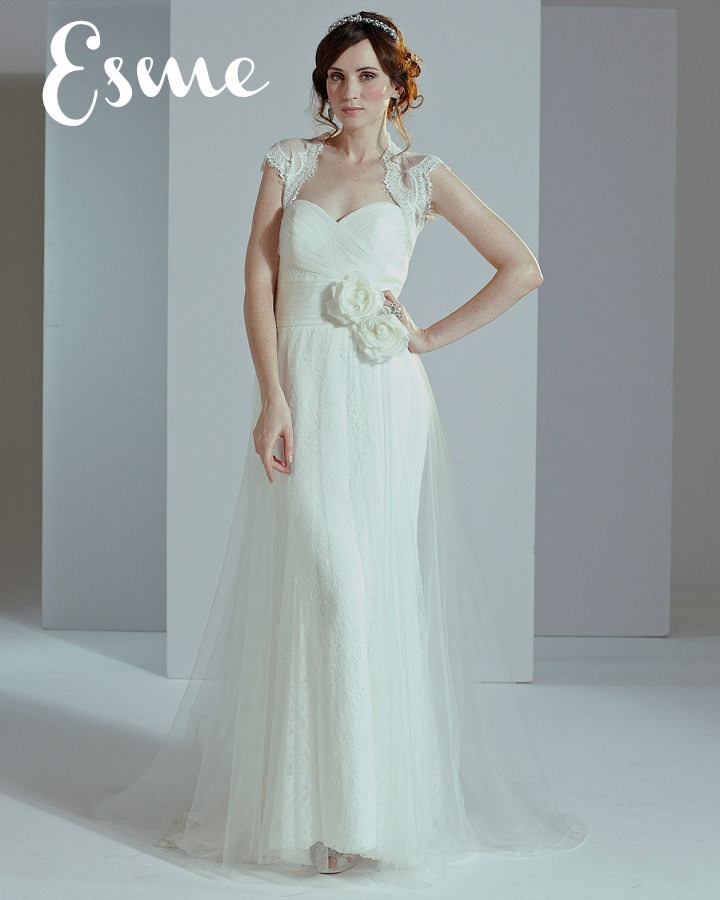 What is the design process?
Everything is designed exclusively in-house. Each season we travel to Paris, New York, Hong Kong and India in search of the most amazing vintage pieces or exquisite embroidery that can then inspire a beautiful dress. Once we have sourced all of our fabrics, the design and buying teams discuss the collection, listening carefully to feedback from our stores and brides. I then draw up each piece, making sure that the inner construction and fit of every single dress will help each bride feel wonderful in her dress on her big day.
Once each dress is made we carefully fit them in-house to ensure absolute technical perfection. It typically takes around 9 months of very hard work from the dedicated Phase Eight team from initial sketch to the dresses sitting in our flagship bridal James Street store.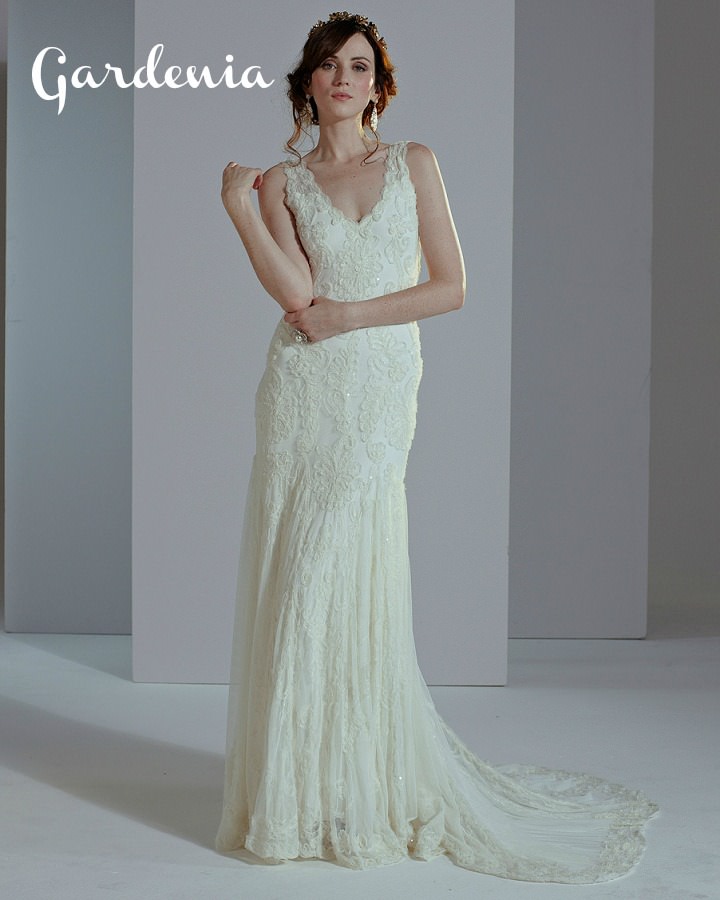 Do you have a personal favourite style of bridal gown, and if so, why? 
I love all wedding dresses, it's my passion! For my own wedding in Sri Lanka I wore a hand embellished silky soft gown and a very very long lace edged veil that swept behind me. I felt so feminine and my dress was absolutely perfect for the hot tropical climate. It was fitted to the top hip and then flared out at the hem, with a jewelled belt and cascade of handmade silk roses down my back. For our reception back in England I wore a hand beaded and lace cape and looped up my train. I loved the way I was able to customise my dress for the different locations  – we hope to give all brides the same versatility with their own gowns.
Which dress is your favourite from the collection and why?
That's a really hard question as I love them all! My favourites are the Hermione Wedding Dress for the glamorous 1930's feel and the attached beaded cape that sits around the shoulders to provide ultimate feminine coverage. This looks gorgeous with our beaded belts that can be worn all day or just added for a glamorous twist in the evening.
I also love the Elodie Wedding Dress, because it has an inner corset that pulls you in and gives the whole dress the most amazing feeling of being supported. It has a duchesse satin fishtail shape with a beaded lace overlay and embellished beaded motifs under the bust. The very sheer tulle straps provide coverage without being too heavy. This is a very modern update of the classic fishtail shape but ultimately feminine with the soft embellishment.
Where The dresses are available:
The wedding dress collection is available online in our Wedding Boutique and Brides-to-be will also be able to browse the collection at our James Street, London store and the Winchester store which have their very own Wedding Boutiques.
To book an appointment with one of our bridal experts at these stores please call 020 7499 7750 (London) or 01962 866964 (Winchester).
The following stores also have selected items from our Bridal Collection: Bath, Brighton, Edinburgh, London – House of Fraser, Oxford Street
Internationally, our wedding collection will be stocked in our NK Stockholm, Sweden and Zurich, Switzerland stores. We will be announcing this as soon as it happens.