It's Friday at last! Does anyone else feel like this week has gone on forever? I guess that's January for you! But onwards and upwards, the weekend is just around the corner, so good news for everyone! I have a gorgeous outdoor Summer wedding to end the week with, full of pretty details and lots and lots of paper lanterns. The wedding was actually sent into me by the venue Bittenham Springs in the Cotswolds which doesn't normally happen, it's normally the photographer or bride. Admittedly this wedding does show off the venue beautifully- such a gorgeous palace to get married! With a gorgeous outdoor ceremony,  a very beautiful bride, a stunningly decorated tipi and lots of homemade details,this wedding is just the ticket for a cold wet Friday! Thanks to Neale James for the photos.
'It was totally laid back without a lot of the formality of a 'normal' wedding. My lasting impression is a whirlwind of smiles and laughter and dancing.'
Rachel and Richard were married on the 10th of August at Bittenham Springs in the Cotswolds. 'We always envisaged getting married outdoors in a relaxed setting, and the countryside in the Cotswolds is just beautiful. We actually stayed round the corner to the venue on one of our favourite holidays together, so it just felt right. Also, the Cotwolds is right in between where we both grew up, and keeping it easy for both of our families was important to us.We had 82 guests and the wedding took one year, three months and 13 days of ultra-planning!'
How they met
We met at work, but we worked in different buildings so thankfully didn't have to keep it quiet. Classic case of boy meets girl, girl offers boy biscuit, and the rest is history! Since then, we've had almost eight years together, and looking forward to more.
The proposal
I knew it was on the cards for that year, but Rich managed to do an amazing job of making it a complete surprise, organising a supposed walking weekend away with friends (which was actually a few weeks later), and then surprising me with a proposal. When we got there, we went up to the balcony of in a lovely Oast house in Kent that he'd hired for the two of us for a romantic weekend away. It had lovely views overlooking a stream, and he got down on one knee and proposed. It was beautiful.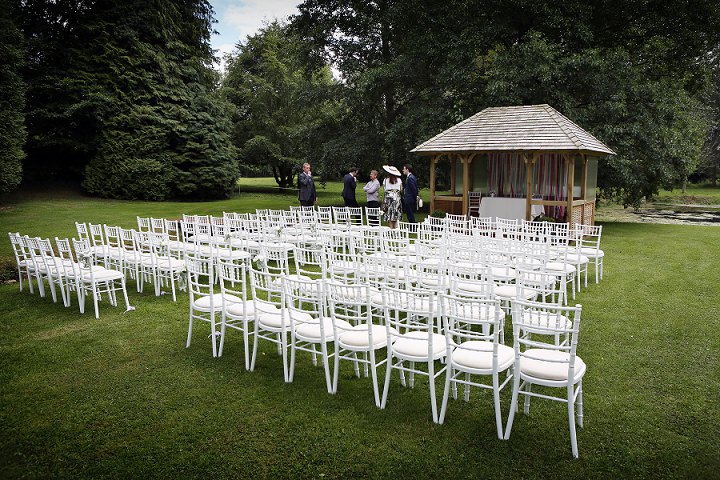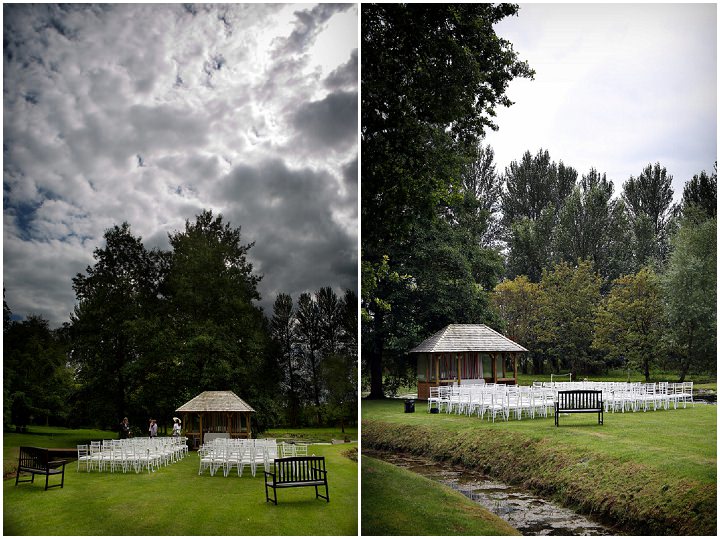 How did you allocate your budget?
Badly! We wanted a cheap wedding, and went double the budget in the end! About 60% went on the reception, with the biggest expense being three tipis, followed by the catering. Food is one of my favourite things so we wanted to get it right. We saved money though by my lovely and talented auntie doing a beautiful dessert table for us, and we bought in our own Jamaican patties (my mum's side of the family is Jamaican) that the caterers heated for us for late night snacks.
Why did you choose your photographer?
He is a documentary style photographer, and puts minimal emphasis on posed photos. We wanted the day to be fun, without any waiting around for the formal photos. His photos really stood out to me – and I'm so glad we chose him – he captured the feel of the day perfectly.
The dress
Dress by Stephanie Allin, who was amazing. She's such a bubbly woman and makes you feel so special, tailoring the dress to your strengths. The whole team were great. My shoes were Dune, with some pretty little shoe clips to accessorize from Etsy. The necklace is my favourite things- a wedding gift from Rich which he had made for me. And my head piece was Roxy by Polly Edwards.
The suit and bridesmaids
Suit was a light blue/grey number by Hugo Boss. Bridesmaids each chose their own dresses in either a cream or dusty pink. All I asked them to send me photos of the dresses so that I could make sure they all worked well together.
Theme or colour scheme
Pink white and blue – I wanted it to be bright and happy, and shamelessly girly. I can't lie – I'm sure this wasn't Rich's ideal, but he was a trooper and supported my choices throughout.
Decoration
We had a ceiling covered in multicoloured Chinese lanterns as the main focal point, and lots of homemade paper decorations. On the tables were my DIY flowers and some white Moroccan lanterns, everything in pink, white and blue. We also had a chill out tent, which had a roaring fire in the centre, then was surrounded by sofas, cushions and Moroccan tables which definitely added the wow factor
Flowers
I did them myself so don't remember all the names, but I wanted the flowers to look vibrant and varied – kind of thrown together but actually carefully thought out! We had some hot pink and pale pink peonies, white sweet peas, white chrysanthemums and carnations, some hot pink daisy like flowers with bright yellow centres and dainty light blue flowers, so all in tune with the colour scheme.
Food
We had Ottolenghi inspired dishes and salads, so a European/middle eastern mix. My favourite dishes were a herb crusted salmon, pomegranate and quinoa salad, and sweet potato with maple syrup and pecans. Along with plenty of pitta, hummus and baba ganoush.
The wedding cake
A sparkling Eton mess tower.
Entertainment
First was a barn dance which got everyone involved and dancing, then a normal mix of wedding music courtesy of my iphone and spotify.
Buy or DIY your Stationery?
DIY – we utilised the talents of a designer at work.
Handmade or personal touches
• We made a lot of things ourselves, and I couldn't have done it without my bridesmaids! We made lots of paper decorations – paper tassels to hang along the side of the dessert table, paper pom pom streamers to wrap round the poles of the tipis and paper streamers to decorate the ceremony hut.
• On the tables, we had flowers that I'd arranged myself. My neighbour is a florist, so she taught me some techniques, gave me lots of advice, and walked me round Covent Garden Flower Market which was amazing, so in the end we only ended up spending about £400 on flowers and table arrangements, which would have otherwise cost 8x times that. I arranged these in small metal flower pots we bought from Ikea, and decorated the pots with mismatching strips of material tied round in bows.
• For the ceremony, we also hung flowers in jam jars from the ends of the aisles. We also made the table plan using an old easel, a large photo frame, and some tissue paper and card, and also made the table names, using double sided photo frames containing childhood photos, naming each table after the photo.
• Finally, for the favours, we bought popcorn from my favourite popcorn stall at my local market, and filled stripy sweet bags with popcorn put on each person's plate, then sealed them with cute little sticky labels saying "Rich & Rach's wedding, 10th August 2013" on them.
Special moments or highlights
Walking down the aisle – you really can't imagine how it feels walking passed all your favourite people, towards the man you are about to marry. The speeches were also very touching, and the last dance was amazing. The barn dance band had us dancing in the middle together, surrounded by a circle of dancers who had to charge in and out in time with the music. It was so fun, and epitomised the day for me. Then actually another special moment was going to bed at that night, exhausted but exhilarated, just the two of us finally after a crazy, wonderful day.
Biggest surprise
At the end of the night, we had a bit of a nightmare with transport back to the hotel, so in the end we all crowded into the back of the van we'd used to carry all the decorations etc to the venue. There must have been about 10 of us in the van, sitting on boxes or wherever we could fit, sharing a bottle and generally making merry. It was so much fun – not how you envisage ending your wedding day, but something that we have all reminisced about since.
Advice for other couples
Enjoy it. Delegate everything on the day so that you don't have to worry about a thing. My bridesmaids and close family literally made the day for me – they had everything in control the whole time so I didn't have to worry about a thing. Also, you and everyone else will have nicer memories if you don't go all bridezilla on them, so try to play it cool – not everything has to be perfect, and in fact some of my favourite memories are from the things that didn't quite go according to plan.
Supplier Shout Outs
For more Information on Neale's work go to
www.nealejames.com
www.nealejames.com/blog
[email protected]
FACEBOOK
@nealejames
01635 273181
Due to an email issue if you have emailed me between the 2nd & 9th of December, please resend it.
X