There are so many amazingly beautiful wedding dresses out there, but not every one's budget can stretch to the Thousands of pounds that many designers ask for their stunning dresses. For that reason I have done a bit of wedding planner research for you and found 21 wedding dresses under £500 for you.
I have tried to pick a mixture of styles for you, with a mixture of designers from both the bridal world and the high street. I hope you find it useful!
(Also have a look at low cost wedding dresses for weddings abroad for more ideas)
So here we are 21 wedding dresses under £500
First off are 3 gorgeous dresses from Anoushka G (OK I admit one of them isn't under £500 but it was so fabulous I couldn't leave it out!!)
Anoushka G 'Layla strapless' £350
Anoushka G 'Lacey metallic Long pleat dress' £295
Anoushka G 'Strapless feather Dress' £595

Next onto the High Street for a more traditional wedding collection from BHS/Weddings and also a cute little number from Coast/Weddings
BHS 'Elisabetta Ivory Bridal Gown' £495
Coast £150

And back to the designers and a more classic dress from Frank Usher Bridal
Frank usher 'Georgina' £475

Here are 2 stunning dresses from the gorgeous label Biba one more traditional, the other not! I love the sparkle on the 2nd one!
Biba 'Embellished cross over maxi ' £375
Biba 'Vinatge beaded dress' £175

Two more designers for you one long, one short from JS Collections and Max Azria
JS Collections 'Rose One Shoulder Empire' £140
Max Azaria 'Ivory silk chiffon dress' £225

The next 3 dresses are more traditional and show that traditional wedding dress designers can create full on bridal gown for less.  Nicholas Millington bridal collections can be found in Littlewoods, Very and Budget Savy bride.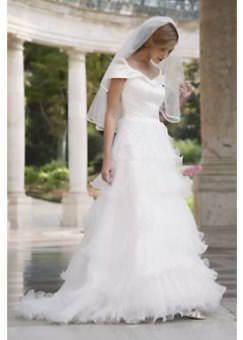 Nicholas Millington 'petal skirt wedding dress' £350
Nicolas Millington 'Arianna' £250
Nicholas Millinton 'Belle' £300

This dress dress is for the braver of brides, and you certainly need a good set if legs to wear this one. It's by parisian designer Sandro
Sandro 'white lace dress' £235

I couldn't put a collection of low cost wedding dresses together without adding in a few from Monsoon they do dresses under £500 so well. Don't just look in the bridal wear section, the whole dress collections have a great variety for any wedding. The best selection on the high street in my opinion.
Monsoon 'Starburst' £150
Monsoon 'Amira' £150
Monsoon 'Octavia' £170
Monsoon 'Vismay' £130

Another designer dress for you, a classic and very stylish number from Philosophy di Alberta Ferretti
Philosophy di Alberta Ferretti 'Silk-satin knee-length dress' £310

last but by no means least 2 gorgeous dresses by Phase Eight both are quite classic but still have a modern twist. I love the last one inparticular, the circular fabric is amazing!
Phase Eight 'Stephanie' £250
Phase Eight 'Circle Tapework Wedding Dress' £350

So there you go I hope you like my selection, and I hope it gave you some inspiration towards your own wedding dress. You really don't have to spend a fortune on your wedding dress (although if you do I will be covering that in another post coming soon.)

Happy Shopping!!!
Kelly xxx