Today I've invited Laura back to the Blog to share with us her ideas on choosing your bridesmaids outfits. I have heard many a time from brides that choosing an outfit for their bridesmaids can sometimes be harder than you think. Trying to find something that everyone likes can prove difficult at times. These days though there is so much more choice, you don't have to dress your maids in identical outfits and gone are the days when they have to look like a maraguine. There are so many amazing specialist bridesmaids stores now as well as a huge selection on the high street that choosing your bridesmaids outfits should be much easier and the results can look amazing!
I'll pass the blog over to Laura………
Hello everyone, and a happy 2014! Hurray to all of you who screamed 'I'm getting married this year!' at the stroke of midnight, and congratulations to those of you who said 'YES!' over the holidays.
For those of you newly engaged, one of the first things that you do is tell your nearest and dearest, and for many people this includes their best friends. Choosing your bridesmaids for some can be simple, and for others invoke numerous discussions and endless questions of family politics. What every bride can count on, however, is the great outfit debate.
A personal conundrum of the bride, or discussion between 'maids, there will ensue a conversation about what to wear. Whether the bride is paying, the girls all agree or they have complete free rein, the possibilities are endless.
Today I'm here to share with you just some of the options to consider when choosing bridesmaid outfits…
Matching Outfits



Starting with the 'traditional' option, matching dresses are an easy choice. No arguments over who gets what, easy to order and often will be provided by the bride. However, do consider that not all dress shapes and colours suit everyone!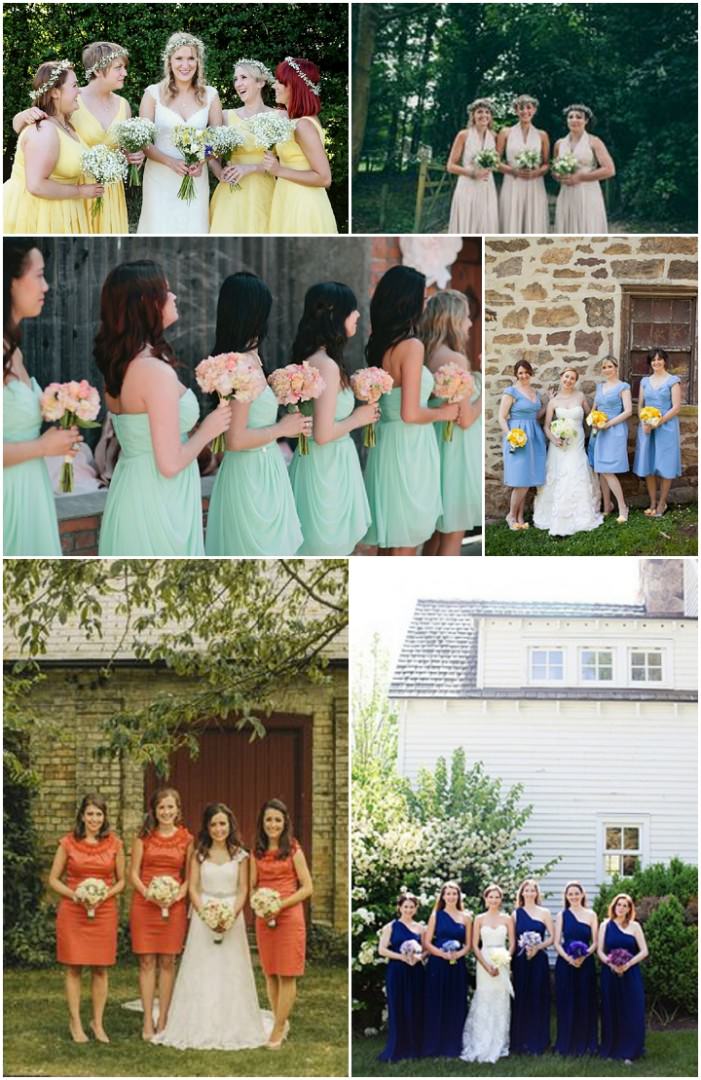 Yellow : Kat Timmins on Boho Weddings | Pale pink flower crowns: Chris Fishleigh on Boho Weddings | Aquamint: Jillian Zamora Photography on Ruffled | Pale Blue: Sweetwater Portraits on Boho Weddings | Orange : Craig and Kate on Boho Weddings | Dark Blue: Watson Studios on Boho Weddings |
Coordinating Colours



The next step from matching outfits, is to provide a colour swatch and allow your 'maids to wear their dress of choice in the prescribed colour. The bride and groom can give as much guidance as they wish – long, short, sleeves etc.

Nude: Joielala on 100 Layer Cake | Purple: The Image Garden on Boho Weddings | Black :Claire Penn on Boho Weddings | Dove Grey : Amy Little Photography on Boho Weddings | Brown : Creatrix Photography on Boho Weddings   | Pale Pink: Devlin Photos on Boho Weddings |
Floral Print



Floral print is steadily growing in wedding world, and many bridesmaids are loving a floral tea dress for those garden party weddings!
Yellow: Blue Colibri on Boho Weddings | Green & Pink: Anna Hardy Photography | Mixed Purples : JR Magat on 100 Layer Cake | Brights : Tux and Tales on Rock n Roll Bride | Jewlled flowers : Trim Photography  on Boho Weddings | One Shoulder: Ryan Ray Photography on Style Me Pretty |
Ombré
This is one of my personal favourites, and 2013 definitely saw the ombré fashion take off in a big way. From cakes and stationery, the ombré scheme has finally transcended to cover bridesmaids. Take a colour and apply in progressive shades and voilà! Fashion forward bridesmaid dressing at its best.
Orange: Jennifer Emerling/YEAH! Weddings on 100 Layer Cake | Blues: Clayton Austin on Green Wedding Shoes | Greens: via Pretty Plum Sugar | Pinks : via Bride and Breakfast | Purples: Julie Wilhite Photography on Something to Celebrate | Greys: via My Wedding |
Rainbows
Sometimes, you don't want to pick a colour. Maids in a rainbow riot works best with a large group but you can't deny it's certainly impressive and definitely cheerful!
Primary colours and four portraits: Neil Thomas Douglas  on Boho Weddings | Parasols:  Tux and Tales on Boho Weddings | Woodland :  Latisha Lyn Carlson on Boho Weddings | Jewel Tones: Our Labor Of Love on Green Wedding Shoes | With sunflowers: Brighton Photo on Boho Weddings |
Vintage Styling



For those with a theme or style, bridesmaids dresses can really bring the whole feel of the wedding together.
Polka dot: Assassynation on Boho Weddings | Pastels: Laura Babb on Boho Weddings | Cones: Paul Joseph Photography on Boho Weddings | Polka Brights : Chris Barber Photography on RocknRoll Bride | Floral: CTI Photography on Boho Weddings | Black Floral: Emma Lucy Photography on Boho Weddings |
High Street



Tight budget and fashionable maids often mean that the high street is first in line for bridesmaid dress shopping. It's so easy to find dresses out there under £100 (or even £50!) and for those with a relaxed idea of their dresses, it's definitely a good idea.
Black: Gypsy Westwood on  Boho Weddings |  Brights: Jon Stars on Boho Weddings | Beige Pleated front: Mark Tattersall on Boho Weddings | Orange Paisley: Jess Petrie on Boho Weddings |  Stripes: LaceHanky Photography on Boho Weddings
Laid Back Chic



Wellies, t-shirts, cute cardigans and two-piece combinations, these days who says your bridesmaids need to be in a dress? If you don't think a glam dress suits your wedding, then there are plenty of other options out there.
Woods: Randome Eyesight Studio on Boho Weddings | Wellies: Kari Bellamy on Boho Weddings | Boho mixture: Max and Friends on 100 Layer Cake | Maxi dresses: Joielala Photographie on Boho Weddings | Grey skirts: Paper Antler on Style Me Pretty | Vest&Skirt: Christina Heaston Photography on Boho Weddings |
Glitter and Sparkle
And finally, at the complete opposite end of the spectrum we have the dresses which scream PARTY! Glamorous, evening or winter weddings would suit this style.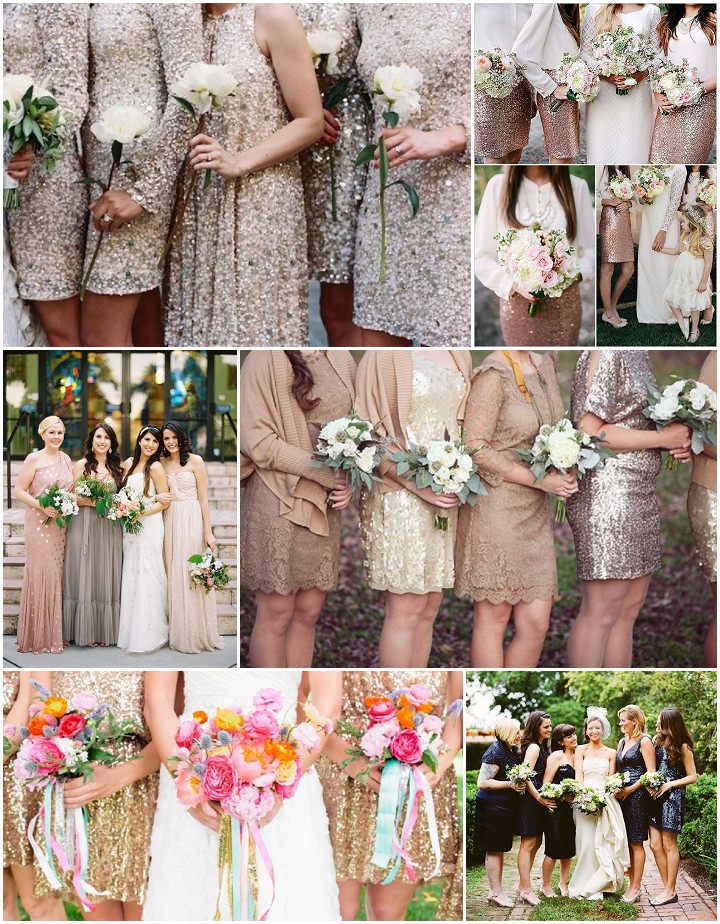 Gold sequins: Tec Petaja on Once Wed | Gold Skirts: Blush By B on Wedding Chicks | Maxi dresses: Jessica Lorren Organic Photography on 100 Layer Cake | Mixed Bronze: Dreamlove Photography on Ruffled | Gold dresses and pink bouquets: via Carly Rae Designs | Black Sparkles: Weddings and Events by Bliss on United with Love |
So which is your favourite? There really is so much choice out there! have you chosen your bridesmaids outfits yet, or are you waiting for the sales to end and for the spring stock to come into the shops and bridal stores?
I'd love to hear from you and find out what your bridesmaids plans are. I do hope my ideas have helped you.
Laura xx