The boho style has been part of our wardrobe for years now. Which is not surprising when you consider the many styles you can create with it, casual, chic, romantic, whimsical. I obviously LOVE the whole Boho vibe and just love the amount of Boho inspired weddings I am getting sent these days.
If you are planning a Boho wedding, you can take the Boho look and really run with it or just take key elements of it and focus on those, like the fashion side.
The Bridesmaids dresses are a fabulous place to start if you are looking to inject some Boho into your wedding style. Perfectly adaptable to all women and all body types. The trend of bohemian clothing for women evolves each year and looks amazing. Today I am gong to show you a few Boho bridesmaids ideas to add some inspiration for your own Boho day.
Some signature elements of Boho clothing
The boho style includes countless items and is more on trend than ever. The following are some signature elements of the bohemian women's favorite pieces :
Made of natural fabrics (cotton, linen, silk…),
Have loose, flowing and airy fits,
Are lightweight and comfortable to wear,
Are provided with embroideries,
Possess ethnic, geometric or medieval-inspired patterns,
Have mixed prints, floral details, ribbons, bows,
May have tassels,
Can be combined with many stylish accessories to create that " wow " effect.
The white boho dress
In 2021, the white dress is a real must-have item in the boho wardrobe. Elegant, unique and airy, white boho dresses remind us of the beach, the sun and summer evenings. Bridesmaids wearing white has been a big trend for quiet some time now. The white dress is perfect for a fresh and luminous summer wedding. Asymmetrical or straight, off-the-shoulder, with long flared sleeves, a v neck, a halter or plunging neckline… Boho dresses are available in an endless variety of styles.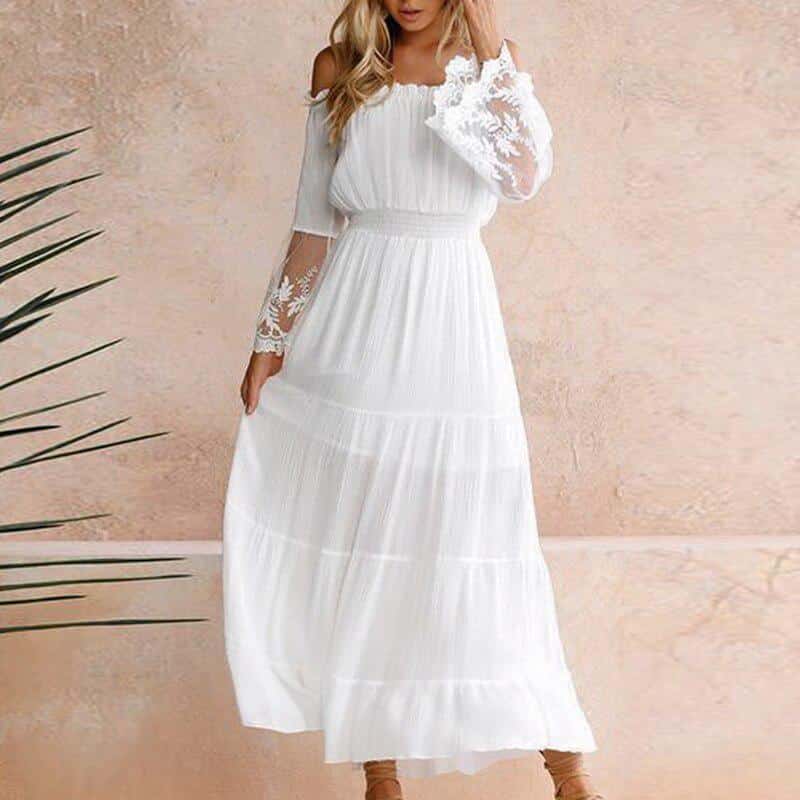 Patterned Boho Dresses
I just adore seeing boho dresses at wedding. I love the whole mix and match look. Weather it be the colours, or the patterns or both. Choosing patterned bridesmaids dresses can really add to the whole ascetic of the wedding, and also that way your bridesmaids can choose an dress that suits them personally.
The must-have boho skirt
The loose and lightweight maxi skirt that reaches down to the ankles, is perfect for a Boho wedding.  Whether in a plain, soft color such as light beige or pale green as reference to nature or with a nice print to spice up the outfit, the boho skirt will give you a great freedom of movement while assuring absolute comfort and elegance. Even though the boho maxi skirt represents the true essence of the bohemian style, the short skirt is just as beautiful and distinguished.
The boho style is a classic, trendy and accessible way to dress your bridesmaids. The romantic boho style is perfect for the open-minded souls with a penchant for feminine and vintage clothing.
this is a colaborative post